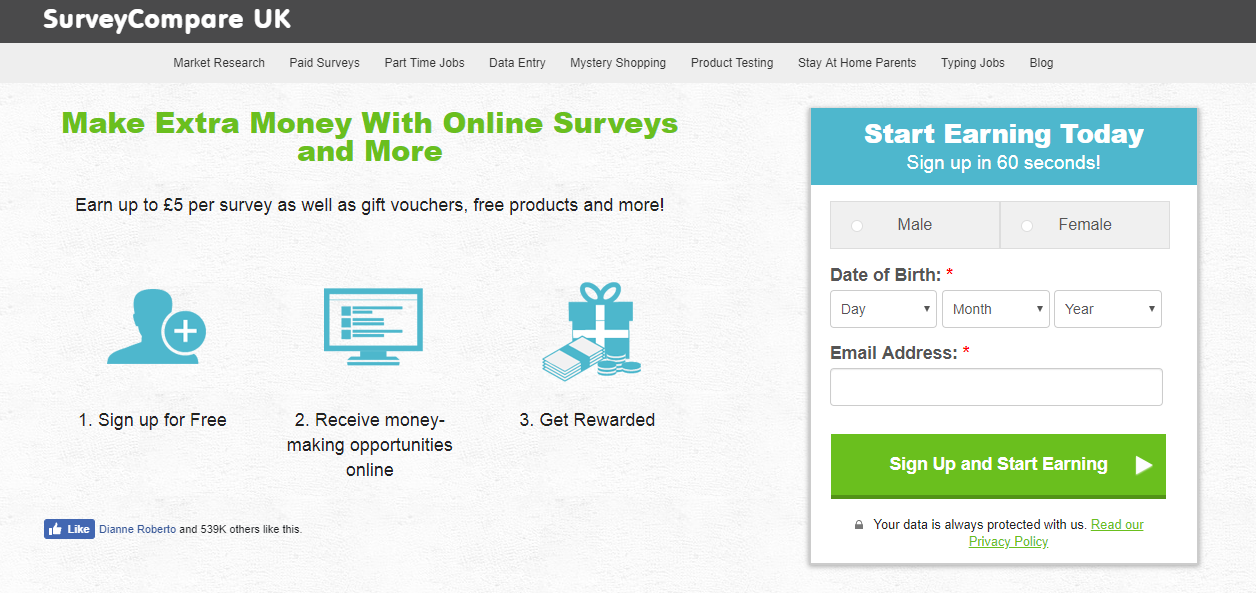 Welcome to My Survey Compare Review!
Taking surveys is one of the easiest ways to make money online. It might be time-consuming and the amount you'll get is barely enough to fund your daily expenses but some people are fine with having it as a side hustle. After all, it's still money.
However, some paid survey sites only offer coupons or gift cards and worse, some don't pay at all. Therefore, before you sign up for a website claiming to compensate you for answering questionnaires, be sure to do a background check first.
This is an updated 2020 review to ensure this program still offers everything it advertises.
Survey Compare Review Summary
---
Name: Survey Compare
Website: surveycompare.net
Founders: Undisclosed
Product Type: Survey Aggregator
Price: Free
Quick Summary: Survey Compare acts like the middle man between a survey taker and a survey company. Also known as survey aggregator, it's a legit website that leads you to other paid survey companies. But the question: can you really make money from it?

Find out the truth in this honest Survey Compare review.
Overall Rating: 3/10
Recommended: No
The Biggest problem I found with online surveys is that you might not be paying for anything but the personal information you've shared might be sold or shared to other companies who will start bombarding you with ton of offers.
So if you were looking for an unbiased, honest Survey Compare review, you're in the right place.
What is it really about? Is Survey Compare a legit site? How much money can you make from it - let's break it down:
What Is Survey Compare About?
Survey Compare is originally from the United Kingdom, thus the "UK" in its logo; however, it has other versions available for people living in New Zealand, US, Canada, and Australia.
It's not like a typical survey website, such as Toluna and Vindale Research rather, it's more of an affiliate website that earns a commission when you sign up to other paid survey sites using their website.
It doesn't make it any better than other websites though so you should really think twice before signing up. Better yet, just continue reading this Survey Compare review first.
How Does Survey Compare Works?
Survey Compare makes it look like they are the usual market research company that helps businesses find out more about their consumers; rather, they work like survey aggregators that earn money from every successful signup.
On their website, it says that you can register for free then you'll be getting paid surveys via email. Once you've answered the questionnaire, you'll be rewarded with gift vouchers, cash, etc.
Now, this is how a typical survey website works. But with Survey Compare, you'll be lead to another paid survey site and sign up again. That means you'll be repeating the same process of giving personal details again.
The survey platforms that you will be directed to vary and it can be any of these:
InboxPounds
Opinion Outpost
Valued Opinions
Maximiles
and so on..
The good news is that these programs are all legit; however, the amount of money that you can earn might only be good as a side hustle and not a regular residual income.
Here Is My Top Recommendation to Start Highly Profitable Online Business from Comfort Of Your Home
Is Survey Compare A Scam?
It's kind of shady to be directed to another paid survey site when you're already expecting to answer questionnaires directly after signing up, but this is how survey aggregators work.
To clear some doubts, this works almost the same as CPA (cost per action/cost per acquisition) where they earn a commission for every completed task. In your case, you sign up.
It's not really a bad thing because basically, their role is to become the middle person between you and the survey companies. They screen each applicant to reduce the chances of being disqualified. They screen people to find those who are fit according to the paid survey site's criteria.
To answer the questions whether Survey Compare is a scam or not, here's what I found out. It's legit and there's no need to worry about. They work according to their business model and although the names of the founders were not disclosed, they shared a bit of information about them.
Apparently, they are located in North London and they provide full control to survey takers. You are not under contract when you sign up and you can stop answering surveys anytime you want.
Meanwhile, when it comes to your private details, Survey Compare guarantees that it will not be shared with third parties without your permission. It will be kept by them and the survey program you have signed up with.
Survey Compare is free and there's no need to pay for anything. According to their website, the survey programs that they have partnered with will pay you -- the survey taker -- for giving them information and will not ask for money just to become a member.
The downside, however, is that even if it's free, you won't be making a lot of money here. Even if you spend the entire day answering surveys from multiple survey sites, making $100 or even $10 is impossible. After all, that's the challenge with these kinds of platforms so if I were you, I'd rather go with a program that has the potential to give me a full-time income.
To know more about Survey Compare, please watch the video below:
PROS
Legit Survey Aggregator
Survey Compare is not a scam and although it won't improve your chance to earn a higher amount when taking a survey, it's still a good option to consider when you want to avoid rejections.
If you're new to taking surveys, there are paid programs that will ask you to answer a questionnaire just to know if you're the right fit for their demographic. If not, they will decline you meaning, your answers are useless as it won't be compensated.
CONS
Confusing And Time-Consuming
First, you have to sign up with Survey Compare and then you have to sign up again to various paid survey websites -- and you'll receive different survey links from these sites.
This also means that you have to open different tabs to check how much you have earned. It might sound like you have many opportunities available but the truth is that it's confusing. If you're serious about taking surveys, why not sign up on these pages on your own. At least it's less time consuming and you don't have to let any company earn from you.
Low Income Potential
Even if you're joined multiple survey websites, the earnings you'll get is not enough to finance your daily expenses. I've reviewed tons of survey programs before and getting a hundred dollar a month is almost next to impossible.
If you want to earn a good amount of cash and you're willing to spend time and effort for it, I suggest that you sign up with my top recommended program. It has everything you need -- from training to a live active community -- to get started. The best part is: it's free!
Tired of Trading Your Precious Time for Money?
Here is a Blueprint to Owing Highly Profitable Online Business Without Any Experience REVEALED!
To be honest, I don't recommend paid surveys at all, let alone these aggregators. It's hard to make money using these platforms and often, you are either rejected after answering a long questionnaire or you will only be rewarded with a coupon.
In fact here is a post we wrote - the truth about taking online surveys. It covers all the key points you should know, especially what to expect in the long term.
If you're after making a good amount of cash, there are other legit money making opportunities online, such as affiliate marketing.
Do you see what Survey Compare is doing? Affiliate marketing works like this: the difference is that you'll be creating content on a website or social media, put a link and once a visitor purchased an item using your link, you'll earn a commission.
This business model is legit and it's been used by more than a thousand marketers and huge companies worldwide. If you are interested, I can help you get started by clicking this link.
Survey Compare is a legit website that's not as shady as other websites out there. It has mentioned what they do in the first place, which is to connect you with another survey website. The problem is, you have to repeat the same process of signing up over and over again so basically, it's not doing you any good.
If you want to take paid surveys, just go straight to a legit survey site and sign up but if you want to receive higher pay (or even a chance to earn a passive income), this step-by-step guide will help you.
Taking surveys is time-consuming and at the end of the day, you will not get what you deserve. So if I were you. I'd rather spend my time on something that would give me more value.
If you are like us who knows that there are no shortcuts and Get Rich Quick schemes and looking to invest some time in real online opportunity - here is our top recommendation. Here are the main benefits:
Step by Step Guidance
A Fine Blueprint on how to Make Money Online long term
Live And Active Community
A ton of support
And A Lot More
I hope I have helped you with my Survey Compare review and if you have any comments or questions, please feel free to share it below.
Thank you!
We Constantly Review Programs in "Make Money Online" Niche,
So That You Don't Have to Waste Countless Hours
Want To See Our
TOP RECOMMENDATION?