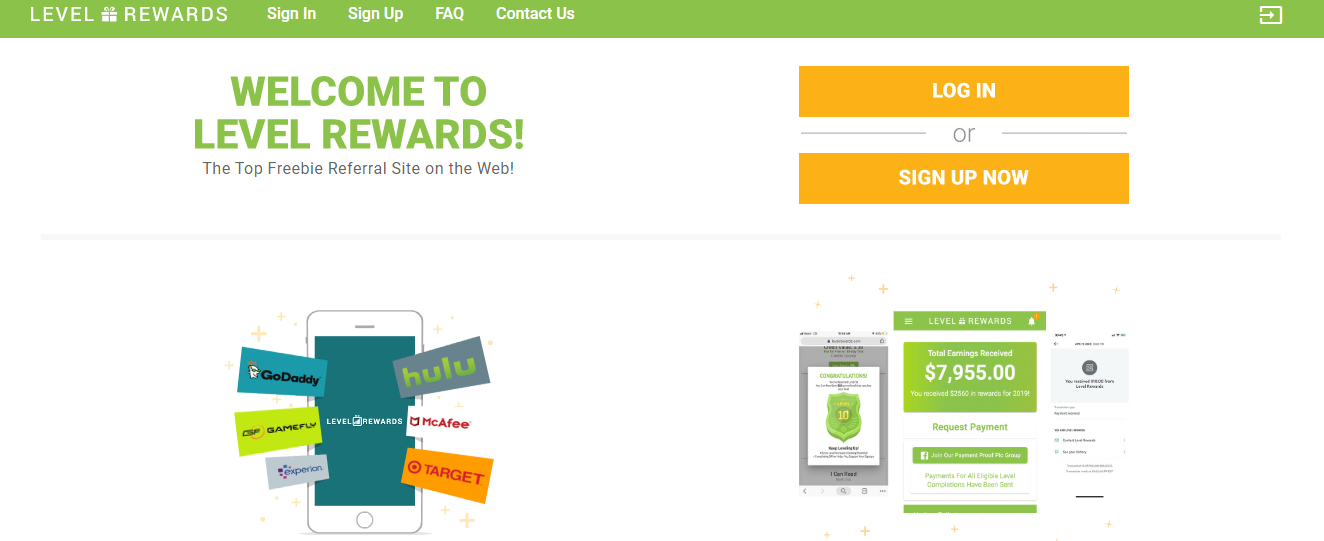 Welcome to My Level Rewards Review!
There are a lot of websites claiming that they'll give you a reward for completing tasks -- and Level Rewards is one of them. But like many people, you're probably wondering what it's all about? What kind of rewards do they give? Is Level Rewards a scam?
I know you have a lot of questions and I'll do my best to answer all of those in this honest Level Rewards review.
Level Rewards Review Summary
---
Name: Level Rewards
Website: levelrewards.com
Founders: Undisclosed
Product Type: Get-Paid-To Website
Price: Free
Quick Summary: First of all, Level Rewards is a legit Get-Paid-To platform that will pay you for recruiting members and completing tasks. However, unlike the usual GPT websites, you have to invite people to join first before you get paid.

So - Is there LevelRewards scam? While Level Rewards is not a scam, I can't recommend this site because of the low earning potential -- and that I will discuss more in this honest Level Rewards review.
Overall Rating: 4/10
Recommended: No
What Is Level Rewards About?
Before I break Level Rewards down for you here is my honest opinion on taking online surveys and how you can actually make money with them if you really choose to:
Level Rewards is an app-based website that, as the name implies, gives you a reward for completing simple tasks and through referrals. This means that you need to invite new people to sign up to their site so you can earn cash.
However, there are certain qualifications that you and your referral should meet before you can start earning, including the age. You should be over 18 years old to be eligible; in case you're 16 years old or 17, you need parental consent before you can sign up with Level Rewards.
You should also be a resident in Canada, the United States of America, The United Kingdom, and Australia.
The amount you can get depends on your level; the higher the level you reach, the bigger the amount you earn. But how does it really work? And why will Level Rewards pay you?
Level Rewards promotes CPA (Cost Per Action or Cost Per Acquisition) marketing, and that's the main reason why you need to complete simple tasks that may include but are not limited to:
Signing Up
Taking Surveys
Downloading Mobile Applications
When you complete these actions, Level Rewards earn a certain commission from different companies. Unlike the typical affiliate marketing, there's no sales conversion involved; however, you'll be sharing your information with other websites. On your end, you will earn, too, but other than completing the offers, you need to invite people to the system before you get paid.
How Does Level Rewards Really Work?
First, you sign up using your first name and email address. Then you'll be lead to a new page telling you that you need to complete your profile before they fully activate your account. This includes adding last name, home address, mobile number, date of birth, and your mode of receiving the payment, which can either be through PayPal, Zelle, bank transfer, or an Amazon gift card.
Before the registration is completed, you will be reminded that only "1 account per household is allowed" and that you agree with their Terms and Conditions. Again, you have to be a resident of the countries mentioned above; otherwise, you won't be able to complete your registration.
While it's considered as a GPT website, it works slightly different than the typical ones because you don't get paid directly for accomplishing a task rather, you will be compensated when another individual sign up and completes an offer using your link. The amount you will get depends on your referral's level so basically, the higher their rank is, the bigger the amount of credit you can get.
But here's the thing. You will receive $5 every time your referral achieves a level. However, if their level is higher than yours, then you will not receive any from that. For example, you're currently on level 2, therefore you'll be paid when your recruit reaches level 1 and another pay for level 2. But if they reach level 3, you will not be paid anymore.
It's challenging and annoying at the same time. I mean, it feels good to push yourself to get a higher rank so every time you successfully recruited a new person, you will get paid for your efforts. But it's also annoying if you're only up for making a good amount of cash, which is not possible for Level Rewards by the way.
If you're willing to spend time on making money online and you want to receive a good amount of cash (or possibly a passive source of income), I'd like to invite you to my top recommended program.
It has a free step-by-step guide and everything else you need to get started. The best part is the live community you can join in case you want to ask something, share a tip, or just build a connection.
Level Rewards is not a scam and it's quite a relief to know that there are legit opportunities out there. There are plenty of reviews online suggesting the legitimacy of the program. In fact, they have even created a Facebook Group that would show photos of their earnings.
That being said, there's really a chance for you to earn cash and get paid for completing tasks. The problem, however, lies on the amount you can get every month. It will not be a lot, not even enough to pay for your bills but at least, it's a legit side hustle you can try at home.
To learn more about Level Rewards, you can watch the video below:
When you want to create an account and earn with Level Rewards, there's no need to pay for anything. It is free unless of course, you want to take paid offers.
Paid offers are completely optional and you're not required to take it just because you're a member of the platform. You can still earn without paying for anything as long as you can invite more people.
There are also free trials which you can sign up with; however, it will ask for your credit card details. Again, these are optional and if you're not comfortable with sharing financial information, you can completely ignore this.
In case you signed up with a free trial, be sure to cancel your subscription before its due date; otherwise, your card will be charged.
Here Is My Top Recommendation to Start Highly Profitable Online Business from Comfort Of Your Home
PROS
100% Legit
Unlike other app-based websites that reward coupon, you have the option to get paid in cash or with an Amazon gift card. The best part is -- it is legit and so far, there's no report of any LevelRewards scam.
Earning Potential
This is subjective though. If you're good at convincing people, you can take advantage of this platform and earn through referrals and as you level up, you have a higher chance to earn more.
CONS
Your Earnings Depend On Your Referrals
Although it's a GPT website, you will not earn no matter how many tasks you've completed rather, you have to invite people first before you get paid. Meaning, no matter how much time you spend signing up and downloading apps, you will not get any compensation unless you have referred a new person to join the platform.
Low Earning Potential
The amount you can get with Level Rewards is smaller compared to other legit make money online programs. It may be a good side hustle but if you want to replace your day job or just a good amount of cash, this is not an option.
Tired of Wasting Time on Low Quality Programs?
I'm so grateful that I was able to find THIS PROGRAM which helped me to finally start making money online!
Level Rewards is legit therefore if you don't mind earning a small amount of cash, you can still consider it during free time. After all, every dollar counts. However, since the reward you will get depends on the number of your referrals, it's ideal for anyone who's good in inviting new people. Let's say you have a large number of followers or a blog with good traffic, then you have a bigger chance to invite more people.
But then again, if you're already into blogging, you can consider other legit platforms that can turn your passion into profit. What I'm trying to say is join affiliate marketing programs so you can monetize your content.
It's easy although it doesn't guarantee quick cash; however, if you're passionate and committed to earning cash, here is the best method we found to start for FREE. To get your free guide and website, you can start with Wealthy Affiliate. It's also by far the only educational program that delivers consistent results.
Level Rewards is a legit GPT website that you can consider if you want a side hustle that will provide you real cash -- and not just any coupon. However, it is only available to a few countries as of now, therefore if you're living outside the UK, US, Canada, or Australia, you might find another alternative instead. Also, you need to convince a lot of people first to join the platform before you can actually earn.
But then, if you're someone like me who would rather spend time on a program that would give me more opportunities to earn cash, you should continue reading.
Looking for a bigger, better money-making opportunity? You're in the right place!
Here is Our Top Recommendation to Earn Most Rewarding Income online and it offers the following perks:
Top Quality Training
A Fine Blueprint to Start Solid Online Business
Live And Active Community
Lots of Support
And A Lot More!
I hope I've helped you decide whether Level Rewards is right for you or not and if you have any questions, please feel free to let me know in the comment box below.
Thank you!
We Constantly Review Programs in "Make Money Online" Niche,
So That You Don't Have to Waste Countless Hours
Want To See Our
TOP RECOMMENDATION?