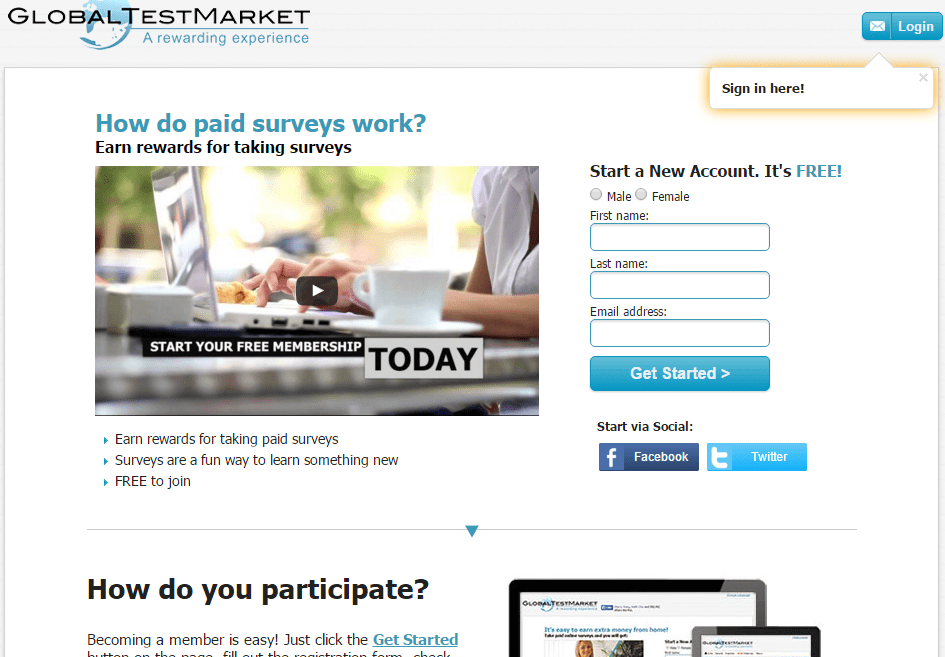 GlobalTestMarket Review Summary
---
Quick Summary: GlobalTestMarket (Global Test Market) is one of the largest survey sites which has more than 200 partners who host their surveys. This is one of not many survey sites that actually pays and they let you withdraw the money. I called them legitimate but read this review why I am not a big fan of survey sites in general
Overall Rating: 6/10
Recommended: Yes
What is GlobalTestMarket About?
GlobalTestMarket is another survey site which allows people to participate in online surveys and earn "market points" which can be later redeemed by check, PayPal or Gift Cards. The minimum withdrawal amount is $50 that is equivalent to 1200 market points.
Global Test Market is one of the largest survey sites which has been around since 1999. They currently have close to 5.5 million members around the world. This is certainly very popular site for people trying to make extra money online.
They claim that paid over $30 million in 2016 alone which is pretty impressive. And they have more than 200 partners where surveys come from on their platform.
Why Survey Sites are so Popular?
The main reason survey sites are so popular is because it feels like you can make money online instantly but in reality you will need to put a lot of efforts in order to make very little money.
I have yet to see stories online where someone got rich by taking online surveys. If you can make $100 – $200 per month by doing surveys then you must be spending lots of time on many different survey sites which can get very exhausting over the time.
And I am sorry to say that your time is very cheap if you rely on income from survey sites. Here is a post on whether you can really make money by taking online surveys. And here is a video of the best shot of making money with online surveys:
What is Included in the Membership
GlobalTestMarket membership area is very straight forward. You will need to complete your profile information and based on that you will start getting qualified surveys.
Surveys will range from food, retail products, cars, different services and on average will take 10-20 minutes to complete. There are not many categories you can choose yourself unlike Swagbucks, with GlobalTestMarket you will mostly take surveys given to you based on your qualifications. Some surveys are available to take online and some would come as notification via email.
Here is a video review on GlobalTestMarket and some strategies to use in case you want to try them out:
Why Choose GlobalTestMarket?
GlobalTestMarket is one of not many sites that actually pays for the surveys and this is why it is widely used. People are working hard to earn 1200 market points in order to earn $50.00 cash.
I personally liked Swagbucks more as with them you can take surveys and also use them for all your online shopping needs. They give you good credit points if you buy your regular products on Amazon, Ebay and many qualifying sites which is really nice that if you buy anything online then you can also earn Swagbucks points.
If you are serious about wasting your time and doing online surveys then I suggest to sign up for at least 5 legit survey sites like this ones:
I am Vasiliy,
Discover My Secrets to Making Money Online
PROS
Free to join and easy to start taking surveys

Legit site which has been around and BBB accredited since 2004

Money can be withdrawn although with huge delays
CONS
Many surveys get screened out

Withdrawing money for cash takes nearly a month, for International users even longer

Very small earning potential and very time consuming

Many complaints about customer service

Affiliate program is not available in many regions

Qualification process for taking surveys gets very complex after some time
Based on many global test market reviews online you may start off pretty well in to earning your $50 but as you stay longer as a member you will start to get "screened out" in the middle of the surveys which can get pretty frustrating although you will still get 5 market points for the efforts. Qualification process after some time gets more strict and less surveys will be available to take.
Here is a snapshot from some of the most recent comments on SurveyPolice website:
As you can see reviews are very mixed but if you spend time researching and actually using GlobalTestMarket you will realize that you will start off well but slowly come across not having many surveys to take.
Tired of Wasting Time on Low Quality Programs?
I'm so grateful that I was able to find THIS PROGRAM which helped me to finally start making money online!
GlobalTestMarket is for anyone who has free time to kill filling out surveys which will get very boring over time.
You can earn few hundred dollars but it will require good dedication. People who participate in at least 5 survey websites which I mentioned earlier can earn extra $200 a month, but be prepared to spend enormous amount of time.
Why not try to actually start Legitimate business online which will eventually turn in to residual income earning money even when you sleep?
Support is available mostly via email although if you search online you can find their phone number.
Many people complain that some of the emails are auto responded and not properly addressed. Also issues like: "Frozen website", "Got screened out in the middle of the survey" or "When will I get my check" are not addressed with concern and even may be left unanswered. Here are 2 comments below as an example:
It is absolutely Free to Join GlobalTestMarket. Account is created with few easy steps which includes personal information. There are no hidden fees or charges. This is what tricks people in to getting in to online surveys.
In reality they slowly start sharing their personal information and get bombarded back with lots of advertising, free trial offers and random junk.
GlobalTestMarket is certainly legit and one of the largest survey sites you can find online. Most of the problems with them are related to qualifications for surveys and also getting screened out in the middle of the survey as well as lengthy process of withdrawing money.
Be ready to spend countless hours doing surveys to earn your $50. Don't get me wrong I have done surveys online and was able to earn few hundred dollars a month but this is not a life changing opportunity.
If you want to earn $2,000 – $10,000 per month building solid online business then you should look at My #1 Recommendation here.
We Constantly Review Programs in "Make Money Online" Niche,
So That You Don't Have to Waste Countless Hours
Want To See Our
TOP RECOMMENDATION?