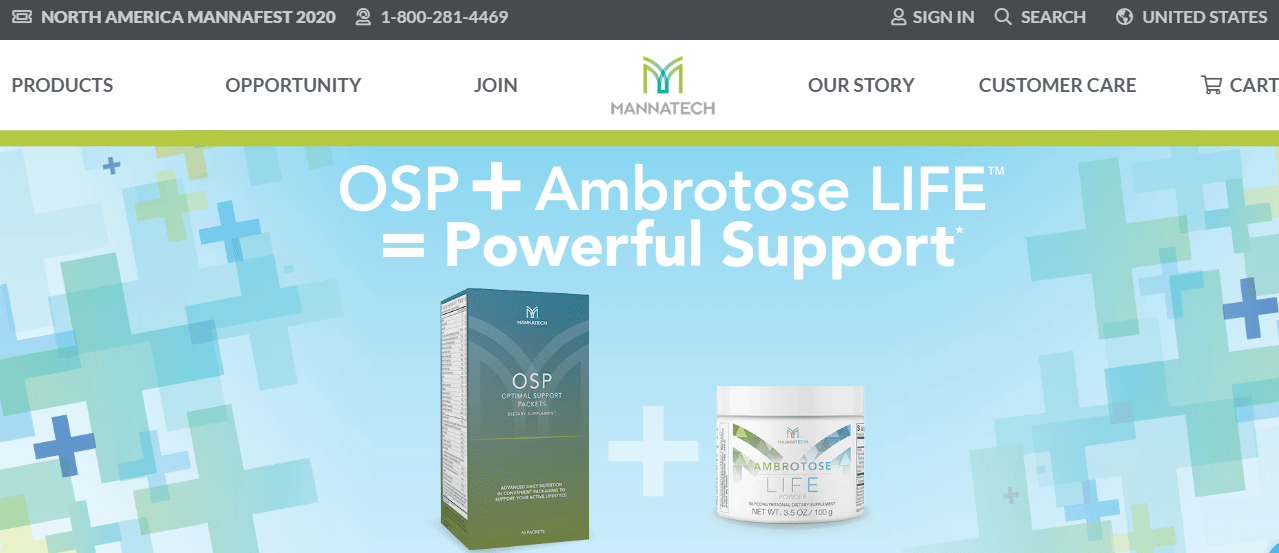 Welcome to My Mannatech Review!
One may think that Mannatech and America's politics are interrelated. Well, I can say (or use the word) - somehow.
Why? You may remember that several figures from politics have been related to this company. Rafael Cruz, the father of presidential candidate Ted Cruz, was a top salesman for Mannatech while neurosurgeon and conservative politician Ben Carson spoke at events openly promoting the company and its products.
Mannatech Review Summary
---
Name: Mannatech
Website: www.us.mannatech.com
Founders: Samuel Caster
Product Type: Multi-Level Marketing
Price: Starting From $99 To $999
Quick Summary: Mannatech is an MLM company under the health and wellness niche. They provide nutritional supplements to optimize human health. The brand also promotes skincare and weight loss essentials.
Overall Rating: 5/10
Recommended: No
So I got curious and researched this company. And I found out that it is a multi-level marketing company with lots of federal suits tagged on its name. For the record, this is not a review of politics but on Mannatech's business practice.
Scroll down for you to know if it is legit or just a waste of time and money.
Founded by Samuel Caster in 1994, Mannatech sells dietary supplements and personal care products. Within 25 years of being in the business, the company expanded its reach to 26 countries around the world.
According to its website, Mannatech has obtained 143 exclusive product rights and holds 95 product rights in the different major global markets. And has been acquiring and evolving their products to meet new demands.
Mannatech also works on its company mission of helping fight global malnutrition by nourishing children around the world. This program is called Mission 5 Million. Through this program, they helped children in need by making sure that they received proper nutrition through their products. Since 2009, the company's programs have generated over 122 million servings of nutritional support for malnourished children.
Mannatech Products
Mannatech offers a variety of health and dietary supplements products. But before the company develops its products, it first sold Manapol, an aloe vera extract made by a different company.
Today, its most popular product is Ambrotose, a dietary supplement made from sugars derived from plants. Aside from this, Mannatech also offers other producxt under these categories:
Integrative Health
Targeted Health
Weight & FitnessSkincare
Home Living
Mannatech provides decent products considering they offer a 6-month money-back guarantee. However, they have a handful of lawsuits filed against them for having 'false claims' on their products.
How To Earn With Mannatech?
If you're exploring to join Mannatech, you should familiarise yourself with the two income-earning opportunities that are very typical of MLM companies in the market.
Be a retailer and sell their products to earn commissions
Enter the recruitment system and build a team under you
Also, I took the time to review the Mannatech Compensation Plan and knew that they offer 18 ways to earn money and that they use the unilevel business model. See below the list on how to earn:
Retail Profit
Member Bonus
Member All-Star Bonus
Direct Bonus
Generation Direct Bonus
Personal Power Bonus
Automatic Order Bonus
Team Bonus
Team Development Bonus
Leadership Bonus
Leadership Generational Bonus
Leadership Level Bonus
Leadership Development Bonus
Presidential Development Bonus
Lifestyle Bonus
Silver and Gold Presidential Bonus
Platinum Presidential Bonus
Incentives
The list may look like a lot, but don't get too excited. You can get paid in 18 different ways but you can't get paid all at the same time in 18 ways. In reality, you can only get paid half of the bonuses at once.
Also, I've mentioned that Mannatech operates on unilevel business model. Being one of the oldest and well-known compensation plans in MLM, it is easy to understand, faster and easier to earn income by only sponsoring one line of team recruitment.
However, it is difficult to make consistent income because if your downlines don't work hard, it will directly affect your income as well. You'll always have to work double effort to recruit new members.
Mannatech is not a scam. The company has products being sold to its customers. Keep in mind that if you want to earn a serious income, you'll have to constantly recruit new and new members.
Despite not being a scam, I wanted to highlight the lawsuits filed against its founder and later on with the company itself. Mannatech was known for its false claims that its products can treat many diseases and conditions, including cancer, diabetes, autism, and AIDS.
There is no evidence that any of these claims were or are true. And all these made the company's vision and leadership very questionable and shady. I've created a timeline to further state this point:
November 2017: Mannatech received a warning letter from FDA for illegally marketing its supplements as medicinal agents and for selling adulterated and misbranded products in violation of Title 21 of the Code of Federal Regulations and Good Manufacturing Practice regulations for dietary supplements.
2010: The company losses were at $10.6 million due to the continuous falling of market capitalizations and S&P Indices dropped it from the S&P 600 Index, stating "They are no longer representative of the small-cap market space."
February 2009: Mannatech settled a civil complaint with the State of Texas. They agreed to pay $4 million in restitution to clients who purchased products and $2 million to the state to cover its costs in the case.
March 2008: Mannatech settled the class-action lawsuit by agreeing to pay $11.25 million to the plaintiff class. As part of the settlement, the company admitted no wrongdoing.
2007: In August, Caster resigned as CEO of Mannatech. While in the following month, Grant Thornton LLP was fired .as its auditor after the accounting firm demanded that must remove Caster from all responsibilities and will be replaced.
July 2006: Texas Attorney General Greg Abbott charged Mannatech, MannaRelief, Sam Caster, and Reginald McDaniel, the company's medical director, with operating an illegal marketing scheme in violation of state law.
May 2005: An article was published in Barron's questioning the company's business practices.
Summarising these lawsuits filed against the company, I hope you can consider this before joining Mannatech.
Otherwise, you should just spend your time growing a legit business without capital -- and you can start by clicking this link.
If you're interested in joining, you first consider becoming an Associate Member for $49.99 per year. But this is just basically a membership because you are not eligible for selling their products and recruit members.
To get completely started, you can choose from three different packages:
Basic Pack – $99 – $169
All-Star Pack – $499
Premium All-Star Pack – $999
Their packages are expensive but they don't differ much from each other in terms of the earnings you will get in return.
To learn more about Mannatech, you can watch the video below:
Here Is My Top Recommendation to Start Highly Profitable Online Business from Comfort Of Your Home
PROS
One Of The Longest Operating MLM Companies
Mannatech has been in the business for a long time now. Though there are years of low sales and market capitalization, they thrive in the industry and are aiming to improve their products and get wider customer reach.
Quality Products
The wide variety of products with relatively good reviews. Despite the false claim issues the company is facing, if you browse through some reviews on the internet like Amazon, you can read good reviews and recommendations from customers. Also, Mannatech is serious about product development. A testament to this is the more than 100 patents they have acquired, constantly investing millions in product development and researching.
CONS
Too Many Competition
Mannatech is operating in an over-saturated market of health and wellness products. The competition is tight in this market and it means you have to triple your efforts to sell the products and recruit members.
High Cost For Initial Investment
The expensive starter pack for their products is also a concern. Why do you have to spend hundreds of dollars on products, if you can get the same nutritional benefits to other products that can be both in wellness stores and the supermarket?
Involved With Too Many Controversies
Mannatech's reputation is not good. All of the lawsuits tagged in its name puts the company in a very bad light. False product claims can result in the difficulty of selling them because customers no longer trust the brand and the company. Your reputation as a seller can be at stake too.
Tired of Wasting Time on Low Quality Programs?
I'm so grateful that I was able to find THIS PROGRAM which helped me to finally start making money online!
Mannatech is for individuals who believes in the benefits of health and wellness. It would be very beneficial to sell products related to nutrition, health, and wellness if you believe in it. It is even good if you're able to try and test it. This creates a genuine and authentic seller's recommendation
My advice for people who have decided to explore the business opportunity with Mannatech is that: Despite the issues tagged in the brand name, if you believe in its value and capabilities you can sell it.
Mannatech is your typical MLM company that offers products for you to sell and at the same time recruit members under the unilevel business model. And it doesn't really guarantee a consistent income flow or a stable way of earning money.
But the highlight of my concern is the alarming company and brand reputation of the company. There have been so many lawsuits filed and questionable leadership practices. I don't really like these things considering that it is a known business, so a crisis like this should not really be happening.
I don't recommend joining this company. If you really want to venture into this kind of business, you can try other MLM companies that sell health and wellness products and services that have no legal or lawsuits filed against them.
If you think MLM is not for you (and you're not alone), you can look check out my #1 recommended program instead!
Sign up now and be one of the many individuals who started making money online and enjoy the following perks:
Proven strategy to work smart and earn a lot (literally)
Best possible support including your own training coach
Lots of training resources
Step-by-step guidance
My personal help
And so much more!
I hope you liked my Mannatech review and if you have any questions or you want to share your personal story with the company, you can share it below.
Thank you!
We Constantly Review Programs in "Make Money Online" Niche,
So That You Don't Have to Waste Countless Hours
Want To See Our
TOP RECOMMENDATION?