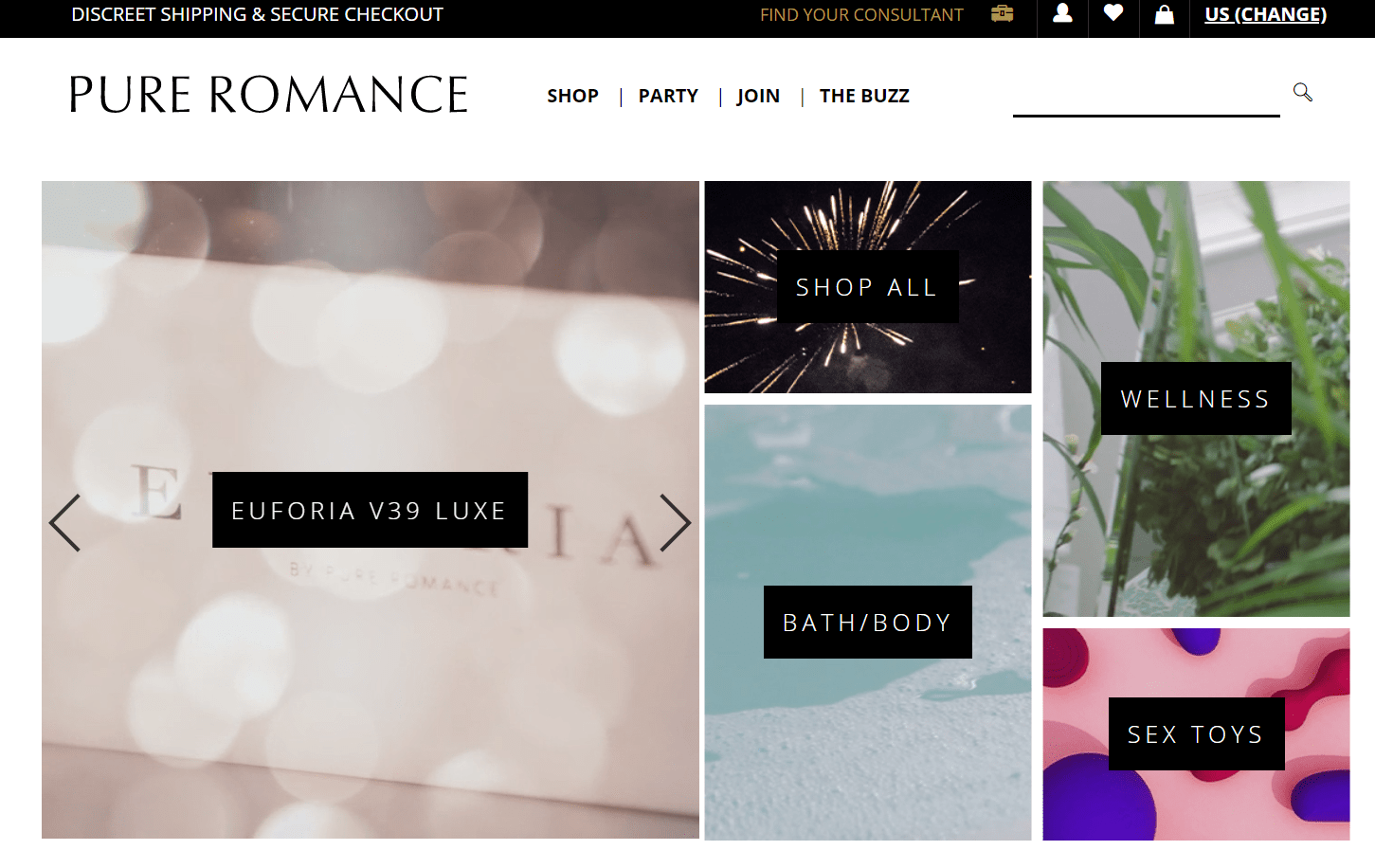 Welcome to My Pure Romance Review!
Multi-level marketing has offered opportunities a long time ago, probably around 1920's or 1930's. That being said, this business model is nothing new; in fact, many people have ventured into this.
Usually, the common products marketed are health supplements and/or slimming coffee but it doesn't stop there. There are network marketing brands that also promote digital products, such as coaching and mentorship. And now, we're going to talk about a company that sells sex toys.
Yes, you've read that right!
Pure Romance Review Summary
---
Name: Pure Romance
Website: www.pureromance.com
Founders: Patty Brisben
Product Type: Multi-Level Marketing
Price: Business Kits Ranging From $219 to $659 + $200 Worth Of Products Every Two Months
Quick Summary: Pure Romance is a unique MLM opportunity that promotes sex toys, personal care, and beauty products. It's been in the industry for more than 20 years and so far, it's not been involved with any issues. Does it mean that you can trust this program?

Find out in this honest Pure Romance review.
Overall Rating: 4/10
Recommended: No
Pure Romance, as the name suggests, is an MLM company that sells personal and intimate products. Exciting? You bet it is but before you dive into this opportunity, let's find out if it's a legit program or not.
P.S.
If you're looking for a legit income opportunity without the need to purchase and sell actual products, you can check my FREE Step-By-Step Guide on how to make money online.
What Is Pure Romance About?
Pure Romance is a multi-level marketing (MLM) company that mainly promotes sex toys. It was founded in 1993 by Patty Brisben.
Before Pure Romance, Patty has joined various direct sales companies and has ranked as one of the best consultants. 10 years later, she launched her own brand at her own home in Cincinnati.
In 2016, she founded her own foundation called Patty Brisben Foundation for Women's Sexual Health.
As an MLM opportunity, it offers ways to make money and I'll talk about this in a bit but if you're new to this, here's a quick explanation of how a multi-level marketing works. After all, many people think that this business model is a scam.
First of all, MLM is a legit business model. It sells tangible products or services that are valuable to its consumers. It provides an opportunity to make money by allowing the members or distributors to promote their products, too. Plus, it gives commissions or bonuses for recruiting individuals to join their platform.
However, unlike a pyramid or Ponzi scheme, a network marketing program does not compensate its members directly for just inviting another person; rather, they provide bonuses and incentives to teams who have met a milestone or goals.
The idea is that the more members or downlines you have, the bigger the chance to make more sales since you have more people in your team.
Knowing what kind of business you're going into is important before you sign up as this is one way to avoid scams.
Pure Romance Product Line
On their website, there's a "Shop" tab and it includes the categories of their products, namely:
New
Bath & Body
Limited Edition Sets
Lubricants & Creams
Wellness
Sex Toys
Lingerie
Sexual Wellness
Massage
For Guys
Couples
Collections
Professional
Autoship
The XOXO Gift Guide
As mentioned, they mostly promote sex toys, such as dildos and vibrators but other than that, they also have personal care products, such as shaving cream, essential oils, and firming cream.
The products are somewhat unusual for most people but if you search online, there are many brands selling similar items and there are individuals who are really buying it. The problem with Pure Romance's brand is the price.
Imagine, one of their vibrators called Euforia V39 Luxe costs $1,000! If you check Amazon, you can find similar sex toys under $50 but well, it'snot covered with Swarovski.
Pure Romance Product Reviews
The good thing about Pure Romance is that their website also shows reviews from its consumers. Now, most of the feedback are positive but there are also negative ones, which is normal for all types of business.
You can also find reviews on Amazon or you can see the screenshots below:
How To Make Money With Pure Romance?
As mentioned, there are two ways to make money with Pure Romance. Being an MLM company, you make money by becoming a member and having access to their wholesale rates. This gives you a chance to sell their products based on their suggested retail price and earning through retail commissions.
You can earn around 30% to 40% markup, depending on the business kit you've purchased.
And as mentioned above, you'll get bonuses and incentives or override commissions from your downline.
Here's a video of Pure Romance's compensation plan.
Hosting A Party
One way to promote your products, as per Pure Romance, is to host a party. This means holding a party at your home, cafe, or anywhere you're comfortable for your friends and families. This will give you a chance to showcase the brand's products as well as the opportunity offered.
It's a fun way to recruit new downlines, too but be sure to NOT sound aggressive or else, instead of encouraging, they might stay away from you.
Pure Romance is not a scam.
It's a legit MLM platform that offers legit opportunity to make money. It was founded by a real person in 1993 and after more than 20 years, it's still operating.
If you rely on the Better Business Bureau (BBB), you might feel relieved knowing that it's accredited and it has an A+ rating. It did receive a few complaints, such as defective items, being charged without consent, and poor customer service.
However, it's not enough to call someone a scam but still, despite being legit, I cannot recommend this platform unless you are confident with their products.
To become a member of Pure Romance, you have to purchase their business kits.
Note: Remember, the business kit you choose affects the amount of commission you get per sale.
Below are the updated kits to choose from:
2020 Standard Kit $219
Valued at $525, this kit includes their best-selling products, product catalogs, marketing materials, online office, business website, and a 90-day trial of Media Center.
2020 Deluxe Kit $439
Valued at $1,059, this kit has the same inclusions from the 2020 Standard Kit plus 10% more savings, 10 best-selling personal care products, and 3 best-selling toys.
2020 Premium Kit $659
Valued at $1,529, this kit has the same inclusions from 2020 Standard Kit plus 15% more savings, auto-activation, best-selling toys, and personal care products.
On top of this, you have to purchase at least $200 worth of products every 60 days (2 months) to keep your account active.
Here Is My Top Recommendation to Start Highly Profitable Online Business from Comfort Of Your Home
PROS
Legit MLM Company
It's good to know that Pure Romance is a legit company. It's been operating for 27 years and that shows that it's really lucrative otherwise, it's been shut down for a long time. But other than that, I can't find any advantages to joining this program.
CONS
Expensive Products
As mentioned, there are similar products found on Amazon and other online shops at a cheaper price. As a distributor, it will be challenging on your part knowing that there are other alternatives online and offline.
Required Purchase Every Two Months
If you have knowledge on marketing and selling, this is an easy task but if you're just beginning with networking, this can be difficult. Imagine, you have to re-purchase at least $200 every two months and if you still have products, you'll be forced to sell these or else, you have to worry about the sex toys and personal care you at home.
Tired of Wasting Time on Low Quality Programs?
I'm so grateful that I was able to find THIS PROGRAM which helped me to finally start making money online!
Pure Romance is for those who are using this kind of product to enhance their sex life and health. It's also for those who have experience with network marketing.
As mentioned, you have to recruit people to join the platform and it's not easy. Some MLM participants even end up with broken relationships because people get annoyed with their constant invites.
Also, the prices of their products are steep and if you don't know how to market it correctly, you might not get your investment back.
Pure Romance is a legit MLM company that offers unusual products, making it somewhat unique. After all, the common products that most network marketing brands promote are health supplements, skincare essentials, and coffee.
However, the prices of their products are expensive and given that there are cheaper alternatives, it would be hard to make money selling sex toys, lingeries, and their other products.
Therefore, I cannot recommend it, especially for newbies. Remember, you are required to purchase at least $200 worth of products every month. Now, if you're not confident promoting this brand, I suggest that you look for a better opportunity instead.
Want to start a business without monthly autoships required?
If yes, then I got the best solution!
Sign up with my #1 recommended program (the best program for most marketers) and take advantage of the following perks for free:
Free Business Websites
Free Training Resources
Free Coaching And Webinars
24/7 Customer Support
And Many More!
Thank you for reading my Pure Romance review and if you have questions or concerns, please feel free to share it below.
We Constantly Review Programs in "Make Money Online" Niche,
So That You Don't Have to Waste Countless Hours
Want To See Our
TOP RECOMMENDATION?