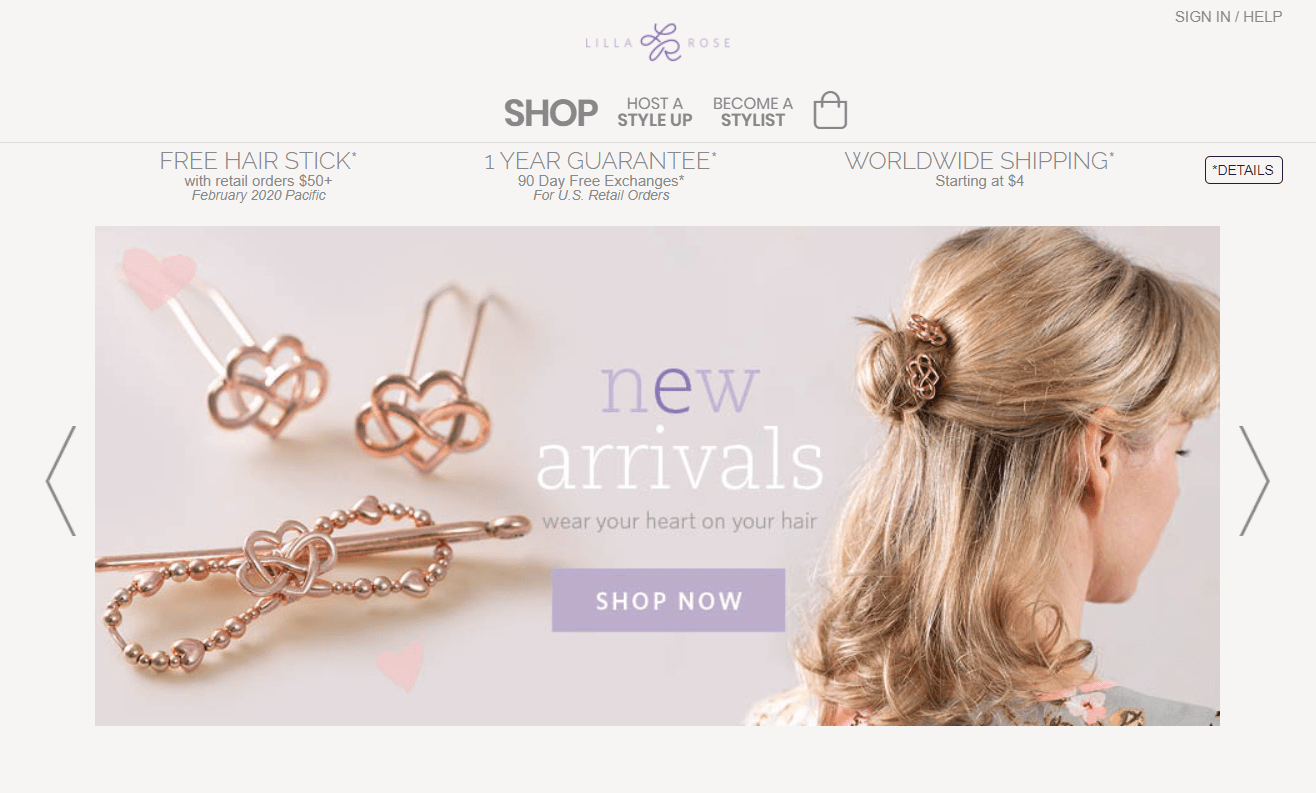 Welcome to My Lilla Rose Review!
Hey there!
Perhaps a friend is promoting a hair clip brand called Lilla Rose or inviting you to join the platform so you can earn money even at the comforts of your own home.
If that's the case, you must be excited about it but before you dive into the opportunity, it's good to perform a background check first to answer the most important questions:
Lilla Rose Review Summary
---
Name: Lilla Rose
Website: www.lillarose.biz
Founders: John Dorsey
Product Type: Multi-Level Marketing
Price: $89 For The Ready Set Style Kit + $589 For The Fast Start Kit (Optional)
Quick Summary: Lilla Rose is a network marketing platform that promotes hair clips and accessories. It's legit and it offers a business opportunity that members can make money from but before you join this platform, be sure to read the entire review first.
Overall Rating: 5/10
Recommended: Yes... and No
What is it about? Is Lilla Rose a scam? Can you really make money from this program?
In this post, we will talk about Lilla Rose, one of the most talked-about multi-level marketing (MLM) companies of today. It's making a buzz on social media because of its growing number of distributors but doesn't worry, I'm not a member of this platform so rest assured that I'll provide nothing but honest review.
What Is Lilla Rose About?
Lilla Rose is an MLM or network marketing company that promotes hair essentials, such as headbands and hair clips. It was founded by John Dorsey in 1992 after he realized that his hair accessories or "haircessories" are selling well at the farmer's markets and trade shows.
After a series of failures and successes, Dorsey and his wife were able to grow their following, thus contributing to its success even up to this day.
Lilla Rose Product Line
Lilla Rose mainly promotes hair accessories, thus the term "hairccessories."
It includes hair clips, headbands, bobbies, sticks, and upins. On their website, it is categorized according to its kind and features, such as light, warm, dark, colorful, leather, and nature.
The hair essentials are pretty but the price is higher compared to the ones marketed online and on shopping malls. It's usual, however, for an MLM product to be more expensive but the problem is, it would be challenging to sell these since there are cheaper alternatives.
Another thing is that there's nothing unique about the products. Yes, it looks pretty but not to the point that it's stunning and something to be obsessed about.
If you want to sell the same products without worrying about membership fees, the price of the products, and recruitment (since it's an MLM program), I suggest that you try affiliate marketing instead.
What Is Affiliate Marketing?
Affiliate marketing is a legit business model that allows you, the affiliate, to promote products without actually buying them.
It works like this: you promote the product by inserting a link in your content or social media post and when a visitor buys the product using your link, you will earn a commission.
Here's a quick video to explain affiliate marketing even more:
If you're a newbie and you're interested in growing a business using affiliate marketing, I suggest that you sign up with Wealthy Affiliate now!
It's the top choice of many marketers, newbies and seasoned, because of many reasons. For one, you can start making money without worrying about your membership fee. Some programs, such as Wealthy Affiliate, allows you to set up your business without capital.
Also, with affiliate marketing, you can pick any products you're interested in. You're not limited to one type of item or niche alone. For example, if you join Lilla Rose, you can only make money by selling hair accessories but if you join Wealthy Affiliate, you can promote any hair accessory brands, laptops, slimming capsules, or other products of your choice.
Lilla Rose Product Review
There are only a few reviews about their products online and most of which are negative. Some complaints are about poor customer service and defective products. You can see more feedback here or you can also check the screenshot below:
How To Make Money With Lilla Rose
If there's one thing that sets Lilla Rose apart from the usual MLM schemes, it's their compensation plan.
It's simple and straightforward.
Let's say you want to make money as their part-time consultant, then you get 30% to 45% commission and this depends on the actual sales you make each month. For instance, you get a 30% commission for sales that are less than $200; 35% for sales ranging from $20 to $500; 40% for sales ranging from $501 to $1,000; and 45% for more than a thousand sales.
This is the same percentage you get if you apply as a full-time consultant. The difference, however, is that you have access to more incentives and bonuses.
And like other MLM platforms, you earn more if you recruit people. For starters, you earn 7% of the sales of your downlines.
To learn more about Lilla Rose, you can watch the video below:
No, Lilla Rose is a legit MLM company that's been running for since 1992. It's not accredited by the Better Business Bureau but it has an A+ rating.
Also, they offer tangible quality products that distributors can make money from so for now, there's nothing to worry about it being a scam.
As a business, you have to invest not only your time and patience to make it grow, you also have to put some cash to become a Lilla Rose consultant.
At the time of this writing, they offer a business kit or package called Ready Set Style. The products included are valued at $300 but you can purchase it for only $89.
It includes product catalogs, order forms, business cards, brochures, tabletop banner, hair accessories, back office, and a personalized website.
You can also purchase their Fast Start worth $589, which has the same inclusions that the Ready Set Style has but it comes with more products valued at $1,400 and additional perks.
The good thing about this is that there are no quotas required and you don't need to enroll in an autoship program to keep your account active. Plus, both kits give you access to business tools and support, such as training.
Here Is My Top Recommendation to Start Highly Profitable Online Business from Comfort Of Your Home
PROS
Legit Company Operating For More Than 20 Years
Lilla Rose has started 20 years ago and until now, they've been operating online without involving themselves in too many controversies.
Yes, there are complaints against their products and customer service but it's not as heavy as the ones against other MLM companies, such as being too focused on recruitment, which can shut them down.
No Quota Required
Unlike other MLM brands, there are no monthly autoships required. You can become a member and make money from them without purchasing a certain amount of products every month.
But of course, this won't work if you want to make money. Like other types of business, you have to consistently purchase and grow your inventory as well as your sales otherwise, you won't be able to make a decent income.
CONS
Expensive Products
Selling products at a higher rate is normal for MLM companies however, I don't find anything unique about their hair accessories that would justify its price.
There are too many online shops nowadays offering a better rate so unless you can find an edge for this brand over other businesses, then you should ignore this program instead.
Low Income Potential
Considering the price of the products that you will sell plus the study by Jon M. Taylor about MLM companies, you should not expect a lot from this and other network marketing platforms.
According to the research, 99% of MLM participants lose their money and mind you, he has studied some of the well-known network marketing brands, like Amway, Ameriplan, Advocare, Isagenix, and Melalueca.
Tired of Wasting Time on Low Quality Programs?
I'm so grateful that I was able to find THIS PROGRAM which helped me to finally start making money online!
Lilla Rose is good for those who are fond of hair accessories, such as headbands and hair clips. It's also for those who have experience with multi-level marketing companies since it'll be easier for them to start and grow this kind of business model.
Lilla Rose is a legit business and considering the number of years they are operating as an MLM platform, it only shows that they are doing something profitable otherwise, they would have been shut down.
I'm not a fan of MLM programs because of personal experiences but I admit, this is one of the good MLM companies you can consider if you like hair accessories. Also, you can consider this is if you've been a distributor before. This means you have an idea about how network marketing works.
If you have no problem with selling overpriced products and recruiting people, you might consider this and perhaps, just add another side hustle so you can have a stable source of income. Otherwise, skip this and check out the better alternative I for you below!
Hate inviting people to join your platform? If yes, then I got the best option for you!
Sign up with my #1 recommended program you can do at home and take advantage of these benefits:
I hope I have enlightened you with my Lilla Rose review and if you have questions or comments, please feel free to share it down below.
We Constantly Review Programs in "Make Money Online" Niche,
So That You Don't Have to Waste Countless Hours
Want To See Our
TOP RECOMMENDATION?