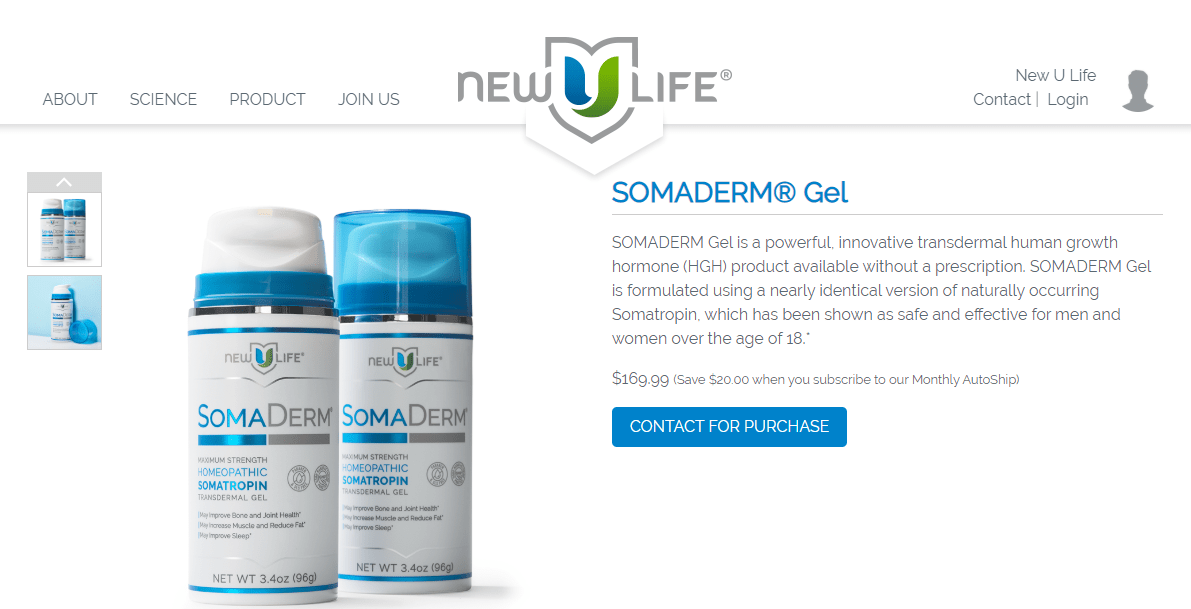 Welcome to My Somaderm Review!
Is Somaderm legit or another overhyped product?
Does New U Life offer a good money-making opportunity?
Is Somaderm a scam?
Somaderm Review Summary
---
Name: Somaderm
Website: www.newulife.com
Founders: Alex Goldstein
Product Type: Multi-Level Marketing
Price: $199 For Membership Fee + Product Packages Ranging From $499 To $899
Quick Summary: New U Life is an MLM program that promotes anti-aging products. One of their popular essentials, Somaderm, claims to burn fat, reduce signs of aging, and build muscle mass. The brand also offers an opportunity to make money at home.
Overall Rating: 1/10
Recommended: No

If these are just some of the questions running in your mind, then you've come to the right place! In this post, I'll talk about New U Life including their flagship product to help you decide if this is the right program for you or not.
P.S.
I'm not an affiliate of Somaderm or New U Life so rest assured that I'll be sharing an unbiased review of the product.
Somaderm is the flagship product of New U Life -- a multi-level marketing company that promotes health and wellness products. The brand produces a "gel" -- a.k.a. Somaderm -- to help individuals "maintain, build, and repair healthy tissue in the brain and other organs".
It was founded by Alex Goldstein in 2017 but despite being new to the industry, his business managed to grow bigger. As of now, it's one of the most overhyped products online and for two reasons -- good and bad.
About The Founder
Based in California, Alex Goldstein has a humble beginning. He came from a family who owned a health and wellness store and at the age of 18, just when he's about to become a high school student, his parents gave him the decision to either manage or sell the business.
It's a tough decision to make, considering that he's only 18 years old at that time. Normally, teens at this age can be found only in two places -- school or parties. But not with Alex; he chose to run the business and later on, developed an anti-aging product, which, by the way, is FDA-registered.
New U Life's Flagship Product -- Somaderm
If there's one thing that made this business a hit, that'd be their flagship product called Somaderm. It's an anti-aging gel that contains Human Growth Hormones (HGH) -- a substance that is popularly known for helping people feel and look younger.
While the product is registered with the FDA, they are not approved yet so consumers should use this at their own risk.
Somaderm claims to:
Improve the appearance of skin

Stimulate metabolism

Repair, build, and maintain tissue to body organs, such as the brain

Build muscle mass

Burn body fats
One bottle of Somaderm (96g) costs $169.99 and according to their website, it should be applied to the forearms, underarms, wrists, behind the knees, or other "thin areas of the skin".
The brand also recommended to consult a doctor before using their product and for me, this is a good thing. Most MLM companies are not transparent with their products, claiming that anyone can use this even without visiting a physician.
However, with New U Life, they made sure to remind their consumers to consult a physician before using their products.
Somaderm Reviews
I looked for Somaderm reviews online and here's what I found:
Like other products, Somaderm has positive and negative reviews but based on this website, the positive outweighs the negative ones.
Other products include KG4 and KetoGenesis4 -- ketone drink mix that burns body fats.
How To Make Money With New U Life
There are two ways to make money with Somaderm or New U Life -- retail profits and bonuses.
For retail profits, all you have to do is become a member of their program, get the products at a discounted rate, and sell it based on the suggested retail price. The difference between the member's rate and SRP is your earnings.
Normally, you can earn around $40 to $45 for every Somaderm bottle and $25 if your customer signed up for the auto-ship order.
You can also make money by recruiting more people to join the platform. This helps you increase your rank for a chance to get higher payouts.
You can watch the video below to learn about New U Life's Compensation Plan:
Somaderm and New U Life per se is not a scam. It's a legit business with legit products and business opportunity. It's not accredited by the Better Business Bureau though; however, it has an A rating.
But then again, despite being legit, you should the risks you're about to take when joining a network marketing company. According to a study, only 1% of MLM participants make money. It's not impossible though because of the overpriced products you have to sell plus the recruitment part.
Normally, you have to invite new people to join the platform to earn commissions but even if you do, you can only earn a little unless you're a top distributor or an upline.
Here Is My Top Recommendation to Start Highly Profitable Online Business from Comfort Of Your Home
Also, I found out a few issues about Somaderm that you should consider.
Potential Ponzi Scheme Or Scam?
I found a thread on Reddit and it's about a girl who's selling "spots" instead of the product. According to the thread, the product is NOT in stock yet but they'll give it to the buyers once it back. So, they have to pay first, fill out a "legs" or a membership form (I think), and wait until the product is available.
Considering this, I realize that the company and distributors do not really care about their consumers and products; rather, they only care about the money.
Adverse Side Effects Of Too Much Human Growth Hormone
While this substance aids in slowing down signs of aging, it may also bring adverse effects to its users, such as:
Pain in the muscles and joints
Swelling in legs and arms or Edema
Carpal tunnel syndrome
Risks of cancer, diabetes, and more.
In line with this, no doctors or homeopathic experts would recommend this for daily use unless it's for severe health issues.
Only FDA-Registered, Not Approved
Here's the thing, Somaderm emphasizes that they are registered with FDA under #61877-0005-11 but their product is NOT APPROVED. Unfortunately, most people don't realize the risks they're taking when joining and using the product.
To become a member and start earning, you need to pay $199 for their membership fee. This includes a bottle of their flagship product, Somaderm.
You can then choose from the two packages they offer -- Pro Pack and Executive Pack.
With Pro Pack, you need to pay $499 and get 6 bottles of Somaderm. Meanwhile, you need to pay $899 for Executive Pack and get 8 bottles of their HGH gel.
If you want to avail a discounted price for your Somaderm gel but you don't want to become a member, you can sign up for their auto-ship program.
FREE TRAINING
Learn How I Started Highly Profitable Online Business From Comfort of My Home Following This Blueprint
PROS
Honestly, I don't like anything about New U Life. Their product might be a hit but after learning a few things about them, such as the side effects that it may cause plus the way their distributors market their brand, I cannot recommend this to anyone.
CONS
Typical Unethical MLM Practices
If there's one thing I don't like about MLM programs, it's the approach of their distributors. It's like they are trained to get other people's money rather than promote the product itself. For instance, the example above.
The girl sells "spots" and promises to give the products once it's available and then asks these people to fill out a form. It's a dirty tactic to expand her team or at least grow her lead.
Bold Claims
New U Life stresses that they are registered with FDA but since they are NOT approved, this means nothing. However, they make sure to include this in their marketing to lure vulnerable victims.
Low Income Potential
The price for one bottle is too high and since it's clinically tested and proven, I don't see that it's worth the price. If you want to look and feel younger, I think it's best to stick with the basics -- have a balanced diet and keep an active lifestyle.
I like how the founder, Alex, has started. He's a good role model for anyone who wants to start a business. He's young and inexperienced but he bravely runs their family business and perhaps, that's one reason why his brand is growing.
However, I just don't like how they market their products. It's full of bold claims and for something that's not FDA-approved, it would be scary to use this. Yes, there are positive reviews about their Somaderm but still, it's best to consult a doctor before using the product.
Also, if you're planning to join this kind of program, get yourself ready to sell expensive products and recruit new people. You can also find more network marketing companies by clicking this link.
Tired of the same old scams?
Don't worry, I got a better solution!
We review so many products on our website and our Top Recommendation offers these perks if you are serious about starting online business:
One-on-one coaching
Comprehensive guide
The best business tools and support you need
Webinars and training resources
And many more!


I hope you enjoyed my Somaderm review and if you have any questions, please feel free to share it below.
Thank you!
We Constantly Review Programs in "Make Money Online" Niche,
So That You Don't Have to Waste Countless Hours
Want To See Our
TOP RECOMMENDATION?