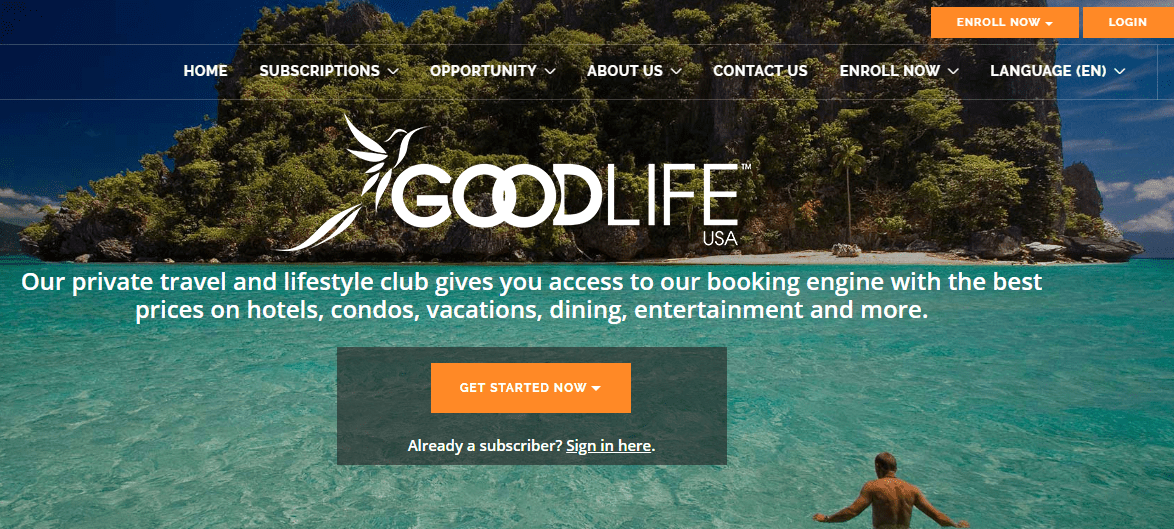 Welcome to My GoodLife USA Review!
Nowadays, there are so many opportunities online that let people make money even without going out of their home and one of which is the GoodLife USA.
This multi-level marketing program is making a buzz over the internet but is it for good reasons? Is GoodLife USA a scam or a legit program? How much money can you make from this platform?
GoodLife USA Review Summary
---
Name: GoodLife USA
Website: www.goodlifeusa.com
Founders: Mark Seyforth And Edward Dovner
Product Type: Multi-Level Marketing
Price: Membership Fee Starts From $11.95 To $59.95 + One-Time Fee Ranging From $99 To $199
Quick Summary: GoodLife USA is a multi-level marketing company that promotes discounted rates on hotels, airlines, and more. It's an opportunity that lets you make money by selling memberships and recruiting new people. It's legit, however, there are too many people calling it a scam and this review will tell you why.
Overall Rating: 3/10
Recommended: No
Find out all the details you need to know in this honest GoodLife USA review.
P.S.
I'm not an affiliate of this program so rest assured that I'll be sharing my own unbiased feedback of GoodLife USA. I'll also share a legit money-making opportunity that you can start NOW!
What Is GoodLife USA About?
GoodLife USA is a multi-level marketing company that falls under the travel niche -- almost like Evolution Travel. It was founded by Mark Seyforth and Edward Dovner in 2015.
Unlike typical MLM programs, you will not be selling products to make money; rather, you'll receive exclusive travel and lifestyle offers that you can use to book hotels, resorts, or cruises.
As a member, you also have the perks to score the best deals on dining, car rentals, sports events, flights, entertainment, shopping, getaways, and more.
About The Founders
I did a little digging about the owners and I found out that Mark Seyforth is a reputable marketer. He has a background with MLM companies, such as Slendernow and Herbalife. He also delivers inspirational talks to anyone who wants to reach their goal.
As of the moment, he has created founded four organizations: GoodLife USA, Seyforth Laboratories Inc., Extreme Research Inc., and Seyforth Manufacturing Inc. AS of now, Mark is the CEO of his travel and lifestyle MLM program.
Meanwhile, when it comes to Edward Dovner, there's little to no details about him aside from the ones stated from his website. According to their page, he's a "founder, inventor, and CEO".
According to his site, Edward developed his entrepreneurial skills when he became one of Metropolitan Life Insurance Company's sales agents. Then he founded his own company that produces gourmet coffee and sold it.
In 1993, he launched a new business called First Choice Armor & Equipment -- a brand that sells bullet-proof vests. However, the company received a lawsuit from the Department of Justice in 2009, claiming that Dovner's brand has submitted false claims about their products.
Apparently, the materials used for the bullet-proof vests are not safe for ballistic use. The U.S.also filed a lawsuit against First Choice Armor & Equipment for the fraudulent conveyance or fraudulent transfer.
The GoodLife USA Products
Unlike usual MLM programs, GoodLife USA doesn't have any tangible products to offer instead, they provide discounts on "travel, retail, and more".
Below are the travel memberships they offer before:
Silver Membership $11.95/Month
This membership is focused on providing hotel and travel discounts. This doesn't come with any start-up fee and you need to pay $11.95 a month.
Gold Membership $99 Start-Up Fee + or 39.95/Month
For Gold membership, you need to pay the start-up fee one-time and monthly business maintenance fee every month. This includes discounts on travel and hotels plus the cruise packages.
Platinum Membership $199 or $59.95
For Platinum membership, you need to pay the start-up fee worth $199 one-time and $59.95 every month for the monthly business maintenance. This combines the benefits of becoming a Silver and Gold member plus some more perks.
Now, they have new packages to choose from -- Starter and Platinum.
For Starter membership, you have to pay $79 one-time and $9.95 per month. For Platinum membership, you have to pay $379 one-time, $49.95 for the monthly subscription fee, and $9.95 for the monthly business maintenance fee.
Will these discounts help you save money? Yes. the 25% discount they offer is quite a deal, especially when you're a frequent traveler. They've partnered with more than a hundred hotels and airlines so you have a lot of services to choose from.
How To Make Money With GoodLife USA?
Now, the most anticipated part -- making money with GoodLife USA.
To learn more about their compensation plan, you can or watch the video below:
Like typical network marketing companies, you have two ways to earn: selling their products and inviting people.
Since GoodLife USA has no tangible products to offer, you'll be selling VIP Club Cards but before you can earn, you need to become a member first.
To do this, you can simply fill out the form found on their website and get your own VIP Club Card.
To earn commissions, you have to invite at least 2 people to join the platform or convince 20 or more people to purchase your VIP Club Cards.
Of course, the higher your membership is, the bigger the bonuses you can get, which means you have to become a Platinum member to get more incentives.
To learn more about their compensation plan, you can click this link or watch the video below:
No, GoodLife USA is not a scam. They DO provide discounts on your hotel and airline bookings. However, I found out several complaints against them that are more than enough to tell everyone to ignore this brand before it's too late.
Poor Customer Service
Every business has its own set of positive and negative feedback but with GoodLife USA, the negative reviews outweigh the positive ones. Apart from people calling them a scam, I was surprised by how their customer service representative has responded to one of their clients.
I think I'll take the "poor customer service" back and replace it with WORST CUSTOMER SERVICE instead.
Not Accredited By The Better Business Bureau
For some people, being accredited by the Better Business Bureau (BBB) means a lot. If not, at least have a good rating with them.
On GoodLife USA's case, the brand is NOT accredited and it has an F rating so for me, it's a double whammy! If they're too good to be true as they claim, the travel MLM company must at least have good feedback and rating so they can be trusted.
No Money-Back Guarantee
Some of their clients are asking for a refund but got nothing in return, such as the ones below. The worst part, for me, is that they can't talk to anyone else other than the robot or recorded messages.
It only shows that they don't care about their clients; they only care about their clients' money.
Here Is My Top Recommendation to Start Highly Profitable Online Business from Comfort Of Your Home
PROS
Honestly, I can't think of any pros. I mean, yes, they do provide discounts but the membership fees they have almost compensated the discounts they are giving.
CONS
Customer Service Spoils The Perks
For me, customer service means a lot. No matter how big or established or well-known your business is, if your customer support is not good, it will affect your brand a lot. As for GoodLife USA, I don't see any reason to join their program anymore.
Yes, the discounted rates are great but if you have no one to talk to in their company in case you have concerns, then they're not worth your time. You are investing money in the first place and you are signing up as a member for an expensive so I think it's just fair to receive the best treatment from their company.
Expensive Memberships
Paying $11.95 per month just to get discounts is not really practical for me. I mean, other programs are offering lower prices for free! You can try Agoda, Trivago, or other hotel booking sites if you want to book accommodations at a lower rate.
Too Many People Calling Them Scam
Despite being legit, it's hard to believe this company anymore because of the negative reviews online. While it's usual for legit MLM companies to be called a scam, the number of people that complain against their company is alarming.
Need To Invite People To Join The Program
It's typical for MLM companies to invite new people but with GoodLife USA, you are required to have at least 2 downlines or 20 clients who will purchase the VIP Club Cards before you earn a commission.
Trust me, it won't be easy unless you found someone who doesn't care about money at all.
If you want to make money at home or while traveling, I suggest you take my FREE STEP-BY-STEP GUIDE on making money online.
Tired of Wasting Time on Low Quality Programs?
I'm so grateful that I was able to find THIS PROGRAM which helped me to finally start making money online!
GoodLife USA will require you to become a member before you get discounts and start earning so for me, it's good for anyone who travels and stays in hotels a lot.
GoodLife USA looks like a promising opportunity. It's like you can earn while you travel and relax at the same time; however, if it sounds too good to be true, it's because it does.
Based on the reviews online, it's more than to tell you what kind of opportunity you're going to have.
Do you think you'll have the support you need for your business considering the kind of customer support they have?
Do you think it's worth your time knowing that you'll be selling expensive memberships?
Do you think it's the right opportunity to take despite the fact that many people are calling it a scam?
If you're looking for a legit opportunity that would help you make money online, then look no further!
Just sign up for my top-recommended program and have everything you need to get started, such as:
Best possible support including your own training coach
Proven strategy to work smart and earn a lot (literally)
Step-by-step guidance
Lots of training resources
My personal help
And so much more!
I hope you enjoyed my GoodLife USA review and if you have any questions or you want to share your experience with this program, please feel free to drop it down below.
Thank you!
We Constantly Review Programs in "Make Money Online" Niche,
So That You Don't Have to Waste Countless Hours
Want To See Our
TOP RECOMMENDATION?