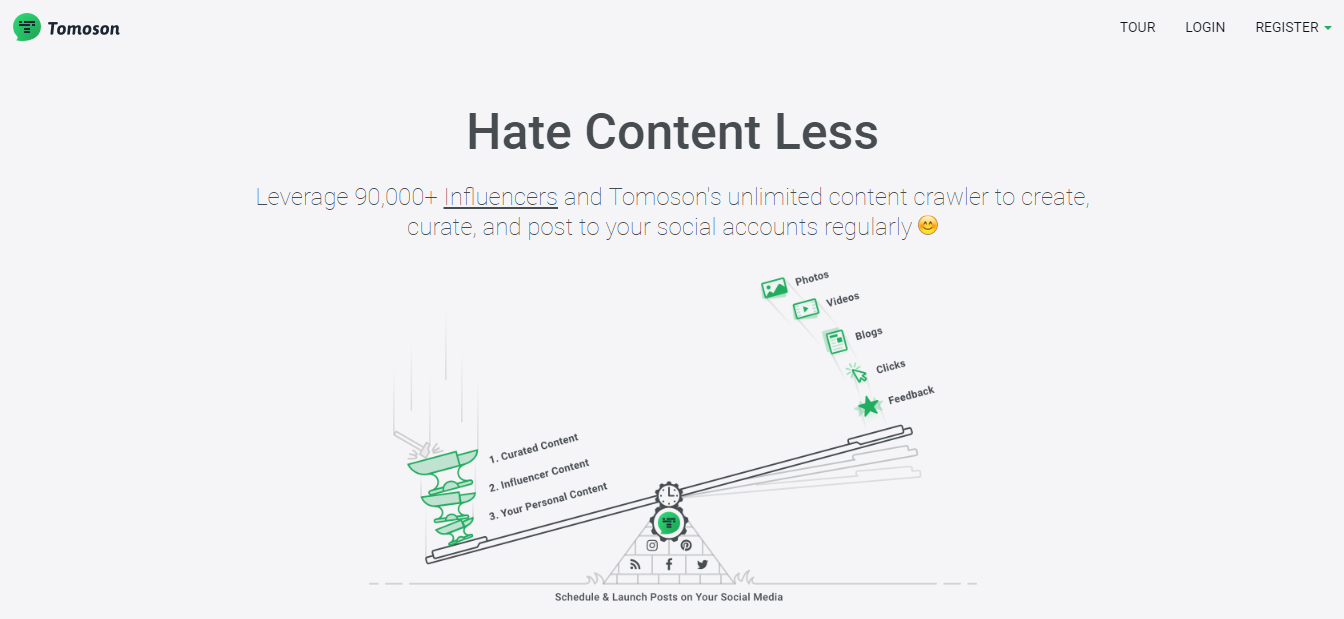 Welcome to My Tomoson Review!
Most people think that becoming an influencer means opening yourself to various opportunities, which is mostly true. And perhaps, that's one reason why many people want to become one. I mean, who wouldn't want a free staycation to a glamorous hotel, sponsored beauty products, and cash?
Normally, brands will reach out to influencers but there are also a few programs you can try if you want to get paid for promoting and providing reviews to certain products, such as Tomoson.
Tomoson Review Summary
---
Name: Tomoson
Website: www.tomoson.com
Founders: Undisclosed
Product Type: Get-Paid-To (GPT)
Price: Free
Quick Summary: Tomoson is an online platform that claims to pay influencers and bloggers for promoting campaigns. There are different brands you can work with; however, you have to meet certain requirements, such as the geographic location, number of social media accounts followers, and the traffic that your blog is generating.
Overall Rating: 6/10
Recommended: Yes... and No
I've seen this platform online while looking for a new opportunity and I found out a few things about it that you should consider before you sign up for the program.
P.S.
I'm not an affiliate of this platform so expect me to provide an honest Tomoson review.
Tomoson is an online platform that benefits two types of parties -- influencers and brands. As an influencer, you get paid for promoting products and services and as a brand, you can market your business effectively with the help of the reviews you get from the influencers.
How Tomoson Works?
To become an influencer, you can register for free using your Facebook, Twitter, Instagram, or Google account. You need to provide basic details, such as your name, gender, email address, and password.
This is how Tomoson dashboard looks like:
Inside, you can find Offers, Campaigns, Favorites, and Media Kit. You can choose whether you want to receive paid, free, or deal offers. You can also see campaigns and filter the ones that you are qualified for since some campaigns have certain prerequisites to follow. On their dashboard, you can also connect your blog and other social media accounts, like Twitter, YouTube, and Facebook.
From what I see, almost anyone can join; however, the amount you'll receive depends on the campaign and the brands that you're working on.
How Much Money Can You Make From Tomoson?
Tomoson gives you the freedom to set your own rate; however, this rate will be used to compete with other influencers. The better your price is, the higher the chance for you to be chosen by the brand.
Also, as mentioned, the amount you can get depends on the brand and campaign you are working with. According to my research, you can get around $5 up to %100 per review depending on the quality and length of the review.
As of the current writing, the only payment platform that Tomoson uses is PayPal. It's good news though since this online financial service is not only reliable, it's also available in many countries and you can create an account for free.
Can Anyone Join Tomoson?
Almost anyone can create a free account with Tomoson but getting approved to promote campaigns is another issue. Every brand and campaign has its own prerequisites that you should meet and this can be anything. From the number of followers you have on your social media accounts up to the niche of your website.
If you meet their requirements, you will be "pre-approved" but this doesn't mean that you can start promoting their offers. For the last step, the brand has to approve the qualified influencers -- manually -- so they can start promoting and earning.
I know this sounds like a lot of work but there's more. Apparently, you have other responsibilities as an influencer, such as posting unique content, using coupon code, verifying links, etc. You can read more of your tasks by clicking this link.
From what I see, Tomoson is a legit opportunity that you can take advantage of when you have massive social media followings as this gives you a chance to be approved by various brands. If you're a beginner, you might want to work on the traffic of your blog, create quality content, and grow your social media.
However, despite being NOT a scam, Tomoson has received a few backlashes from their users.
For one, most campaigns are limited to US residents. While almost anyone can create an account on this platform, there's no guarantee that you will earn from every campaign you like, no matter how massive your social media following is.
Some brands only prefer to work with US resident, therefore before you start with the application process, make sure that the company welcomes writers and influencers who are living outside the United States.
Also, when you're new to blogging or you're a "small-time influencer", getting a bid can be a challenge. Apparently, you need to grow your own brand to get the job you want from Tomoson. For me, it's just fair. I mean, brands are paying money so probably, they want to work with people who are worth paying for.
However, don't fret. If you're just new to blogging, I can offer a step-by-step guide that will help you grow your traffic online. It's free and it has everything you need to get started. It works almost the same as Tomoson wherein you need to create content and insert links to earn cash. The difference, however, is that you'll get the support you need no matter how small or big your blog is.
Tomoson is free for influencers. You can create an account and get paid for free. However, you have to pay for paid offers if you wish to get more opportunities. These are mandatory though so there's no need to shell out a dollar.
This is good news since there's little to no risk involved when joining with Tomoson. But then again, the income opportunity is low if you have a small following or your blog does not generate massive traffic.
If you're a blogger and you want to get paid for promoting products and services, I suggest you sign up with Wealthy Affiliate instead. This platform, which is an affiliate marketing program, by the way, is intended for beginners and seasoned marketers so they can earn money online or even score a passive income.
To learn more about Tomoson, you can watch the video below:
Here Is My Top Recommendation to Start Highly Profitable Online Business from Comfort Of Your Home
PROS
Legit Income Opportunity
Tomoson is a legit income opportunity that allows bloggers and influencers to use their skills in influencing other people's decision. If you have a large fan base, you can take advantage of this platform and earn money from it.
Uses PayPal
PayPal is widely used by freelancers, affiliate marketers, and other individuals who work online. It's reliable and free to almost anyone, thus it's good to know that Tomoson pays their influencers and bloggers using this platform.
CONS
Not For Beginners
Blogging has been in the industry for quite a long time now but there are a lot of people aspiring to start their own blogs. If you have just started your own website and you're planning to earn through Tomoson, it would be a challenge for you to compete with blogs that have already been established.
As mentioned, brands want to work with someone who's worth their money so they're less likely to choose bloggers with little to no traffic and influencers with small followers.
Most Campaigns Only Qualify US Residents
Most brands and campaigns target residents who are living in the United States only so if you're not a US resident, the number of campaigns you can work on is limited. This means that your income potential is limited, too. Therefore before you send an application, be sure to check whether the offer accepts international bloggers or not.
FREE TRAINING
Learn How I Started Highly Profitable Online Business From Comfort of My Home Following This Blueprint
For me, Tomoson is intended for people who have been blogging for a long time or whose blogs have generated a massive amount of traffic. It's also for those who have a large number of followers on Instagram, Twitter, YouTube, and Facebook.
To be recognized as an influencer, you need to know how to influence other people's decision, therefore you have to curate content that are persuasive enough. You also need to know how to target the right market so it'll be easier for you to promote the campaign effectively.
If you're just starting to blog, don't worry. You can find a lot of free training online or you can follow my step-by-step guide for free. It takes time and effort to generate traffic though but once it's stable, you can use it to earn cash online.
On their dashboard, under the Media Kit tab, you'll find a quick training. It includes a 2-minute video on how to set up your own media kit, and a short writeup on how to set a standard price.
If you're new to this kind of opportunity, the training is not enough for you to enhance your blogging skills. You need to look for a legit training platform so you can grow your expertise on this aspect and my top recommended program will show you how.
Tomoson is a good and legit way to make money online if you're a blogger or an influencer. However, I cannot recommend it since it will only waste the time of beginners. There's a lot of things you need to do first before you can actually earn from this program. It would work for seasoned marketers and bloggers though.
If you're looking for another opportunity that would help you earn a good income online, I suggest you read the next section.
Making money online is hard but not impossible and I can show you how. Make sure to check out My Top Recommendation as here are the reasons I recommend it:
One-on-one coaching
The best business tools and support you need
Comprehensive guide
Webinars and training resources
And many more!
I hope I've helped you decide whether Tomoson is worth your time or not. If you have any questions or comments, please feel free to share it below.
Thank you!
We Constantly Review Programs in "Make Money Online" Niche,
So That You Don't Have to Waste Countless Hours
Want To See Our
TOP RECOMMENDATION?