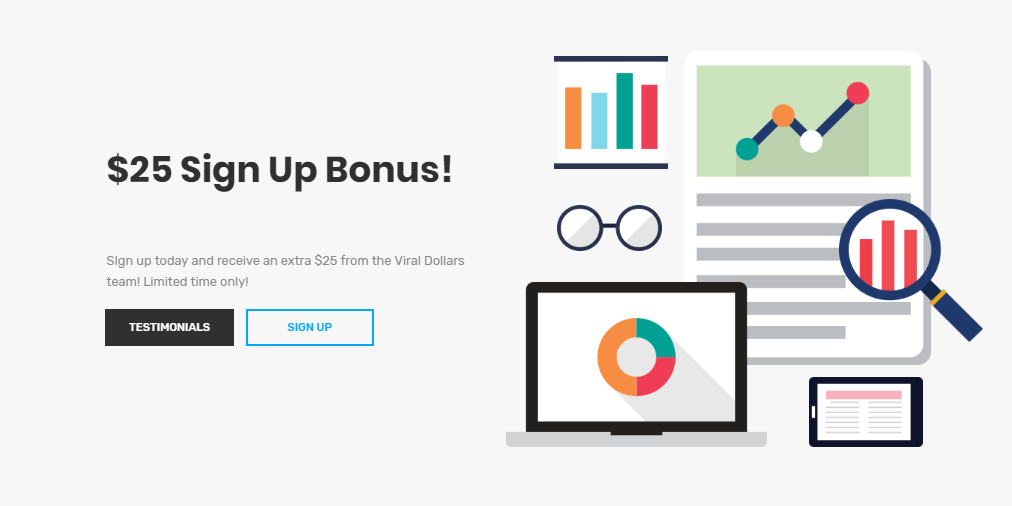 Welcome to My Viral Dollars Review!
Last time, I read a review about a website called Viral Dollars and how it would help you make money by becoming an influencer. I wasn't surprised if this opportunity is profitable because influencers, nowadays, are a thing.
Viral Dollars Review Summary
---
Name: Viral Dollars
Website: viraldollars.co (formerly viralpay.co and viraldollars.co)
Founders: Undisclosed
Product Type: Influencer Network
Price: Free
Quick Summary: Viral Dollars is an influencer network that claims to pay people for inviting new members. Apparently, you are helping the company earn by generating traffic and increasing their ad revenue. It sounds reasonable but I found out the truth that this program is trying to hide from the people.

Read this Viral Dollars review first to avoid getting scammed!
Overall Rating: 1/10
Recommended: No
For the benefit of the doubt, an influencer is a person who often has massive social media followers, thus giving her/him the ability to influence other people's decisions. Often, they are paid to promote a business in exchange for a free service or product or cash.
That being said, the chance of earning money from becoming an influencer is legit; however, the company called "Viral Dollars" might be a sham.
What Is Viral Dollars About?
Viral Dollars, which is also known as Viral Pay and Referral Pay, is a platform that claims to help individuals earn money by becoming an influencer. According to them, they've been creating money-making opportunities since 2005 and that they've paid more than $68 million to more than 220,000 members.
But before anything else, I found something odd and distracting about the website. I mean, isn't it weird for a website to change their URL every now and then? What's the reason behind it? Are they hiding anything?
I visited their site recently and its new URL is referralpay.co. It has the same content but with a new logo this time.
How Viral Dollars Work?
To start making money, you have to sign up by entering your name, username, email address, and password. You also have to agree with their terms and conditions. The next thing you need to do is to invite new people to join the program. You will get $10 for every successful referral and an additional commission worth $2 to $5 if someone clicks on your referral link. That's why they claim that you can "make $500 today."
Once you have enough earnings, you will be paid via CashApp, PayPal, Western Union, via check, and Bitcoin. If you're wondering about their minimum threshold, they haven't disclosed it and it's probably because they won't pay you anyway!
Anyway, on their FAQ page, they explained why you will get paid for becoming an influencer. Apparently, because you are inviting people to their website, you are helping them increase the traffic and boosts their ad revenue. They also get payments from sponsored products.
It's reasonable, I mean there are a lot of websites earning through this. I'll take myself as an example. I have my own blog site and I earn money through ads. Meanwhile, there are sites earning with the help of affiliate marketing, which, by the way, is not only lucrative but 100% legit.
Whether you're a certified influencer or you're just beginning to venture online opportunities, you can increase your chances of earning a massive amount with affiliate marketing and it works like this:
You -- the publisher -- will promote products and services and each time a visitor purchases a product using your link, the advertiser will pay you. So, the more sales you make, the higher commissions you get.
I know it sounds interesting and it's one of the best opportunities you need now! Why? Because you can do it during your free time or if you want a profitable side hustle.
With affiliate marketing, YOU are your own boss! And you can get started by visiting my top recommended affiliate marketing program, Wealthy Affiliate.
The fact that they are changing names and URLs every now and then is sketchy enough. They've paid more than $60 million to over 200,000 members so why do they keep on modifying their brand?
On their website, you'll be seeing photos as proof of payments there are a few things that are missing: the username of the receiver and the link to their social media accounts. The link is very helpful if you want to know whether the person's legit or not.
There are also testimonials but then again, there's no way to verify it. No photos, no full name or social media/website link that would confirm the person's identity. If you've seen a lot of scams, it would be easy for you to say that this is a red flag.
Remember, they've paid over $60 million but there's no proof, no article written about it from authority websites or news channel, and there's no way to know the people behind the program. They did not disclose the name of the founders or while they shared their social media accounts (Pinterest, Twitter, and Instagram), it has nothing on it.
Do you know what's the most alarming part of joining this program? The privacy of your personal details. When signing up, you'll enter your name and email address, thus giving them the chance to use it for their own interest. They can share or sell it to third parties so they can cash.
In addition, there are reports of hacking attempts. Maybe these scammers are hoping that the password you entered on their site is the same one that you are using on your PayPal account. And if you invite more people to join the program, there's a chance that these individuals will become a victim, too.
It is free but it's not good news since you will not get anything out of it. There's no guaranteed $500, let alone a hundred dollar when you join this program. But, don't even think about risking your personal information just to try if it works or not because as mentioned above, there are hacking attempts.
To know more about Viral Dollars, you can watch the video below:
Here Is My Top Recommendation to Start Highly Profitable Online Business from Comfort Of Your Home
PROS
NONE.
CONS
Fake Testimonials
The photos and testimonials found on their websites, without a doubt, are fake. It's used to trick people into believing that their program is legit and that there are people earning out of it.
Misleading Details
Make $500 today? Now that's impossible unless you're some Kardashian. On their page, they clearly say that you have to invite more people to join the program and if you don't have enough following, you won't be able to refer a lot of people at once. That being said, your $500 is not guaranteed.
Personal And Financial Details At Risk
Your personal and financial information are not secured when you join the program. Aside from hacking attempts, you might be a victim of stolen identity so, ignore this platform at all costs!
No Information About The Owner
If it's a lucrative platform and it has paid over a million to a massive number of members, why won't claim it? If it's the Number 1 Influencer Network, like what they claim, then they should be honored. However, instead of being proud of their "accomplishments", the owners choose to hide their identity instead.
FREE TRAINING
Learn How I Started Highly Profitable Online Business From Comfort of My Home Following This Blueprint
No one.
Viral Dollars is a total sham that you should not pay attention to. They are encouraging influencers but they are asking you to invite anyone. From what I understand, an influencer must have a huge following and it can't be just anyone.
It's disappointing to see programs like Viral Dollars or Referral Pay or Viral Pay (or whatever name it will use in the future). Despite sounding like a downright scam, many people will still fall to their trap. You can't blame them though because they made it sound like making money is easy on this platform.
Imagine, all you have to do is invite people and wait for your commissions but the truth is, you won't be earning anything at all. So if I were you, I'll leave you with two words -- ignore this!
There's no such thing as quick money -- that's a fact that you should now. You need to work hard to get a massive amount of cash and have a stable flow of income. How do you do this, you ask?
By working on a legit money-making platform -- and that's what I'll be sharing with you in this section.
Simply sign up and create a free account (NOT A SCAM, DON'T WORRY) and enjoy the following perks:
Step-By-Step Guide
24/7 Chat Support
Live Active Community
And A Lot More!
There are a lot of scams online but you can still find legitimate programs that you can try and my number 1 recommended program is one platform you should never miss out.
As always, I hope you've been enlightened with my Viral Dollars review and if you have any questions or comments, please feel free to share it below.
Thank you!
We Constantly Review Programs in "Make Money Online" Niche,
So That You Don't Have to Waste Countless Hours
Want To See Our
TOP RECOMMENDATION?