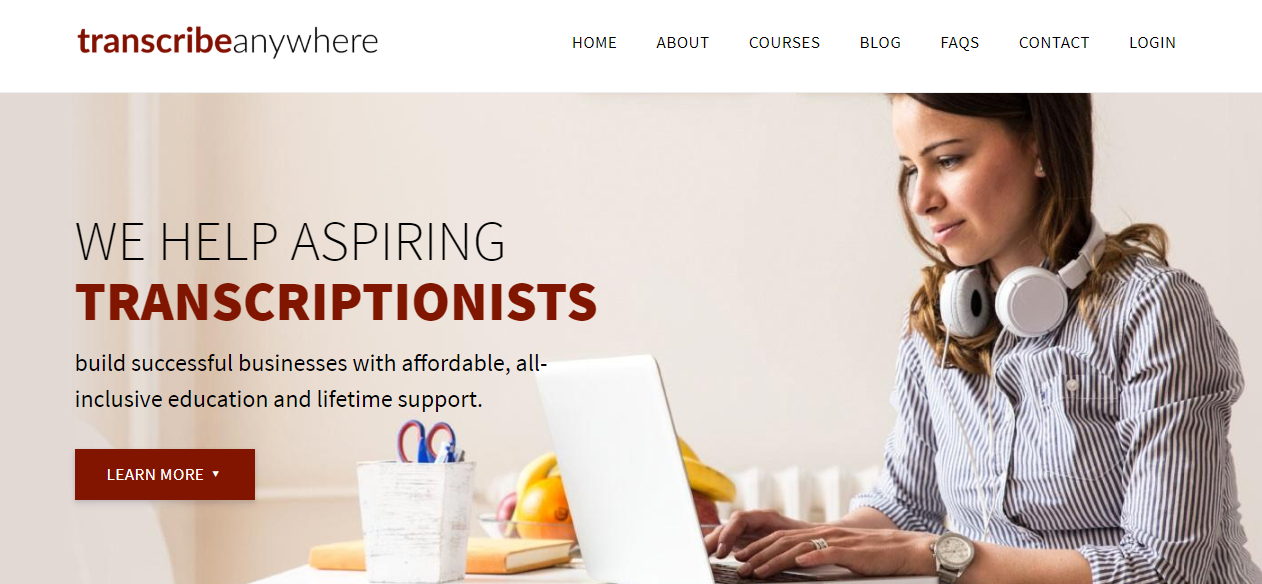 Welcome to My Transcribe Review!
Transcription is one of the most popular and lucrative ways to make money online. It sounds like an easy task that some newbies can do. Basically, all you have to do is transcribe audio files and get paid.
Transcribe Anywhere Review Summary
---
Name: Transcribe Anywhere
Website: www.transcribeanywhere.com
Founders: Janet Shaughnessy
Product Type: Online Training Platform
Price: Stars At $597
Quick Summary: Transcribe Anywhere is an online training program that offers two main courses: The General Transcription Course and The Legal Transcription Course. It is a legit program that gives aspiring and seasoned transcriptionist a chance to improve their skills and knowledge so they can set up their own business.

It's one of the most recommended transcription courses online and this honest Transcribe Anywhere review will help you find out why.
Overall Rating: 7/10
Recommended: Yes
But when you personally try it, you'll realize that it's more than just typing. You need necessary skills, such as analysis, ability to correct grammar errors, and a lot more. That being said, there are training platforms online claiming to help you become a professional transcriber, like Transcribe Anywhere.
From what I see, Transcribe Anywhere is a great platform for those who want to improve their transcribing skills and expertise. But is it really worth your time and money?
I'm not an affiliate of Transcribe Anywhere so rest assured that I'll be sharing nothing but my honest opinion.
What Is Transcribe Anywhere About?
Developed by Janet Shaughnessy, Transcribe Anywhere is an online training program for transcription. In case you are not familiar with transcribing, it's the process of converting video or audio files into a written document.

It's one of the most in-demand home-based offered by different platforms that has provided not only an extra income but a regular job. In fact, the founder has become a transcriptionist, too, before developing her own program.

How Transcribe Anywhere Works?

As mentioned, all you need to do is convert an audio clip into a written file so basically, it's just like listening and typing words. As much as it sounds easy, the job is quite challenging especially if you don't have the right skills and expertise. After all, many businesses are more than willing to pay a good price for transcription services so it's just fair to work with a skilled transcriptionist.

For instance, a certain company would need a video interview transcripted so they can use the information on developing their products. Now, not all audio and video clips are crystal clear so as a transcriber, you have to analyze the conversation, be able to identify mistakes in the grammar and correct it, and a lot more.

That being said, it's really important to know how to execute the task properly, and good training will help you to do so.
Inside Transcribe Anywhere

There are two main courses offered by Transcribe Anywhere, namely: The General Transcription Course and The Legal Transcription Course. It also includes mini courses you can take when you want a cheaper alternative because, to be honest, the training doesn't come with a small cost.

I'll discuss more of this in a bit but for now, let's find out if Transcribe Anywhere is legit.
Is Transcribe Anywhere A Scam?
Often, a program is called a scam when it's too expensive and it doesn't deliver results. As with Transcribe Anywhere, I found a lot of positive feedback about their training. Every module, which I'll discuss in a bit, are thorough and it provides the necessary learning that a new transcriber needs. It also helps a seasoned transcriber develop their skills so they can grow and develop their business.
When you're still in doubt about this training, it's probably good to know that Transcribe Anywhere is AAERT (American Association of Electronic Reporters and Transcribers) certified.
I know I mentioned about Transcribe Anywhere being expensive but because of the value they provide, I believe it's worth the investment. Being a freelancer myself, I know how crucial training are so you can not only find more clients but also, increase your rate.
Anyway, the General Transcription Course costs $597 while the Legal Transcription Course costs $697. In case passed the General Transcription Course, you can get the Legal Transcription Course on a lower price. So instead of paying more than $600, you'll have it for only $500.
You can also choose to buy two programs once and get a $200 off. So instead of paying $1,300 in total, you can have both courses for only $1,100.
Now, you might be wondering about getting free training online instead of paying a hefty amount, and I partly agree with that. If you're just a newbie and you're not yet sure about which path you want to take, you can take advantage of the free resources about transcribing over the Internet or you can choose to start another business instead.
Using my free step-by-step guide, you'll learn how you can start and grow a business online -- without paying for anything. It's free and it has everything you need to get started, such as the 24/7 chat support and a live community, just in case you have questions, concerns, or you simply want to talk with someone within the platform.
On the other hand, if you want to become a better transcriptionist and you want to take your transcription skills into the next level, I recommend Transcribe Anywhere. It might be a little too much, especially when you're just starting but the extensive training it provides is worth the price.
Otherwise, you can choose other payment plan options instead. This gives you an affordable alternative when you want to take the training but on a lighter price.
The General Transcription Course Payment Option
Level 1 - Take the first two modules for only $127 for 1 month
Level 2 - Take the first four modules for only $362 for 2 months
Level 3 - Upgrade from Level 1 to full training for only $470 (instead of $597); upgrade from Level 2 to full training for only $235
The Legal Transcription Course Payment Option
Level 1 - Take the first four modules for only $197 for 1 month
Level 2 - Take the first nine modules for only $497 for 2 months
Level 3 - Upgrade from Level 1 to full training for only $500 (instead of $697); upgrade from Level 2 to full training for only $200.
If you want to learn more about Transcribe Anywhere, you can watch the video below:
Here Is My Top Recommendation to Start Highly Profitable Online Business from Comfort Of Your Home
PROS
Comprehensive Training
As I mentioned, training is crucial when you want to find more clients and increase your rate as a consultant, freelancer, or business person. I did some paid training in the past and it's really worth it because I was able to expand my business. I believe the same thing happens when you enroll in Transcribe Anywhere.
The course provides real value you can use when you want to become a professional transcriber. You can also add this to your credentials when you want to attract more clients, increase your chances of getting hired, or if you're considering starting your own training program in the future, too.
Flexible And Convenient
Now, this is one perk you get online. Whether it's an online job or training, it often allows you to work or study anytime you want.
With Transcribe Anywhere, you can learn the modules in your most convenient time, anywhere you are as long as you have a laptop and an internet connection.
Affordable Payment Options
For most people (myself included), providing a huge amount upfront is challenging so flexible payments plans like what Transcribe Anywhere offers really help.
CONS
No Refund
This is just fair since it's a digital product, to begin with. It's not a tangible thing you can return if you are not satisfied. Therefore, if you're not certain about taking this course or you want to learn more if it's worth the hype, read reviews (such as this one) first so you know what to expect.
This is not really a disadvantage since it's education. I mean, you do not go to college, pay fees, and expect your money back if you don't want to study anymore, right?
Find out more about their refund policy here.
It Might NOT Be The Right Job For You
This is not directly about Transcribe Anywhere but being a transcriptionist itself. While there's good money in here, the job may be right for you and if you've taken a high-ticket course, it's a waste of time (and cash) no matter how good it is. After all, you won't be able to use it, right?
Tired of Wasting Time on Low Quality Programs?
I'm so grateful that I was able to find THIS PROGRAM which helped me to finally start making money online!
Transcribe Anywhere will require you to cash out a huge amount so it's good for those who are serious about becoming a transcriptionist. It's ideal for beginners who want to know the ins and outs of transcribing to help them become better at it. Seasoned transcribers can also take advantage of this course to improve their skills and expertise.
As mentioned, there are two main training offered: The General Transcription Course And The Legal Transcription Course.
The first one (The General Transcription Course) has five modules and here's an outline of it:
Module 1 -The Foundation
Module 2 - The Most Essential Skills To Become A Pro Transcriptionist
Module 3 - Best Time-Saving Tools For More Efficient Transcription
Module 4 - Practice Dictations
Module 5 - Building Your Transcription Business
Module 6 - Final Examination + Certification
The second one (The Legal Transcription Course) is longer as it has 16 modules all in all. It's more comprehensive and basically, it's best for anyone who wants to learn about legal transcription, mock trials, courtroom materials, etc.
It also talks about how you'd set up your rate as a transcriptionist, building your own transcription business, using SEO and social media, and a lot more.
In case you're still uncomfortable with shelling out a huge amount or you want to know what you'd expect from the program, you can take the free mini-courses they offer. This course is done through a series of email messages and you can communicate with Janet, the founder, via email as well.
Transcribe Anywhere is a good, legit course you can take when you want to become a professional transcriptionist. It offers two courses you can use when you want the regular transcription job or the legal one. It doesn't only help you improve your skills and knowledge but also, it helps you set up your transcription business.
It's expensive but if you have enough cash or you want to take transcribing seriously, this is a good opportunity that you should not miss.
In case you're not interested with our recommendation above and you want something more profitable and interesting, I suggest that you sign up with our top-recommended program.
It's the opportunity you're looking for this year and you can join now and have access to the following:
As always, thank you for reading my Transribe Anywhere review. If you have any concerns or questions, please feel free to share it below.
We Constantly Review Programs in "Make Money Online" Niche,
So That You Don't Have to Waste Countless Hours
Want To See Our
TOP RECOMMENDATION?