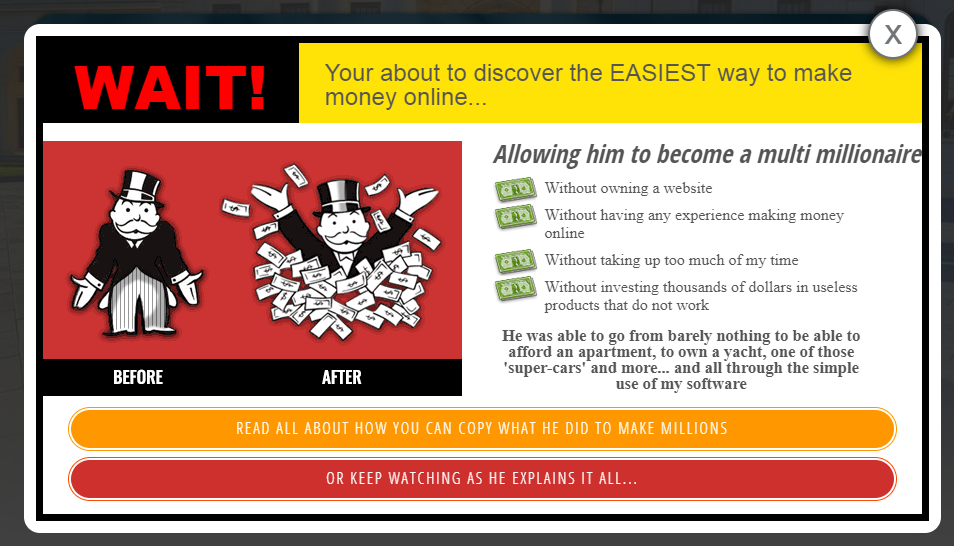 Welcome to My Easy Cash Club Review!
Making a huge amount of cash is hard but not impossible. Whether it's from a regular job or your own business online, you need to invest your time and effort to make it work. That's why every time I hear a platform claiming that you can earn without doing anything, I know for sure that it's either a scam or a low-quality program.
Easy Cash Club Review Summary
---
Name: Easy Cash Club
Website: easycash.club
Founders: Steve Johnson
Product Type: Affiliate Marketing Program
Price: $37 + Upsells
Quick Summary: Easy Cash Club is an affiliate marketing program that claims to help you make massive amount by simply copying the founder's method. Apparently, you will earn cash through video marketing but as soon as you get yourself into the program, you'll find out that it's different from what it should be.

Hint: There are a lot of red flags involved so before you think of signing up, read this honest Easy Cash Club review first.
Overall Rating: 2/10
Recommended: No
Such as the website I recently found online. It's called Easy Cash Club and as the name suggests, making money using the platform is not complicated -- or that's what their site is claiming. However, I cannot call it a scam directly unless I dig into it and find the answer myself.
So if you're asking whether easy cash club is legit or not, this review is for you!
What Is Easy Cash Club About?
Judging by its name, I already know what this program is up to but then again, it's too early to assume. Anyway, Easy Cash Club claims to help you earn a massive amount of cash using YouTube. Apparently, you'll be making affiliate marketing videos using the software that they will provide.
On their homepage, you'll see a sales video with a usual format that low-quality program or scammers use. Broke founder discovered software that turned them into a multi-millionaire > Sharing a life-changing method to a limited number of people > Using software that would help people a make massive amount (in their case, it's $2,000 per day).
I've heard this a lot of times and it's kind of funny to realize that these so-called founders do not even have the guts to show their real face or use their own voice. They use the same story over and over again (probably because this is just another rehashed program) and they make people think that making money, even without experience, is just like a walk in the park.
The truth is -- the claims are fake! The chances of making money with this program are very low and I'll tell you why.
How Easy Cash Club Works
The software -- which is limited to only a few people -- is made to create YouTube videos easily. According to Steve Johson (the "founder" of this program, you don't need any experience of special skills to do this. The best part is that you are only required to work 30 minutes a day to earn $379. All you need to do is create a video using the software, upload it, and let the autopilot system do the rest.
Sadly, there's no such program or app that will allow you to do this, no matter how advanced you think it is. Even if the platform uses video and affiliate marketing, it's not possible to earn a massive amount of cash in just a short time.
Anyway, the software you'll use produce videos that can only be uploaded on YouTube, therefore you have to create an account before you use the program.
Just like the usual video editing, you have to add photos, choose the font, and upload audio or written file. You'll also need a voice over using artificial intelligence (AI) so it sounds like a real person rather than a robot.
But that's not the last step; you also need to sign up with Google Adsense to start monetizing your videos and website. Sadly, making money with YouTube is not easy like this, and I'll discuss this in a bit.
I just want to clarify a few things first. Marketing on YouTube is profitable and I've seen a lot of marketers and vloggers make money using this platform. The same thing with affiliate marketing; this method has been used by many people for a long time. It's legit and it offers a great income opportunity. However, unlike what Steve claims, you cannot make a massive amount of cash in just a short time, especially if you don't have the necessary skills and experience.
Why It's Not Easy To Monetize YouTube
I've always wanted to have my own YouTube channel but I found out, with the help of vloggers, that you need to have at least 1,000 subscribers and 40,000 views first to be qualified in monetizing your videos.
That being said, you have to put a lot of effort into making quality videos consistently. Without the right skills and expertise, I guess it's almost an impossible task. Also, even if you're eligible to monetize your videos, you cannot just earn a hundred dollars a day, let alone that $379 they promised because in that case, you need to have more than 379,000 views. Unless you have a massive amount of subscribers, such as Ryan ToysReview or WWE, this would be a problem.
Also, considering the kind of videos you will upload -- written or audio file using a voice over -- it's nearly impossible. I mean, who would be interested in a video like that?
If you want to have a successful YouTube channel or you just want to market your business using this platform, I suggest that you check this online training program called Jumpcut Academy.
Meanwhile, if you're interested to learn using a legit money-making platform through affiliate marketing, I highly recommend Wealthy Affiliate. This program is free and it has everything you need to get started as an affiliate marketer -- the training, websites, 24/7 chat support, and even a live community. Sign up now and enjoy all these perks and more!
Is Easy Cash Club A Scam?
Is Easy Cash Club legit?
It is legit in a sense that you'll receive a program you've paid for but it's a sham because all their claims are not true. You cannot earn $379 a day, let alone a hundred dollar. Apart from the bold claims, they use fake testimonials and a pen name to hide the real identity of the owner.
For most scams and low-quality programs, fake testimonials using stock or stolen photos are common. Some even pay actors from Fiverr to speak about their product. Here's one example of a fake testimonial with a stolen photo from someone else.
If you want to learn more about Easy Cash Club, you can watch the video below:
Easy Cash Club will require you to pay $37 one time. They say that the website that they will create for you is free and that the payment will go for the hosting. I doubt that this. Why would they give the platform for free anyway?
Anyway, if you purchase this program, expect that you will encounter high-ticket products that are useless. Trust me on this!
Here Is My Top Recommendation to Start Highly Profitable Online Business from Comfort Of Your Home
PROS
There's nothing to like about Easy Cash Club because, for me, I see programs like this as a scam. They are full of promises but for sure, they will never deliver.
CONS
No Income Guarantee
Disclaimers on websites are usual especially if it's a legit program and while Easy Cash Club has this, it contradicts everything that they are saying on their website, especially their sales video.
Apparently, there's no guarantee that you will make money using the strategies they use on their website.
Fake Owner
I doubt that Steve Johnson is a real person and a multi-millionaire because if he is, he should have well-known already, especially in the marketing world. Also, if you're someone who is reputable and you want to reach a larger market, you would have promoted yourself well.
In Steve's case and his program, it's either he is too shy to show his face or he is scared to let everyone know who he really is because if they do, he would have received a lot of backlash for selling a low-quality program.
Fake Testimonials
Easy Cash Club is using stock and stolen photos and I feel bad for those individuals whose images have been used without their consent or knowledge. If you're wondering why they do this, it's because they want to make you think that their program is legit and that a lot of people have used it to make money.
Here's a tip. Don't even think about signing up for this program rather, look for a legit opportunity instead, such as my top recommended program.
FREE TRAINING
Learn How I Started Highly Profitable Online Business From Comfort of My Home Following This Blueprint
No one.
A complete waste of time so doesn't even think about signing up with this program.
Is Easy Cash Club legit? Now you know the answer! It may not be a scam but still, you will get nothing from this program. It has a lot of red flags to worry about so instead of wasting your time and money here, find a legit opportunity that truly works.
Making money online is possible especially if you are with a program that provides the best and ethical strategies to earn an income. If you're interested, I encourage you to check this step-by-step guide.
This legit program has been used by many marketers and you can sign up for free and enjoy the following perks:
One-on-one coaching
Comprehensive guide
The best business tools and support you need
Webinars and training resources
And many more!
That's just some of the benefits you can get for joining this free program.
If you have been enlightened with my Easy Cash Club review (and you want your friends to avoid such kind of programs), please feel free to share this article!
Also, if you have any comments or questions, do not hesitate to drop it down below.
Thank you!
We Constantly Review Programs in "Make Money Online" Niche,
So That You Don't Have to Waste Countless Hours
Want To See Our
TOP RECOMMENDATION?