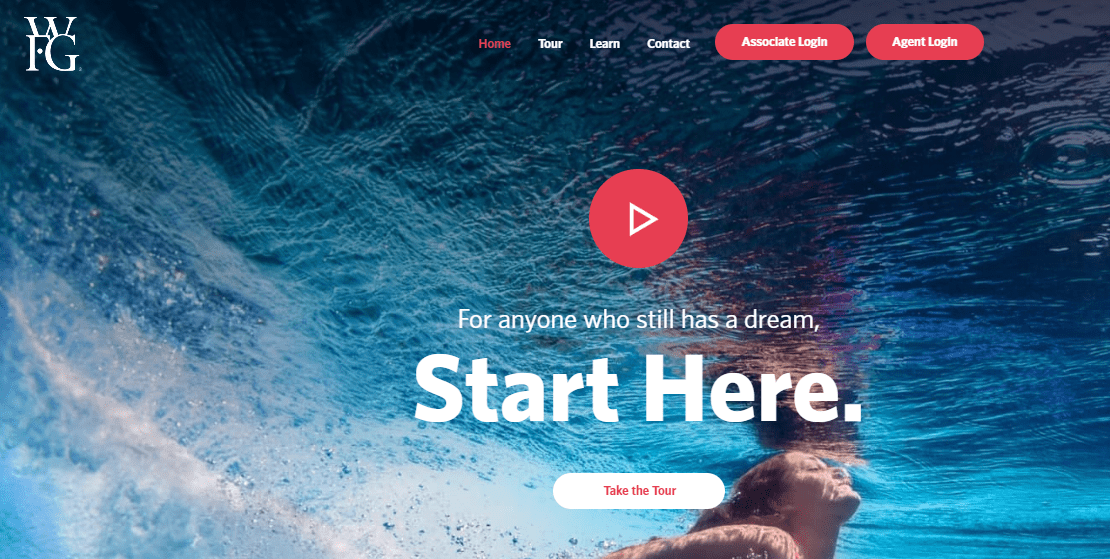 Welcome to My World Financial Group Review!
Multi-level marketing companies are known for selling tangible products but other than that, some of them also promote financial services, such as insurance.
World Financial Group Review Summary
---
Name: World Financial Group
Website: www.worldfinancialgroup.com
Founders: Hubert Humphrey
Product Type: Multi-Level Marketing
Price: $100 Membership Fee + Other Fees Necessary To Become A Licensed Agent
Quick Summary: World Financial Group is an MLM program that promotes financial services, such as investments and insurance policies. It's legit and it offers an attractive opportunity to make money online. But the problem is -- is the opportunity worth a try?
Overall Rating: 2/10
Recommended: No
One of which is a company called World Financial Group (WFG) -- an MLM program that sells insurance and other financial products and services. They also offer a business opportunity for interested individuals.
But is the business opportunity real? Is World Financial Group a scam? How much money can you make with them?
Find out all the answers you need in this honest World Financial Group review.
What Is World Financial Group About?
"For anyone who still has a dream, START HERE" -- that's one powerful line delivered by World Financial Group. This multi-level marketing company is known for promoting financial products that provide protection and savings, such as investment and insurance.
Who Founded World Financial Group?
WFG was founded by Hubert Humphrey in 1991 but it was under a different company named World Financial Alliance. Transmerica Corporation is the parent company of this brand, that's why all financial products and services sold are under their name.
Transmerica is a legit company that promotes insurance products. It has received positive ratings from its consumers, however, compared to other brands that offer the same services, their products are more expensive.
World Financial Group Products And Services
WFG offers various financial products, such as retirement plans, mutual funds, business solutions, legacy strategies, and of course, insurance -- their most popular product.
How To Make Money With World Financial Group
Before anything else, I want to share my own thoughts about insurance. Before, I thought this is not a priority but after learning more about handling finances, I realized that it's a must -- whether you have your own family or not.
Many people think that it's useless since most insurance services focus on critical illness, death, or accidents. I, for instance, believe that I don't need it since I'm still young and I'm not even sick but after understanding what it's about, I understand that one: accidents, sickness, and death can happen anytime, sometimes when you least expect it and two: the insurance is intended not only for you but for the family that you will leave behind.
For example, in case you took insurance with death benefits, your dependents can get a specific amount that may cover your hospital and funeral expenses. It sounds terrifying but in reality, everyone needs this. That being said, there's a great opportunity that lies behind this program.
Going back WFG, here are the two ways to make money with World Financial Group:
Selling their products and earning through profit sales.
Recruiting people to join the program.
World Financial Group Compensation Plan
Like other MLM platforms, your rank affects your commissions; the higher your level is, the bigger the amount you get.
Here's how their ranking looks like and the percentage of commissions they'll get from the sales:
Training Associates (earn as much as 25% sales commission)
Associates (earn as much as 35% sales commission)
Marketing Directors (earn as much as 50% sales commission)
Senior Marketing Director (earn as much as 65% sales commission)
You can watch the video below to learn about World Financial Group compensation plan:
Is World Financial Group A Scam?
No, World Financial Group is not a scam. This company has been operating since 1991 and they are under a well-known company, Transmerica Corporation. They do deliver quality products; however, there are alarming complaints against them, which I'll share below:
Focused On Recruitment
If there's one thing that makes MLM sounds like a bad program, it's the recruitment part. Like most network marketing that has a bad reputation, WFG's recruitment tactic is not impressive.
While you will be selling legit, quality financial products, you will be asked to invite more people to join the platform so you can earn commissions and rank higher. For me, this is one reason why most distributors or MLM participants have an unethical approach when recruiting new people. Some of them harass people just to grow their team and this spoils their product.
According to a review on Yelp, they target students -- high school and college -- since these are the type of people that are usually attracted to luxury cars and other things. The worst part, perhaps, is forcing these new recruits to invite more people to join the platform.
There's No Business Opportunity
World Financial Group brags on the business opportunity they offer but in reality, there's no opportunity provided.
Yes, you can make money with them but not as the business owner. You don't have any rights in their company. Basically, it's just like you are working for their brand; not earning money as a business owner.
Bad Reputation Means Low Income Potential
Because of the many horror stories about WFG, it's challenging to sell their products, let alone earn commissions by inviting new people. That being said, your earning potential is very low so if I were you, I'd rather find a reputable program that would help me make money online.
No Income Disclosure Statement
For a company that brags about helping you turn your dreams into a reality and offering a business opportunity, it's disappointing to know that they don't provide an Income Disclosure Statement.
They've been operating for more than 20 years so I think it's only fair to ask for their IDS but why did they choose to NOT disclose it? Are they hiding anything?
Here Is My Top Recommendation to Start Highly Profitable Online Business from Comfort Of Your Home
What I Like About World Financial Group
Business Concept
Actually, the only thing I like about the brand is their concept -- selling insurance, investments, and other financial products that would help protect and save money. Other than that, there's nothing else.
The price is too high, the business has a poor reputation, and the way they invite people to spoils everything else.
Chance To Earn Income
WFG is legit so there's really an income opportunity especially if you have taken and applied the training and seminar seriously. Even if you're just a training associate that earns a 25% commission per sale, that's big enough considering the price of investments and insurance policies.
However, the company has no Income Disclosure Statement so there's really no guarantee about this.
Tired of Trading Your Precious Time for Money?
Here is a Blueprint to Owing Highly Profitable Online Business Without Any Experience REVEALED!
Unlike the usual MLM companies, there are extra steps necessary when you want to become WFG's insurance agent or a WFG Business Partner.
The first is to talk to a Sponsor. This means getting in touch with any WFG insurance agent or business partner. The next step is to pay $100 for the membership fee. You will then be asked to attend training and seminar in the local WFG office near you.
Once you have the necessary expertise and skills, you will be asked to take the licensure exams -- Life Licence Qualification Program for Canada residents and Life and Health Insurance State Exams for US residents.
The next step is to pay for the Errors and Omissions professional insurance, your own license, and appointment. More or less, this will cost you less than $500.
Attending the training and taking the exams is crucial before you start earning with the program. In case you failed the licensure exam, you can still sell but you will be tagged as Unlicensed. Also, your earning potential is low since you will rely on referrals.
Compared to licensed insurance agents, the amount you will earn is lower since the actual selling of the product will be accomplished by a licensed agent. That being said, the two of you will share the commission.
Supposed to be, World Financial Group is a good networking marketing company. After all, they provide ways to grow and protect the money.
Insurance, investments, and other similar products are important if you want to achieve financial freedom and considering this, the brand also offers an impressive opportunity to earn cash.
The problem, however, is their reputation. It's been stained with bad reviews not only from their clients but from their insurance agents as well. This alone makes the opportunity impossible.
In addition, the way they invite people to join the program is unethical. They lure vulnerable victims to become their agent and ask them to pay money. For me, this makes them look like a scam more than a legit program.
If you want to make money but you don't want to bother other people for the sake of having a commission, thenI have the best offer!
Sign up now for my #1 recommended program and enjoy the following perks:
Training resources
Webinars to help you start your business online
One-on-one coaching
Comprehensive guide
And many more!


I hope you enjoyed my World Financial Group and if you have any comments or questions, please feel free to share your thoughts below.
Thank you!
We Constantly Review Programs in "Make Money Online" Niche,
So That You Don't Have to Waste Countless Hours
Want To See Our
TOP RECOMMENDATION?