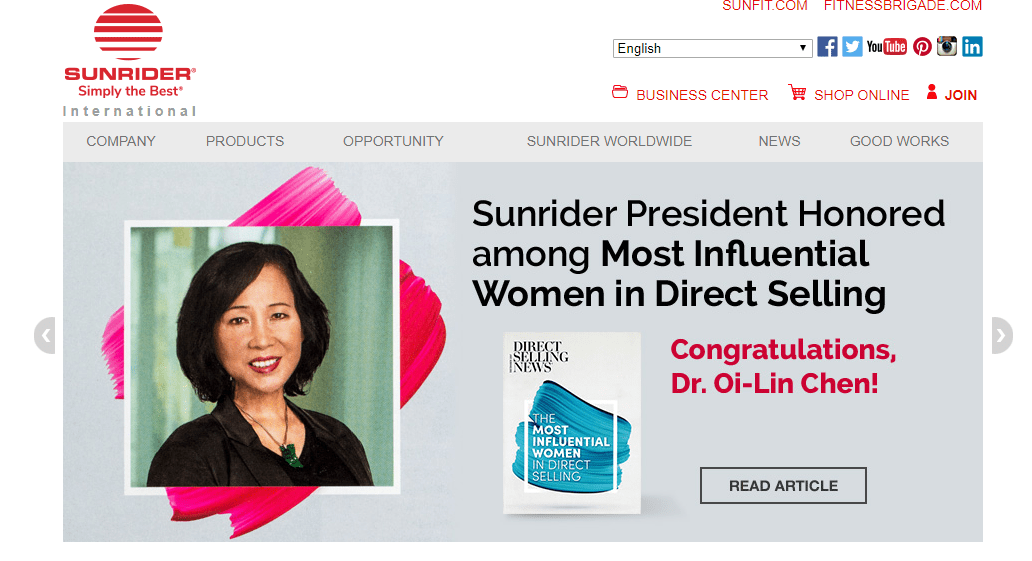 Welcome to My Sunrider Review!
Making money with an MLM program is not impossible. However, it's NOT always easy unlike how their MLM participants made it sound like.
There's the usual selling of overpriced products plus, the recruitment part, which, by the way, is always a deal breaker.
Sunrider Review Summary
---
Name: Sunrider
Website: www.sunrider.com
Founders: Tei-Fu Chen
Product Type: Multi-Level Marketing
Price: $120 For Starter Pack + $120 For Annual Fee
Quick Summary: Sunrider is a multi-level marketing company that sells herbal products such as diet pills, teas, healthy snacks, and household products. It has an expensive startup cost with products that don't offer a unique and competitive edge in the market.
Overall Rating: 4/10
Recommended: No
So before you join a network marketing company, such as Sunrider, be sure to educate yourself about the program first -- and that's what we're going to do in this Sunrider review.
P.S.
If you know how challenging MLM companies are and you're still looking for a legit side hustle, you can click this link NOW.
Sunrider International sells herbal products such as diet pills, teas, healthy snacks, and household products. It is a privately owned multi-level marketing company (MLM) established in 1982 in Utah by Taiwan-born herbalist, Tei-Fu Chen.
The company moved its headquarter in California and since then, it expanded into an international company. Sunrider records thousands of franchise stores and distributors internationally. The company does business in 42 countries with operations offices in 22 countries.
As of 2009, the company was reported to have annual revenue of over $700 million, and 300,000 distributors.
Sunrider Health And Wellness Products
Sunrider is popular for its herbal products. One good feature of their products is that all are both kosher and halal, making it suitable for Jewish and Muslim consumers. Having a wide variety of products to offer expands the market and consumer reach. The products are not stuck in one niche. You can offer products to different people with different demographics and preferences. This also makes the product easy to sell.
It has a wide range of product categories, such as:
Herbal food and drinks
Herbal nutritional supplements
Weight loss/active lifestyle
SkincarePersonal care Oral care
Beauty and cosmetics
Household cares and cleaners
In all the MLM companies I've reviewed, the product being should competitive and promising, and can outstand tight competition because you have to convince people to buy it. But for Sunrider, that is not the case. There has been numerous feedback that Sunrider products are expensive.
I've browsed through their product list to justify the prices and look for quality features that will make them stand out among the regular product sold in groceries. Sadly, I can't find a distinct feature. I think $51 for laundry detergent is too much!
Also, browsing through their company website, Sunrider does not provide the ingredients list for any of its products. You can only read vague benefit claims. For a company that sells herbal and natural products, this is a big no for me. It will be very difficult to know how accurate the hype, especially if your potential customers will ask you about it. What would you say?
Sunrider only provides generic ingredients tab about four specific ingredients - carnitine, cocoa bean, green coffee bean, and arginine - in their products. The company's herbal supplements are also not regulated by the Food and Drug Administration (FDA) in the United States.
How To Make Money With Sunrider?
Just like with any MLMs operating in the market, there are two main ways to earn money with Sunrider. That is: selling the products directly and recruiting team members. But let's go into specific details on the approach on how to earn money. I've summarised it below:
Independent Business Owners (IBOs)
These are the distributors/consultants that need to pay for a membership subscription to avail of the Sunrider's business opportunity offer. Through the membership payment, the IBOs can take advantage of some of the perks and get 10% off retail price.
Preferred Customers
A preferred customer only pays an annual cost. This approach allows you to get 5% off the retail price. Enrolling in the monthly auto-ship program will give you 10% off the retail price.
Commission Scheme
Sunrider's commission scheme is difficult to understand. The company offers incentives and bonuses in different payout percentages depending on the ranks. The bottom line of this is to recruit as many as you can. Recruit people under you and grow your team.
To learn more about Sunrider compensation plan, you can watch the video below:
There are nine ranks to achieve in the Sunrider business model and these are the following:
IBO
Star
Star Prime
Star Elite
Ace
Ace Prime
Ace Elite
Ace Royal
Hero
Aside from going up ranks, you also need to consistently reach the required sales quota in your group every month and maintain a certain number of active group members.
Like all MLMs in the market, Sunrider's business opportunity works on binary or unilevel model, so does that mean the company is a scam? Not exactly.
I've mentioned this in my previous reviews, and I will highlight it again. If the company actually sells physical products that are being purchased by the customers, therefore it is not a scheme. On the other hand, if the company's income depends entirely on the recruitment of the team, then this makes it look like a scam and creates a shady impression.
In the case of Sunrider has a wide variety of products being sold to customers, therefore it cannot be classified as a scam or an illegal pyramid scheme.
While researching this company, I've come across several issues and lawsuits filed against them before. You might be wondering what these got to do with the review? A lot. Because knowing about these will make you understand the company and its operations. It also helps you decide if you're going to trust it or not.
In an LA Times news article, Sunrider and its founders were indicted by the federal government on charges that they masterminded a tax and customs fraud scheme to evade tens of millions of dollars in taxes in 1995. While in 1997, the company entered into a plea bargain with the court on the charges of tax evasion and customs fraud. Tei-Fu Chen served nearly a year in minimum-security prison while his wife, Oi-Lin Chen, served six months of home detention. The couple paid over $100 million in back taxes, interest, and penalties and an additional $4 million to avoid forfeiting the items they were accused of smuggling and undervaluing.
In addition to this, Dr. Stephen Barrett of Quackwatch.org accused the company of making false claims regarding its products' therapeutic effects and reports legal problems. However, none of them materialized, and the company has never been directed to pay any fines for such wrongdoings.
If you're interested to be part of Sunrider's business opportunity, you have to become an IBO and purchase a 'starter pack' that costs $120. Aside from that, you will be required to pay an annual renewal fee amounting to $120. The company claims that this is a standard industry practice, but actually, it is not a required factor in other MLM companies.
According to Sunrider, the renewal fee includes access to the Sunrider University, Business Center, Mobile App and a range of printed collaterals such as newsletters, product catalog, and magazine.
Here Is My Top Recommendation to Start Highly Profitable Online Business from Comfort Of Your Home
PROS
MLM Company Has Been In The Industry For A Long Time
Another good thing about Sunrider is that the company has been around for a long time. You can be assured that it will not disappear that easy and gives an impression of stability as compared to some startup companies in the market.
Popular Products
Sunrider is also getting an advantage in the hype of people changing into a healthy lifestyle. There has been a growing trend of people being health and diet conscious people.
The wide variety of products to choose from is also a good factor. Why? This makes the product easy to sell. You can offer it to different customers with different preferences.
CONS
Expensive Startup Cost
You have to purchase a starter pack that costs $120, plus an annual membership fee of $120. On top of this, you are required to subscribe to the monthly auto-ship program at $200 per month.
Expensive Product With Generic Quality
How many people in your circle do you think will actually buy a $45 ice cream? I took the time to browse their protein powders, shakes, and slimming teas. If you took the time to scout the market and compare, you'll find cheaper products that offer the same benefits. Also, you'll find products with more servings than the ones from Sunrider, making it more sustainable to purchase and consume regularly.
Recruitment-Focused Rather Than Product-Focused
Earning income with Sunrise heavily relies on the number of people you recruit, and how many these people can recruit. According to Sunrider's income disclosure, only 1.45% of people make more than $1000 monthly while 42% of active distributors make $177.35 per month. If you want something more sustainable, you need to explore other opportunities.
Tired of Wasting Time on Low Quality Programs?
I'm so grateful that I was able to find THIS PROGRAM which helped me to finally start making money online!
Sunrider is a match for people who advocates and practice healthy living and. I believe that before you can sell products related to nutrition, health, and wellness, you should believe in it. It is even good if you're able to try and test it. This guarantee a truthful recommendation and indeed plus bonus in pitching and persuading your potential customers.
To sell these types of products, you should first believe in its value and capabilities rather than creating make-believe principles. After all, bad side effects resulting in negative feedback are a no-no on the company's brand and reputation.
First, checking on the variety of products offered by Sunrider, it is not really amazing nor promising. Many from their product lists can be found in your local grocery stores, Amazon and other sites at reasonable prices.
Their products also have no to few reviews and this doesn't do any good and I assume (or would like to assume) that it is because the products are too common that they don't sell that well. In general, the products tend to receive positive reviews, although many reviewers also comment that the products are too expensive.
Second, browsing their income disclosure file shows that before your reach success level, you'll have to not only sells the required amount of products consistently but also recruit people as many as you can, as fast as you can. If not, you'll lose the expensive startup cost you paid at the start of business opportunity.
The company's product is not distinct and doesn't have an edge against those with reasonable prices. So it would really hard to sell and profit from it. There are other health and wellness companies that even offer direct affiliate and online marketing with wider audiences and more competitive products. You don't want to end up wasting not only your time and effort but also a huge amount of money.
Looking for a legit money-making opportunity? Don't worry, it's never too late to find an opportunity that can work for you.
Check out my #1 recommended program and enjoy the following benefits, such as:
One-on-one coaching
Webinars and training resources
Comprehensive guide
The best business tools and support you need
And many more!
I hope you've enjoyed my Sunrider review. If you have any questions and comments, please feel free to share your thoughts below.
Thank you!
We Constantly Review Programs in "Make Money Online" Niche,
So That You Don't Have to Waste Countless Hours
Want To See Our
TOP RECOMMENDATION?