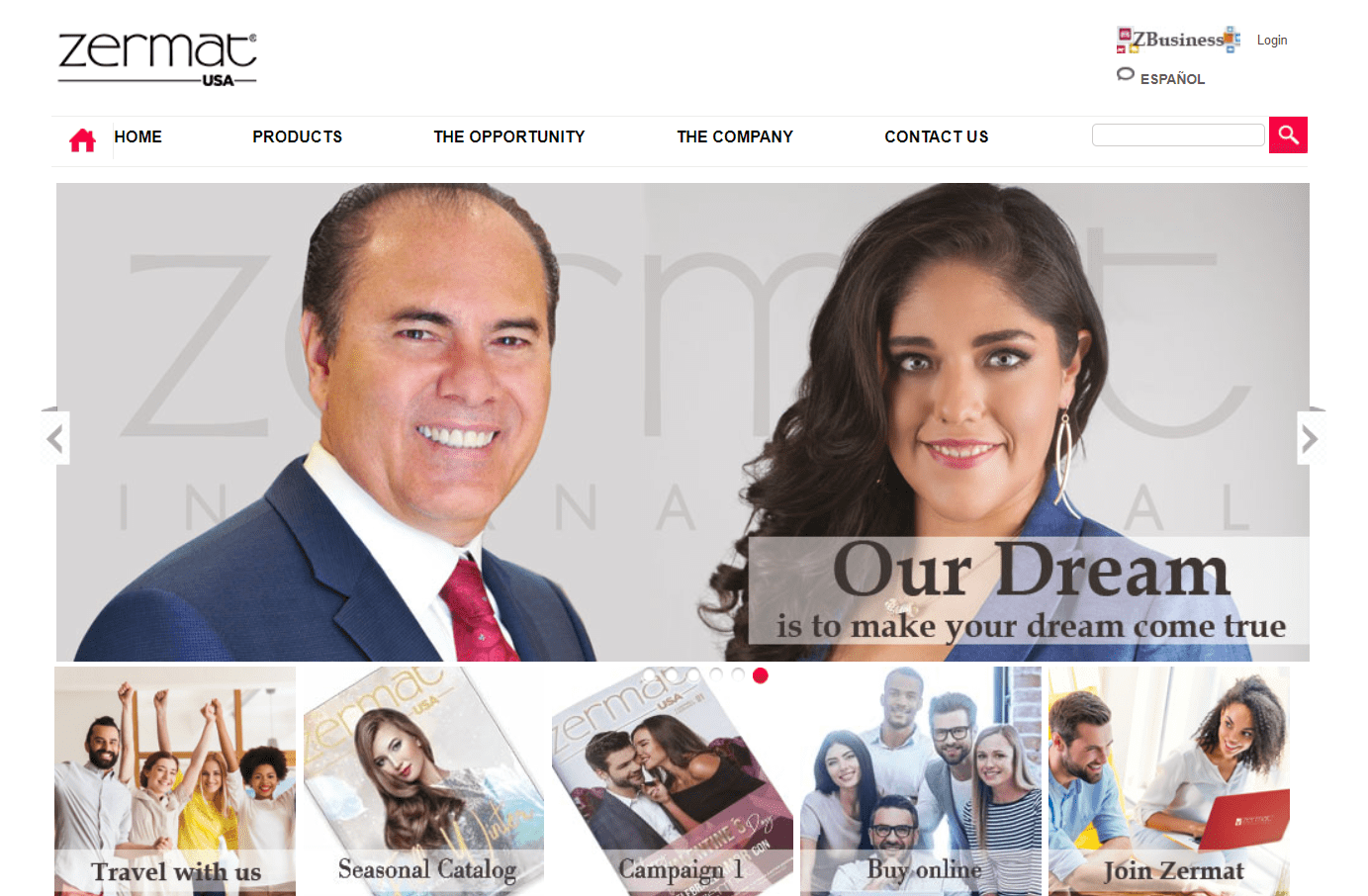 Welcome to My Zermat International Review!
While browsing for money-making opportunities online, I came across a platform called Zermat International. It's a multi-level marketing (MLM) company that promotes beauty and personal care products for more than 30 years.
Pretty long, huh?
Zermat International Review Summary
---
Name: Zermat International
Website: www.zermatusa.com
Founders: Adelfo Enriquez and Omar Enriquez Rios
Product Type: Multi-Level Marketing
Price: $125 Worth Of Products + Recruitment Kit Ranging From $19.95 To $450
Quick Summary: Zermat International is a multi-level marketing platform that promotes skin care products, cosmetics, and fragrances for pet. It was founded 33 years ago and until now, it's distributing their products and opportunities to more than 15 countries all over the globe.
Overall Rating: 4/10
Recommended: No
You bet it is but that's not enough reason for you to sign up for the program. Yes, there's a huge chance that it's legit but you have to weigh the pros and cons first to know if this is the right opportunity for you or not -- and this unbiased Zermat International review will help you.
So sit back, relax, and just read.
What Is Zermat International About?
Founded in 1987, Zermat International is a multi-level marketing company under the beauty niche. It's based in Houston, Texas but and is distributed in more than 15 countries, such as Ecuador, Belize, Bolivia, Guatemala, Honduras, Mexico, Nicaragua, Costa Rica, Puerto Rico, Spain, and more.
It was founded by Adelfo Enriquez and Omar Enriquez Rios. I did a background check but there's not much information found on the Internet about them aside from their LinkedIn account, which only shows that they are affiliated with Zermat International.
They do have a biography on their website though and it says that Omar has a strong foundation when it comes to Fragrance and Cosmetics. It also says that he was a former President of the Mexican Direct Selling Association (AMVD).
As for Adelfo, there are no much details about him online.
The brand has received various awards and recognitions, such as: El Premio Nacional de Exportacion, otorgado en 2007 por el Gobi.
Zermat International Product Line
Originally, Zermat International is known for distributing beauty and personal care products for men, women, and kids.
On their website, their products are divided into seven categories:
Fragrances
Body Care
Kids and Babies
Make Up
Skin Care
Pets
Offers
How To Make Money With Zermat International?
The ways money with Zermat International is the same as how you can make money with other MLM platforms. Basically, there are two options to earn cash and one is by selling the products.
Once you become a member, you can get their fragrances at a discounted price and you can sell it at a higher rate or based on their suggested prices. Through this, you can earn retail commissions.
For instance, you get 50% on all the items you sell, which is big enough. Normally, MLM companies offer 20% to 25 commissions for retail sales.
The next option is to grow your team. This means inviting people and encouraging them to meet more sales so you can earn commissions and bonuses. You can also earn a certain percentage for every sale that your downline makes.
Also, when you want to earn more, you have to recruit more people as this will help you increase your rank. The higher your rank is, the bigger the commissions you get. You can even own a Mercedes Benz, which is their car incentive if you reach the Star Director level. But of course, it's not going to be easy and it will take time.
You can watch the video to learn more about Zermat International's compensation plan:
Is Zermat International A Scam?
Zermat International is not a scam. It's a legit MLM platform that you might check out if you really like the product. Yes, there's a chance to make money from it if you have experience with another network marketing company before.
Actually, the legitimacy of the company is not in question here, rather, is it worth your time.
Joining an MLM program can be difficult, especially for those who are just starting to make money. You are going to shell out a big amount just to join the platform and you will spend more to keep your account active. That means buying a certain amount of products every month.
As a result, you are pressured to sell all these products unless you're fine with seeing them scattered in your house. But then again, you can still earn from it if you have the skills and expertise you need.
But don't forget, you have to recruit people to join the platform and mind you, it's not easy. It can even cause strain to your relationship if you keep inviting people you know to join your program so, be sure to think more than twice before you sign up.
Otherwise, you can just look for a better option that would help you make money online. You can check my FREE Step-By-Step Guide on how you can earn cash without selling products and inviting people.
To become a member of Zermat International, you have to pay for certain fees, such as the Recruitment Kit, and you can choose from the two options below:
Basic Kit worth $19.95
Business Kit worth $44.95
There's also a kit worth $450 called Winner Kit.
You also need to purchase products worth $125 or more to be qualified for the commissions. So all in all, you will pay 144.95 just to become a member. This is a big amount, especially for starters who want to make money.
While the brand has been selling perfumes for a long time, I don't think investing more than a hundred dollar to promote their products is practical.
Here Is My Top Recommendation to Start Highly Profitable Online Business from Comfort Of Your Home
PROS
Variety Of Products To Choose From
Skin care and personal care essentials are a popular niche and there are too many brands selling this already. But still, there's a good chance to earn from this brand since there are many options to choose from.
There is skincare, makeup, fragrance spray for dogs, and more so the more items you sell, the bigger the market you have.
CONS
Too Little Information About The Owner
The company has been founded for more than 30 years and I guess that's given them enough time to update the information of their owners. For me, this is crucial, especially for aspiring distributors because as much as possible, it would help to know who they are dealing with. It also provides transparency so they can gain more trust from their clients.
Sadly, the brand failed in doing this part.
Too Many Competition
While it's good that there are varieties in their products, it would be challenging for you to sell it mainly because there are other similar products in the market. On top of this, there are cheaper alternatives you can find online and offline.
Unless you're really good at marketing these essentials, you won't likely make money from this platform.
Higher Chance To Lose Money
A study conducted by Jon M. Taylor suggests that more than 90% of MLM participants are bound to lose their money, and guess what?
Zermat International is just one of the many MLM companies he has used in his study. If this doesn't scare you from joining the platform, I don't know what else will.
Tired of Trading Your Precious Time for Money?
Here is a Blueprint to Owing Highly Profitable Online Business Without Any Experience REVEALED!
I can't recommend Zermat International to anyone mainly because the income potential is low. The products are common and there are cheaper alternatives online and offline. In addition, the investment is big, so for me, it's more likely that you will lose money from this platform that earns.
Zermat International is a legit MLM company that has expanded its business to many countries. It's impressive to know that despite the competition, the brand is still up and operating. However, there's no guarantee that the distributors can also earn and make their business last like Zermat International.
There are just too many drawbacks to call it an opportunity so for me, it's best that you get rid of it or find another MLM company that you can join. That is if you're willing to take the risk of buying expensive products and membership fees and recruiting people.
If not, there are other better options, such as the one below.
If you're tired of the same old scheme that would ask you to pay a hefty amount even before you earn commissions, then now's your lucky day.
Today, I'll share with you the top-recommended program that many people trust. It's not a get-rich-quick scheme though and you have to spend time and effort before you see results. However, you will all the tools and support you need to get started, such as:
Training resources
Webinars to help you start your business online
One-on-one coaching
Comprehensive guide
And many more!
I hope I have enlightened you with my Zermat International review and if you have questions or comments, please feel free to share it below.
Thank you!
We Constantly Review Programs in "Make Money Online" Niche,
So That You Don't Have to Waste Countless Hours
Want To See Our
TOP RECOMMENDATION?