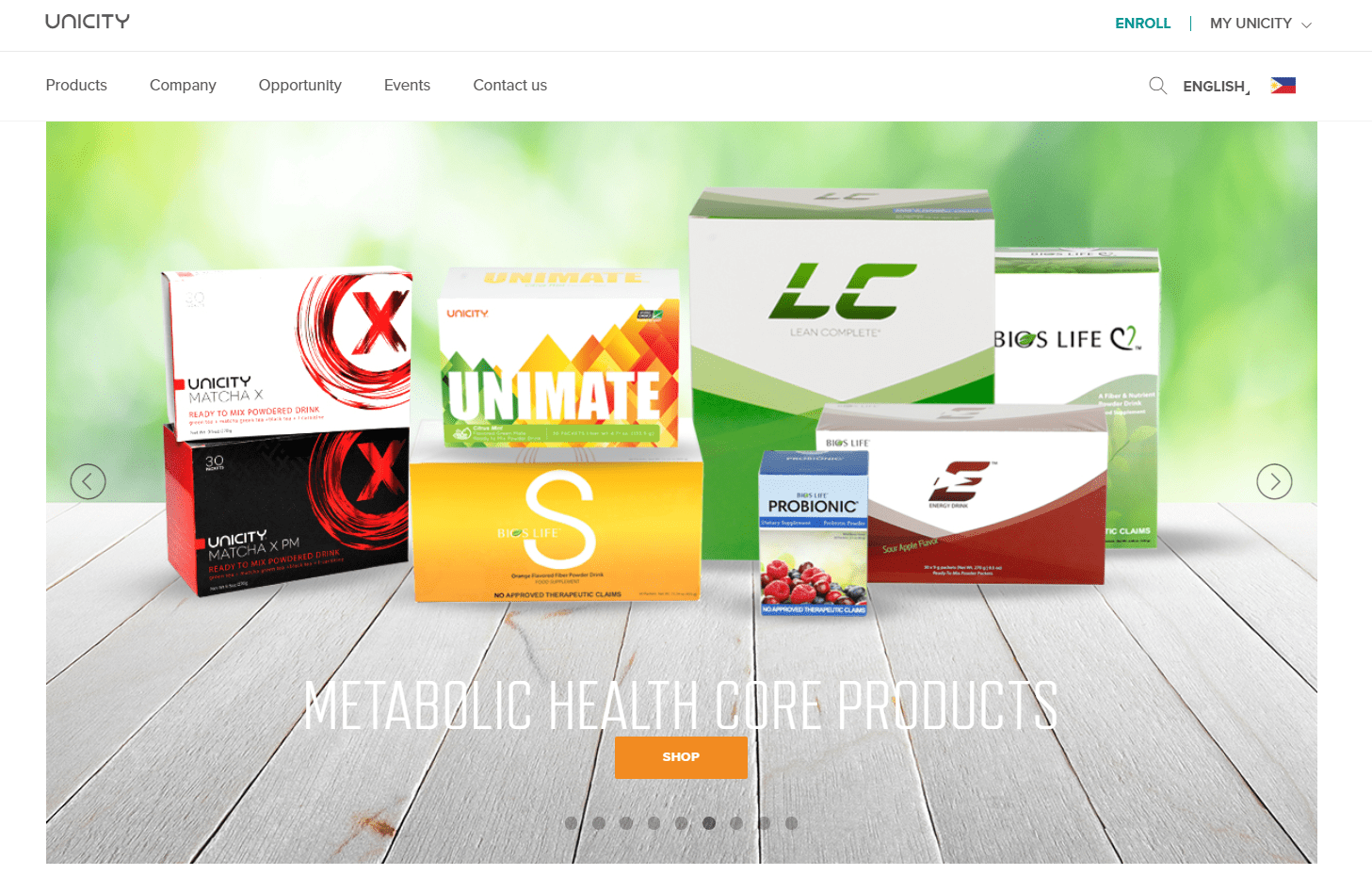 Welcome to My Unicity Review!
Today, I will try to help you decide whether Unicity is the right opportunity for you or not. It's legit and it's been around since 2001 but it doesn't mean that you should join the platform right away. After all, it follows a multi-level marketing (MLM) structure, which means that in order to make money, you should not only sell the products but invite more people to join the platform, too.
Unicity Review Summary
---
Name: Unicity
Website: www.unicity.com
Founders: Rexall
Product Type: Multi-Level Marketing
Price: $40 For Membership Fee + Handling/Shipping Fee + $40 To $495 Worth Of Business Pack
Quick Summary: Unicity is an MLM platform that sells nutritional supplements and meal replacement shakes. It's legit and it has been in the industry for more than 10 years. However, I can't recommend it, especially for newbies and this honest Unicity review will tell you why.
Overall Rating: 4/10
Recommended: No
That being said, it's important to weigh the pros and cons of the program before you become a member.
P.S. I'm not a member of this platform so rest assured that I will provide nothing but honest review, so sit back, relax, and read.
Unicity is a network marketing or MLM company that researches, develops, and promotes health and wellness products. Formerly known as Enrich International, the brand boasts for distributing cutting-edge essentials.
Unicity was founded in 2001 and is based in Orem, Utah. Since then, the company expanded and has now reached a wider market in Singapore, the Philippines, Thailand, Malaysia, Greater China, Mexico, United Kingdom, Hong Kong, Taiwan, Indonesia, Germany, Venezuela, Sweden, Columbia, the United Kingdom, Canada, Korea, the United States of America, and more.
Unicity is under Rexall -- a group of American drugstores and Enrich International, an MLM brand that promotes herbal and nutritional supplements. In 2001, these two brands merged, thus creating Unicity and in 2006, it was bought by Stewart Hughes.
Unicity Product Line
As mentioned, Unicity is under the health and wellness niche. Some of their products include supplements that claim to help reduce signs of aging, lose weight, detoxify, provide necessary nutrients, and promote overall wellness.
There are actually more than 20 products to choose from but like other network marketing programs, their flagship products called Unicity Core Products, which are divided into six categories: Matcha, Complete, Cleanse, Balance, Unimate, and Core Health.

Their essentials can be bought as individual items or in packages or bundles. As for the price, it's like typical MLM rates where the price is surprisingly steep compared to similar products found in the market.

Unicity Product Review

I've not used any Unicity products personally so I can't tell if it really worked on my end or not. I did find some useful feedback from Amazon that I'll be sharing below.


The two major complaints about their products, specifically Balance, is the taste and amount. Apparently, it doesn't taste good and it's expensive. However, there are more positive reviews than negative ones but still, you should take this with a grain of salt.

Why? Simply because no matter how efficient the product is, it won't suit anyone. What's good for them may not be good for you.


How To Make Money With Unicity

As an MLM platform, there are two main ways to make money from the program -- selling the products and recruiting people. For the benefit of the doubt, this is what makes network marketing a legit business model.

First, they have tangible products to sell or at least, services that provide real value. Second, they recruit people to join the platform but they will only receive commissions if their downlines make a sale.

The reason why I'm telling you this is because some people are still confused between an MLM and a pyramid or Ponzi scheme.

While an MLM has real products and a decent way to earn, a pyramid scheme will ask you to invite more and more people to join the platform and compensate you directly for doing so. Basically, you pay for an investment and your earnings will come from other members or your invites so if you don't have any successful recruits, you will not make money.

On top of this, a Ponzi scheme is illegal in many states and countries.

Going back to Unicity, they have a compensation plan that talks about the member's potential earnings and benefits and how to obtain them. As for Unicity, they have 9 different income streams, which are as follows:
Retail Profit
Personal Rebate
Fast Start Bonus
Unicity Lifestyle Bonus
Infinity Bonus
President's Club Bonus
Additional Franchise Positions
Chairman's Club Bonus
Founder's Club
To learn more about Unicity's Compensation Plan, you can watch the video below:
Unicity is not a scam. It's been operating since 2001, which is long enough for a business, considering that it follows an MLM structure. I mean there are still people who think that it's a scam and I'm not surprised why.
First of all, like other MLM companies, Unicity has a lot of promises to their members and aspiring distributors, such as helping them build wealth. Some people fall for this without knowing how challenging the business is and in the end, when their expectations were not met, they call it a scam.
Sadly, it's because of how the business has been marketed. They focus on telling what people can get from their program but fail to discuss the process. They never mentioned how difficult it is to sell expensive products and to recruit people to join the platform.
To join Unicity, you have to pay $40 for the membership and cover the handling and shipping fee. You also have to purchase Distributor packages to start your business.
Take Note: Like their products, their business packages are expensive as well. Here's a quick draft of their membership kits:
Build Your Own $40
Unicity365 Packs $369 up to $495
Basic Pack $242 up to $421
Best U Packs $315 up to $369
Here Is My Top Recommendation to Start Highly Profitable Online Business from Comfort Of Your Home
PROS
Legit, Long-Time Operating MLM Company
It's a good thing that the brand has been operating for more than 10 years. After all, it's not easy for an MLM company to last for a long time unless it's profitable and legit. That being said, it might be a good option for those who really believe in their product.
CONS
Expensive Products And Membership Fee
One protein meal replacement from Unicity costs $89.99 and you can find similar products under different brands for a lower price. I was browsing Amazon, for instance, and there are alternatives ranging from $19.99 to $59.99
Products Are Not Unique
Health and wellness niche is one of the most common niches in the MLM industry, thus the market is saturated with the same products already. That being said, it would be hard for a distributor to sell its products unless the marketing is really good.
Also, as mentioned above there are cheaper alternatives that you should worry about.
Tired of Wasting Time on Low Quality Programs?
I'm so grateful that I was able to find THIS PROGRAM which helped me to finally start making money online!
Unicity is good for those who have personally tried the product. They are the only ones, I think, can market it effectively. I mean, there are tons of brands that produce the same essentials and unless you can attest to its efficiency, I don't see any reason why you should join the brand and sell their products.
Like other brands, Unicity has training and support to offer for their distributors and this is one good thing about the business. It lets their members know more about their product and how to market it effectively in the market,
Unicity is not a scam and it's good to know that. It distributes products that many people like, based on the reviews I found online. But still, the price of their essentials and membership fees are in question.
If you're a newbie looking for a way to make money online or even offline, I can't recommend this. You are going to shell out a huge amount and it's not practical mainly because it's hard to get your investment back when you join an MLM program unless you are highly-skilled when it comes to network marketing.
Again, you just don't sell the products to earn commissions, you also have to invite people to join the platform. That means sending messages and calling people you don't know, which can be downright annoying.
Did you know that you can start a legit online business without bothering a single person? Yes, you read that right!
With my #1 recommended program, you can promote products and services that you love without actually buying it. Also, you can make commissions without recruiting anyone.
Interested? Sign up now and enjoy the following perks:
Training resources
Webinars to help you start your business online
One-on-one coaching
Comprehensive guide
And many more!
Thank you for reading my Unicity review and if you have questions or comments, please feel free to share it below. You can also visit our official Twitter and Facebook accounts for more product reviews and money-making opportunities.
We Constantly Review Programs in "Make Money Online" Niche,
So That You Don't Have to Waste Countless Hours
Want To See Our
TOP RECOMMENDATION?