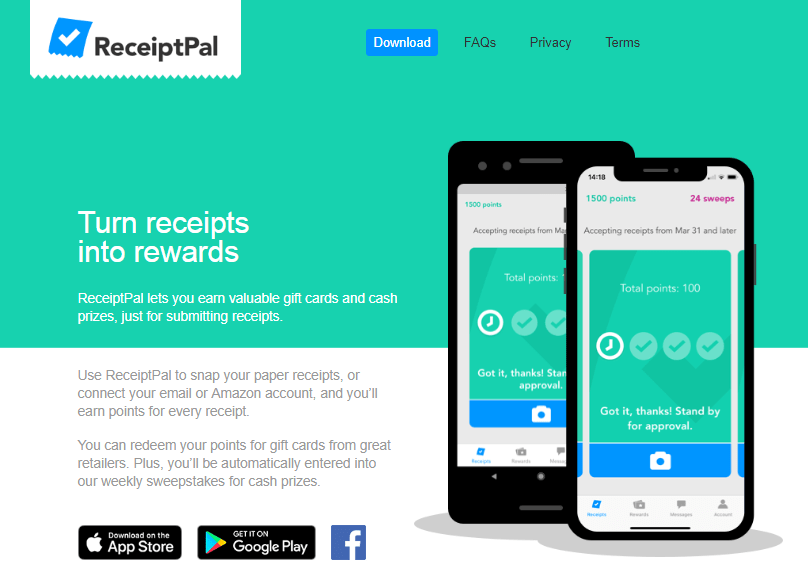 Welcome to My ReceiptPal Review!
Who would have thought that you can make money just by taking a photo of your receipt? Personally, I was skeptical about this but there are websites, like ReceiptPal, that offers a good reason why they reward people for doing so.
ReceiptPal Review Summary
---
Name: ReceiptPal
Website: www.receiptpalapp.com
Founders: The NPD Group
Product Type: Rewards App
Price: Free
Quick Summary: ReceiptPal is a reward site that "rewards" people for simply uploading receipts. However, not all kinds of receipts will be accepted and you have to follow a few guidelines to avoid rejection. It's easy to use and you don't need to pay for anything but before you download the app, be sure to read the full review first.
Overall Rating: 5/10
Recommended: Yes
If you're interested about how this program works or to find out if ReceiptPal is a scam, read the entire review and stick until the end to know the other option that many individuals use to make money online.
Or, you can skip this and go straight to my top recommended program to learn how you can start a business online without capital.
What Is ReceiptPal About?
ReceiptPal is a rewards mobile application that is available for both Android and iOS users. It claims to reward people for taking photos of their receipts that show their purchases. As of now, it is only functional on smartphones and not on tablets or iPad.
It was launched by The NPD Group, a market research company, in December 2013 but as of the writing, it is only available to U.S. residents.
How Does Receipt Pal Work
Before you start earning using your receipts, you need to download the app on your mobile device and create an account. Once you're done, you can start taking a photo of your purchases or if you shop online, you can simply link your email address to the app and earn automatically.
There are a few rules that you need to follow though so that your receipts will be accepted, such as:
Taking A Clear Photo
Your receipts will only be accepted if you've taken a clear photo of it. That means the merchant's name, purchase date, name of the items, and the total amount must be very visible. In case you submitted a blurred photo, you will be asked to retake a picture or it will be rejected.
In line with this, the necessary details, such as the zip code, merchant's name, total price of the purchase, the purchase date, and a phone number should be present on the receipt. Otherwise, it will NOT be accepted.
Submit Receipts Once
Submitting a receipt more than once is unacceptable. Meaning, your duplicated receipt will be rejected.
Bills Are NOT Accepted
Bills from your cell phone network, mortgage, utility providers are NOT accepted. ATM receipts, money orders, and checks are also rejected.
Handwritten Receipts Are NOT Accepted
Just in case you don't find it obvious, the app will only allow printed receipts -- NOT handwritten ones.
Outdated Receipts Are NOT Accepted
There's a reason why the date of your purchase is important. ReceiptPal only accepts receipts that are NOT more than 30 days old. Therefore if you took a photo of your receipt from two months (or even a month) ago, it will be declined.
Receipt Photos Stolen Online Are NOT Accepted
If you think that you can send a screenshot of the receipt you found online, then stop thinking. It is automatically rejected.
How Much Money Can You Make From ReceiptPal
This platform claims to reward you for sending photos of your receipts and e-receipts but sadly, it won't provide cash. Yes, that's right! You cannot make money using this platform instead, you'll earn points which you can exchange for a gift card.
Once you sign up, you'll get 150 points instantly. Meanwhile, every accepted receipt is worth 25 points and for you to get a better reward, you can save your points rather than cash it out asap. For example, instead of exchanging 100 points for a $1 gift card, you can save your points and convert it to a gift card that has a higher value.
You are only allowed to upload 20 receipts per week, therefore, you can only get 500 points in a week.
Latest Update
Apparently, ReceiptPal has given their mobile application an update where you can play sweepstakes. If you have accepted uploads, you can play this game and have the chance to win cash.
They draw sweepstakes every Monday and in case you win, you'll receive $250. Now that's a huge cash prize!
FREE TRAINING
Learn How I Started Highly Profitable Online Business From Comfort of My Home Following This Blueprint
ReceiptPal is not a scam. It's legit and if you check Google Play Store and Apple App Store, you'll see tons of positive reviews. They even have 4.4 stars out of 5 on the Play Store and 4.7 out of 5 on the App Store.
However, the recent updates they had on their mobile app may have caused some glitches, resulting in complaints. According to the reviews, the changes made it difficult for users to earn points. Also, some members claimed that they have lost points and that the new system is not as easy as before.
Other negative reviews involved poor customer service, and you can read more of it here.
The thing is, complaints are normal and even established businesses received them. However, if you're serious about making money online, you cannot rely on this kind of platform. For one, the points cannot be converted to cash. You can win cash prizes though but only if you're lucky enough. Also, it takes time to earn points since you're limited to only 20 receipts every week.
Don't get me wrong, reward sites like this one are good because having a few dollars and/or gift cards are still useful. However, if you want to earn more cash or create a source of passive income, you SHOULD sign up for my #1 program now.
It's easy to use and if you're new to making money online, I assure you that you won't be lost because everything you need is provided. Customer support, training, and active community -- these are just some of the perks you can get when you create an account now.
ReceiptPal is free. Meaning, you don't need to pay for anything if you want to get a reward for uploading receipts of your purchases. You can just download the app, upload photos, and start earning points. However, as mentioned above, it is not available worldwide and only U.S. residents have access to it.
To learn more about ReceiptPal, you can watch the video below:
Here Is My Top Recommendation to Start Highly Profitable Online Business from Comfort Of Your Home
PROS
Great Concept
Although it's not a unique idea to reward people for uploading receipts of their purchases, it's still good to know that there are platforms that will allow you to get cash or gift cards after buying an item.
Legit Reward Site
There are many rewards sites online but not all of them are legitimate. Luckily, ReceiptPal is not a scam. You don't need to pay when you want to sign up and earn points using their app.
Simple And Easy-To-Use
When you want to earn points using this website, you can simply upload receipts of your purchase. There are no required merchants or specific items. Simply upload a photo and you're good to go.
CONS
Complaints About Glitches
It's normal for a mobile app or website to update its platform but since the recent changes in ReceiptPal have resulted in more complaints, I don't see how it's helping.
Limited To The U.S. Residents Only
ReceiptPal is not available to other countries, therefore, if you're not living in the United States, you should look for other reward apps instead.
Limited Number Of Uploads
As mentioned, you can only upload up to 20 receipts every week which means that the points you can earn a week are limited, too.
No Cash Rewards
Unless you're lucky enough to win the sweepstakes, you're not going to get cash from this platform. You can only convert your points to gift cards instead.
Tired of Wasting Time on Low Quality Programs?
I'm so grateful that I was able to find THIS PROGRAM which helped me to finally start making money online!
ReceiptPal is for anyone who wants to get something out of their purchases. If you're the one deciding for your groceries or you shop online, you might want to consider this platform. It won't offer you cash as a reward but at least, you don't have to answer surveys or do minor tasks, such as watching videos or visit websites, just to earn a few dollars or gift cards.
When using the app, there's no need to have formal training. You just need to remember to take a clear photo so your upload will be accepted.
When it comes to customer support, many people are complaining about the poor response they get from customer service.
Overall, I like how ReceiptPal works and despite the complaints, there are many upsides, too. There's no particular merchants to visit or specific items to purchase. As long as you follow the guidelines, such as taking a clear photo and uploading only a printed receipt, then there'll be no problem.
You cannot earn cash though but I cannot directly tell you to not download the app. If you're living in the United States, you can probably check this out. After all, it won't consume much of your time.

If you want to make money -- as in REAL CASH online -- I suggest that you take this legit program. You can use it to earn a full-time income online, apart from your side hustles. It's free and there's no need to enter your credit card details.
Join now and enjoy the following perks:
One-on-one coaching
The best business tools and support you need
Comprehensive guide
Webinars and training resources
And many more!
As always, I hope I have enlightened you with my ReceiptPal review and if you have any questions or comments, please feel free to share it below.
Thank you!
We Constantly Review Programs in "Make Money Online" Niche,
So That You Don't Have to Waste Countless Hours
Want To See Our
TOP RECOMMENDATION?