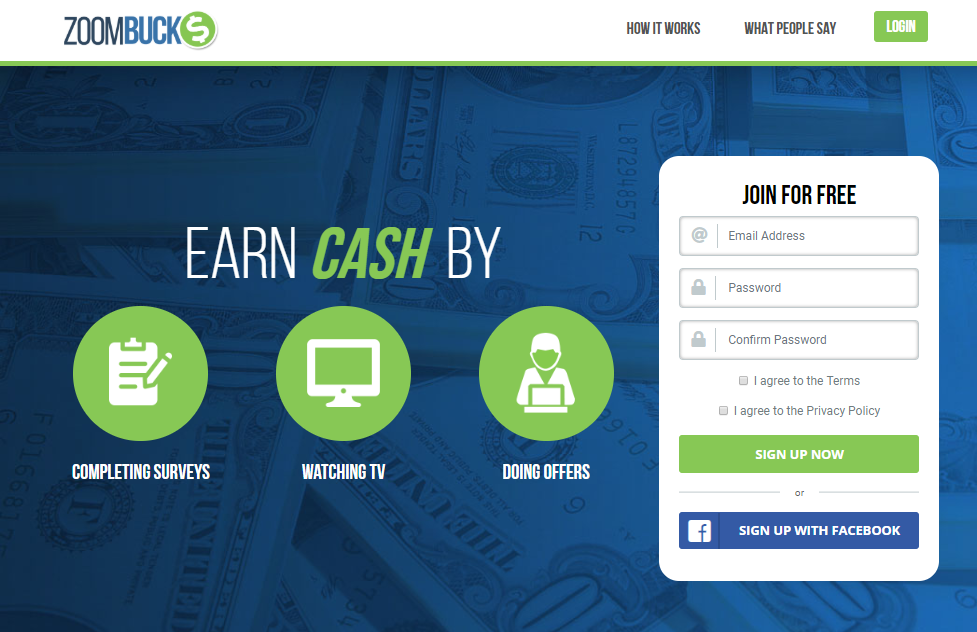 Welcome to My ZoomBucks Review!
Reward sites are one of the most popular platforms for those who are seeking ways to make money online. Apart from its simplicity, most of it is legit so you're guaranteed that you'll be earning a few dollars for doing minor tasks and this is what many people are looking for.
One of the platforms that is making a buzz on the internet nowadays is ZoomBucks and in this post, I'll help you decide whether it is a good one or you should steer away from it.
***Quick Update: We get this request very often: If you are looking for a legitimate program that doesn't require initial capital and is Free to join where you can perform different activities and get rewarded from the following countries:
Nigeria
South Africa
Philippines
Malaysia
We suggest to check out Swagbucks as we found them to be very credible and available in above listed and many other countries. Many other programs that we recommend on this website may not be available in select countries.
ZoomBucks Review Summary
---
Name: ZoomBucks
Website: www.zoombucks.com
Founders: Vikas Tailor
Product Type: Reward Website
Price: Free
Quick Summary: ZoomBucks is a reward site that pays you for completing minor tasks, such as answering questionnaires, watching video ads, playing video games, etc. It's legit but like similar platforms, the pay is very low. Get more details below:
Overall Rating: 2/10
Recommended: No
In Short, What Is ZoomBucks?
ZoomBucks is a reward site that pays you for doing easy tasks online, such as answering surveys. From what I see, it's legit but like other similar platforms, it only pays a small amount.
In fact if you want to know the truth behind survey sites please watch this video:
That being said, it's not enough to support your lifestyle and you still need another source of stable income. If you are interested to earn more cash online then check out my top-recommended program as we found it to be the best way to earn rewarding residual income in long term.
ZoomBucks is a reward site that offers various options to make money online. It's no-brainer tasks are not only easy to accomplish; it also lasts for 10 minutes or less.
This is one of the reasons why many newbies are opting for this kind of program. There is no required skills or experience to earn but you should never expect to get a huge amount of cash.
How ZoomBucks Works?
To start earning with ZoomBucks, you have to create an account on their website using your name, email address, location, etc. As long as you're 13 years old and above, you're qualified to join their website since it's not restricted to a few countries only.
All questions are optional but your information can help the platform match you with the right surveys.
How To Make Money With ZoomBucks
ZoomBucks offers several ways to earn using their platform, such as:
Answering Surveys
Inside the platform, you'll find a long list of surveys you can answer but then again, it depends on your demographics. Before you answer the questionnaire, the estimated time to complete the survey is also provided.
Participating In Offers
Another way to earn using this program is to participate in free and paid offers. For free offers, all you have to do is create an account on a paid survey site or sign up for newsletters. You don't have to pay for anything when you participate in this kind of offer. Also, it's easy to complete.
Meanwhile, when you join paid offers, you have to enter your credit card details to purchase a product or subscribe to a free trial. In case you don't want to get charged, you should remember to cancel your subscription before the expiration date.
In comparison, paid offers will pay you a bigger amount compared to free offers.
Watching Videos
If you want to earn 1 to 3 ZoomBucks, you can watch video ads that last for 5 minutes or less. You don't have to do anything special except watch the short clip. Usually, there are 5 to 7 videos available per day.
Listening To Radio
Hosted by a third-party provider called Radio Loyalty, this option allows you to make 3 ZoomBucks by simply listening to a radio station. Apparently, all you have to do is listen to it for 30 minutes to get paid.
Social Media Sharing
As the name suggests, all you have to do is post ads using your social media accounts, like Facebook and Twitter. However, before you get started, you have to apply for this program first.
Playing Games
The platform has no mobile application available but their site is mobile responsive, allowing you to play games. To earn ZoomBucks, you need to accomplish certain milestones, like having a high score, reaching a new level, winning a competition, etc.
Completing Tasks
CrowdFlower is a third party website that provides small tasks you can complete. This can be simple data entry, photo annotation, etc. The ZoomBucks you can get is pretty small but still, it adds up when you do the tasks continuously.
Promo Codes
ZoomBucks posts promo codes which you can find on their social media. You can earn points using this option by entering the promo code on the corresponding page.
Referral Program
Like other reward sites, you can earn extra points by inviting your friends and family to join the platform. You'll earn 10% of your referrals earnings for a lifetime.
How Will ZoomBucks Pay You?
When you have earned enough ZoomBucks points, you can exchange it for cash or gift cards. For cash, you need to have at least $5 on your account before you can withdraw it. For gift cards, you can convert your $5 into a $5 gift card and avail products on various platforms, like:
Here Is My Top Recommendation to Start Highly Profitable Online Business from Comfort Of Your Home
ZoomBucks is not a scam. It's a legit reward site that gives rewards for completing tasks. However, some people assume that this kind of platform is a sham simply because of having high expectations. Normally, these programs are advertised the wrong way and many individuals think that they offer easy money.
However, once you join ZoomBucks, you'll find out that it's not as simple as it sounds. For instance, after completing a survey, you'll get points but before you can cash it out or convert it into a gift card, you need to reach a certain number of ZoomBucks.
Also, the amount you can get, without a doubt, is less than enough and that's normal for all reward sites. This kind of platforms are only good when you need a few dollars to add to your savings account but if you need a full-time income, this should never be an option.
You can waste the entire day answering surveys, playing games, watching videos, and earn less than $5 a week. If you NEED cash or you want to build a passive source of income, I suggest you review my FREE Step-By-Step Guide now.
It provides everything you need to make money no matter if you have the experience or not. You have access to training, webinars, and a live community -- for FREE! And yes, you don't need to enter your credit card details.
To know more about ZoomBucks review, you can watch the video below:
The membership for this site is free, which is a good sign that it's less likely a scam. After all, such platforms should not ask for any payment. Otherwise, you should be suspicious about the website.
However, if you choose to participate in paid offers, you'll have to enter your credit card details and pay a small amount in exchange of points.
PROS
Legit Reward Site
It's good to know that ZoomBucks is not asking for money if you want to join and earn from their program. The site's legit and you can consider this if you want to answer surveys and do other tasks at the same time.
CONS
Very Low Income Potential
Reward sites are good if you want to spend your time and earn a few cents a day. However, if you are looking for a legit way to make more money online, you cannot expect a lot from this platform.
FREE TRAINING
Learn How I Started Highly Profitable Online Business From Comfort of My Home Following This Blueprint
ZoomBucks and other similar sites are ideal for anyone who is looking for an extra source of income. However, it should not be the only source of your cash since it cannot support your daily or weekly budget.
Also, there are no guaranteed earnings since some surveys depend on your demographic, therefore, this platform should only be used for entertainment.
After reviewing so many survey sites we wrote another article about the hard truth of taking online surveys.
The tasks provided in ZoomBucks are very easy and it doesn't need any training. However, since there's no training provided, it won't help improve your skills and expertise. In case you don't know, investing in yourself is essential if you want to increase your income and credibility.
If you want to enhance your capabilities to make money online, I suggest you take advantage of my #1 recommended program!
Overall, ZoomBucks is a legit site that you might consider if you have free time and you want to get entertained. I can't recommend it if you want to make serious cash since it's almost impossible to get a hundred dollar per month in this platform.
If you think you're stuck with low-quality programs, then think again. Many opportunities would help you make more cash online and if you want a guaranteed and legit platform, do not hesitate to check out my top recommended program now.

Here are the following perks you will discover:
Step-By-Step Guide to Start Solid Online Business
Comprehensive training
Live Active Community
Great Support
Very Rewarding Opportunity for Long Term Success
Making money online is difficult but you can make it more exciting and easier when you participate in the right program. I hope I have helped you decide whether ZoomBucks is for you or not. If you have any comments or suggestions, please feel free to share them below.
Thank you!
We Constantly Review Programs in "Make Money Online" Niche,
So That You Don't Have to Waste Countless Hours
Want To See Our
TOP RECOMMENDATION?