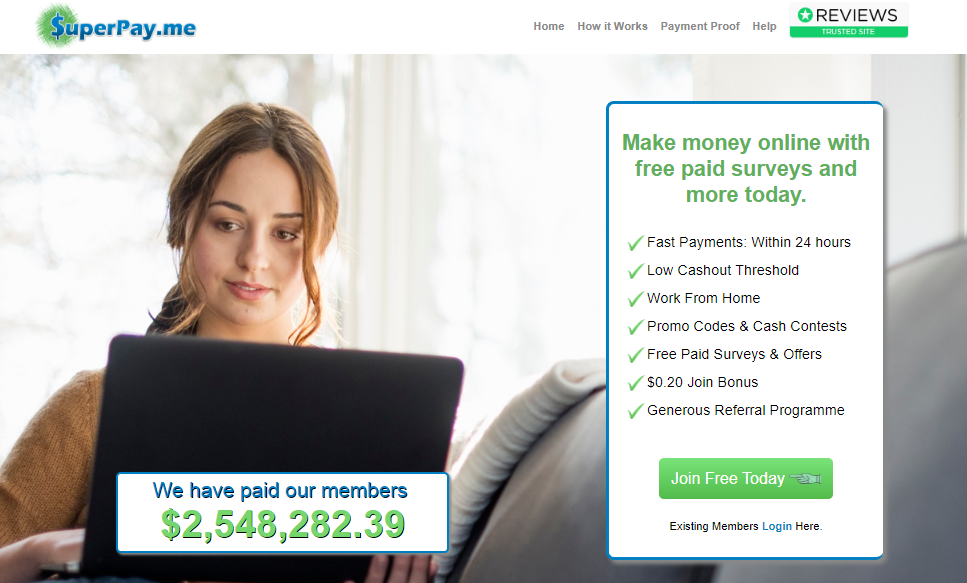 Welcome to My SuperPay.Me Review!
SuperPayMe or (SuperPay.Me) is one of the most talked-about reward sites nowadays and for this reason, I decided to do full research on this program to answer the following questions:
What is it about?
How does it work?
Is SuperPay.Me a scam?
SuperPay.Me Review Summary
---
Name: SuperPay.Me
Website: www.superpay.me
Founders: 99Ventures Ltd.
Product Type: Reward Website
Price: Free
Quick Summary: SuperPay.Me is a reward site that's established in 2015. It offers an opportunity to make money online using various options, like paid surveys, offers, watching videos, contests, and referrals. It's legit and has been used by individuals who want to earn cash online. It rewards cash and gift cards but before you sign up, make sure that you read the entire review first.
Overall Rating: 3/10
Recommended: No

I've also included a few things that would help my readers know if this platform is worth their time or not.
P.S.
Whether SuperPay.Me is legit or not, the reward or income you'll get is barely enough to support your everyday expenses that's why I suggest you check out My Top Recommendation to learn how you can make more money online long term.
In fact here is a video on the real income potential with online surveys:
What Is SuperPay.Me About?
SuperPayMe is a reward website that offers various options to make money online. It was founded in 2012 under 99Ventures Ltd. On its website, you'll see several helpful tabs about their page, such as How It Works, Payment Proofs, Terms Of Service, Privacy Policy, etc.
How SuperPay.Me Works?
Like similar websites, you need to create an account before you have access to its member's dashboard. You can join even if you're outside the United States as long as you're over 18 years old.
After creating an account, you can start participating in surveys and other tasks, which I'll discuss in a bit. Anyway, you can get paid in cash or convert your points to gift cards.
How To Make Money With SuperPay.Me
Taking Surveys
The first way to make money using this platform is by answering surveys which they have hosted themselves. They also get surveys from third party companies and each questionnaire can pay you $.50 to $2.
Take Note: Before you get paid, you have to answer a few questions to know if you're qualified for the real survey or not.
Participating In Offers
SuperPay.Me provides free and paid offers you can join whether you're a U.S. resident or not. Like paid surveys, you can earn $.50 to $2 for signing up or subscribing to a free offer. For paid offers, you can get $2 to $10, which is bigger. However, you have to enter your credit card details to purchase a service or product.
Watching Videos
Another way to earn using the platform is by watching videos. There are only 3 to 5 videos a day which lasts 2 minutes or less and you can get .5 or 1 point for watching.
Paid To Click
Another way to earn with SuperPayMe is by visiting websites. On their platform, you'll see a list of the website you can visit for at least 15 to 30 seconds. You have to stay on the site according to the time required to receive $.01 to .0001.
Joining Contests
For top earners, SuperPay.Me holds contests that let them win as much as $1,000. It's usually available for the top 20 to 25 members although the terms may change every quarter.
Referral Program
You can also earn more if you invite your friends to join the program. Apart from your link, you can bring more people by using the banners that they will provide you. For every successful referral, you'll get 25% of their earnings for a lifetime.
How Will SuperPay.Me Pay You?
SuperPay.Me has various payment methods, like PayPal. Skrill, and Payza. To cash out, you only need at least $1 on your account. Otherwise, you can convert your points into gift cards and use it to purchase items on selected merchandisers.
SuperPay.Me has existed for quite some time now and people are claiming that they earn using this platform. On their website, you can click a link that will bring you to a page full of reviews.
Is SuperPay.Me Legit?
But the question is: is it really legit? I mean, those can be fake reviews. So I did a little digging and I found out that the page has a few complaints, too.
SuperPay.Me is legit and there are trusted people who claimed that they use this to earn an income. However, there's a chance that the feedback they received from Reviews.IO is filtered or selected.
I also checked their Facebook Page and there are also tons of negative reviews. I've reviewed a lot of reward sites in the past and most of them are legit but still, they have the same problems -- poor customer service, deactivated accounts without notifying the member, and extremely low payment.
The thing is, this rewards site is legit but it's only good as a side hustle or if you don't really NEED cash. For me, platforms like this are only useful when you want to get yourself entertained and earn a few cents.
Want To Earn Real Cash Online
If you're tired of answering surveys or watching videos the whole day only to receive a few cents, then you're in the right place. In this section, I'll share with you one of the best platforms to start online business and enjoy long term income.
Passionate about writing or want to start your own business without capital? It's possible with Wealthy Affiliate. If you've never heard of this site, don't worry. You can click this link or browse a thousand of reviews about it online.
The concept behind this platform is to promote products and/or services using your own affiliate site without paying for anything. That's right -- IT'S FREE! And you have access to training, webinars, online community, and chat support without paying for anything.
Here Is My Top Recommendation to Start Highly Profitable Online Business from Comfort Of Your Home
SuperPay.Me is free for everyone worldwide. Unlike other survey or reward sites that are limited to the U.S. and U.K. residents, you can use this platform anywhere you are. All you need to do is create an account and participate in surveys, PTC, etc.
FREE TRAINING
Learn How I Started Highly Profitable Online Business From Comfort of My Home Following This Blueprint
PROS
Available Worldwide
As mentioned, most reward sites are only available to a few regions. Luckily, SuperPay.Me is available worldwide. Meaning, you can sign up and earn from this website no matter where you are.
Uses PayPal To Pay Members
It's always good to know when a program is paying its members using one of the best financial platforms online, like PayPal. If you don't have a PayPal account, you can create now for free.
Legit Site With Low Cashout
So far, this site has the lowest cashout required. Apparently, you only need $1 on your account so you can withdraw it on PayPal, Payza, or Skrill.
CONS
Too Many Complaints
While it's normal for a website to receive negative feedback, the number of complaints that SuperPayMe has outweighed the positive reviews.
Low Income Potential
Even if you spend the entire day taking surveys, watching videos, and visiting sites, you can only earn a little amount.
If you want to make more money, I suggest you sign up with my top recommended program.
Every activity is straightforward and you don't need special skills to do this.
For their customer support, you can click "Contact Us" below so you can send them an email in case you have questions or concerns.
Want to learn more about SuperPay.Me? Then you can watch the video below/
I can't recommend SuperPay.Me for anyone who NEEDS cash. The amount you can receive using this platform, even if you spend the majority of your hours on this site, is not enough to support you. However, you can consider it if you want to spend your free time and earn a few dollars.
SuperPay.Me is legit and you have other options to try if you want to earn points apart from taking surveys. You can use it for entertainment purposes but not if you are serious about making money online.
Also, the complaints are quite alarming so if I were you, I'd skip this opportunity and spend my precious time on a platform that I'll discuss in the next section.
Making money online is challenging, but not impossible. If you follow this fine blueprint you will enjoy the following benefits:
Step-By-Step Guide on Creating Long Term Income
Ton of Support
Live Active Community
Very Rewarding Opportunity
And A Lot More!


I hope I have enlightened you with my SuperPay.Me review and if you have any questions, comments, or you want to share your experience with this program, you are free to share your thoughts below.
Thank you!
We Constantly Review Programs in "Make Money Online" Niche,
So That You Don't Have to Waste Countless Hours
Want To See Our
TOP RECOMMENDATION?