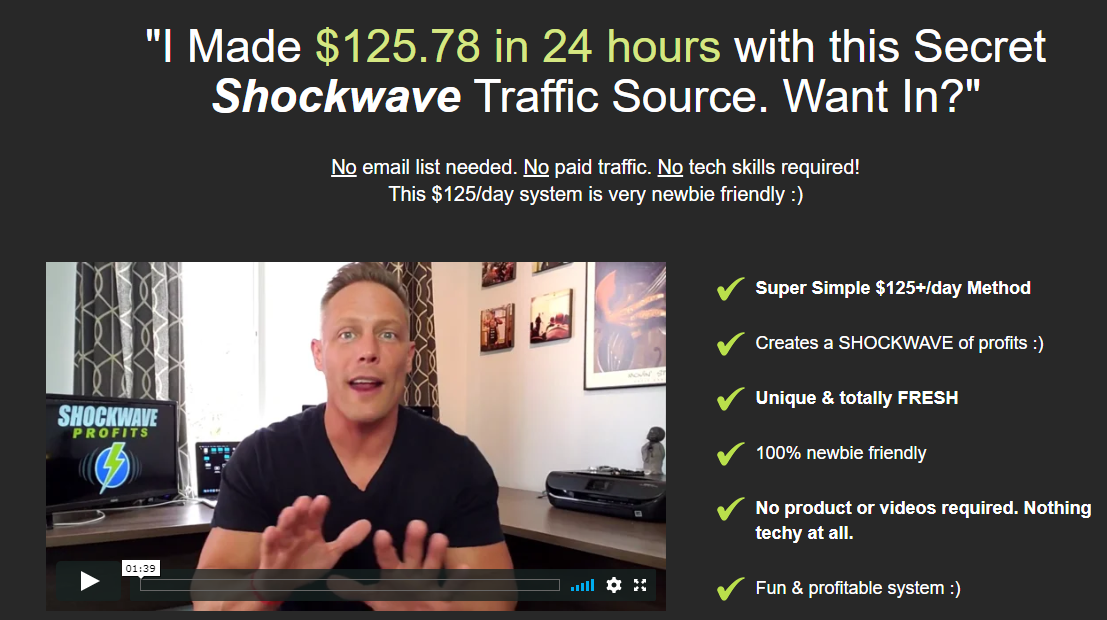 Welcome to My Shockwave Profits Review!
Generating huge traffic on your website is the key to increasing your sales and the number of your clients. Sadly, no matter how many programs are claiming that they can do this and that, nothing can compare to hard work.
Therefore, whenever I see bold claims saying that "you only need less than an hour to create free traffic" or "there's no expertise required", I know, it meant otherwise.
Shockwave Profits Review Summary
---
Name: Shockwave Profits
Website: http://shockwaveprofits.net/live.html
Founders: Bill Hugall, Erik Cagi, and Simple Spencer
Product Type: Online Training Course
Price: $7.97
Quick Summary: Shockwave Profits is an online training course that claims to teach you a method that "has never been used before." It can be used by beginners and it doesn't require technical skills, according to their sales page.
However, the "secret" method they're telling about is using Facebook Groups and if that sounds disappointing, wait until you read the whole Shockwave Profits review.
Overall Rating: 4/10
Recommended: No
But is this the same case with Shockwave Profits?
According to their sales page, no tech skills are required and you can earn $125 a day.
As much as it sounds nothing but a scam to me, I know it's too early to have assumptions. So if you're here looking for an honest Shockwave Profits review, then don't worry. I got you all covered!
First thing first, I'm not an affiliate of Shockwave Profits so I'm not here to promote the product and make money from you. I'm just here to help you come up with the right decision so sit back, relax, and continue reading.
What Is Shockwave Profits About?
Unlike other low-quality products I've met before, Shockwave Profits is not as suspicious. I mean, the founders have shown their real faces and identity so more or less, I guess they have nothing to hide about. But still, they did not mention what their product really is and how it works; instead, they repeatedly claim that it's for beginners, that no tech skills are required, and that you can make $100+ a day out of their program.
But still, like other products trying to lure as much unknowing clients as they can, they've used bold claims like "no one else is doing this method" and that it's a "secret."
But what is Shockwave Profits really about?
Basically, it's an online course developed by three marketers, Simple Spencer, Bill Hugall, and Erik Cagi. According to their sales page, this is newbie-friendly and that no email list is needed. If it's your first time to see products like this online, it's easy to get attracted. Who knows, you might even buy Shockwave Profits without thinking what you're getting yourself into.
All it says it that you:
Can see the overview of the method used in Shockwave Profits
Can learn how to set up your first campaign
Can learn from the step-by-step training
Can use done-for-you tools and resources
Is Shockwave Profits A Scam?
If there's one thing I like about Shockwave Profits, that would be their legitimacy. Shockwave Profits is not a scam and so are the people behind the program.
Erik Cagi is an affiliate marketer who has made a reputation in reviewing and exposing programs and products online. He also owns a YouTube Account showcasing his reviews.
Simple Spencer is an internet marketer who has developed several programs such as 5 Figure Lounge, Reactor, and InstaProfit Machine
Bill Hugall is also an internet marketer who has developed several online programs like Snowball Traffic, 2019 Blast Off, Holiday Gold Rush, Profit Vortex, and a lot more.
Here Is My Top Recommendation to Start Highly Profitable Online Business from Comfort Of Your Home
According to their sales page, Shockwave Profits costs $27 but it is discounted on a limited time, making it $7.97. If you think you're saving money from this promo, think again.
Below the "Buy Now" part, there's a timer that restarts itself. So even if you don't purchase it before the times runs out, it will go back to 28 minutes again. Also, if you check it today, it will be offered on the same price tomorrow, the next week, or even next year.
This marketing strategy may work for some people but if you've been searching and trying for money-making opportunities online, this might drive you away, no matter how legit or good the product is.
On top of this, you will meet several upsells ranging from $12 to $27. You can ignore all these add-ons if you wish and proceed with Shockwave Profits.
Nonetheless, Shockwave Profits offer a 30-Day Money Back Guarantee in case you're not satisfied with the product.
Tired of Wasting Time on Low Quality Programs?
I'm so grateful that I was able to find THIS PROGRAM which helped me to finally start making money online!
PROS
Good Information
To be fair, Erik Cagi did share some useful information you can use when you want to venture into affiliate marketing.
30-Day Money Back Guarantee
Not all programs are created equal and despite all the red flags on their website, there will be times when you just want to try it yourself. With Shockwave Profits, you can check their platform and see what they have to offer and in case you think it won't deliver, you can have a refund within 30 days.
Not A Scam
Shockwave Profits is not a scam and you can learn a few good things about this; however, do not expect to make $100 or more a day in just 30 minutes. You need more than that and you need to develop skills to make it work.
CONS
Upsells
Even if you can ignore all the upsells, it's just pointless to add them because after all, some people might still end up purchasing it.
Not For Beginners
While you can definitely use Shockwave Profits even if you're just starting or you have no skills at all, it will take you a lot of time to figure out how some things work, what some words mean, etc.
Misleading Details
First of all, this method is not a secret at all. Really? Facebook? More than a billion people use it and although not every Facebook user knows how to take advantage of Facebook groups, it's still no secret at all.
Next, you need skills and hard work. You cannot expect to make money, even a hundred dollars a day, if you don't have the commitment, expertise, and time to do it, even with affiliate marketing.
Basically, you need a website and write content for your affiliate page, and although it sounds easy, you have to know how to drive traffic, deliver quality outputs, and to market your website to convert sales.
If you want to earn through affiliate marketing, I suggest my top recommended program -- Wealthy Affiliate. Don't worry, there are no upsells and you can start your training right away. It's perfect for beginners because aside from the learning material, you will meet like-minded people whom you can talk with.
To learn more about Shockwave Profits, watch Erik Cagi himself below:
Shockwave Profits is ideal for anyone who has basic to advance knowledge when it comes to setting up website and affiliate marketing. More or less, you will encounter technical terms so if you're a beginner, this will be a struggle. Nonetheless, there's a lot of good information included in this online course which you can use to grow your business online.
Shockwave Profits has around 11 videos all in all and it includes:
Video 1 - Overview Of Shockwave Profits
In this video, Erik will give an overview of Shockwave Profits and what to expect in the training.
Video 2 - Creating Your Shockwave Site
In this tutorial, you will learn how to create a website where you can set up our landing page. If you're a beginner, this might be a little confusing because of the technical terms and procedures you're about to do. This is also the reason why I don't believe this is beginner-friendly and that you don't need expertise or tech-skills for this program.
Video 3 - Setting Up Your ManyChat Account
In this tutorial, you will learn how to set up Manychat and how you can already benefit from its free version.
Video 3.1 Getting Your Fan Page Approved
In this tutorial, you will learn how to create a Facebook Fan page in compliance with Facebook's Terms Of Service.
Video 4 - Creating Your Shockwave Traffic MAGNET
In this tutorial, you will be asked to create a 5-page write up about traffic magnet in PDF format or a 3-5 minute video of it. When making this, Erik suggests that you use your own words rather than copying it. While there's no problem with that because as well know, plagiarizing or copying is illegal online; however, I was just wondering… what happened to their claim about "NO tedious blogging"?
Video 5 - Putting It All Together
In this tutorial, you will learn how to create your landing page using Thrive Architect and how to connect it with Manychat.
Video 6 - 100% FREE Traffic Waves
In this tutorial, you will learn how to create free traffic. Erik will also tell you that you need "to work" all because this traffic is organic. Basically, it means using SEO to create it so again, what happened to their "NO SEO" claim?
Video 7 - How To Drive Quality BUYER Traffic
In this tutorial, you will learn a routine you need to do every day to create traffic.
Video 8 - Time To Make Shockwave PROFITS
In this tutorial, you will learn which products to promote and to start writing your post.
Video 9 - Erik's Personal Case Study
In this video, Erik talks about the result he got after using Shockwave Profits.
Video 10 - Conclusion
This is just the summary of everything he talked about.


Once you know what's inside Shockwave Profits, you'll quickly realize that 30 minutes per day is not enough, contrary to what they mentioned to their sales page. You see, writing a post alone take time unless you're fine with delivering low-quality, useless content. However, if you want to make your online business work, you have to invest time and effort.
If you're a beginner, it's not a problem. If you don't have the skills or expertise, it's not a problem, too. The problem here is if you've been provided with misleading information because in the end, you'll be disappointed.
The business model used here is affiliate marketing and for the benefit of the doubt, this method really works! However, it takes time and you can't just earn $100 a day if you're not willing to work hard.
If I were you, I'd rather spend my time on a program that's more valuable, such as Wealthy Affiliate. You can start signing up for a free account and expect many wonderful things such as an active community and training without paying for anything. Sign up now with my top recommended program and get the best value you deserve!
Shockwave Profits is legit, first of all, so you don't have to be worried about getting scammed. However, when it comes to delivering their promises, you might think twice about using the program. While the training may help you start a website and earn online, you just can't make that crazy amount of money in just a short time.
Tired of all the lame promises? Me, too! I've been there and I'm lucky to have found the best online program yet! It's free, to begin with, and if you sign up now, you can expect to enjoy these perks:
Training resources
One-on-one coaching
Comprehensive guide
Webinars to help you start your business online
And many more!
I hope I have enlightened you with this Shockwaves Profit review and if you have any questions or comments, please don't hesitate to drop it down below.
Thank you!
We Constantly Review Programs in "Make Money Online" Niche,
So That You Don't Have to Waste Countless Hours
Want To See Our
TOP RECOMMENDATION?