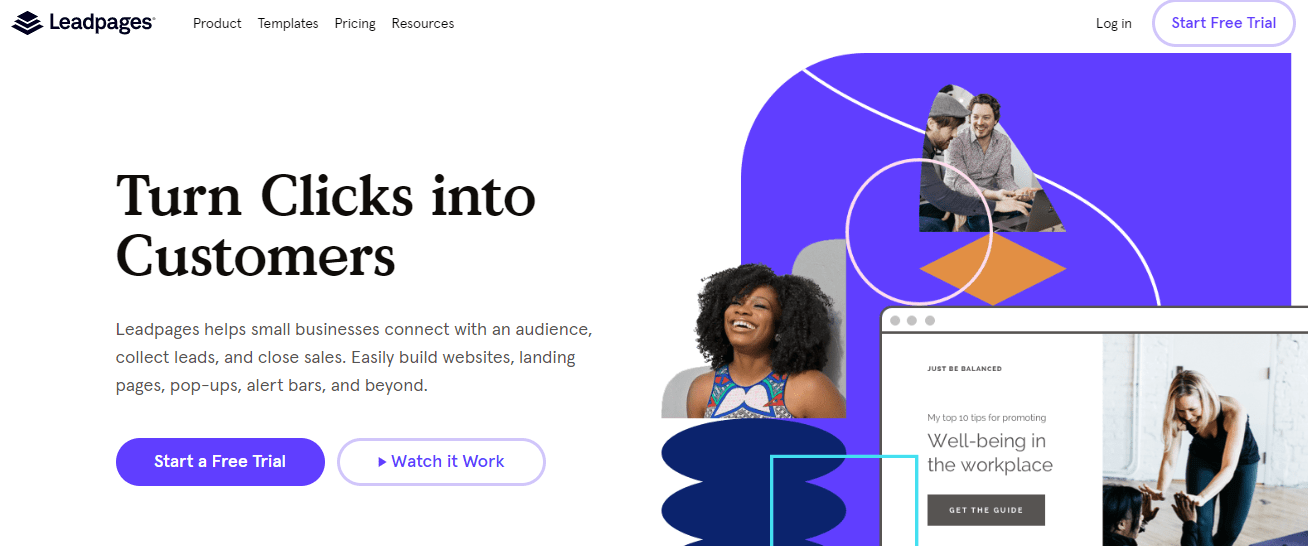 Welcome to My LeadPages.Net Review!
If you want to monetize your blog or website, there are many things to consider. Your content, the layout, and traffic generation -- to name some. Before, you have to spend time and money on designers and developers to make it work but now, you can do it on your own.
LeadPages.Net Review Summary
---
Name: LeadPages
Website: www.leadpages.net
Founders: Avenue 81 Inc.
Product Type: Landing Page Generator
Price: $15/Month (Start) | $25/Month (Standard) | $48/Month (Pro)
Quick Summary: LeadPages is a tool that allows you to create landing pages. It's ideal for bloggers and website owners who want to improve your website's performance. It comes with features that will help increase conversions and interactions.
Overall Rating: 8/10
Recommended: Yes
For instance, a program called LeadPages claims to help you in creating high-converting landing pages. So far, many users have given positive reviews about this tool but before you go and start a free trial, read my entire review first to find out if this one suits your needs.
Also, if you want to make the most out of a website or you have no experience building one at all, here's my FREE STEP-BY-STEP GUIDE. It's perfect for both beginners, seasoned bloggers and internet marketers when they want to make more cash using their sites.
LeadPages is a powerful tool that helps website owners and bloggers create stunning landing pages. It's designed for anyone who has no coding or design experience. However, I suggest that you pack yourself with basic technical skills and expertise before working with this kind of program to avoid feeling overwhelmed.
Inside the platform, you'll see LeadPage Editor -- a tool that comes with easy-to-use templates you can use on building your landing pages. It also allows you to edit the details so you can customize it according to your preference.
Also, it comes with other features that will help you grow your campaign with lead generation.
LeadPages Features
A/B Testing
LeadPages comes with a feature that allows you to do a split test to know which landing page version works best on your website.
Analytics
Apart from its built-in analytics, this landing page tool also makes it easier for you to integrate it with Google Analytics and Facebook Pixel.
Free Templates + Paid Templates
Templates are available for free and you can edit it according to your liking. You can also opt for paid templates if you want premium designs and additional features.
Drag-And-Drop Editing
Even without advanced technical skills, you can design your landing page with ease by simply dragging and dropping tools and design.
Hosted Landing Pages
With LeadPages, you have the option to have your own domain or use them as your host for your website.
Marketing Integrations
Using this tool you can integrate your CRM, webinar tool, email marketing service, payment gateway, etc., without a hassle.
Website Integrations
Whatever your website service provider is -- WordPress, Joomla, SquareSpace, to name some -- LeadPages ensure that it can easily work with it.
Other Features
LeadLinks
This feature allows your current subscribers to sign up for your offer by simply clicking a link. For instance, when you send an email campaign, you can insert a link to it and once the reader clicks it, they are automatically registered. No need for the time-consuming registration process.
LeadBoxes
This is a pop-up box you can set up when your visitor is about to leave the page or if they click on a certain link. Some business owners may not realize it but when done correctly, these pop-up messages can increase customer interaction.
LeadDigits
Instead of having the usual email list, you can reach your consumers by creating a list of their mobile numbers. This is helpful especially now since most clients, especially the younger ones, are more active in text messages rather than the email.
How LeadPages Work?
As of now, they offer a 14-day free trial which you can take advantage of if you want to explore LeadPages personally. Anyway, you need to register with your name, email address, and other information so you can have access to the member's dashboard.
Once you're inside the platform, you can start creating your first lead generation campaign. If you're new to this, don't worry, LeadPages will ask a few questions to know more about your preference when it comes to your landing page.
As for the template, it will be provided afterward or you can go to it directly on the navigation bar. There are two kinds of templates available -- free and paid. You can customize both of it according to your requirements or if you want to have guaranteed high-conversions, you can opt for the standard type.
More About The Drag And Drop Builder
LeadPages ensure that almost everybody who uses their tool has the convenience and ease they need. For instance, they give you a live preview of your landing page while giving you access to these tools:
Widgets
Widgets are the additional buttons or opt-in forms you can add on your landing page.
Page Styles
This tool allows you to choose the type, size, or color of font you want to use, your background image, etc.
Page Layout
As the name suggests, this tab allows you to create the layout of your landing page.
Page Tracking
This tool helps you optimize your landing page by setting meta title and description and analytics code.
From what I see and based on the reviews I've seen online, it's not a scam. In fact, it's considered as one of the best landing page tools you can use when you want to generate lead and increase customer interaction.
Here are some feedback from its users:
You can read more LeadPages review by clicking this link.
You can also watch the video below to learn more about this landing page generator:
On their page, there are three membership levels: Standard, Pro, and Advanced, which you can pay on a monthly or yearly basis. Each membership comes with a site builder, unlimited traffic and leads, mobile-responsive site templates, tech support, lead notifications, weekly group coaching.
Start $19/Month For Monthly Membership Or $15/Month For Annual Membership
This is one is ideal for blog owners who want to start their lead generation campaign.
Standard $37/Month For Monthly Membership Or $25/Month For Annual Membership
This one is ideal for business websites who want to increase traffic and lead conversions. It comes with more tools, such as unlimited landing pages, unlimited pop-ups, unlimited alert bars, 200+ landing page templates, 40+ standard integrations, Facebook and Instagram ad builder, digital file hosting and delivery, and HTML and custom code editing.
Pro $79/Month For Monthly Membership Or $48/Month For Annual Membership
If you want more advanced options for your landing page, you can consider this membership. Apart from the basic features, it also has all the tools that Standard Membership has plus the following: online sales payment, email trigger links, unlimited A/B split testing, and 10 opt-in text campaigns.
Is LeadPages Worth It?
With all the tools provided even just for the lowest membership option, I believe that LeadPages is worth it. Perhaps, these are just some of the reasons why many developers and internet marketers recommend this. While it may not be perfect at all, the price for their membership is just right.
However, if you're just beginning with your website, I suggest you take my top recommended program first to learn all the basic things you need. It's free and you have access to different tools and resources, such as training, webinars, and a live community. This way, you'll be guided accordingly to avoid feeling overwhelmed.
Here Is My Top Recommendation to Start Highly Profitable Online Business from Comfort Of Your Home
PROS
Very Useful Features
At first, I was wondering why this tool has received a lot of positive reviews and when I checked it out, I know why now. The features it provides are not only simple to use but also, it really helps in getting the results you want.
14-Day Free Trial
If you're skeptical about the product and you want to try it on your own, you can take their 14-day free trial. Just don't forget to cancel the trial before the expiration date to avoid charges.
Save Time And Effort
Whether you're new to creating landing pages or not, it's time-consuming since you have to consider several factors. Plus, coding takes time. With LeadPages, you can simply use their templates and edit them without any hassle.
CONS
Limited Styling Options
While you can edit the templates provided within the platform, the styling option is still restricted and it might affect your company's branding.
Not Free
Yes, you can try it for 14 days but after that, you have to pay for it. This is reasonable though since you're using a lot of tools and templates but still, it's better if you can find a program that can help you generate leads for a cheaper rate.
FREE TRAINING
Learn How I Started Highly Profitable Online Business From Comfort of My Home Following This Blueprint
LeadPages is for website owners and bloggers who want to create landing pages for their websites. It's ideal for anyone who wants to get more leads, sales conversion, and interaction from their audience.
Overall, LeadPages is a good landing page generator that you can consider if you want to get more leads. It's easy to use and beginners can take advantage of this. However, if you want to improve your website's overall performance, you can consider my #1 suggested platform FOR FREE!
Looking for the best way to make money online?
If yes, then I highly recommend this program. It's one of the top choices of both newsbies and seasoned individuals who want to earn money from home.
Sign now up and get access to the following:
One-on-one coaching
Comprehensive guide
The best business tools and support you need
Webinars and training resources
And many more!
I hope this LeadPages has helped you. If you have concerns or clarifications, please let us know in the comment box below.
Thank you!
We Constantly Review Programs in "Make Money Online" Niche,
So That You Don't Have to Waste Countless Hours
Want To See Our
TOP RECOMMENDATION?