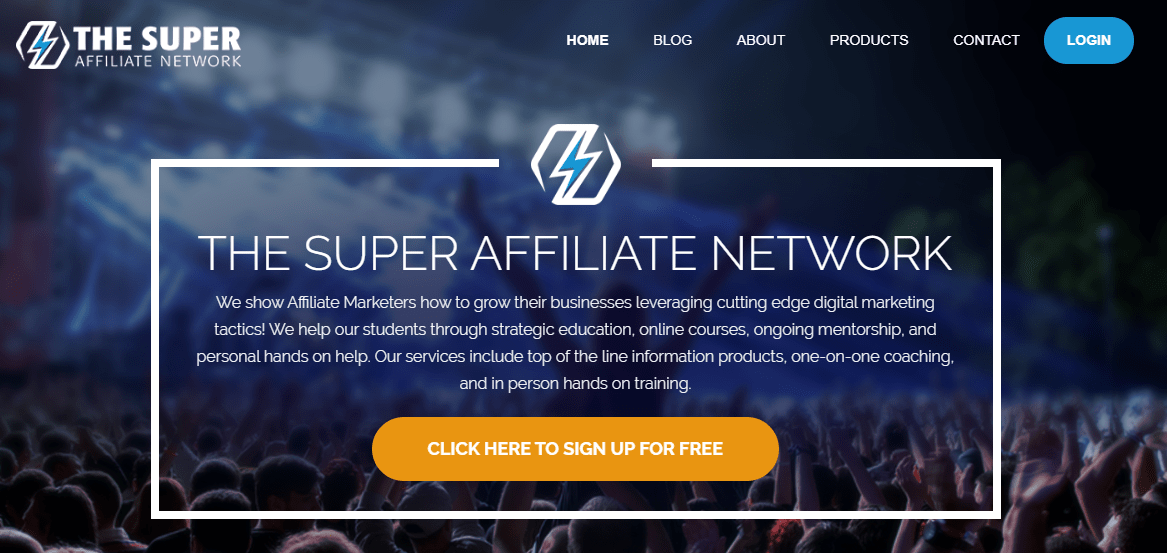 The Super Affiliate Network Review Summary
---
Name: The Super Affiliate Network
Website: thesuperaffiliatenetwork.com
Founders: Misha Wilson
Product Type: Online Training Platform For Affiliate Marketing
Price: $1 Trial, then $47 + up-sells
Quick Summary: The Super Affiliate Network is an online platform that offers tools and training to its members with the main goal of helping them make money online. It's a legitimate high ticket product and it comes with over 20 modules that talk about solo ads, email marketing, coaching, setting the right mindset, etc. To learn more if this product is worth a shot keep on reading below.
Nowadays, there are so many opportunities to make money online and some people make it sound easy. For instance, you can earn dollars by simply taking surveys, entering captcha, or watching videos. While these programs may be legit, it won't help you achieve financial freedom.
Meanwhile, if you're serious about making money over the internet, one of the things that you should take note of is that it's not going to be easy. It's possible -- yes, it is! You can live the laptop lifestyle you've always dreamed of, earn cash without going out, and be your own boss but it takes some discipline and good efforts to setup.
Here is our Top Recommendation to start Highly Profitable online business if you want to get a real education and do it right.

Many people are hesitant about using this business model to make money because it's not easy -- but that's the point! The reason why it's profitable is because it's like handling a business.
You have to continuously improve your skills and expertise, be consistent about what you are doing, and take this opportunity seriously. You can make it simpler though by joining platforms that will help you crush affiliate marketing like a pro!
In this post, you'll learn about The Super Affiliate Network -- an online training platform that helps you become a successful affiliate.
What Is The Super Affiliate Network About?
The Super Affiliate Network is an online training platform founded by Misha Wilson in 2016. In case you're wondering if Misha is a real person, well he is. He's even made a name in internet marketing, even known as "the youngest and fastest-growing traffic and conversion expert" online. Considering that, there's a good chance that the program will provide real value to its affiliate.
How The Super Affiliate Network Works?
The Super Affiliate Network (SAN) offers a $1 trial so you can explore the platform without spending a dollar. Of course, it's limited but it will give you a glimpse of what you should expect from the program.
You will get access to: Profit Boosting Bootcamp and here are all the perks that you will get with it:
How to get the right offers
How to get the right market
How to setup automated system
How to generate traffic
How to follow up
How to maximize your profits
You will also be assigned a "coach" online and he/she will assist you throughout the course. As a member, it's your responsibility to communicate with them so you can pursue your training.
Apart from the guidance they provide, the coach will also introduce the product packages available within the platform.
Is The Super Affiliate Network A Scam?
SAN is not a scam. It's legit and you will get a bunch of training that will help you earn making money online. Of course, like other companies, it's received a few complaints, too and you can find some on Better Business Bureau
Here Is My Top Recommendation to Start Highly Profitable Online Business from Comfort Of Your Home
However, despite the negative feedback, there are also people stating that this program has helped them earn money. You can watch the video below to learn more about this:
SAN offers various types of membership that comes with different inclusions. Each includes training and a quiz to assess your learning.
San Basic Membership $1 Trial
NOTE: After the $1 trial expires, you'll pay $47 every month. Meanwhile, you can save $10 and only pay $37 per month if you skip the trial. This gives you access to their 3-Week Bootcamp that covers various modules, such as:
Mindset
Email Marketing
Psychology
Selling
List Building
Automation
The Solo Ad Success Formula - $297
11 module course where you will learn how to generate leads by running Solo Ads.
Understand Email marketing and use it effectively
Write effective Solo Ads
Find good Solo Ad vendors to get high quality traffic
Learn the power of tracking
The IM Profit Formula - Free +$7 Shipping
Learn the hacks on how to advertise on popular ad platforms and get around some strict laws
Discover the power of "Bridge Funnel" to get 300-500 email subscribers per day
Learn how to sell high ticket $2,000+ products without needing to personally sell anything
The simple model that can be followed to generate massive sales without even having your own product
The Super Affiliate Inner Circle - $297
With Super Affiliate Inner Circle you get 12 months access to Profit Boosting Bootcamp, access to an adviser who will overlook your shoulder as well as weekly and monthly coaching. You will also get access to Solo Ad Success Formula 2.0 home study course
Tired of Wasting Time on Low Quality Programs?
I'm so grateful that I was able to find THIS PROGRAM which helped me to finally start making money online!
PROS
Owner Is Legit And A Real Person
Many platforms, especially the ones that sell high-ticket products, do not reveal the identity of their real owner. But this is not the case with The Super Affiliate Network. Misha Wilson is not a pen name but the name of a real person.
The "Better Than Money Back Guarantee"
Instead of the usual refund, Misha offers a "better" solution in case you're not satisfied with the program. If you're qualified for money back, he will personally give your investment back plus $100 for "wasting your time". However, by being qualified means that you have to go through the Bootcamp and apply all the methods, including calling your coach.
Intensive Training
Unlike other low-quality programs, the training provided by SAN is comprehensive and extremely helpful.
CONS
Upsells
Even though Super Affiliate Network provides quality information it includes several packages which members will be offered to buy. Many of these packages will be presented during a phone call with a coach.
The Super Affiliate Network is a legit product you can try if you are willing to invest in to the program. Apart from the comprehensive guide, you can also talk to your coach and learn from their experience, which is more advantageous compared to just reading or watching training materials.
We Constantly Review Programs in "Make Money Online" Niche,
So That You Don't Have to Waste Countless Hours
Want To See Our
TOP RECOMMENDATION?