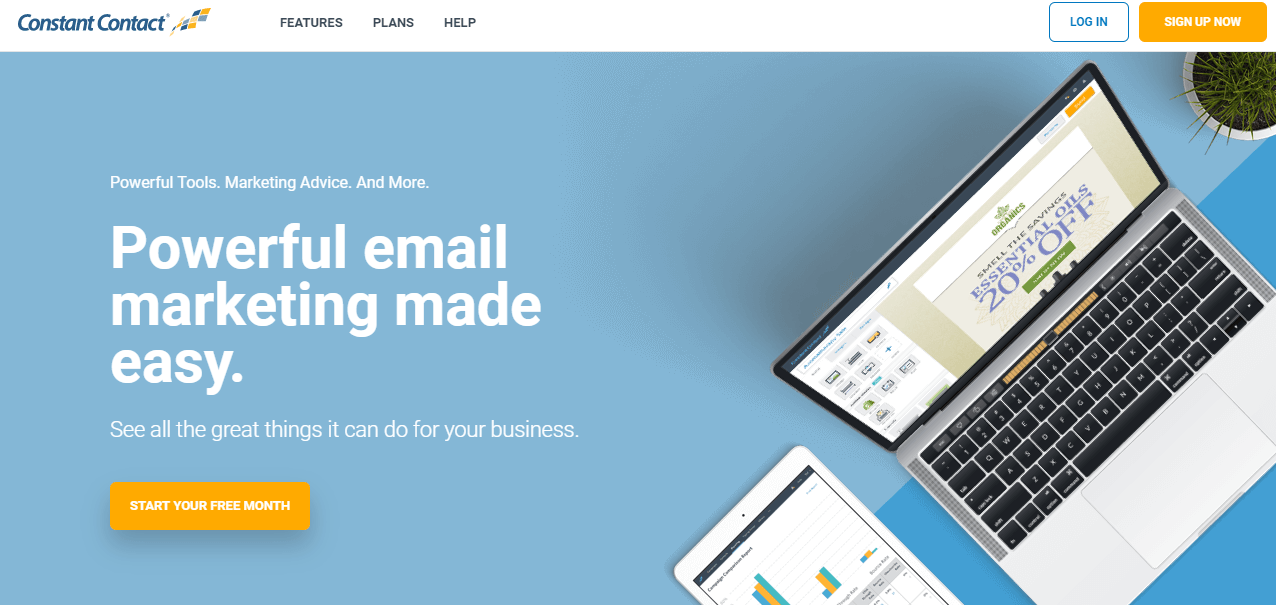 Welcome to My Constant Contact Review!
Starting a business is challenging, maintaining one is another issue. You have to be hands-on most of the time and if you can't, you need to hire people and use tools that will make it work. One of the important departments that should be taken cared of is marketing.
Constant Contact Review Summary
---
Name: Constant Contact
Website: www.constantcontact.com
Founders: Randy Parker
Product Type: Email Marketing Software
Price: Starts At $20
Quick Summary: Constant Contact is an email marketing software that allows you to send professionally-designed messages to your email list. It comes with unique features that will help you promote your products, services, and events.
It's a good tool you can consider when you want more interactions and conversions but before you sign up and purchase the program, be sure to read this review first.
Overall Rating: 5/10
Recommended: Yes
Marketing is important because it builds a bridge between your business and customers -- potential and loyal ones. Therefore, you have to ensure that it is handled really well. One of the things you can consider when you want to reach your clients is through email marketing.
In this post, we'll talk about Constant Contact -- an email marketing software that claims to help users "create, customize, and send professional email" messages. But does it really work? Who should use it? Is Constant Contact a scam?
What Is Constant Contact About?
Constant Contact is one of the well-known email marketing services since 1995. It was founded by Randy Parker but was acquired by Endurance International Group in 2015. The main function of this program is to help users create a professional email campaign that they can edit according to their branding and/or preference.
On their website, it says that there's no need for coding skills and expertise since their software allows the user to design by simply dragging and dropping the design. Plus, it works on every device -- laptop, desktop, and smartphones.
Also, it comes with several features and tools, such as surveys, event management tools, and social campaigns.
Features Of Constant Contact
There are two kinds of plans offered at Constant Contact and each comes with different features, which I'll discuss more in a bit.
For now, I'll give you a quick outline of their features.
List Segmentation
Google Ads
Facebook and Instagram Ads
Contact List Import
Customizable Templates
Unlimited Emails
Branded or Industry Templates
How Constant Contact Works?
After creating an account, you can have access to its member's dashboard. You can also start customizing an email campaign; however, you need to get your account approved first before you can send email messages.
Is Constant Contact A Scam?
Constant Contact is not a scam. It's a legit software you can use when you want to promote your offers using email. It's a good tool when you want to increase conversions, customer interaction, or when you want to invite your clients to an event.
Apparently, Constant Contact will assess the information you've entered first, such as the number of email addresses you have, your website address, and your industry. That being said, your account will not be approved automatically unless the platform agreed that it's risk-free. Perhaps, they want to avoid spam emails from scams or low-quality programs.
Reviews On Constant Contact
Constant Contact has received a few complaints and more positive feedback. Based on my research, most users complained about its price, customer service, and the software itself. Apparently, it's more expensive compared to similar programs and since the tool has become difficult, some people think it's not worth the price.
Meanwhile, some users swear to this email marketing service. According to them, it's easy to synchronize email contacts. It also lets users edit the campaign easily using the features and tools integrated into the platform.
You can click this link for more review.
You can also watch the video below to learn more about Constant Contact:
Constant Contact offers different rates depending on the features you need and the size of your list, like the photo below.
On the left side, there's Email which is available for $20 (starting price) and again it depends on the number of email addresses you have. For Email Plus, it includes everything that's in the "Email" plan plus some more advanced features, such as the Event Marketing, Subject Line A/B Testing, RSVP, Surveys, Polls, Coupons, Online Donations, etc.
Below is the overview of their pricing based on the number of your email list.
Here Is My Top Recommendation to Start Highly Profitable Online Business from Comfort Of Your Home
PROS
Save Time And Effort
If you're a small business owner and you want to spend your time on things that matter the most, you can use this email marketing software to make things easier. It comes with advanced features, such as reporting tools, email automation, etc.
Unique Tools
If there's one thing that sets Constant Contact apart from its competitors, it's the unique features it has, like event management, RSVP, and online donations.
CONS
More Expensive Than Similar Platforms
The rate of their services depend not only the features but also on the number of your mailing list. Also, if you will go online and check for other similar software, you'll see that there are cheaper alternatives that offer almost the same tools.
Poor Customer Service
Most members complained about the poor customer service and this is one thing that you should take note of especially for paid programs. I mean, no matter how perfect we think the program is, there's a chance that you will encounter a problem and if you're a business owner, you want to resolve it in the soonest possible time.
Unfortunately, there are complaints against Constant Contact about the poor customer response they provide.
Limited Automation
Constant Contact only provides basic automation and for a program offering a steep price, this is a drawback. Other email marketing providers provide advanced automatons on the same or even lower rate.
Tired of Trading Your Precious Time for Money?
Here is a Blueprint to Owing Highly Profitable Online Business Without Any Experience REVEALED!
Anyone who wants to market their products and services through can benefit from this platform, especially those who want to promote their events. This service got unique features that you can take advantage of when you want to have someone donate online, reserve seats for events, etc.
Promoting Your Business Other Than Email Marketing
When you have a business online or you want to grow your email list, email marketing is just one of the many things that you need to consider. If you want to have more customers or convert more sales, you have to learn how to generate traffic to your site. Otherwise, how will people know you exist?
Overall, Constant Contact is impressive because of the many features it has. As we all know, you have to step up your game if you want to have an edge over your competitors and I believe that this platform will help you achieve that.
But then again, this platform will cost you more. I can't tell you that it won't be useful for your business as there are users who find this program more beneficial for them. I mentioned above that I recommend it but it depends on your requirements.
I believe what you can do instead is to sign up for their FREE TRIAL so you can explore the platform yourself. Just be sure to cancel the trial before it expires or else, you will be charged.
Otherwise, you can use other ways to grow your business aside from email marketing and you can do this by signing up for my #1 recommended program for free!
Do you want to earn extra cash that you can use for savings? Purchasing your dream home? Paying your rent?
Don't worry, you're not alone. There are many legit platforms to choose from but this one is our favorite.
Sign up with our top-recommended program and take advantage of the following:
Proven strategy to work smart and earn a lot (literally)
Step-by-step guidance
Lots of training resources
Best possible support including your own training coach
My personal help
And so much more!
Don't worry, this program is legit and trusted by many business owners, internet marketers, and individuals who want to make money online.
I hope you enjoyed my Constant Contact review and if you have questions or comments, please feel free to share it below. Thank you!
We Constantly Review Programs in "Make Money Online" Niche,
So That You Don't Have to Waste Countless Hours
Want To See Our
TOP RECOMMENDATION?