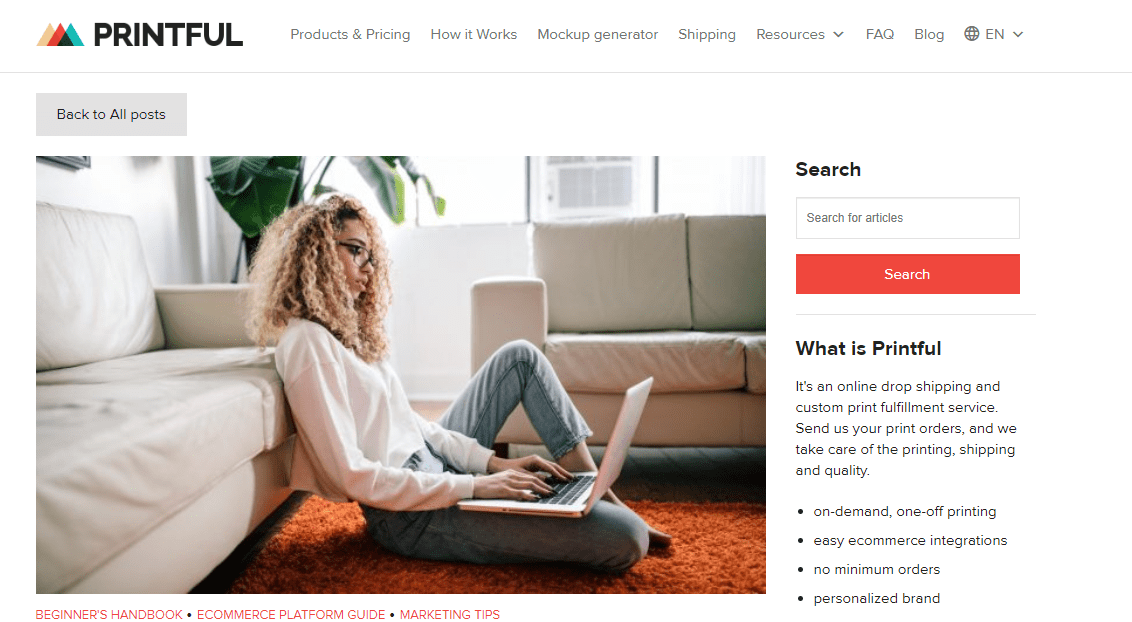 Welcome to My Printful Review!
Nowadays, almost everything is possible online. For example, you can start a business without capital and a physical store. You can make money at the comforts of your own home or even, not worry about your inventories.
Sounds impossible? Well, it's possible! Thanks to dropshipping.
Printful Review Summary
---
Name: Printful
Website: www.printful.com
Founders: Dāvis Siksnāns
Product Type: Dropshipping
Price: Free
Quick Summary: Printful is a printing service that helps you start your own business online. Using high-quality printers, this company lets you dropship items on your behalf so you don't have to worry about investing huge capital, your inventory, and the shipping itself.
Overall Rating: 7/10
Recommended: Yes
In this post, we'll talk about Printful -- a printing service company that allows you to sell custom-designed shirts and make money even without capital. It's a legit opportunity that lets you start your own clothing business but before you dive into it, be sure to read the entire review first to know if it's the best program for you or not.
Also, check this printify vs printful comparison before choosing your POD partner.
Founded in 2013 by Dāvis Siksnāns, Printful is a printing service that offers an opportunity to make money online by selling custom-designed shirts. As of the writing, it has offices in these locations: California, Latvia, Mexico, and North Carolina.
Apart from shirts, the dropshipping provider also produces throw pillows, accessories, hats, tote bags, mugs, etc. If you've never heard of dropshipping, I'll provide a quick explanation below:
What Is Dropshipping?
Dropshipping is a business model that allows you to sell items without keeping the products and worrying about inventory. Rather, when you have orders, you can forward it to a third party, let's say a merchandiser, and the merchandiser will ship the item on your behalf.
It's legit and sounds easy but like other types of business, you have to know as much about it as possible to make it successful. Actually, there are courses offered online designed to teach you about dropshipping, such as Fred Lam's Zero Up.
Anyway, Printful produces the products on their own and this is an advantage for a business. Why? For one, you are not dealing with a middle person instead of with a supplier. This helps you save time and money. For instance, you need to put an order on hold, you don't have to wait for a long time since Printful itself can grant your request. Also, the rates are cheaper since you're paying them directly.
How Printful Works?
As mentioned, there's no need to have a physical store or an inventory at home. All you need is an online store where you can showcase your products, such as personalized mugs, apparel, bags, etc. You have to link your online shop with Printful so when a customer orders from you, the program will automatically complete the transaction by shipping the product on your behalf.
One of the good things about Printful is that they can integrate easily into your account, no matter what online store you are using. It can be Shopify, WooCommerce, Etsy, eBay, Amazon, Weebly, Big Commerce, etc. It's also possible to sell with them even without any integrations.
To learn more about how Printful works, you can watch the video below:
Features Of Printful
Mobile Application
In this age, mobile devices are used more often compared to desktops and laptops and if you're one of those who want to easily access their business account with Printful, you can do so using your smartphone. Simply download the app on your iOS or Android device and be able to do the following:
Talk to support
Order hold
Track your orders
Report problems
3-Day Shipping
On average, orders from Printful are shipped within 3 business days or less. However, it might also take a week for your customer to receive their item.
Sample Policy
While Printful cannot provide the item to you for free, you can get a 20% discount and free shipping on up to 2 sample items. This is useful when you want to see the product that you'll be selling personally without paying for its full price.
Meanwhile, if you have $300-worth of orders in a month, you can get up to 3 sample orders on a discounted price.
Mockup Generator
On their site, you can see a free mock up generator that lets you create and see your finished product. It's also helpful when you want to save time and money. You can easily use it even without special skills and expertise. As long as you have a photo of your logo or the design you want to use, you can simply upload it and add text or clip art.
High-Quality Printers
In case you're wondering, Printful uses high-quality Kornit printers to come up with a professionally-designed apparel, accessories, etc.
Printful is not a scam. It's a legit opportunity you can take advantage of when you want to earn cash online. However, it's only available to the United States and the United Kingdom. Also, it comes with a few negative reviews, such as pricing.
While there are people claiming that they use Printful to make a good income online and recommend it to others, there are also a few complaints about the site, such as the days of delivery, pricing, and the quality of the products.
Below are some of the feedback I found on Reddit.
Compared to other printing services, you can start your business with Printful without paying for a service or membership fee. You can also integrate online stores to their platform free of charge.
As for the rates of each product, it depends on the item you choose. The prices are the same to all members since there's no basic or premium membership. However, you can save more or get a discount if you buy in bulk. Also, you have to handle the shipping fee but other than that, there are no hidden charges.
Here Is My Top Recommendation to Start Highly Profitable Online Business from Comfort Of Your Home
PROS
Legit Dropshipping Program
Dropshipping is one of the most profitable business opportunities you can start in the soonest possible time, that's why many people venture into it. However, not all programs claiming to offer drop[ship services are legit. Luckily, Printful has proven that it's not a scam.
Free Mock Up Generator
When you want to create your design and virtually see the result afterwards, you can simply click their mockup generator. It's free and you can use it even when you don't have an account with them yet.
Easy To Integrate With Any Shops Online
Not all shops are created equal so every entrepreneur uses a different online store. The goods news is that Printful can integrate with any platforms, so you can link it to your shop without hassle.
CONS
Expensive Compared To Similar Programs
Some reviews complained about the rates of their products. While there's no hidden charges and you'll only pay for the item and the shipping fee, some users claim that there are cheaper platforms that offer the same service.
No Guaranteed Shipping Day
While shipping is Printful's responsibility, any delays will be put up against you. After all, you are the one talking to your clients and if there's a problem or any concern, you cannot just ask them to contact Printful.
Tired of Wasting Time on Low Quality Programs?
I'm so grateful that I was able to find THIS PROGRAM which helped me to finally start making money online!
Printful is for any aspiring eCommerce entrepreneurs who want to start a clothing line or branding business. It's ideal for anyone who wants to set up a business but has no huge capital. The printing service has no minimum order, which means you can still ask them to dropship even a single product.
Printful has blogs available on their website and you can read it to learn more tips on how you can start and grow your business. They also offer weekly live webinars that cover different topics, such as Email marketing and basic design. In case you cannot attend the webinar, you can watch the recorded video later.
You can also check Printful's YouTube channel.
Overall, Printful is a good opportunity you can consider if you want to start your own business. It's a legit and free program that's been in the market for quite sometime now. Although there are complaints, I didn't find anything alarming so it's up to you to decide whether you can use this platform to make money or not.
However, in case you think dropshipping is not for you or if you want to promote products other than shirts and customized items, I suggest you sign up with my top recommended program now.
It has everything you need to get started -- training, webinars, websites, tools, and an active community that can help you grow your business online!
Looking for ways on how to make money online but clueless who to trust? Don't worry, we know how it feels like that's why we're grateful for finding an opportunity that helped us earn a stable income online.
The best part is -- YOU CAN, TOO! Just sign up with our top-recommended program and get access to these benefits:
One-on-one coaching
Comprehensive guide
Webinars and training resources
The best business tools and support you need
And many more!
I hope our Printful review has enlightened you. If you have questions or clarifications, please feel free to share it below.
Thank you!
We Constantly Review Programs in "Make Money Online" Niche,
So That You Don't Have to Waste Countless Hours
Want To See Our
TOP RECOMMENDATION?