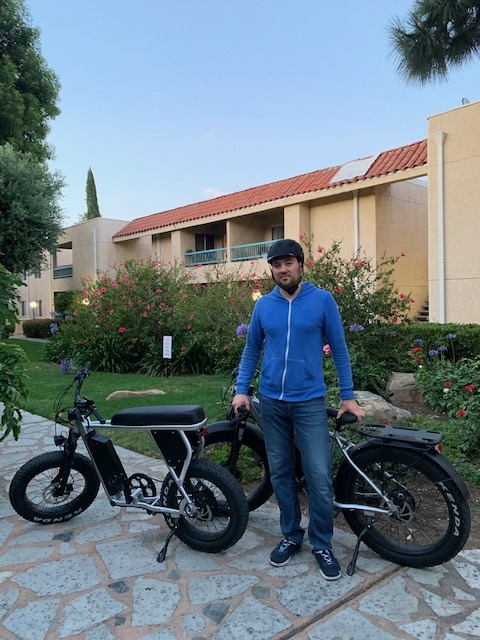 Juiced Bikes Review Summary
---
Name: Juiced Bikes
Website: www.juicedbikes.com
Founders: Tora Harris
Product Type: Electric Bikes Manufacturer
Who Is It For?: Anyone interested in quality e-bikes
Quick Summary: Juiced Bikes is an electric bike manufacturer with direct to consumer sales approach (kind of like Tesla). Their e-bikes gained popularity for their good blend of power and price and fun to ride factor thanks to founder Tora Harris who is an Ex-Olympian.
In this Juiced Bikes review I will talk about my experience with Juiced Bikes as a company and 2 e-bikes that I purchased from them: RipCurrent S and HyperScambler.
Overall Rating: 8/10
Recommended: Yes
Juiced Bikes May Have a Deal Right Now! Don't Miss It.
Before you read my review about Juiced Bikes make sure to click on the red button above to check out their latest deals including some clearance e-bikes as well and subscribe to Juiced Bikes Email list.
Getting on their Email list is a great way to get amazing offers directly to your inbox whenever they are announced and be in touch with latest and greatest trends in electric bikes world.
I usually review products on my website in: "Make Money Online Niche", however I decided to make Juiced Bikes review since I bought their RipCurrent S and HyperScambler with the money I make from this website.
Important***
Most Juiced Bikes reviews that you find online are from reviewers/electric bike magazines who had an e-bike for only few hours just to test out it's features.
My review will cover the actual ownership experience since I did buy these e-bikes and can give you lots of useful info about these e-bikes and about Juiced Bikes in general as I dealt with them on several occasions.
And also I do lots of product reviews so this is my domain 🙂 Stay tuned to learn everything I know about Juiced Bikes and my RipCurrent S and THE MOST EXCITING BIKE - HyperScrambler.
Juiced Bikes was founded by Tora Harris in 2009. Tora Harris is an ex Olympian who won 2 USA National Outdoor Championship Titles and also competed in the 2004 Athens Olympic Games.
When Tora started Juiced Bikes formerly called Juiced Riders he had a vision to create an e-bike which would ride like a normal bike and feel athletic compare to all e-bikes that existed back then.
How Did I Come To Know About Juiced Bikes
I live in Tarzana, CA and work in Calabasas, CA which is about 11 miles apart. And 2-3 times a week I would bike to work and back for fun on my road bike as I would hate to be stuck in LA 101 freeway traffic. I would stop by on the way and have some Indian chai 🙂
Why Juiced Bikes?
When I first heard an idea of electric bike I figured it would greatly help me ride to work as I had to conquer some steep hills on the way to Calabasas. I first checked for e-bikes on Amazon and Aliexpress. I almost bought an e-bike from Aliexpress but then I figured what if something goes wrong with it, how would I get support since they come directly from China.
After watching many e-bike videos and looking in to different e-bike companies here in US I saw a YouTube Ad of Juiced Bikes. This is where I started researching in to this company and learn everything about Juiced Bikes.
At the time Juiced Bikes CrossCurrent was very popular and I even test rode it in Santa Monica, CA Electric Bike shop. I was not that impressed since it felt under-powered. I think it had 500W motor originally.
Not long after Juiced Bikes introduced RipCurrent S e-bike which had Fat Tires, longer range, more power and thumb throttle which was not there for original CrossCurrent bike.
I have pre-ordered it on my birthday:
In this Juiced Bikes review I will not cover too much on tech features of this e-bike as you can get that from Juiced Bikes directly, but I will share some thoughts on RipCurrent S as an owner who experienced this e-bike.
First Here is a Great Review of RipCurrent S I Found on YouTube
What I Liked About RipCurrent S
Fat Tires. Makes it easy to go on any surface and not worry about a flat tire as much as I did on my road bike. I see so many people riding professional road bikes in Los Angeles. Do you actually know how dangerous it is to ride road bike on those thin tires? I have busted my tires on road bike couple of times and almost fell from the bike because it is super light and those tires have no grip or good protection for street roads.
Easy to Understand LCD Screen. Very easy to turn on the lights, check your wattage, speed, assist levels and so much more
Thumb Throttle. Riding RipCurrent S feels like riding a motorcycle. And with Thumb throttle you can relax whenever you want to. Really love this feature. A must have for any e-bike.
Decent Power. 750W is adequate power. On Thumb Throttle only I can go 20 mph (electronically limited) and with pedal assist hit 30 Mp/h in Sport mode, but you will be pedaling super hard.
Disk Brakes. Oh man I love these breaks, they are super strong and with fat tires and weight of the bike you feel super confident breaking even in emergency situations. Disk breaks are a must for e-bikes due to higher speeds.
Torque Sensor. You have to have torque sensor. It really makes pedaling super fast and gives you added torque. If you only have Cadence Sensor you will not feel the same torque as you will with the torque sensor which measures your pedaling input and gives you same electric power to get you faster to desired speed.
Very Solid Bike. First impression of RipCurrent S is very positive. Bike is heavy and feels very solid. It's a great commuter bike and I truly enjoy riding it.
What I Didn't Like About RipCurrent S
Couldn't ride my e-bike when it arrived. It took nearly 2 weeks to have some broken part for handle bar shipped and had a problem with break sensors. I had to spend few days emailing support to figure out how to fix those sensors. Once it all got fixed I had no further complaints and this bike turned out to be super reliable.
Not an off-road bike. If you try to ride this off-road, first you will feel this bike is expensive enough to do this 🙂 2nd it didn't feel right with battery and hub motor getting so much shock from the bumps. You will understand what I am talking about if you try this.
I'd like to have more power. This is just my personal preference after I saw HyperFat and HyperScrambler. I felt in some longer stretches of the road I could go faster with less efforts if I had Juiced Bikes HyperFat which has 1100 watts Mac Motor and can reach higher speeds.

Juiced Bikes Complaints
Juiced Bikes have been criticized for having some quality issues either when e-bikes were first introduced and they had to manufacture them really fast or in general some of the components wouldn't work when e-bike first arrived.
To give an example is the latest issue with HyperScramblers which were first introduced on Indiegogo platform. Many HyperScramblers had a problem with controller which didn't transmit correct power/volts for 52V batteries. Here is a chat message from Jessica from Juiced Bikes Support:
So things like this can happen when the bike is too new and since it's using new 1100 Mac motor with 52V battery - they had some tuning issues even for HyperFats.
Would Juiced Bikes Quality Issues Stop Me From Buying Their E-Bikes?
Absolutely not. The best part is they have been around for a long time and they have presence here in US and are ready to fix all these problems in case they arise. And don't expect every Juiced e-bike to have quality issues. This can happen occasionally.
Why Choose Juiced Bikes Over Competitors?
Let's be honest there are so many e-bikes on the market and they will range from $500 all the way to $10K. Unlike most companies Juiced Bikes has unique approach to offer the best features in the e-bike not found in most e-bikes which include:
750W/1100W Hub motor choice
Torque/Cadence sensor combo
52V battery
Competitive Price
Disk brakes
19.2 Amp battery
Very bright head light
Open electric wiring layout for ease of troubleshooting
Fun to ride (athletic)
Seriously it's a blend of all these features that make Juiced Bikes e-bikes so good. Most other e-bikes will be either under-powered or offer 750W motor but only 11 Ah battery, or even have 36V battery. Very few offer torque/cadence sensor combo. and I haven't seen 52V battery on e-bikes at this price level.
Juiced bikes makes huge emphasis on the battery itself. They even removed USB port in all their new bikes to preserve the life of the battery.
Best Blend of Power, Features, Fun to Ride and Pricing. I Strongly Recommend Juiced Bikes
Which Juiced Bikes E-Bike Do I Recommend and Why
I will break down all Juiced e-bikes in 2 categories:
Fun/Commute
Super Fun/Commute
Fun/Commute
If you want the most reliable e-bike for commute the best Juiced e-bike is CrossCurrent S or CrossCurrent X. They really got it right and it's super reliable with Bafang motor and pretty much every feature I mentioned above.
If you want a little more fun then RipCurrent S will be a great bike you will both have fun and enjoy commuting.
City/Camp Scramblers - are latest editions and I only saw good reviews on YouTube for these e-bikes. They also very reliable and feel more relaxed due to their cushion seat and handle bar.
Super Fun/Commute
HyperScrambler. Offers everything City/Camp scramblers have but with more powerful 1100 Mac motor which is a blast to ride.
New upcoming HyperScorpion. Same as HyperScrambler but with few more added features. Available only for pre-order right now with April 2020 delivery.
HyperFat 1100. This e-bike I call Porsche Cayenne of E-bikes. I mean seriously it's super fast and those big Kenda tires are really nice. This e-bike can reach 40 mp/h.
Woo-Hoo I Got My HyperScrambler 🙂
And here is my Juiced Bikes Hyper Scrambler Review. Yes I did get HyperScrambler in May of 2019 and I think it's a unique e-bike. Let me tell you why:
Upright sitting position offers more relaxed ride versus RipCurrent S
2 people can ride on it. It has long seat and (optional) pegs in the rear so that 2 people can ride on HyperScrambler
More compact. If you live in apartment/condo it's easier to carry/store Scrambler compare to RipCurrent S
More Power. Having thumb throttle accelerate to 33 Mp/h and around 37 Mp/h with pedal assist sounds a lot of fun
What I Liked About HyperScrambler
Well, everything listed above as far as features and most importantly the speed and smoothness of this bike. If RipCurrent S turns people's heads - then HyperScrambler simply blows everyone's mind when you tell them how fast it is and simply how cool it looks.
The seat is super comfortable and HyperScramber is more maneuverable than RipCurrent S. This bike can also be taken off-road and driven really harsh.
Thumb Throttle only power is nearly double the power than RipCurrent S. You feel a quick pull where you need to hold the bike or you can lose control over it. It's really fun and exciting. At times I don't pedal at all because it can go up to 33-35 mp/h on throttle only. Isn't that cool?
What I Didn't Like About HyperScambler
Price is quite high - $3499? Originally it was $2700
Had problems with breaks. Required adjustments few times
And really nothing else. I simply love this e-bike. I got a flat in my rear tire and had to order the tube from Amazon because no one carries it locally. So flats are pretty common even with fat tire e-bikes. I may choose to switch to tubeless tires.
There are lots of great Facebook groups specially for Juiced Bikes where I get a ton of ideas on what accessories and upgrades to get for my scrambler. This e-bike is like a project which you can continue to build and make better.
Are There Juiced Bikes Dealers?
There are no official dealers for Juiced Bikes, at least not yet as they sell their e-bikes directly, however I did find their e-bikes in local Electric bikes shops in Santa Monica, CA.
So you may want to call your local e-bike store and ask if they have Juiced Bikes. But if you find one locally usually they add extra markup like $300-$500, so I recommend to buy them directly from their website. It might be a good idea to visit local store and ride it at least to get an idea.
So there it is I gave some ideas on Juiced Bikes and the 2 bikes I have experience with: RipCurrent S and HyperScrambler. When Scorpion comes out I will get my hands on it.
I absolutely love electric bikes as they are great for commuting and having a lot of fun.
Drop me your comments below:
What do you think about Juiced Bikes
Which e-bike do you have or want to get
What issues have you faced with your e-bike
Check Out Juiced Bikes
,
Get the Best Deal on Your E-bike
Juiced Bikes FAQ
Are juiced Bikes Any Good?
Juiced Bikes are simply one of the best. They offer the best blend of good power like 52V/19Ah battery with 1100 watts motor capable of reaching 35-40 mp/h - and tons of more features - all at affordable prices.
Is There Juiced Bikes Discount Code?
Juiced Bikes discount codes can vary. We have tested codes: WELCOME50 and MESSENGER19 for those who are purchasing their e-bike for the first time.
Are There Used Juiced Bikes?
Juiced Bikes has Clearance section on their website. You can also find used Juiced Bikes on Ebay by typing bikes name. Example:Juiced Bikes Hyperfat
Are Juiced Bikes Reliable?
Juiced Bikes gained lots of experience to manufacture quality e-bikes. In case you purchase an e-bike that has any issues there is US support available to solve all the problems.
We Constantly Review Programs in "Make Money Online" Niche,
So That You Don't Have to Waste Countless Hours
Want To See Our
TOP RECOMMENDATION?