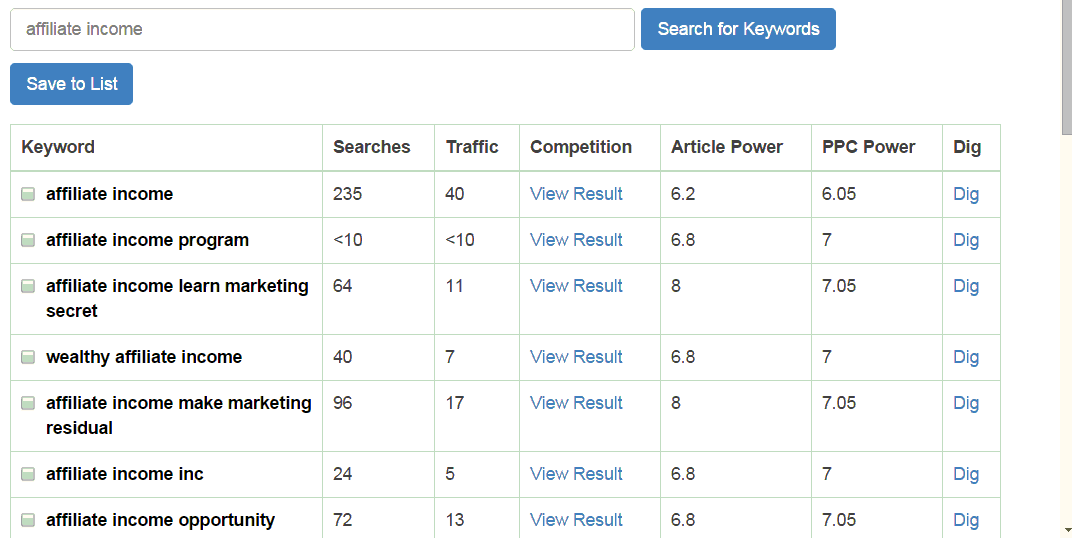 If you are already in Online business or looking to start then you probably read that one of the main keys to success of your website is having a valuable content which will give good information to people.
Another thing you quickly learn that in order to promote your website and have it rank high in the search engine you need to write your content with powerful low competition keywords. This technique applies to any niche and very powerful to rank your page higher in Search Engine organic searches. Your goal is to have your website on the first page.
Wealthy Affiliate offers Free keyword tool that allows you to search words within your niche and see which keywords are being searched within that industry. You can create a Free account for yourself and look through it.Let's get to most important.
Below is a screenshot from the: "Keyword Tool" that I ran for the phrase: "Affiliate Income".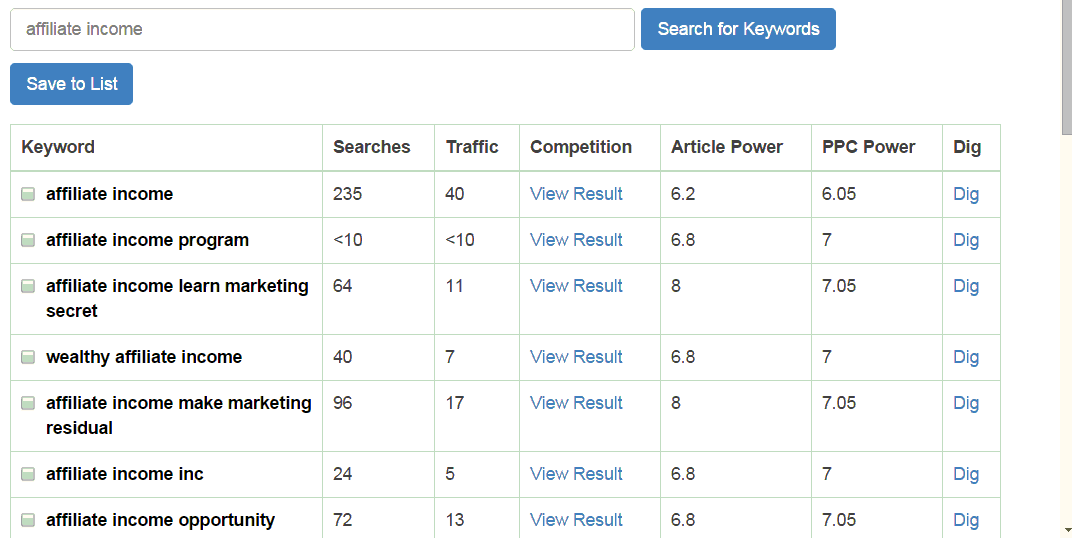 Here is what Important to look for:
First is number of searches per month. You want that number to be at least 50 per month, not lower, higher is good.
Second even more important is you want to see competition for this keyword and that's why you have to click on: "View Results"

As you can see it shows Page 6 of about 490 results. You want this number to be 300 results or lower. This shows you how many websites compete with you and how many pages you need to rank against to be on the first page.

In this example I explored this phrase more and came up with lower competition phrase: "make money affiliate". It has less than 300 results and there are 3 pages to compete against.
This demonstrates that more common phrases have low chance for a newly built website to compete and get ranked due to high competition, therefore you should shoot for keywords with lower competition but the ones that still produce some good search results.
I hope this information gives you some insight on keywords and Keyword tool offered by Wealthy Affiliate. You can create Free Account and experiment more. There are also video tutorials that give you more detailed insight on how to make newer website rank faster and get to top results in Search Engines.
Free account can be created here. Keyword tool can be found on the left side of the page. Please leave me a comment if you have any feedback or questions.
Do You Want to Work With
Me & My Team
Personally To Launch You An Online Business
Together?