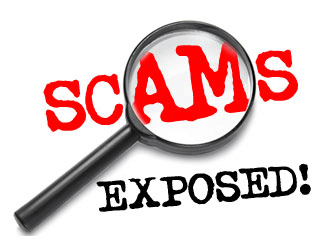 If you are new to online business and looking to find the right program chances are you will be a target for many online scammers. There are hundreds of online programs which promise you big money some even claim making money almost on autopilot with only 15-30 minutes spent daily.
Well anything that sounds too good to be true should raise a red flag immediately!
I would like to uncover some secrets that scammers typically use and show you how to spot scams online and make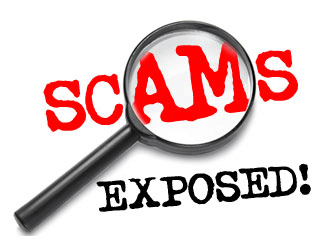 clear difference between good program which really helps you learn online business and programs which will take your money and simply waste your time.
Most online programs generally start with introductory video which is about 15-30 minutes long. It usual starts with an opening how it would be nice to make good money online and quit your day job and change your life style. It will then show you high money earnings and lots of interviews from random people who were able to achieve success quickly. And eventually it will be backed up by 60 day money back guarantee by Click Bank or some other company which gives full refund within 30-60 days.
The idea behind these programs is to get you in to the system for a small fee and later hit you with numerous up-sells which in most cases: "NON-REFUNDABLE". But you will be promised millions of dollars if you upgrade or buy some SUPER course which will unveil all the marketing secrets.
Here are the key things to look at when you are deciding whether this program is legit or scam:
   1. Sales Pitch with Lots of Hype
---
If you watch introductory video and you mostly hear how easy it is to make money online with your laptop from home or coffee shop or vacation spot showing huge earning statements and dozens of examples but it does not talk about what is required from you in order to make that kind of money – then you are mostly dealing with a Scam Artist.
The whole point behind such video is to describe your current lifestyle and how it can be changed if you buy this product. This whole industry is mostly focused on selling videos of high earning potentials and then once you become part of the program you will have to do the same thing. The more videos you sell the more commissions you make. In essence it's all about selling "Hyped Up Air".
2. Up-sells, Hidden Fees
---
If you signed up for the program and caught this moment of euphoria which motivates you to earn all this money with some simple methods and all of the sudden you are being hit with $300 upgrade fee in order to open all areas of the program and unveil even more secrets and bonuses – that is a RED FLAG right there that something fishy is on. It's part of the process to get you through all the up-sells and enable you to spend as much money as possible.
Some programs have numerous up-sells but others keep it down to only 1 or 2. Other hidden fees may include hosting fees, money transfer fees if you earn any commission, unexpected advertising fees offered directly by the program – not Yahoo, Bing or Google Adwords and many others hidden fees which were not mentioned in the beginning, it all depends on how creative the whole scheme is.
   3. Pressure to Upgrade
---
If you ever feel any pressure to do something that should also be a warning signal that something is really wrong. Many scam artists use very aggressive tactics to get their sales, especially the ones with high price tags from several hundreds dollars to several thousands of dollars. A good example would be a program called "Empower Network". You can read my full review.
Most scam artists are legally very well covered and if you ever feel that you will be able to fight them and get your money back then you will be surprised how creative legal language can get to make sure you get no refunds or some pennies back just to make you feel that you got at least something.
4. No Real Product
---
If you realize that you signed up for the program and find out that your real task is to watch videos and sell the same program back to other people then you can clearly see that you were sold Hyped up Air. You may get training on how to use social media and other marketing streams on how to promote this program but believe me you are not going very far with this.
   5. No Real Customer Support
---
Most programs include email support and FAQ section. Few will have phone number and chat and even community forum to make you feel that you have support. In reality you will see very little help especially from the creators of the system. Many emails would be either unanswered or have huge delay in response times. And when you start questioning the legitimacy of the program and demand a refund you will hit the silence.
Here is What I Suggest
   

Read Reviews Online
---
Reading reviews online should be the first thing you want to do before making any decisions whether you should invest your time and money in to the program. Don't be a person who first signs up and then decides to read reviews afterward – this is so common. You will always have positive reviews from members of the program and negative reviews from people who were scammed. Make your best judgement to see if you are dealing with another scam program or you are up to something valuable which is worth investing your money and time in.
   This is How Legit Program Looks Like
---
Now when I described all the things you should be looking out for to spot the scammers here are some key points too look at when evaluating a program:
Is there a reasonable fee to enroll in to the program without any further up-sells
Is there step by step guide to help you understand and learn how online business works
Is there real customer support by owners of the system and other members with experience in the industry
Most programs offer free hosting which is a huge bonus
Are you going to have your own domain
Is it clear what is expected from you to make money online and does it sound realistic
Is it a SPAM FREE environment or you are constantly being offered to buy something
All these are very important points to consider when deciding if you are dealing with a SCAM program. If you really want to evaluate what legit program has to offer I encourage you to read my full review on Wealthy Affiliate as I explain more in details what does it take a community of experienced marketers to create good learning environment.
You should also understand that making money online is not hard but it does involve you to spend time to learn all different marketing aspects. There is simply no Get Rich Quick scheme out there.
Here I also talk more about what does it take to start successful business online in 4 simple steps.
If you have any comments or questions please leave them below:
Do You Want to Work With
Me & My Team
Personally To Launch You An Online Business
Together?