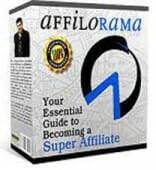 I have written this post originally in 2015. There is a new updated post on "What is Affilorama.com" that is a must read.
Below is my original post:
Affilorama has been around since 2005 and one of not many programs that offers quality product in different packages at a premium price.
It is far better product than many out there launched by "Gurus" who promise millions of dollars. Affilorama designed by Mark Ling with educational purpose in mind backed up by community of active members. Many compare Affilorama vs Wealthy Affilate as they share many similarities however both programs are very different.
So, What is Affilorama all About?
It's an educational website that serves as a good educational platform for affiliate marketing with help of community. You will learn how to build a website in any desired niche and promote it through various marketing channels.
Affilorama is good for anyone who is starting out in online marketing and wants to learn everything from website building to all the marketing techniques needed to build traffic to your website. This is not a typical: "Get Rich Quick" scam.
Affilorama has good first impression for starter's membership but as you progress through the system you start to develop a bitter taste from few up-sells and several techniques which should no longer be used in today's marketing arena.
PROS
Offers 30 day trial for $1 which is a low cost to start

Has community of great members

Easy to follow educational materials

Real Marketing Courses

Good for Beginners
Affillorama has made it possible for newbies to start their online affiliate marketing business with relatively low cost of $1 and then a monthly fee of $67.
These are the training courses you will discover within Affilorama membership:
Finding products to promote

Building website

Marketing research

SEO techniques to improve website ranking

Promoting products in a creative and innovative way

Social media marketing strategies

Pay per click marketing

Content creation

Earning via ads on the website
You are required to upgrade to different packages to gain access to all areas of the membership.
CONS
These are the things I did not like about Affilorama and something you really want to consider before deciding to invest time with them or look at alternatives:
Numerous up-sells which make this program expensive

Support and community response is very slow

Bad Content copying strategy

Risky Backlinking strategy

Can't reach out to the owner of the system
One of the reasons I cannot rank Afilorama high is due to few up-sells in order to gain full access. If you compare to Wealthy Affiliate where you get full access for $47 a month with no more up-sells Affilorama starts with $67 and further pushes other more expensive packages where in essence it all should be given for one monthly price just like Wealthy Affiliate.
This is common sales tactic used by many online programs. It's a way to maximize profits within the system instead of offering one low monthly price.
Another problem I found with support when you really need help. It is simply slow, maybe due to large number of members, but it feels this problem should be addressed in order to make Affilorama more competitive. It can take days to get a response. This is very crucial especially for new members who need help almost instantly. And also many people find organization of all the levels of the program quite confusing to new people to decide what is needed and what can be avoided.
Affilorama is good for everyone who wants to launch their business in online marketing and ready to invest their money in education. This is something you need to be clear about. You will certainly learn all the marketing secrets and get full understanding how affiliate marketing works.
Training needs to be followed closely not to miss any details and for newbies it will look overwhelming in the beginning due to information overload but it all gets better as you progress through the system.
Support is available through direct email contact and as well as through online community and member's personal blogs. As outlined earlier it's not the fastest support when you are looking for instant answers. Also there is no way to contact Mark Ling directly unlike some other programs.
You will get initial access to the program to look around and get a feel for what affiliate marketing is all about. There are motivational training videos as well as free training articles to get you started. If you want to explore members area more you can sign up here:
$67 per month regular subscription monthly fee
This is regular monthly fee that will be charged to your credit card. I would only suggest doing this if you are planning to stick around and go through all educational materials.
AffiloBlueprint -$197 and then additional $67 per month
This is your real hands-on training on how to build a website, create content for your website, set all needed settings and parameters for your website, SEO techniques, private members forum.
AffiloJetPack – $497
It is called: "5 step formula for making $10,000 a month". You get to pick 5 niches and can launch 5 websites with full guidance on how to create content and work on getting traffic. This is where you can use aggressive content copying technique to write your content faster or you can even hire someone to do that for you. You also get to learn about backlinking strategy in order to get traffic to your site quicker and fully setup email marketing campaign.
Overall Affilorama is a good product which can help many people to launch their online business. It is certainly one of not many legit programs which have real value. The real problem I have with Affilorama is their up-sells. This is why you have to read online reviews in order to see how much this program will really cost you before you commit to it.
Just like mentioned before Affilorama compared a lot to Wealthy Affiliate since they both have real value in their product and both have community of members who share their real life experience. I would encourage you to read my full review on Wealthy Affiliate to see what you will get for $49.00 a month with no further up-sells.
Another big problem I would like to address with Affilorama is content-copying technique which should no longer be used since Google got much smarter and can figure out when content is being copied. This will hurt your website ranking dramatically and will create more problems.
Similarly you should not use backlinking strategy or link-stuffing strategy as they no longer popular since Google knows how to identify them and consider your website as spam.
A real way to success is to write good content that attracts readers and shows search engines that your website visitors like your content – this shows how valuable your website is and helps to build good credible ranking.
We Constantly Review Programs in "Make Money Online" Niche,
So That You Don't Have to Waste Countless Hours
Want To See Our
TOP RECOMMENDATION?