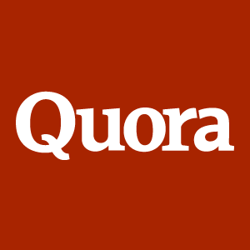 What is Quora?
---
Quora is a question-and-answer website. Anyone can ask any question and get an answer from people who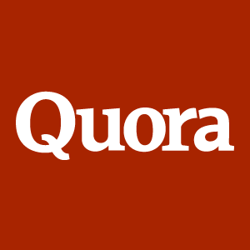 have knowledge or expertise in that area. For Example you can ask: "Should I buy or lease a car?" and you will get many answers ranging from people in automobile industry explaining the benefits of leasing vs buying as well as personal experience from people who already either bought or leased a vehicle.
Another words you can call Quora as a Global Forum which is very nicely organized and connects people all over the world on one side anyone who wants to ask questions and on the other side anyone who wants to answer those questions by writing good content and build an authority.
How Did Quora Start?
---
Quora was founded back in 2009 in Silicon Valley by 2 guys Adam D'Angelo and Charlie Cheever who resigned from Facebook to work on Quora. They had a perfect vision to create a question-and-answer website and connect people around the world. Today Quora is evaluated at almost $1 billion dollars and has close to 800,000 monthly visitors. One of the reason it is becoming successful is because there are no ads and everything is in clear text format which works very well both for SEO and users who find Quora fun and engaging.
My First Experience with Quora
---
In early 2015 I was looking to buy my first condo and I was very curious to learn more about mortgage rates and how the entire real estate transaction works. When I did my research online I found lots of information but it never answered all my specific questions especially on things like closing costs, how to get rebates from banks, tax related questions, negotiation techniques etc…
I went to www.Quora.com and asked my specific questions. I got many amazing responses from Real Estate agents, loan brokers, bankers and simply people who shared their experience. This is where I first realized that Quora was quite unique and would work for everyone. And later I ended up working with one of the loan brokers since I had found him very knowledgeable.
Is Quora Reliable?
---
This is one question many people ask online. Since Quora is still new and establishing it's presence online you can certainly say that Quora is not your full-proof Encyclopedia and not even Wikipedia. You will find answers from professionals in the field who have a huge following and good authority, but you will also find lots opinions which are simply based on the experience or someone's belief.
The best part is having lots of different answers – get the whole picture and make your judgement. Quora is very good for specific questions and answers where you need someone's professional answer and someone's personal opinion.
Using Quora for Marketing?
---
You can create a profile based on any niche you want on Quora. In my case I created a profile based on "Making Money Online" niche and I have included myself in to these related categories:
Make Money from Home
Affiliate Marketing
Online Marketing
Home Based Business
Make Money Online
and everything else I could find related to the same niche. Whenever someone posted a question related to any of these categories I tried to be the first one to write an answer. You should always write good informative content within Quora and include a link to the website at the end.
Some of my posts got 3.2K views and I got comments on my website and even several signups:
I can certainly see Quora as a very useful tool for marketing. It will help you in both building an authority profile within Quora and driving traffic to your website especially when you are just starting out. 3.2K Free views would be very hard to achieve on any social network until you establish your authority or come up with something super unique.
Is Quora Good for SEO?
---
First time I learned about Quora when I was searching for something in Google. I was quite amazed to see search results from Quora on the first page and in many cases even first top spot.
Quora hits directly new Google's Search Algorithm which values content over everything else. Moreover Quora has many unique keywords which people are constantly searching for, For example: "What is the most reliable car?" If someone is keying this in to the search engine and someone else already asked a similar question on Quora then most likely you will find an answer from Quora in Google at the top spot. Here is the link to discussion on Quora in regards to SEO and how it is so good.
You can take a full advantage of Quora's visibility in Google. When you write a new post you should always find relative questions in Quora and post your response and also add your post in the blog area within Quora. With close to 800,000 people visiting Quora monthly you can't simply ignore it.
If you want to get full training on SEO and online marketing Wealthy Affiliate is the best place to do it. You can read my Full Review here: 
Can i Earn Money with Quora
---
Certainly. Just like in any social network once you build your profile and answer few dozens of questions and post your links to your website you will start driving Free traffic. And it gets even better because you only target people in your respective niche. Unlike Facebook or Google + if you don't do paid advertisements there then you can't really target specific crowd of people. Quora segregates everyone by their interest and does very good job in organizing questions and forwarding them directly to the people who have expertise in that field.
Quora Stats
---
When you write a content within Quora you can monitor your progress by checking your stats for every answer you have written. You can also see who up-voted your answer, who shared it and if anyone left a comment:

Many times you will be invited to answer specific questions when you establish some authority and will be recognized as an active member. Quora is a complete package for any marketer to grow their business and attract targeted traffic.
Final Opinion
---
I found Quora to be an amazing place for people to communicate in clear text format. Quora is certainly a good platform for marketers who want to to build their authority and drive good quality targeted traffic to their website. It is getting very popular and already got an essential part of search engines. Always remember Quora is a "King of SEO" which means anything you post within Quora will get ranked much faster and higher in search engines.
I hope you learned something new from this post and if you have any experience with Quora or simply have any feedback please leave comments below:
We Constantly Review Programs in "Make Money Online" Niche,
So That You Don't Have to Waste Countless Hours
Want To See Our
TOP RECOMMENDATION?