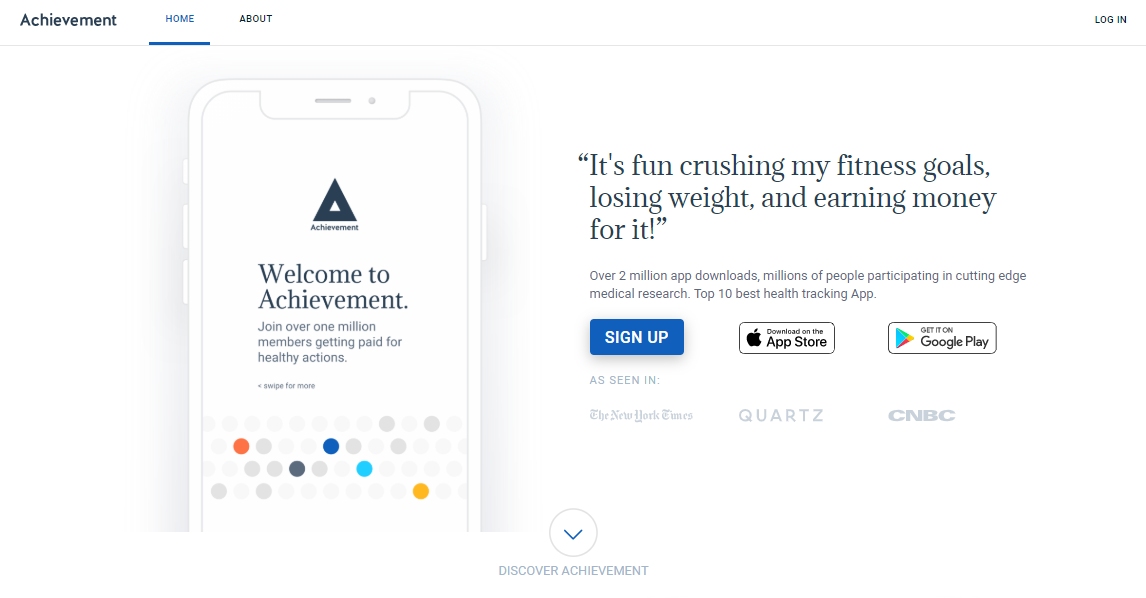 Welcome to My Achievement App Review!
Many people wanted to be fit and healthy but only a few take action to make it happen. But what if I tell you that there's an app willing to pay for tracking your meals, sleep, and more.
What app is it, you ask? It's called Achievement App.
Sounds exciting, right?
Achievement App Review Summary
---
Name: Achievement App
Website: myachievement.com
Founders: Evidation (Parent Company)
Product Type: Mobile Application
Price: Free
Quick Summary: Achievement App is a legit mobile application that rewards you points for every task you make. The goal is to earn 10,000 points so you can exchange it to $10 and get paid via PayPal or send it directly to a charity.
While the app pays your effort, is it enough? Can you use it to make a regular income online? Or is it just a waste of time?
Overall Rating: 4/10
Recommended: No
But before you download, be sure to read my entire Achievement App review to answer questions, like: What is this mobile application about? How does it work? Is Achievement App a scam or a legit mobile app that rewards cash?
P.S.
Whether Achievement app is a scam or not, you can't expect a huge amount of earnings from this kind of platform. So if you're looking for an opportunity that can replace your full-time job soon, you can check my TOP RECOMMENDED PLATFORM.
What Is Achievement App About?
According to its website, Achievement App is a mobile application that pays users for health-related activities, such as meditation, walking, eating healthy meals, and even sharing a bit of information about yourself. So basically, it's not just about physical fitness; it also focuses on the mental aspect of a person. Its parent company is Evidation and it's a company known for promoting health and wellness, too.
The app, which can be downloaded on iOS and Android devices, has been recognized as one of the top 10 best health tracking apps. It has over 2 million downloads and has received various feedback from its users and most of which are positive ones.
How Achievement App Works?
To begin, you need to download Achievement App on your smartphone, complete the registration on its website, and download at least 30 health-related mobile applications, such as Samsung Health, Fitbit, Apple Health, Strava, Garmin, myfitnesspal, Breathe, etc.
The next step is linking the apps to Achievement. Once you use these apps to track the number of steps you make, check your heart rate, sharing your meal, and accomplishing other fitness tasks.
You can also earn by posting fitness posts and photos on Twitter and referring friends to join the platform. Also, after using the app for quite some time, you can participate in surveys and other bonus offers.
How Much Money Can You Make With Achievement App?
Upon signing up, you'll receive 10 points already. Meanwhile, the rewards you can get for every task varies; in some activities, you'll get higher points while in some actions, you'll receive fewer points. According to some reviews, the best way to increase points is by walking. Apparently, you can earn 25 points for every 5,000 steps.
As mentioned, you can also earn through referrals and for every successful invite, you'll receive 100 points. The goal for this app is to reach 10,000 points so you can cash exchange it to $10, which you can receive via PayPal. You can also redeem your rewards and send it to a charity.
Considering this, you cannot use the Achievement App as your main source of income. Unless you're super active and into fitness, you can increase your points easily from time to time. But even so, it's barely enough. One user claims about using the app for 5 months but still wasn't able to reach 10,000 points.
It's not surprising though because you can't really expect much from this kind of platforms. While you can use it as an option if you want to earn a small amount of cash, you should not waste your time on it. There are other legit opportunities to make money online and you can start by following my step-by-step guide.
If you're looking for a side hustle, you can try answering paid surveys or looking for an online job. However, if you want to earn more and/or you're looking for a way to replace your day job, you can join legitimate affiliate marketing platforms, such as Wealthy Affiliate.
Why?
Because this platform is the number choice of many internet marketers and individuals who want to make money online. Because it offers training and webinars FOR FREE. Because it gives you access to a live community that can help you grow your business online. And most of all, because it won't waste your time!
Is Achievement App A Scam?
No, it's not a scam. Achievement App is a legit app that pays people for staying fit. It's a good app to consider when you want to stay motivated in reaching your fitness goals. However, if you're looking for an opportunity to make real money online, it's not a good option.
While it rewards people for their effort, it might take a long time before you can cash out $10 on your account. Therefore, you can't really use it as your main source of income or even a side hustle.
What you can consider, instead, is to look for legit work-at-home opportunities or start an affiliate website. If you want a secured fixed earning every month, you can apply for a job on legit job listings, such as UpWork.
However, if you want to earn based on your effort, which means that it can go higher than what you're looking for, you can start building a website and join a legit affiliate program like Wealthy Affiliate.
If you're new to affiliate marketing, it's basically selling something without a capital. While you don't promote the product upfront, your content encourages your visitors to purchase an item or complete an action and when they do, you will get a commission.
The beauty of this opportunity is that you can increase your earnings from time to time. It can even replace your regular job or become a source of passive income.
You can download Achievement App for free as long as you have an iOS or Android device. However, as of this writing, the app is only available in the United States so if you're living outside the US, you can look for other alternatives instead.
Better yet, find a better opportunity to make money online and you can start by taking this free training now.
To learn more about Achievement App, you can watch the video below:
Here Is My Top Recommendation to Start Highly Profitable Online Business from Comfort Of Your Home
PROS
Legit App That Rewards You For Getting Healthy
You will receive points for every activity, such as walking, posting a fitness-related tweet, sharing a healthy meal, etc. Once you reach 10,000 points, you can exchange it for a $10 cash via PayPal.
Promotes Good Mental And Physical Health
Getting healthy is challenging and sometimes, it requires a lot of motivation. If you need one, you can rely on Achievement App as it not only rewards you, it also tracks your progress.
CONS
Low Income Potential
Imagine, you need to have at last 5,000 steps a day to get 25 points -- and you need 10,000 points to exchange it to $10. If you're looking for a regular source of income, Achievement App is not an option.
Limited Accessibility
As of the writing, Achievement App is only available in the United States so if you're residing outside the U.S. you can look for a similar app instead.
Requires Other Apps For Tracking
For you to use Achievement App, you need to download other health-related apps because Achievement cannot track your progress alone. If you don't have enough space for your phone for other mobile applications, this can be a problem.
Tired of Wasting Time on Low Quality Programs?
I'm so grateful that I was able to find THIS PROGRAM which helped me to finally start making money online!
While I can't recommend Achievement App as one of the best ways to earn online, I find it ideal for people who want to encourage themselves to become better physically and mentally. The amount you can get may not be big but at least, it will help you see your progress.
I think the intention of creating an Achievement App is really good. I mean, it encourages people to become a better version of themselves. It may not reward you with a huge amount of cash but it can take you a step closer to your fitness goals.
However, because I want to help people find a legit opportunity to make money online, I can't recommend this app.
Whether you're a beginner or a seasoned marketer, I'm sure that my #1 recommended program can help you make a decent profit online.
All you have to do is sign and take advantage of the following:
Training resources
Webinars to help you start your business online
One-on-one coaching
Comprehensive guide
And many more!
I hope I've helped you decide whether Achievement App is best for you or not and if you have other questions or comments or you want to talk about your personal experience with this app, you can share it down below.
Thank you!
We Constantly Review Programs in "Make Money Online" Niche,
So That You Don't Have to Waste Countless Hours
Want To See Our
TOP RECOMMENDATION?