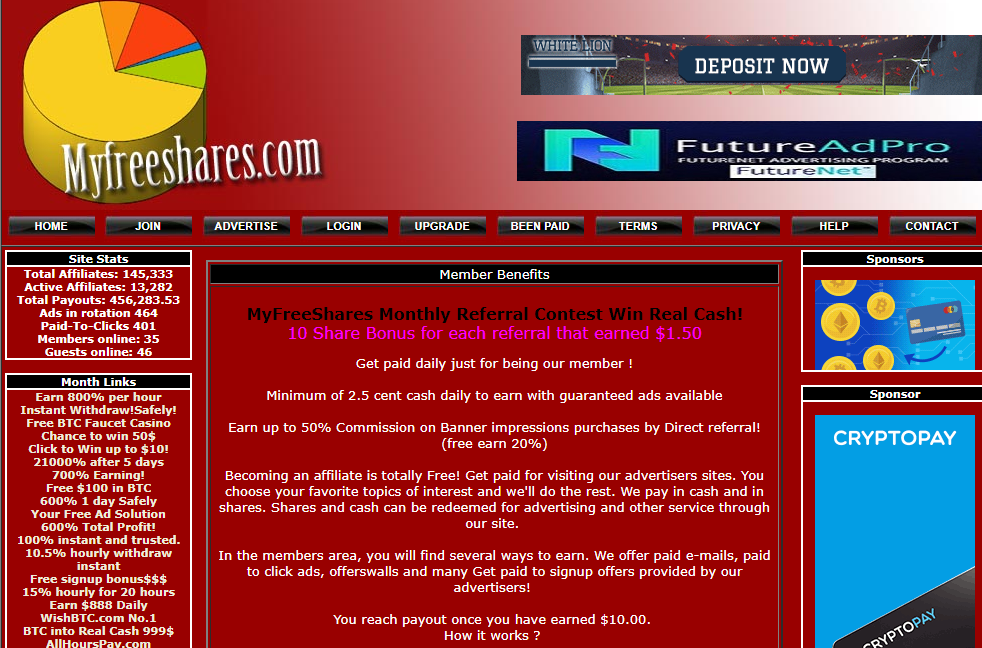 Welcome to My MyFreeShares Review!
Gone are the days when you need to step outside to earn; now, all you need to do is turn on your laptop, connect to the Internet, and start making money right away. That is -- if you find a legit opportunity that will pay you.
MyFreeShares Review Summary
---
Name: MyFreeShares
Website: myfreeshares.com
Founders: Multimoneygroup
Product Type: Paid-To-Click
Price: Free
Quick Summary: MyFreeShares is a website that pays cash and shares for reading emails, participating in paid and free ads, and inviting new people to join the program. It's a legit PTC site that's been paying its members since 2004 but how much money are they paying? Can you make a living from this platform?
Overall Rating: 2/10
Recommended: No
There are many scams nowadays but the good news is that there are legit offers as well. The question, however, is if it's worth your time.
While looking for another legit opportunity to make money online, I found a site called "MyFreeShares". As the name suggests, you will earn shares or cash by doing a few tasks over their website.
But how true is this claim? Is MyFreeShares a scam? How much money can you make from their program?
What Is MyFreeShares About?
The first time I checked MyFreeShares website, there's nothing so special about it. It's simple and it almost has everything you need. Their Terms, Privacy Policy, and even the usernames of people who have been paid.
According to their homepage, members get paid for doing minor tasks, such as visiting the site of their advertisers, paid-to-click ads, etc. Once you reach $10, you can cash out your earnings and expect to receive it, via PayPal, Payza, etc.after a month (30 days). It takes a long time to get small earnings but the good news is that they pay.
How MyFreeShare Works?
Maybe you're wondering why this website will pay you cash or give you shares just by joining or clicking ads. The reason behind this is that MyFreeShare shares its revenue to all its members. The company earns through website ads, promoting banner impressions, and email ads.
As for the members, they can earn by completing paid and free sign ups, clicking ads, and inviting new people to join the platform.
What Makes MyFreeShares Different From Other PTC Websites?
While most PTC websites have proven itself to be a legit way to make money online, there are a couple of things that make MyFreeShares different from the rest.
For one, you can earn money by simply logging into your account. You don't have to perform tasks so you can earn, but you need to be active for the last 100 days so you can get paid daily.
Another one is the shares. Normally, PTC sites will only reward you with cash but with MyFreeShares, you get "shares", which you. can convert into cash eventually. You can get your share as a reward, by clicking ads, or by buying it directly from the site.
To know more about how you can earn with MyFreeShares, you can watch the video below:
From what I see, MyFreeShares is not a scam. The company was founded in 2004 and it has been paying its members since 2005 and even until now, they have managed to maintain a good reputation.
The only problem I see on this website is the pay itself. If you're looking for a good amount of cash or possible, a source of passive income, then MyFreeShares is not an option. It can be a side hustle but only if you're looking for a very small amount and if you're patient enough to wait for the payment.
Otherwise, you should look for a better alternative when you want to make money online. You can start your own blog and monetize it through ads or better yet, join a legit affiliate marketing program, such as Wealthy Affiliate.
Affiliate marketing is one of the best ways to start a business online even without capital. It's not easy money because like PTC websites, it might take time before you get paid. The difference, however, is the amount that you can get.
Once you have learned the basics of affiliate marketing and you are consistent with what you are doing, you can use this as an escape from your 9-5 job. Or if you're working really hard, you can even score yourself a passive source of income!
How Affiliate Marketing Works?
Some people are skeptical about affiliate marketing simply because they don't know how it really works. Basically, you create an affiliate website, generate traffic to it, and once a visitor purchases an item using your affiliate link, you will earn a commission.
If you're clueless on how to do it properly, you can use my FREE TRAINING to get started. Don't waste time, sign up. After all, it's free and you got nothing to lose.
Signing up with MyFreeShares is free. That means you don't have to pay for anything if you want to earn using their platform. However, if you want to get more perks, such as random referrals being added in your downline, you can upgrade your membership into these levels:
Bronze Membership ($10 per month / $100 per year) + 2 free months
Silver Membership ($25 per month / $250 per year) + 2 free months
Gold Membership ($50 per month / $500 per year) + 2 free months
It might be tempting to upgrade the membership but I don't think it's a wise move. The earnings you get from this website is not even sufficient to cover your investment. Also, if you click the "Been Paid" tab on their website, you'll see that the average amount paid to their members is $10.
Here Is My Top Recommendation to Start Highly Profitable Online Business from Comfort Of Your Home
PROS
Legit PTC Site
There are a lot of scams online so for me, legit websites like this are worth recognizing. They pay you'll get is barely enough to fund your daily expenses but at least they pay their members. Also, the platform has been around for more than 10 years and until now, they managed to compensate for their affiliates.
CONS
Extremely Low Income Potential
Even if you spend the entire day clicking on banners and paid ads, you'll barely earn a dollar. While it's a legit site that pays, I cannot recommend this site as it is a waste of time.
Outdated Website
The site's too simple that I think it was a scam at first sight. It's legit anyway but still, improving their page won't hurt.
Only One Way To Reach Them
In case you have a problem with your account, the only reach them is by filling out the contact form via their website. For me, this is a disadvantage since some people might need help in the soonest time possible.
Membership Upgrade Is Not Worth The Price
You can barely earn a dollar for a week so I think there's no point upgrading an account if you can't get your investment back. If you're willing to spend money, you could have chosen a better platform instead. The one that will offer a legit way to earn online and help you give your investment back -- or double it!
No Social Media Accounts Or Community
Having a social media account or a community to follow where you can reach other members is important. It's one way to know whether the program really pays them or not. While MyFreeShares has provided a list of usernames and their earnings, there's no way to earn if these people have been paid or if they are even real people at all.
Tired of Trading Your Precious Time for Money?
Here is a Blueprint to Owing Highly Profitable Online Business Without Any Experience REVEALED!
I cannot recommend MyFreeShares to anyone, not even for beginners who want to make money online? Why? Because I believe that time is too important to waste on low-quality programs. If you can find a website that will help you a bigger amount of cash, what's the point of signing up and wasting your effort on this kind of program.
If you're new to making money online and you're clueless about how to get started, you can check free training materials online or better yet, follow my FREE STEP-BY-STEP GUIDE on how you can start your own business online.
MyFreeShares is not a scam. It's a legit site that pays you for doing small tasks but doesn't expect that you'll be earning a good amount of cash. The earnings you can get from clicking ads, reading email, or even buying a share is barely enough to be even called a side hustle.
If you want to turn your passion into profit or you just want to earn a good amount of cash ( who wouldn't?), then I suggest that you read the next section.
Want to know my top recommended program? It's one of the best platforms for most internet marketers and individuals who want to make money online -- and you can take advantage of it, too.
Simply sign up now and enjoy the following perks:
Training resources
Webinars to help you start your business online
One-on-one coaching
Comprehensive guide
And many more!
I hope I have enlightened you with my MyFreeShares review and if you have any questions or comments, please feel free to share it below.
Thank you!
We Constantly Review Programs in "Make Money Online" Niche,
So That You Don't Have to Waste Countless Hours
Want To See Our
TOP RECOMMENDATION?