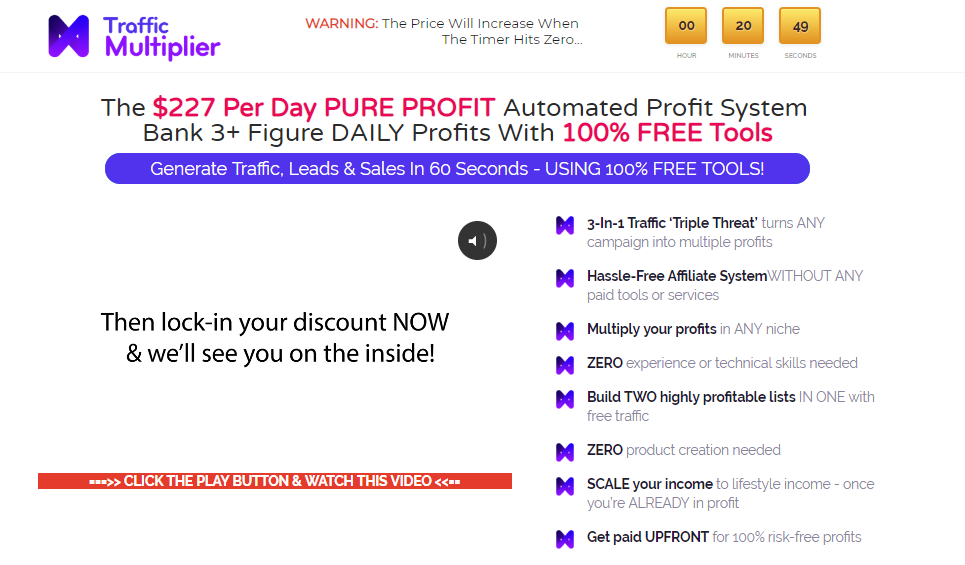 Welcome to My Traffic Multiplier Review!
They say website traffic is the lifeblood of all online businesses, and I couldn't agree more. I mean, no matter how efficient or astonishing your products or services are, if people can't see it, you are less likely to make a sale.
Traffic Multiplier Review Summary
---
Name: Traffic Multiplier
Website: trafficmultiplier.net
Founders: Glynn Kosky and Leigh Kosky
Product Type: Online Training Program
Price: $27 + Upsell
Quick Summary: Traffic Multiplier is a legit training platform when you want to drive traffic to your website. It offers "free tools", such as push notifications, page builder, and an email autoresponder. Apparently, you'll earn $227 a day and acquire traffic in just 60 seconds but how true are these claims? Let's find out in this review.
Overall Rating: 4/10
Recommended: No
Fortunately, there are many ways to generate traffic online. In fact, there is a program claiming that it can help you earn $227 per day -- and that platform I'm talking about is called Traffic Multiplier.
What is this program about? How will it help you drive traffic to your website? Is Traffic Multiplier a scam or a legit way to make money online?
P.S.
If you want to generate traffic and you don't want to spend a dime, you can skip this review and check out my free STEP-BY-STEP GUIDE on how to grow your business online.
What Is Traffic Multiplier About?
Developed by Glynn Kosky in January 2019, Traffic Multiplier is a new product that claims to help you earn $227 per day. According to its page, you can create multiple profits using their program even without experience or technical skills.
It also claims to provide 100% free tools that will help you generate traffic, such as push notifications, page builder, and an email autoresponder. However, do not fall for their trap easily this system grants you free access for only 30 days.
Also, if you've seen and tried various money-making programs in the past, you'll quickly realize that the program may be legit but it's definitely not high quality. However, as with all my other reviews, I make sure to study the entire program first before jumping into conclusion.
How Traffic Multiplier Works?
Basically, Traffic Multiplier is an online training program for affiliate marketing. It claims to have a different approach for three reasons:
According to their sales page, they've created a "unique spin on lead generation" so you can have guaranteed visitors interacting on your website. It also has "cutting edge technologies" that allows you to create a couple of lists and grow it and generate the highest profits possible. The program also offers free tools that you don't need to pay until you started making money.
The free tools they offer includes a page builder, push notification options, and an email responder. According to them, these tools often make a marketer struggle because of the expensive cost.
To make things more believable, they've also provided proofs of their earnings to prove that their system truly works.
Sounds promising, right? However, I found a lot of loopholes in their program.
For one, it says that you can generate traffic and leads in 60 seconds. 1 minute? Good luck with that. While affiliate marketing is a lucrative opportunity, you can expect a huge income from it within a week, not even after a couple of months. It takes time plus, it requires skills and experience unlike what the founders are claiming.
They also mentioned that you don't need a website. However, when you purchase Traffic Multiplier, the first thing you need to do is install the plugins they've provided on YOUR WEBSITE. Crazy, right?
Also, if you're not technically-skilled, creating a website on your own can be overwhelming since you need to do a lot of things, such as finding a hosting service, buying a domain name, designing the layout, generate traffic, etc. And obviously, you can't do all these in just 60 seconds.
I don't know what's up with these founders but I find these things unethical. They deceive people by providing bold claims and misleading information for the sake of promoting their products. While I understand that it's part of their marketing strategy, it's still not a wise move to trick people. In the long run, once their consumers realize that their program is nothing but hype, they will lose them one by one.
Is Traffic Multiplier A Scam?
Traffic Multiplier is not a scam in the sense that you will get something you've paid for. It's not like someone will take your money and run away with it. However, I believe that it's a program you can't trust.
They have a lot of claims, proofs, and even a testimonial. The funny thing is that it came from another marketer, Brendan Mace, who's also known for creating similar programs. While Brendan is a known internet marketer, the products he developed also includes bold claims and empty promises.
Also, they focus on providing paid tools rather than value and learning you can use when you want to make money with affiliate marketing. To be honest, you can start earning with this method even without spending a dime. However, you need to spend a lot of effort, patience, and consistency before you see a single result.
The truth is, affiliate marketing is one of the best opportunities you can take for free but it's not easy. You need to hone your skills and expertise first and learn from your experience and if you're planning to start your business online, you should trust a legit affiliate marketing program that focuses on teaching you how to do it properly.
What's The Best Affiliate Marketing Program?
In my own humble opinion, the only affiliate marketing program that impressed me so far is the Wealthy Affiliate. This platform's main intention is to provide a step-by-step guide on how affiliate marketing works. There are tools and two free websites you can use to start making money online and the best part is: the live community.
For me, transparency is important and Wealthy Affiliate has provided it in a lot of ways. In their platform, you'll see real people who have used their system. You can ask your concerns, give tips on other marketers, or even build a professional connection.
On their homepage, they said that the tools are 100% free --- but that is for 30 days only. After that. You will be charged $27. Once you enter the member's area, you'll also see various upsells that are not only expensive but useless. Just to give you an idea, there are 4 upsells ranging from $47 to $297.
To learn more about Traffic Multiplier, you can watch the video below:
Here Is My Top Recommendation to Start Highly Profitable Online Business from Comfort Of Your Home
PROS
30-Day Free Trial
In case you want to personally check the program, you can do so within 30 days. Just be sure to cancel your registration or ask for a refund on or before 1 month otherwise, you'll be charged.
CONS
Disappointing Training
It should be all about traffic -- even their name suggests it -- but if you check on their training videos, it's very basic and it barely talks about traffic generation. You see, even if you have a beautiful website and you've used expensive tools, when you don't know how to drive traffic to it, it's useless.
Bold Claims -- Almost Zero Results
Earn $227 a day? I bet you won't earn a dollar if you follow their training program alone. You know, there are a lot of better training platforms online and you can get most of it for free.
Fake Scarcity
At the top of their site, you'll see a fake timer that says "the price will increase when the timer hits zero". Even if it ends, the price stays the same and if you come back on the site, the timer restarts again.
FREE TRAINING
Learn How I Started Highly Profitable Online Business From Comfort of My Home Following This Blueprint
Definitely not for newbies or even seasoned marketers. The training is generic and I bet you can even learn more when you browse for free training materials online.
Better yet, you can check my free step-by-step guide on how you can make money online.
As mentioned, Traffic Multiplier is an online training platform for those who want to build a website with solid traffic. In case you don't know, traffic is important for online businesses. When you have targeted traffic on your website, it will be easy for you to encourage people to purchase your products, sign up for an offer, or complete action so you can earn a commission.
I believe that this should be the content of the training that Traffic Multiplier has provided; however, I found out that the courses barely has anything to do with generating traffic. I'll provide a quick outline below and you'll be the judge:
Video 1: Overview
This module gives a comparison between a normal website setup and the setup that Traffic Multiplier recommends, such as using paid ads from Facebook and solo ads. While these techniques might work, it will cost you a lot especially if you don't know what you're doing. Plus, it won't beat organic traffic.
Video 2: Set Up Your Site
This video teaches you how to create a WordPress website, which is advantageous for beginners. However, you can watch tons of free videos online about this.
Video 3: How To Create Your Page
In fairness to this video, they've finally provided a good technique on how you can set up a strong website. In this module, you'll learn how to set up your opt-in page, which is crucial when you want to promote your products with the help of an email list.
Video 4: How To Create Additional Pages
As the title suggests, it's all about creating more pages. Nothing special.
Video 5: How To Set Up Browser Notifications
Browser notifications -- or Web Push Notifications -- are pop-ups that can be a good thing for your website. The only problem I see is that you can learn how to set this up by checking free resources online.
Video 6: How To Set Up The Email Capture
This is basic training on how you can grow your subscriber list.
Video 7: How To Set Up Facebook Pixel
This video explains about creating an ad on Facebook to generate traffic. This technique might help drive traffic to your website; however, the training failed to provide the necessary details on how you can create an effective Facebook campaign.
Video 8: How To Send An Email
It's a basic training video on how to use Aweber -- an email marketing software. It lasts for less than 15 minutes so you should not expect to learn a lot from this. Again, you can find free training materials about this online.
Video 9: How To Send Further Notifications
This is a 3-minute video on how you can send desktop notifications.
Video 10: The Strategy
Don't get too excited. This 4-minute video just repeats the content of the first video.
Video 11: Example In Full
This is just a quick video on how it works: you generate traffic and encourage them to sign up on your offer.
Traffic Multiplier is a legit training program but it's not the product you should trust. You'll not earn $227 a day and you cannot generate traffic and leads in just 60 seconds. There are a lot of misleading details about this program and if I were you, I'd rather find free training videos and materials online than waste my time and money here.
Otherwise, you can check my top recommended program in the next section.
If you want to have a successful online business or affiliate website, you need to learn how to generate traffic effectively and what better way to learn it than to sign up with my #1 recommended platform, which is also the top program for marketers -- both newbies and seasoned!
Sign up now and take advantage of:
One-on-one coaching
Comprehensive guide
The best business tools and support you need
Webinars and training resources
And many more!


Making money online is not easy but possible. All you have to do is find
legit programs
that will help you grow and provide the necessary support.
We Constantly Review Programs in "Make Money Online" Niche,
So That You Don't Have to Waste Countless Hours
Want To See Our
TOP RECOMMENDATION?