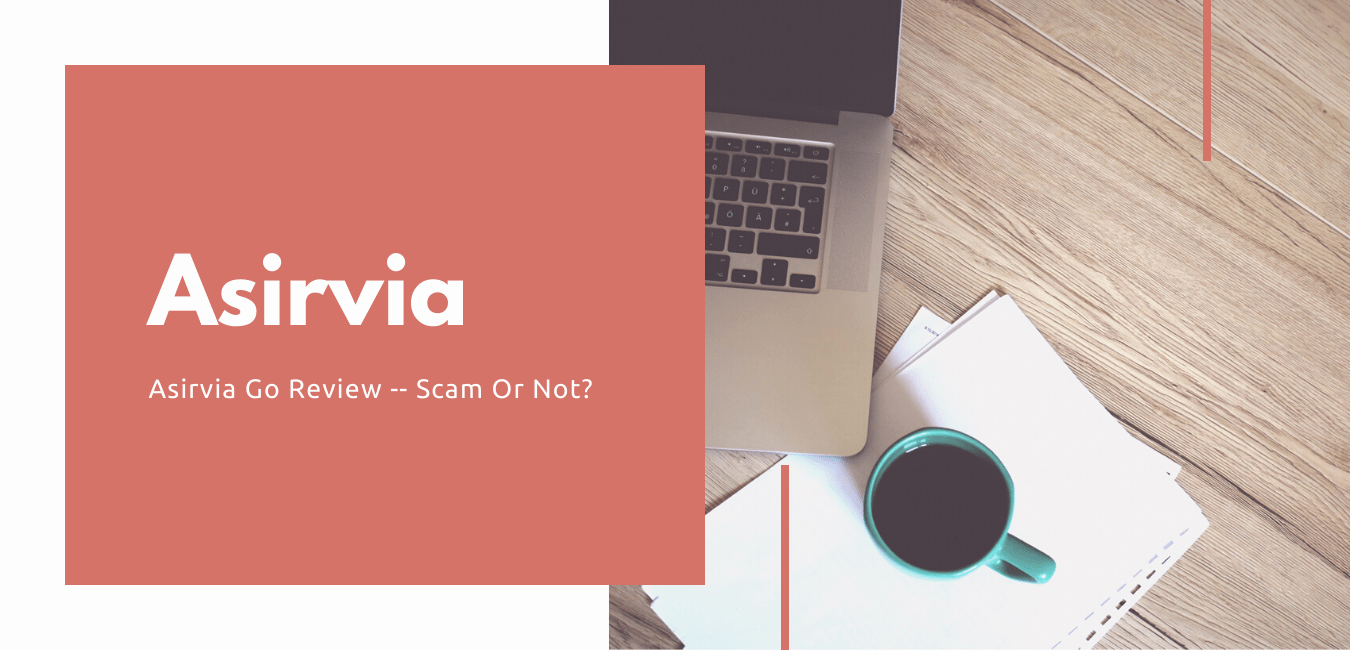 Welcome to My Asirvia Review!
Asirvia has stopped operating for a year but the reason why I am making a review is because I feel like many people deserve to know what happened to it, especially those who have joined their affiliate program.
Asirvia Review Summary
---
Name: Asirvia
Website: www.asirvia.com
Founders: Donald Laplume
Product Type: Multi-Level Marketing
Price: Products Ranging From $25 To $99 A Month + $25 Shipping Fee + $25 Virtual Training Center
Quick Summary: Asirvia is a network marketing company that promotes beacon devices. It's a small technology used by businesses, such as Facebook, to broadcast their messages and/or promotions using Bluetooth.

It would have been a good company, considering the unique product it has provided but because of various complaints, I think it's better that the company stopped its operation now.
Overall Rating: 1/10
Recommended: No
It has been a popular company back then mainly because of its unique product but due to some RED FLAGS, such as poor customer service and product quality, it's been shut down.
Spoiler Alert: Pretty sure you have an idea that this program is up to no good, so let me share my FREE Step-By-Step Guide in making money online.
A network marketing company or a multi-level marketing (MLM) business, that's what Asirvia is about. I mentioned that it's somehow unique and that's because of the product they offer. Instead of the usual health supplements or skincare essentials, the brand offers beacon devices.
The new Hampshire-based company was founded in 2016 by Donald LaPlume but because of certain issues, it has been closed since 2018.
Asirvia Product Line
The brand offered only one product called Asirvia Go. It's a small beacon technology powered by Google's Nearby. It works by sending promotional messages to Android smartphones using Bluetooth within 300 feet. Since it's Google's technology, iPhone devices cannot receive the broadcasted promotional messages.
Asirvia Go may be the only product but it comes in different variants and prices ranging from $69 to $320. It depends on the proximity range of the device but other than the scope, the other features are the same. It allows the user to send a maximum of 40 characters and attach a link or URL where they want to take the potential client.
Is Asirvia Go legal? Yes, it is. In fact, it was used by some of the biggest brands, such as Facebook.
Does Asirvia Go work? It depends. Yes, it works if the Android user's device's Bluetooth is on but if not, then it's useless. Meaning, even if you purchased the most expensive variant, if the Bluetooth setting of your potential clients is disabled, then it won't convert anything for your business at all.
How To Make Money With Asirvia?
As mentioned, Asirvia is an MLM company so other than making money from the sales you make, you can earn by recruiting people to join the platform.
Asirvia has been closed for at least a year now so I think there's no point to talk about its compensation plan.
However, just to give you an idea, here's a quick outline of the compensation plan:
Direct Sales Residual
Direct Sales Commissions
Generational Check Match
Base Pay
You can also watch a video below to learn more about Asirvia's compensation plan:
Asirvia was a legit company, considering the huge companies who have availed their products and services. However, since it's gone now, I don't think it makes any sense to defend whether it's a scam or not.
Nonetheless, it's still worth knowing the kind of problems it has before it's shut down. On Better Business Bureau, Asirvia is not accredited and it has an F rating, which only shows how bad it is.
Another thing is the complaints. From BBB alone, Asirvia has received 39 negative feedback and only 3 of those were closed.
One of the reviews is about the product that doesn't seem to work. No refunds were provided and the company just kept on charging the user's credit card.
Another complaint is about not receiving commissions. As an affiliate, you're expecting to receive compensation for promoting your products. Plus, given that you need to purchase their units and pay for certain fees (which I'll share below) before you earn, it's just right to get the money you deserve. However, according to one affiliate, the promised compensation was never received.
You can check more complaints on this link.
In addition, Hiram Lodge Enterprises Corporation has filed a lawsuit against Asirvia. The two companies used to be partners before but because of the poor quality of Asirvia Go and its bad customer service, they got served.
To become an affiliate of Asirvia and start earning, you have to purchase a number of units first. One unit costs $25 a month; 3 units cost $49 a month; 8 units cost $99 a month. The same thing when you buy Asirvia Go as a customer, you have to pay a fee per month.
In addition, you have to pay $30 to activate your units. It's a one-time fee but it's the same amount you need to cover whether you bought single or multiple units.
As an affiliate, you also need to shoulder the $25 shipping fee and another $25 fee for their Virtual Training Center (VTC).
More or less, you have to spend a hundred dollars before you can start earning from their program and take note, even if you sell their products, there's a chance that you won't earn at all. Of course, considering that Asirvia's program is still live.
Due to the number of complaints they have about their affiliates not receiving their commissions, you should definitely skip the program.
If you want to make money online, why not become a legitimate affiliate. Being an affiliate marketer has a lot of perks, especially when you join the right platform such as Wealthy Affiliate.
For one, you don't need to pay any fee for signing up, which is true to most affiliate marketing programs. When you want to promote a product or service, you don't have to purchase any items physically. This means that you don't need to force yourself into selling the items or worry about your inventory.
The best part when you join Wealthy Affiliate is that you'll have everything you need to get started, such as the website, training, and other tools. Plus, you can choose whatever product or niche you want to promote.
Otherwise, you can check out top-recommended program to learn how you can make money online.
Here Is My Top Recommendation to Start Highly Profitable Online Business from Comfort Of Your Home
PROS
I don't like anything about this company at all. Yes, the product is unique and can be helpful but still, it's low quality according to its users. Second, it can only work if your potential target market's Bluetooth is on. If not, I don't think it's worth the price.
CONS
Expensive Startup Cost
To begin, you have to spend at least $105, and that's for a single unit only. Considering that it only works when your potential clients' Bluetooth is on, I don't think Asirvia offers a reasonable price.
In addition, the message can only be received by Android users. What if you're in a room full of iOS users? Do you think it's still fair to pay for a certain amount every month?
Affiliates Not Receiving Commissions
Despite the hard work, their affiliates seem to receive nothing but a headache. There are too many complaints about unreceived commissions so without a doubt, this is a waste of time.
Poor Customer Service
In BBB alone, you'll see that most complaints are either unresolved or not answered. For me, it's normal for products or services to fail at some point; however, your customer support should not. They should know how to handle concerns properly or at least, let the client know that you are doing your best to resolve their issues.
In Asirvia's case, it seemed like even their customer service has given up.
Tired of Wasting Time on Low Quality Programs?
I'm so grateful that I was able to find THIS PROGRAM which helped me to finally start making money online!
Even if Asirvia is operating now, I can't recommend it to anyone. Receiving complaints is normal for businesses; however, if negative reviews outweigh the positive ones, then that's a massive drawback.
It might not be a lot but there are definitely enough reasons for Asirvia to close. Hopefully, in case this company decided to open again, they will resolve their internal issues first, such as customer support and commissions.
People pay for their program to earn so at least, give them what they deserve. Even if there's no money involved, companies like Asirvia should be true to their promises. If they commit to paying affiliates for promoting products, then by all costs they should.
Tired of low-quality programs that are only after your cash? Don't worry, I got the perfect solution!
Sign up with our top-recommended program and get access on the following business tools and support:
One-on-one coaching
Comprehensive guide
The best business tools and support you need
Webinars and training resources
And many more!
I hope you enjoyed my Asirvia review and if you have questions or concerns, please don't hesitate to share it below.
Thank you!
We Constantly Review Programs in "Make Money Online" Niche,
So That You Don't Have to Waste Countless Hours
Want To See Our
TOP RECOMMENDATION?