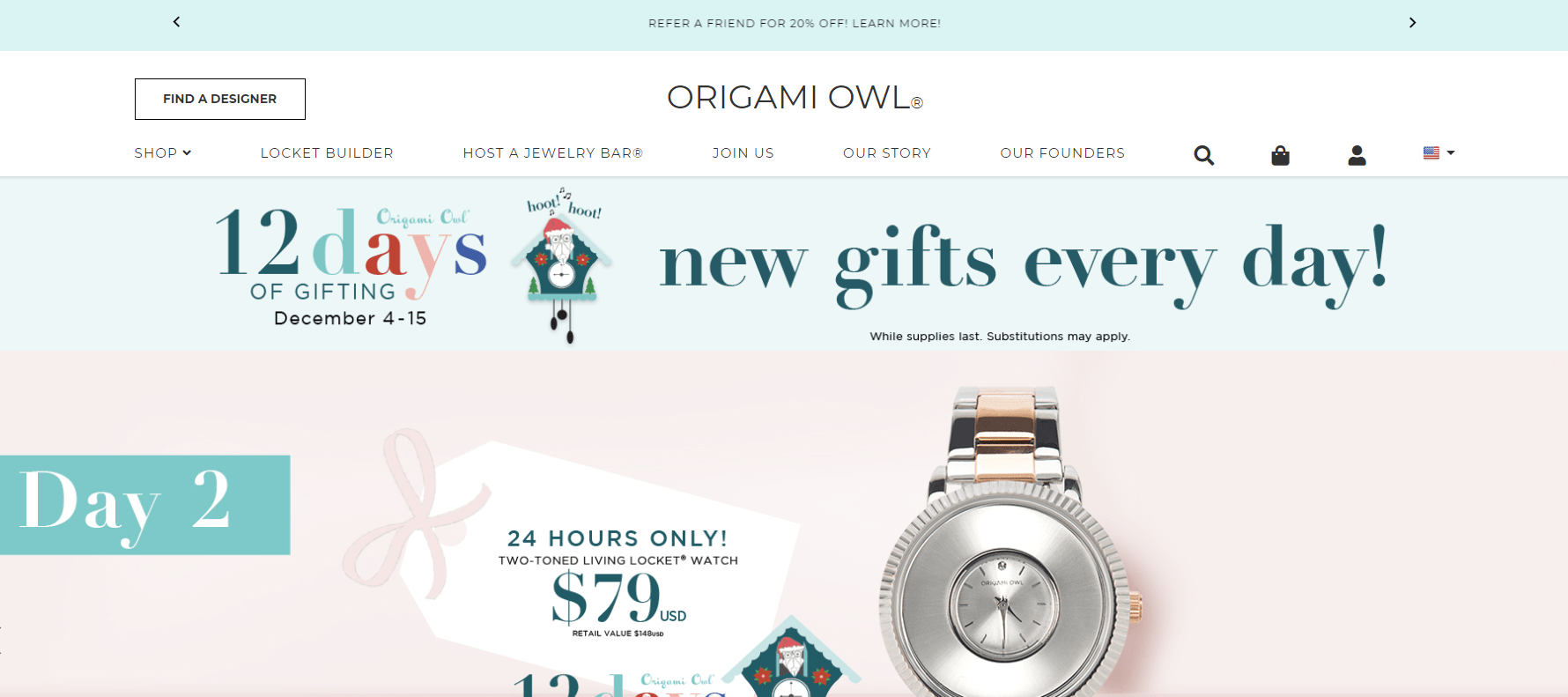 Welcome to My Origami Owl Jewelry Review!
Other than the usual weight-loss products and skincare essentials, some MLM companies promote jewelry and of course, an opportunity to make money out of it. One of the network marketing brands under this niche is called Origami Owl Jewelry. The questions are:
Origami Owl Jewelry Review Summary
---
Name: Origami Owl Jewelry
Website: www.origamiowl.com
Founders: Isabella "Bella" Weem and Christian "Chrissy" Weem
Product Type: Multi-Level Marketing
Price: Starting From $159 To $699
Quick Summary: Origami Owl Jewelry is an MLM company that promotes personalized accessories. It was founded by a very young entrepreneur at the age of 14 and now, it has grown into a million-dollar company. The opportunity sounds promising but waits until you read the controversies involved.
Overall Rating: 4/10
Recommended: No
Does it offer a good opportunity to make money?
Is Origami Owl Jewelry a scam?
How to sign up as its distributor/consultant?
All your questions answered in this honest Origami Owl Jewelry review.
P.S.
Probably, you have an idea of how multi-level marketing works and it's not just about selling products; it's also about recruiting people to join the platform. Now, if you feel like earning with them takes a while, I suggest you check out my #1 solution to making money online.
What Is Origami Owl Jewelry About?
Origami Owl is tagged us a direct sales company. It was founded in 2010 by a teenage girl named Isabella "Bella" Weems, who was only 14 at that time. It was co-founded by her mom, Christian "Chrissy" Weem, who has been involved in several allegations, which I'll discuss in a bit.
The brand is located at Chandler, Arizona and is also operating in other parts of the U.S., Canada, and Puerto Rico with more than 300 employees. It has over 60,000 independent distributors and the company has grown its revenue into 250 million.
However, since it has a compensation plan and it provides bonuses for growing a team, it's considered a network marketing or multi-level marketing company, which is a legit business model, by the way.
Some of you might confuse it with a pyramid scheme but basically, a pyramid business model pays you for just inviting new people to join. An MLM, on the other hand, allows you to make money by selling tangible products. Yes, you are required to recruit but you will not be compensated through it directly; rather, you and your downline should meet sales quotas or milestones to be qualified for bonuses.
Origami Owl Jewelry Product Line
As the name suggests, Origami Owl Jewelry sells jewelry, such as watches, earrings, charms, chains, necklaces, and rings. It also promotes scented candles, which come with surprise jewelry inside and jewelry organizers.
One of their most popular items is called the "Living Locket." It's a round hollow pendant that you can fill in with your choice of charms.
The brand allows its independent sales consultants to purchase tools and materials so they can customize their own accessories.
As for the price of their products, it ranges from $6 (charms only) up to over a hundred dollars. It's pricey compared to other jewelry sold online but since it's an MLM program, it's usually like this.
Origami Owl Jewelry Product Reviews
I do not own any jewelry from the brand so I can't testify whether the accessories are worth their prices or not. Instead, I'll share a few screenshots of the reviews I found online. Alarmingly, most are negative and it's not just about the products but also, it's against one of its founders, Chrissy.
How To Make Money With Origami Owl Jewelry
Like typical MLM platforms, the main way to make money with Origami Owl Jewelry is by earning commissions through personal sales. You can get around 30% to 50% for selling their charms, necklaces, etc.
You can also make money through the sales of your downline and this depends on your rank. So, the higher your level is, the bigger the commission you can get.
Speaking of ranks, like other network marketing companies, your rank depends on your personal and team volume you make plus the number of recruits you have.
To learn more about Origami Owl Jewelry's compensation plan, you can watch the video below:
Is Origami Owl Jewelry A Scam?
Origami Owl Jewelry is not a scam. It's 100% legit. They are even accredited by the Better Business Bureau (BBB) with an A+ rating. However, the scandals, as well as the number of negative reviews they have, are something to worry about.
Arrest Record Against Co-Founder, Chris Weems
Chris, who's the mom of Bella Weems, has been arrested in 2011 for computer tampering. The co-founder was found guilty of destroying evidence for her friend, Susan Brook's sexual abuse case.
People are getting wiser and wiser now and before they buy products or sign up for an offer, they would read reviews first and when they see this, for sure they'll think twice before they join the program -- or skip it immediately.
Poor Quality Products
Compared to the ones sold online, Origami Owl Jewelry's accessories are pricey but according to the reviews, their products are made of poor-quality materials that are easy to get broken and tarnish.
Poor Customer Service
According to the reviews online, the customer service is either bad or unresponsive. Most complaints were never resolved and some customers did not hear from the customer support at all.
What's alarming are the complaints itself. Apparently, there are false advertisements about paying only for the shipping fee to receive a free product. Turned out, the complainant was charged for a membership fee instead.
To become an independent sales consultant of Origami Owl Jewelry -- or Designer as they call it, you have three types of starter kits to choose from, such as:
O2 Starter Kit $159
Signature Success Kit $399
Ultimate Jewelry Bar Launch Kit $699
Here Is My Top Recommendation to Start Highly Profitable Online Business from Comfort Of Your Home
PROS
Up To 50% Commission
Receiving a 50% commission for a product sold is big enough and if you can sell products consistently, you can have a good source of income with Origami Owl Jewelry.
I think this is the only thing I like about the brand and then again, the commission is worth it only if you are able to sell their jewelry all the time.
CONS
The Case Against The Co-Founder
Knowing that one of its founders, Christian Weems has been arrested for destructing evidence against sexual abuse is not impressive, especially for people who have been sexually assaulted.
This affects the morality and ethics of the company and if I were you, I'll definitely think twice.
Low-Income Potential
Good news: Origami Owl Jewelry has shared their Income Disclosure Statement, unlike other brands that are hiding it in public.
Bad news: the income potential is low. According to their IDS, the average amount that a Designer earns per year is only $82.22 or $6.85 a month. This is NOT enough even for a single person to survive. It's as bad as joining a paid survey and spending most of your time and effort only to earn less than fifty dollars a month.
Tired of Trading Your Precious Time for Money?
Here is a Blueprint to Owing Highly Profitable Online Business Without Any Experience REVEALED!
I would have recommended this program to anyone who likes jewelry but since the quality of their products is not good, I can't suggest it to anyone.
If you love fashion or accessories and you want to make a business out of it, I suggest you join an affiliate program instead, such as Wealthy Affiliate.
As an affiliate, you can promote products from the brands you trust without investing capital. That's right! You don't have to worry about any membership fee or even the inventory. Check out my FREE Step-By-Step Guide on how you can make money through affiliate marketing now!
What Is Affiliate Marketing, By The Way?
When you're looking for legit ways to make money online, one of the programs you probably see a lot is affiliate marketing.
Basically, affiliate marketing is a legitimate business model where you, the affiliate, will earn a commission for promoting another company's products. You don't need to purchase any items for this. All you have to do is insert a link to content on a blog or social media post and when another person buys the product using your unique link, then you will be compensated.
It's good for anyone who has been writing articles or blogs online since more or less, you have an idea of how to create content. If you're a newbie, you don't have to worry about anything since they're a lot of FREE RESOURCES online that can help you grow this business.
At first, I was impressed since the founder, Bella, is less than 18 years old when she started the business. It only shows that age is not a hindrance when you want to turn your dream into reality.
However, there are just too many downsides to even consider this as an opportunity. Even if we ignore the cases against the co-founder, the income is disappointing. Even if you're looking for a side hustle, I cannot suggest this one because it's a waste of time.
Making money online is challenging but it doesn't have to be complicated. Sometimes, you can earn cash even without capital.
Don't believe me? Join my #1 recommended program now and get the tools and support you need to start your business, such as:
Free Training Resources
Free Webinars And Coaching
Free Websites
24/7 Chat Support
And Many More!
Whether you're a newbie or not, this is the opportunity you're waiting for!
We Constantly Review Programs in "Make Money Online" Niche,
So That You Don't Have to Waste Countless Hours
Want To See Our
TOP RECOMMENDATION?