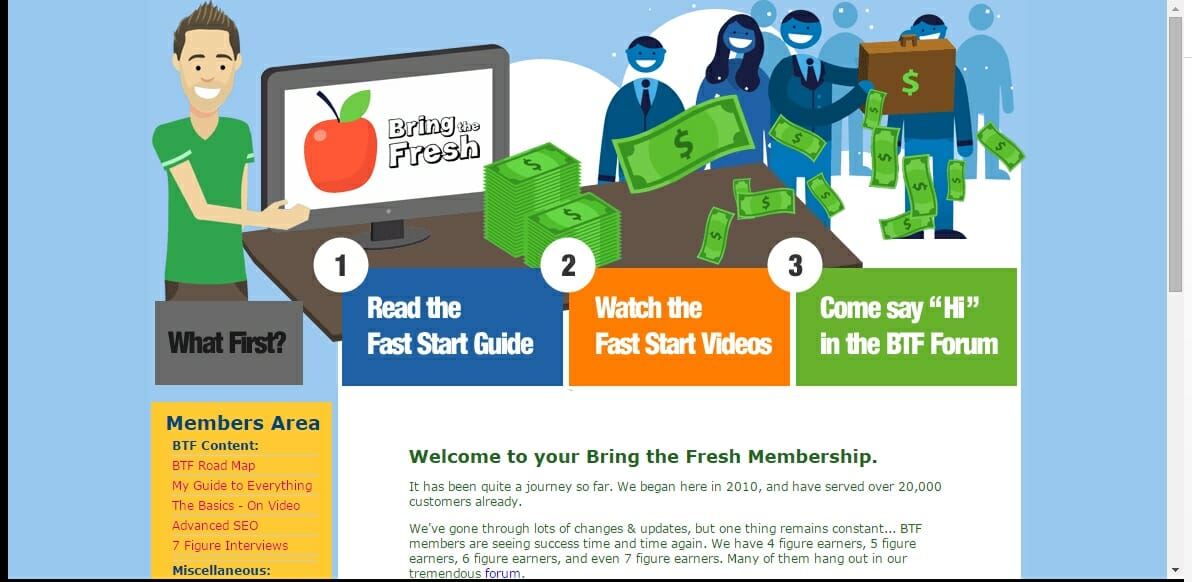 Name: Bring The Fresh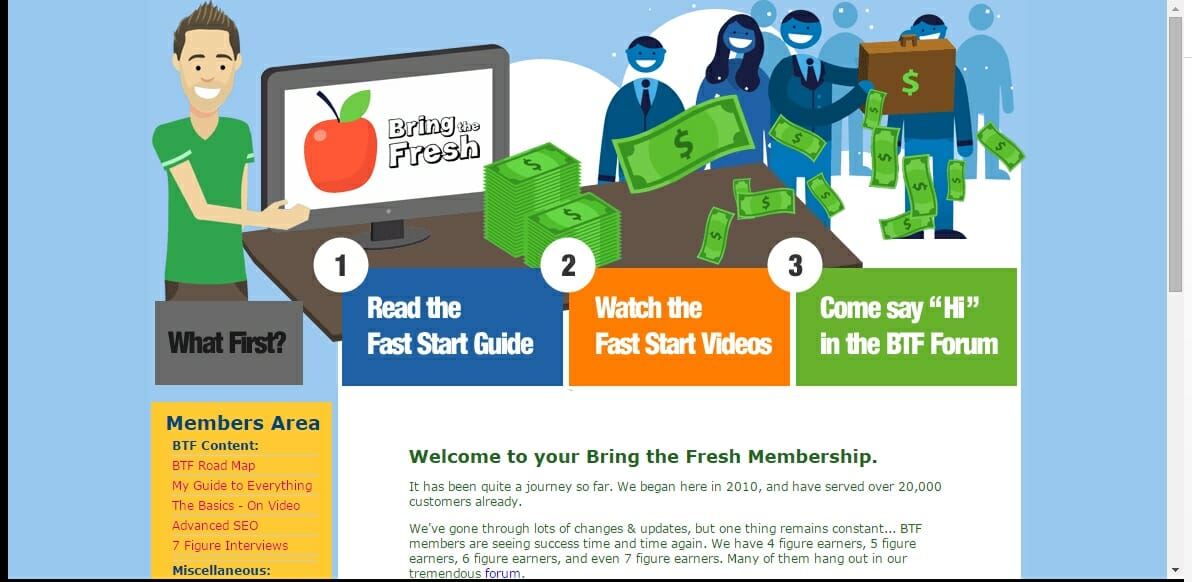 Website: www.bringthefresh.com
Price: $47.00 One Time Fee
Owners: Kelly Felix
Overall Rank: 6 out of 10
Who it's for: Newbie – Expert
THE PRODUCT
---
Bring the Fresh (BTF) is an Online Affiliate Marketing Program that teaches people how to launch their online business with easy to follow guide. It is one of not many products that has today a low one time fee of $47.00 backed up by ClickBank 60 days refund policy.
Bring the Fresh is an educational website on how to setup your WordPress website, find the niche, develop your content and apply various SEO techniques to gain traffic.
This program was launched back in 2011 by two experienced online marketers: Kelly Felix and Mike Long but in 2013 owners split up leaving Kelly Felix behind all the operations. Kelly Felix is known for his other program "Rich Jerk" where he had tremendous success.
When you sign up for this product you will be taken to the new updated Member's Area where you can download (BTF) "Guide to Everything". It is 123 pages guide which talks literally about everything you need to know in Online Marketing world. You can also watch videos – "The Basics" where Kelly Felix will walk you through setting up your website and applying all the marketing tools to start creating content, using Social Media and showing SEO techniques.
Bring the Fresh is not about hype with huge overnight success claims and they clearly mention that. Hard work is definitely a must in order to succeed. That is true just about in any business and this is what most people are not ready to realize. Most people are falling in to the trap where they are promised immediate success by just buying a simple Guru program.
One thing you will see in (BTF) is many success stories through out the training, forums and if you want even more there is a special section for that. I guess Kelly Felix is trying to show especially to new members that they have made the right choice by joining his program that has so many successful people on board.

PROS/CONS
---
Pros:
Bring the Fresh is definitely not a scam product and it does have real educational information once you become a member. Here are some good key points about this product:
Low One Time price of $47.00
Useful "Guide to Everything" for Beginners
Has Community of Real members
Offers Support
Has been around for 5 years to prove it's legitimacy
Basically if you buy this product you will not be disappointed as you will find a ton of information to learn and to start your online business. I will still not rank this as a top product and I will explain later why but overall it's a good educational course for $47.00 that you can find today.
Cons:
You will be offered many up-sells once you become a member
Backlinking Strategy
Risky offers to buy fully ready website
No Live Chat
Customer Service can get rough if you question (BTF) policies
There are few negatives I can point out from this system. One of them is backlinking strategy which already slapped many people. Google has changed it's algorithms and banned lots of websites which actively relied on backlinking. Today content itself is more valuable rather than backlinks to your site. I would caution anyone who is still relying on fast SEO results from using backlinking techniques.
The other part is up-sells which will be pushed to you once you become a member. Since this membership has only one time fee Kelly Felix tries to make it up by pushing other products within the program to maximize his earnings. This can get pretty annoying.
Another feature Kelly Felix offers is where you can have professionally setup an affiliate marketing website for you. This has mixed reviews from website taking too long to complete and after all not getting promised results. I would be concerned about having someone setup a website as it can get very expensive from website building to developing content and at the end there is no guarantee it would actually work as promised.
When I researched what unhappy members had to say mainly I found that Kelly Felix booted people from his system for disputing his results on building websites which didn't really get high positions in search engines. You will find many reviews like these: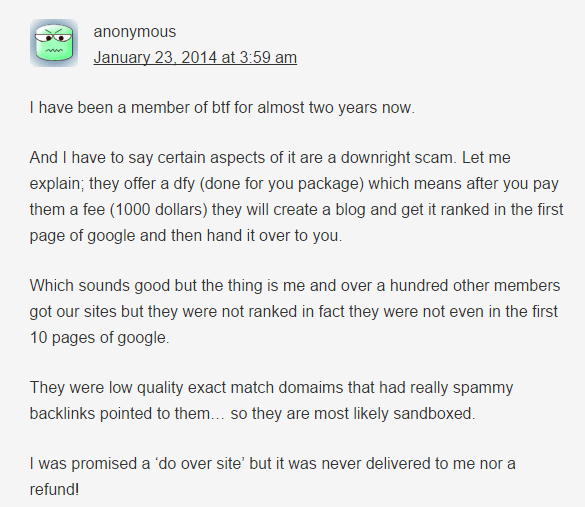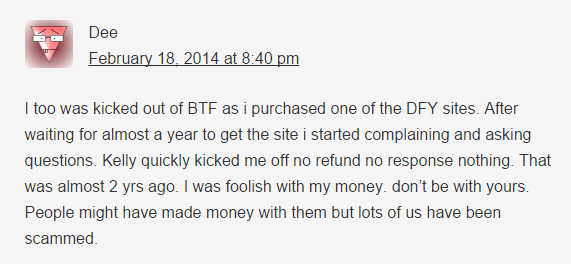 And there are many more unhappy reviews which does raise a red flag.
WHO IS IT FOR
---
Bring The Fresh is a good guide for beginners and even experienced marketers. You can find many members online who actively sell BTF through Clickbank affiliate program with tremendous success.
But just like I mentioned before you should take a full advantage of the .pdf document "Guide to Everything" and videos "The Basics" and ignore all the other up-sells you will be offered.
SUPPORT/TRAINING
---
Training is provided in several forms. You have access to .pdf file – Guide to Everything. You can also watch training videos – "The Basics" and you can get lots of useful information through member's forum.
Support is provided through Help Desk area which is mostly email communication. There is no Live Chat as such, but nevertheless you can get your questions answered.
PRICE
---
Bring the Fresh is offered at $47.00 one time fee. This is a newer price than you will find in many other reviews. It is backed up by Click Bank 60 day Money Back Guarantee. The owner of BTF boasts of having one of the lowest refunds for his product in the industry only 7.58% till now which looks pretty low. I would say for $47.00 it's very well worth it.
But just like mentioned before there are up-sells which will be offered to you which include:
Advanced SEO backlinking strategy
Help to make a full fledged affiliate website
Private Coaching
General Recommendations what to buy
So in case you do sign up and take advantage of all the videos on the website and .pdf doc keep in mind to be very careful about all the up-sells.
FINAL OPINION/VERDICT
---
Bring the Fresh is a real product which offers good information to it's members and all that comes at a decent price of $47.00. I would strongly advise to avoid major up-sells and do all the work yourself. Remember Google likes good content and this is what ranks very high these days. Don't fall for fast SEO techniques, private coaching or buy a ready made web site.
It is always better to learn online marketing first and build your own way up. Most of the up-sells are just the shortcuts which are very expensive and make you believe that you are saving money however they can even make things worse especially for beginners. You tend to realize later that you could do it all by yourself.
If you are looking for a great long term solution to build solid online business then I would strongly suggest to read my full review on this #1 Recommended Product
Wealthy Affiliate is a much bigger community of great members, It has a Live Chat 24/7 and you can contact owners directly – and yes they do respond to your questions.
Here is the comparison how Bring The Fresh stacks up against Wealthy Affiliate
FINAL VERDICT:
LEGIT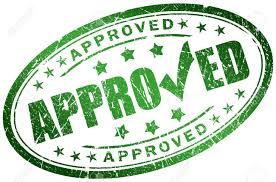 I hope you liked my review and I would love to hear for your comments:
We Constantly Review Programs in "Make Money Online" Niche,
So That You Don't Have to Waste Countless Hours
Want To See Our
TOP RECOMMENDATION?