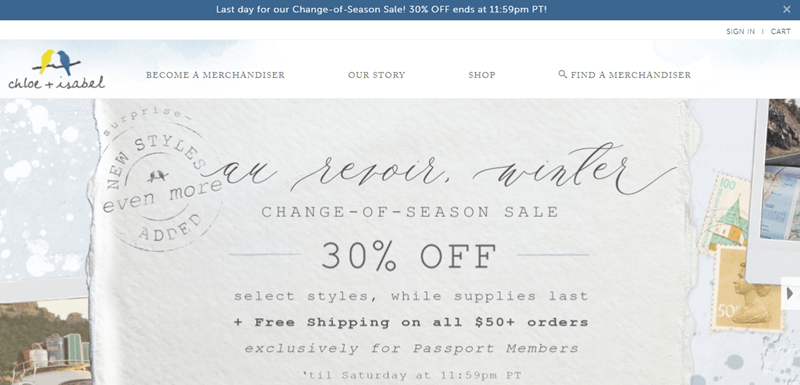 Welcome to My Chloe + Isabel Review!
You're probably in this site trying to gain insights and information about a business you're trying to pursue. So pat yourselves for trying the extra mile by researching and investigating.
It is better to be meticulous rather than being too risky and careless. That's a great way of avoiding scams. And after all, you will be investing your time, money, effort and energy in whatever business you will opt to try and of course, you won't want to lose it afterward.
Chloe + Isabel Review Summary
---
Name: Cloe + Isabel
Website: Chloe And Isabel
Founders: Chantel Waterbury
Product Type: Multi-Level Marketing
Price: $179
Quick Summary: Chloe and Isabel is a multi-level marketing (MLM) company that markets and sells jewelry to buyers and distributors whom they call as a merchandiser. They offer a variety of jewelry including brooches, hair accessories, rings, earrings, bracelets, and necklaces. You will earn profits from your personal sales and through group sales. Well, would this be a high-income potential opportunity for a beginner? Probably not!
Overall Rating: 1/10
Recommended: No
Nowadays, MLM opportunities are anywhere. Most of the time they market products, from beauty to the health and wellness niche, name it, they have a lot right? And now, we will be discussing jewelry distributing MLM company- Chloe and Isabel.
With a lot of competition in the jewelry and accessory niche, will this be a great opportunity to try your aces as a rookie in this kind of business? Is Chloe and Isabel a legit MLM company? Is it not a scam? How about the profit that you'll get? What are the benefits and disadvantages of joining this company? Yes, we will tackle all of that here and we will try to answer all of your queries in mind.
Let's talk about this MLM Opportunity- Chloe and Isabel in this review!
Bonus: Check out my FREE Step-By-Step Guide on how to make money at home -- without capital or recruitment required!
Chloe and Isabel is a multi-level marketing (MLM) company that markets and sells a wide range of jewelry including brooches, hair accessories, rings, earrings, bracelets, and necklaces.
This MLM was founded in 2011 by Chantel Waterbury. The Headquarters is based in New York. Chantel had a lot of experience working for big leaguer companies and having the experience she had, she wanted to help other women, thus, the birth of this company. The business started as a means of merging personality and fashion.
It is as well based on the notion they called as a "Friendship Philosophy", where Chloe and Isabel got united through their friendship and took self-expression on to the next level. Chloe represents the "fashionista" side while Isabel represents "timeless fashion". And it speaks of the company tagline: "be creative, be confident, be you". Their business may have started small but it progressed in a period.
CHLOE + ISABEL Product Line
As their ideals imply, Chloe and Isabel market jewelry and accessories that are trendy and fashionable but affordable. These accessories come in a wide variety. All their products are beautifully crafted, inspired and made from exceptional quality, as they would claim in their principle. Yes, their accessories are made from high-quality materials and they are lead-free, nickel-free and hypoallergenic.
Their products are categorized into various collections, ranging from new arrivals, anniversary collections, bridal lines, and birthstones.
As for the pricing of their jewelry and accessories, you'll only find a handful of their products that are above $100 which makes them cheaper than most department store jewelry. Thus, it is affordable and can be marketed easily.
How To Make Money With Chloe + Isabel?
So how to make money with this MLM company? First, you'll start as a member. They call their members/sellers as a "merchandiser".
You have to sign up as a "merchandiser" where you have to go through an interview before having the chance to sell the products.
If you have passed, you can then purchase a starter kit for $179 which is already inclusive of jewelry and accessories amounting to $700. The kit also contains business supplies and resources to help you get started.
Here are the business supplies included once you signed up:
Fully customized online boutique
In-person pop-up shows
Customer order
No-Cost Passport rewards (every time family and friends are enrolled)
Host programs (in exchange for free jewelry of choice)
More exclusive offers
Close-knit community
Chloe + Isabel Compensation Plan
So you earn in Chloe and Isabel through:
Individual Sales– By purchasing the starter kit with a corresponding high retail value of the inclusive jewelry and accessories, you could earn through the profit from accessories sold. You can earn 25-40% commissions selling this jewelry and accessories. So in your $179 starter kit containing $700 jewelry, selling it all will give a $600 profit.
Group sales– Your income will as well come from your group's commissionable sales. Based on your group, you will get 4-12% of your group's sales. Then there are as well bonuses such as free trips and jewelry.
You can watch the vdeio to learn more about Chloe + Isabel Compensation Plan
Is Chloe + Isabel A Scam?
Chloe and Isabel was once a functioning MLM company. It was once a real business selling real tangible products but if you would go to their website NOW (yes, as I am writing this), you will see that their business is already CLOSED!
Founded only in 2011, the company was reported to cease operating just this July 2019 and that's just roughly 8 years in the industry! Too bad for them and their members. So if someone would invite you NOW to join their business in Chloe and Isabel in this year 2019, it is surely a SCAM! The company has been shut down. You could even see it on their website.
Starting in this MLM company, you have to sign up and pass the interview as a "Merchandiser" and that would allow you to purchase their starter kit that costs $179 which comes along with a bundle of jewelry (amounting to $700), business supplies and other resources.
Here Is My Top Recommendation to Start Highly Profitable Online Business from Comfort Of Your Home
PROS
Range Of Products
They have a variety of accessories. You can choose from brooches to rings to bracelets to necklaces and more. You don't have to as well buy bulk to sell them. You can buy pieces with discounts.
CONS
Too Many Complaints
They have a bunch of complaints from members/merchandisers and as well as regards to the quality of their products telling that their products were overhauled in manufacturing affecting both quality and costs. They said that products became expensive as compared to before. It would be difficult to market products with bad standing.
Many Competition In The Market
This MLM is just one of those in the jewelry and accessory niche, so you would probably have a lot of competition in the market, not to mention the department stores, the Amazon and many more. So you would have to work hard and do the strategies to improve sales.
Low Profit
you'll get roughly 25-40% profit from your sales. Wanting to lift your profit margins up to 45% would not make sense as well since no one would want to buy pricy jewelry in which the price would be doubled in that case.
NO GUARANTEE, IT'S A SCAM!
Tired of Wasting Time on Low Quality Programs?
I'm so grateful that I was able to find THIS PROGRAM which helped me to finally start making money online!
It is a business opportunity intended for those who are jewelry enthusiasts that are mostly women but it can be for anyone who has also the passion for sales.
Signing up as a Merchandiser and purchasing their starter kit allows you to access their business supplies and resources as discussed above.
Chloe and Isabel may have started great but in the long run, the products have gone downhill and that might have been the cause of the end of their business. I have also found out that in 2018, the new leadership has repositioned the company that made the merchandiser opportunity to a broader group of entrepreneurial women.
They have appointed a new president/CEO and vice president. Well, it may have been a cause of conflicts and whatsoever but if you want more information about their closure, you could visit their site and inquire about that.
Overall, I would NOT recommend you joining this MLM business because first and foremost, Chloe and Isabel have been already closed, so it is definitely a SCAM. It was once a legit company selling tangible trendy jewelry and accessories for 8 years.
With the only low-income potential to members, not to mention complaints with regards to the declining quality of products sold that had probably contributed to the company's closure, where would that take you? So, if anyone would ask you NOW to join Chloe and Isabel, say NO, it's definitely an obscure path to take.
MLM is really a challenging and risky world to venture into starting a business. It would cost you a lot, for you will have to risk not only your time and effort but also your money.
Want a risk-free income opportunity that doesn't involve selling and recruitment?
Then check my top-recommended program now!
It's free and the best part is, you get to enjoy the following without paying for anything:
Training Resources And Webinars
24/7 Chat Support
The best business tools and support you need
Live Active Community
And A Lot More!
By the way, thank you for taking the time in reading my Chloe And Isabel review. I hope this has given you clarity and had answered your questions.
Thank you!
We Constantly Review Programs in "Make Money Online" Niche,
So That You Don't Have to Waste Countless Hours
Want To See Our
TOP RECOMMENDATION?