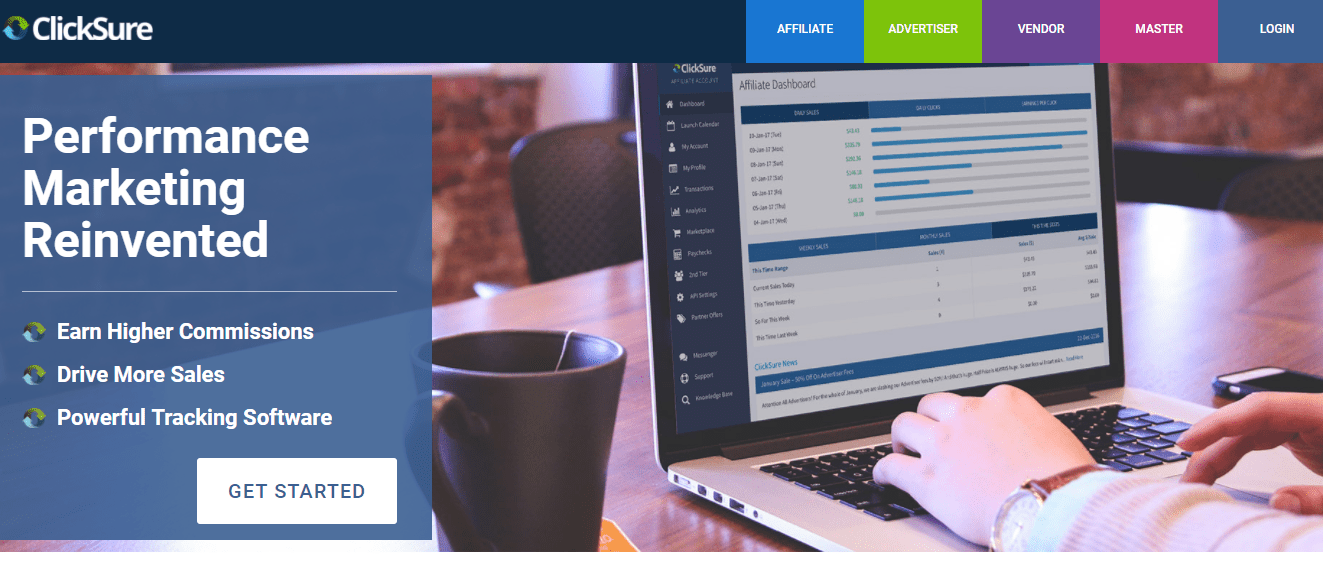 Name: ClickSure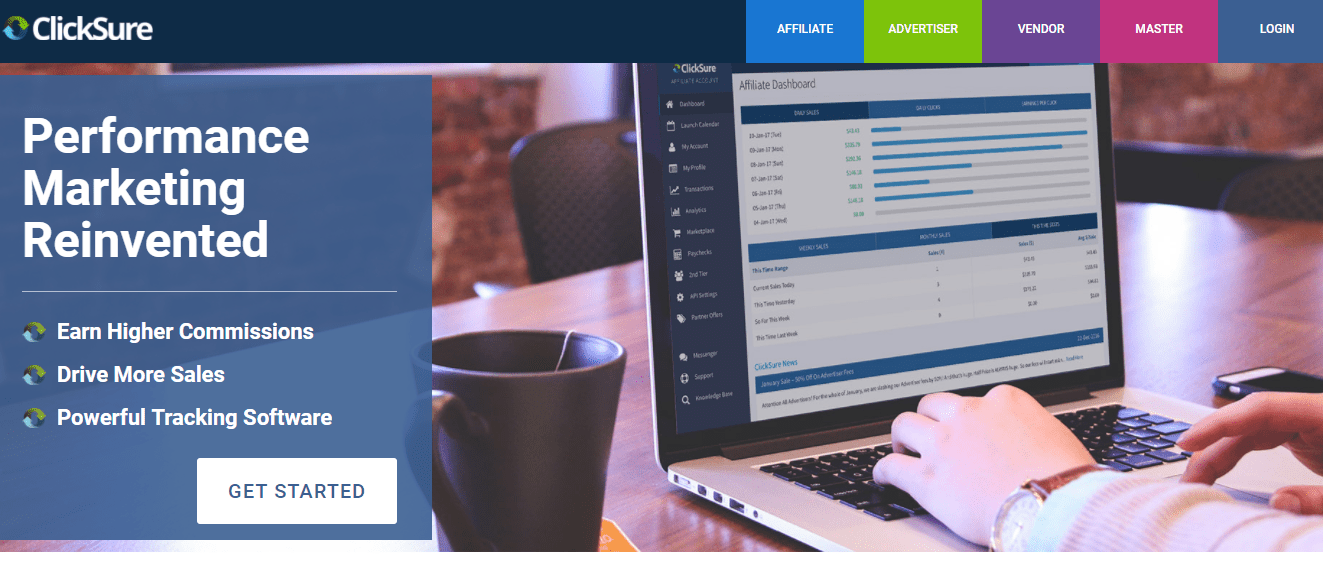 Website: https://www.clicksure.com
Price: Free to join
Founders: N / A
Overall Ranking:  3 / 10
Who's it For: Affiliate Marketers
What is ClickSure About?
If you are an affiliate marketer you've probably heard about ClickSure. This site is an online market place for affiliate marketers. As an affiliate marketer you will need to find products that you can market to your audience. ClickSure is a site that lists digital products.
Essentially, they are the middle man between you and the companies offering digital products for sale. By promoting these products you will earn a commission for every sale that you make. Instead of sifting through the entire internet, ClickSure is a central hub for digital products. It is very similar to Clickbank.
If you are wondering how to make money with ClickSure, there are three different ways:
You can become an affiliate and promote the products available in the ClickSure marketplace
Become an advertiser and get access to over 400,000 affiliates from ClickSure
Sell your own products online.
This seems legit, but when reading Clicksure.com reviews the waters become murky. Is ClickSure legit, or is it a scam? Keep reading for a full unbiased review of ClickSure.
 Is ClickSure a Scam?
It seems like there are many ways to make money off ClickSure, but is it the real deal? Is ClickSure a scam or is it legitimate? To answer that we need to first look at the ClickSure origins. ClickSure, as you are aware is very similar to Clickbank.
Clickbank is a reputable affiliate marketing marketplace, but they just updated their regulations to remove scam products from their listings. This makes Clickbank more legitimate, but the junk products needed someone else to gravitate to. That is how ClickSure came to be. So, is ClickSure a scam? Technically it isn't, but when a site is promoting scam products, it probably isn't a legitimate one to join.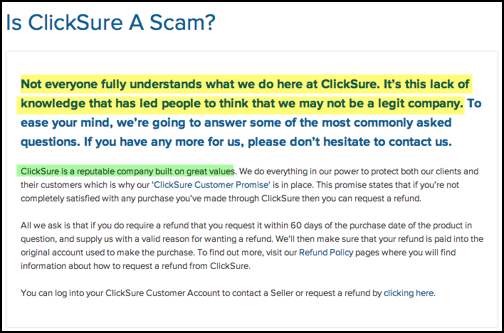 Clicksure is very well aware that there a ton of review sites reporting that Clicksure has many Scam products listed on their platform, and they come up with creative answers to counter that as you can see above.
In addition, most of the products come with 60 days refund policies. So, you'll think you have a plethora of sales one month, but once users start interacting with the product, they can request their money back. You can go from being extremely profitable, to in the red the next month. These are essentially products that aren't good enough to be promoted on Clickbank and have gravitated to a lesser regulated online marketplace. It's not an outright scam but I woud stay away regardless.

Price
The one nice thing about ClickSure is that it is free to join. However, there is one up-sell. When you join, you will be prompted to become a VIP Member, which will cost you $10 a month. This doesn't seem like too much, but honestly there isn't much to be gained by becoming a VIP Member.
You will get some eBooks to learn how to promote and sell products, but they don't offer much beyond some simple tips. In addition, you will also get Skype support and your email support inquiries will be addressed before those who aren't VIP Members.
In addition, some digital products require you to purchase them first to become an affiliate. Those costs will quickly add up so you should do some thorough research to see if what you are purchasing is a legitimate or scam product.
 Pros / Cons
Pros:
 ClickSure comes with a 60 day money back guarantee
It distributes revenues for legitimate sales
There are multiple ways to earn money through ClickSure
You can make money selling your own digital products on ClickSure
Cons:
There are MANY scam products listed on ClickSure, which means you have to spend a lot of time researching to make sure you don't promote them
Members frequently complain that they are unable to get their money back despite the money back guarantee
ClickSure does not have the best reputation, which can drag your reputation down as well
You will only make money by promoting their scam products
Even if you find legitimate products, there is steep competition promoting them
Affiliates get poor support from ClickSure
The refund rate is typically higher than the sales rate, which makes it extremely difficult to generate income
Who is it For?
ClickSure is marketed as a great resource for affiliate marketers looking to promote products online. Beginners will love how easy it is to search products, but in all honesty, this isn't a great program for anyone to use. 99% of the products listed on ClickSure are scams and the last thing you want to be doing is promoting junk products and taking people's hard earned money.
In addition, joining this type of scam site will hurt your personal brand and reputation. You don't want to be known for promoting junk products and when you see a higher number of refund requests than sales, you'll quickly become frustrated and move on anyways.
Training Tools / Support
When it comes to training and support, ClickSure leaves much to be desired. You will have access to support via their customer support team, but if you are not a VIP Member your questions will be pushed to the back of the line. What kind of company charges you to have your questions addressed in a timely manner?
In addition, the training is essentially non-existent for ClickSure. To get any sort of worthwhile information, you will again have to become a VIP member. This still only gets you access to some eBooks with basic affiliate marketing tips. There isn't much to be gleaned in these "training" books.
Final Opinion / Verdict
ClickSure is a site that you should stay far away from. It is not an outright scam in itself, but it is a website that exists because it promotes scam products. As an affiliate marketer the last thing you want is to be linked to junk and scam products. This not only harms your reputation, but it severely limits your income. If you want to make money off the time and energy you invest in affiliate marketing here is a far better alternative. Do yourself a favor and steer clear of the scam-riddled marketplace that ClickSure provides.