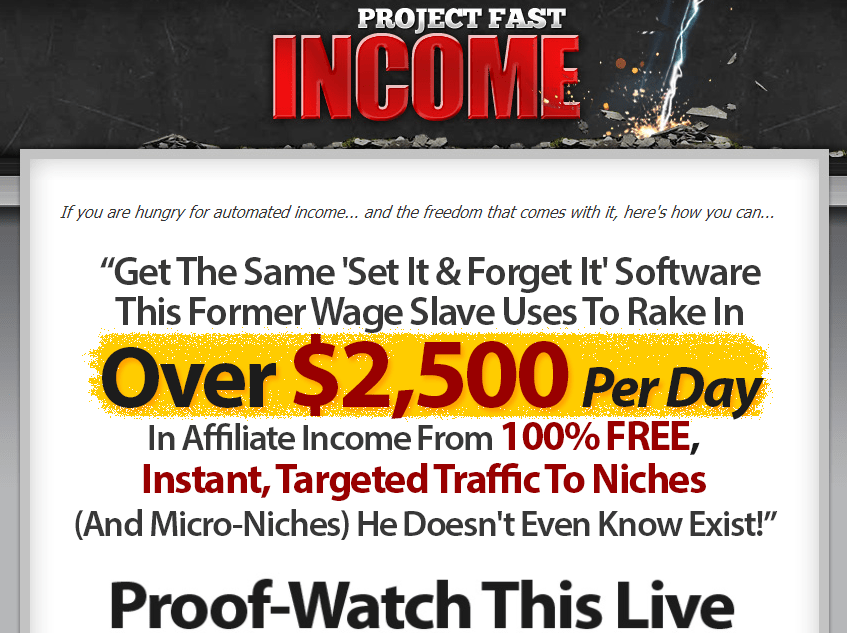 Name: Project Fast Income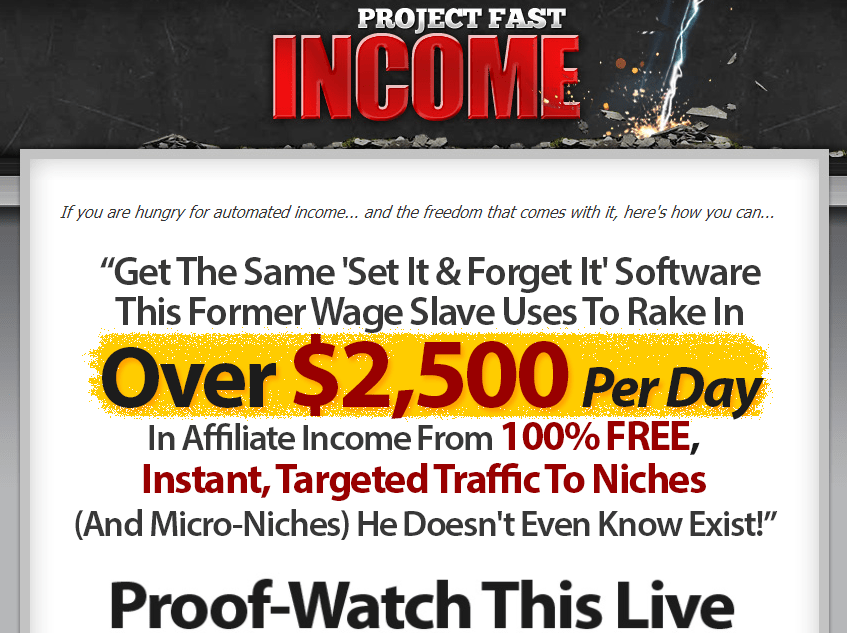 Website: http://projectfastincome.biz
Price: $29.95
Founders: James Bradley
Overall Ranking: 1 / 10
Who's it For: No one!
What is Project Fast Income About?
People are shying away from normal 9 to 5 jobs in lieu of working from home and making money online. Project Fast Income is a product by James Bradley that advertises the ability to make $2,500 per day. But what really is Project Fast Income?
Project Fast Income is a suite of WordPress plugins that create content for your site. In addition, the plug ins also aim to monetize your content using ads and email lists. It's marketed as a one stop shop to start generating and monetizing content, but if you read online Project Fast Income reviews you will quickly find out that there are some issues with the product and this is what I am going to talk about here. So, is there a Project Fast Income scam?
 Is Project Fast Income a Scam?
Is Project Fast Income a legitimate product? Well, that all depends on your definition of scam. Some people define a scam as someone who takes your money and gives you nothing in return. Project Fast Income does give you something in return for your money, but the issue is that it's really of little value. James Bradley doesn't take your money and run, but what he gives you is essentially a useless suite of plugins. Let's just be honest.
Also, right off the bat you can start seeing Red Flags with Project Fast Income. Taking one look at the sales page should immediately have you wondering how legit this product is. The sales page is gimmicky and boats impressive stats of members making over $2,000 per day. If you could make $2,000 per day using Project Fast Income, everyone would be doing it! Those statements aren't accurate and you certainly won't see payouts like that using it.
The main issue with Project Fast Income is the Super Spinner plugin. James Bradley claims you don't have to worry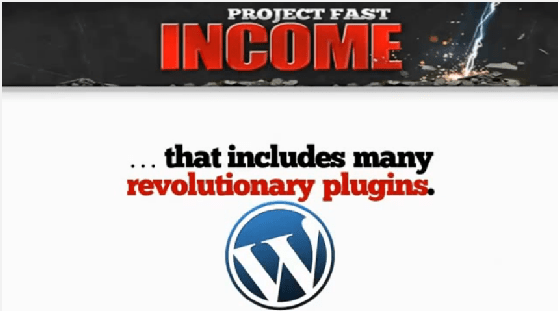 about creating content because the Super Spinner plugin does it for you. Well, where do you think that content is coming from?
The Super Spinner actually takes the content from other websites, runs it through a thesaurus and cranks out "original" content. The only issue is that the content is stolen and for the most part it is completely unreadable. The "spun content" is essentially created by a thesaurus replacing words, but the result is unintelligible.
Who in their right mind is going to click on garbled nonsense and purchase a product? Besides, even if you do manage to find any success, it won't be long until you're blacklisted by Google for plagiarism and stealing content. This is seriously a product you should steer clear of. I can't believe this product still there today and does it get any sales? I ran a quick report in keyword research tool called Jaaxy for the phrase: "Project Fast Income" and this is what it shows:
On average there are only 104 monthly searches in Google for this product name. There are few other ones but overall traffic is super low meaning this product barely gets any interest.

Price
So, how much is Project Fast Income going to cost you? Truthfully, the price of $29.95 isn't all that bad especially when compared to some other exorbitant prices for digital products. The issue is that you are paying $29.95 for garbage. The suite of plugins from Project Fast Income aren't worth a dime and you shouldn't waste your money. Besides, in addition to that cost, you'll also need to purchase a WordPress site, domain name, advertising and potentially even hosting. These costs all add up.
 Pros / Cons
Pros:
The sales page actually provides a detailed explanation of what the product is
You can see some results initially
Cons:
Uses poor ethics – spinning content, plagiarism, backlinks, etc.
You must have a WordPress site for the plug ins to work properly
The site is based on copying content and spinning it for monetization
The Super Spinner creates awful articles that are not reputable and don't feature proper grammar
There is a lot of hype throughout the sales funnel, but these significant results typically are not realized
You are likely to be blacklisted by Google quickly after starting up
 Who is it For?
Project Fast Income is marketed for beginners to intermediate affiliate marketers. This is because experienced affiliate marketers would see it for what it really is right away, and that's complete garbage. Experienced marketers know that there's no such thing as complete automation.
Affiliate marketing takes time and effort and if you aren't willing to put that time in you won't see results. It's a simple as that. Simply put, Project Fast Income isn't for anyone. It's a scam and you'll be throwing your money down the drain by trying it out.
 Training Tools / Support
Project Fast Income is a set of plugins or tools for affiliate marketers. There is limited training on the suite of tools, but that's because there's little for you to do because Project Fast Income steals, spins and monetizes content for you.
The Content Builder tool will steal content from other sites and copy it into your content folder on WordPress. Then the Super Spinner rewrites those stolen articles, but the result is pretty unreadable. The additional plugins do a mix of monetization, ad creation and list building. There are also tools to generate backlinks and auto comment. The tools are meant to automate the process from start to finish, but what you're left with is a poor excuse for an affiliate marketing website.
These type of products were popular in the past before 2013. Most of them already closed their websites and non existent today. I am not sure who buys Project Fast Income today and what volume of sales it gets.
Final Opinion / Verdict
Project Fast Income sounds awesome. Seriously, a suite of tools that automates the entire affiliate marketing process and can net you over $2,500 a day? What could be better than that? The issue with Project Fast Income is that it falls well short of delivering on the results it advertises.
Right from the start you can tell that Project Fast Income is not a reputable product. The sales page is a hokey and the claims that you can make over $2,000 a day are bogus. Those right there should be red flags and send you running in the other direction.
But a closer look at Project Fast Income is even more frightening. The entire product is based on stealing content from other websites and the "spun" content you are left with is a joke. Project Fast Income is a terrible product and even though the cost is low, you'll be throwing your hard earned money away. Do yourself a favor and don't waste your time on this opportunity!
We Constantly Review Programs in "Make Money Online" Niche,
So That You Don't Have to Waste Countless Hours
Want To See Our
TOP RECOMMENDATION?