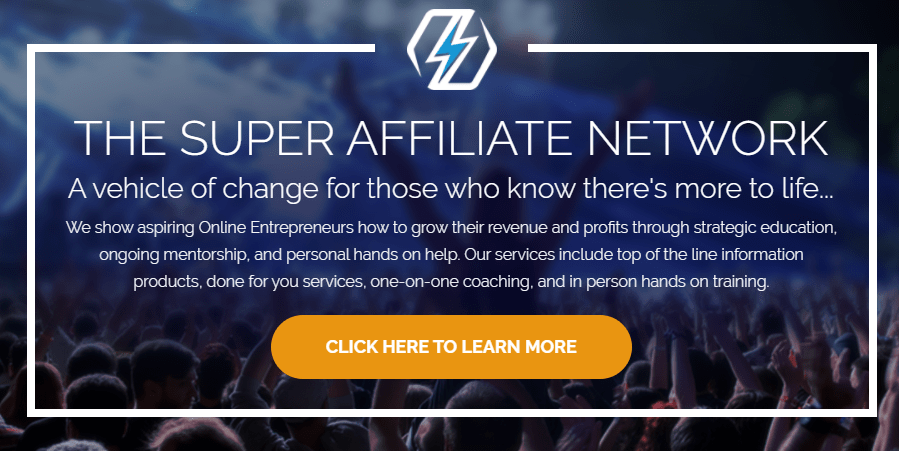 The Super Affiliate Network Review Summary
---
Name: The Super Affiliate Network
Website: https://thesuperaffiliatenetwork.com
Founders: Misha Wilson
Product Type: Affiliate Marketing
Price: $47 a month + Up-sells
Quick Summary: The Super Affiliate Network is an advanced course geared towards teaching anyone to start online business with use of affiliate marketing and mastering various marketing techniques like: Email Marketing, Solo Ads and more. There is a lot going on in this course including some MLM aspects and some heavy up-sells. It's a legitimate course but with many Red Flags. Find Out Why below: 
Overall Rating: 3/10
Recommended: No
What is The Super Affiliate Network?
If you are looking into ways to make money online you've probably stumbled across the Super Affiliate Network (SAN). If so, you're probably wondering what it's all about.
Well, the Super Affiliate Network was created by Misha Wilson—who is actually a real person with real internet marketing experience—and is essentially a boot camp that teaches you how to promote the program.
The Super Affiliate Network compiles all the tools necessary to learn and implement a successful affiliate marketing strategy. But this might leave you wondering whether or not the Super Affiliate Network is a program that you should actually invest in.
When trying to figure out if the Super Affiliate Network is legitimate, reading online Super Affiliate Network reviews can complicate things because there are so many people promoting this program. That's why I am here to give you a completed unbiased review of the Super Affiliate Network.
Is The Super Affiliate Network a Scam?
So, is the Super Affiliate Network a scam? No, it's not! However, there are many Red Flags that you should take note of before jumping head first into the program and invest all of your time and money. 
One of the biggest red flags is that there are so many up-sells. We're talking up to $12,000 in up-sells. Yes, TWELVE THOUSAND DOLLARS! Even without the costly up-sells which doesn't let you make commissions on the higher price tag items—you will still be shelling out almost $40 a month just for training. Surely there are far better options out there that will cost you less and offer a real value.
In retrospect, $12,000 wouldn't seem so steep if the Super Affiliate Network actually taught you affiliate/niche marketing techniques and provided tools that could be applied to other niches.
This is where MLM scheme can be seen. The problem is that the Super Affiliate Network primarily focuses on promoting the Super Affiliate Network. If you are trying to learn affiliate/niche marketing to promote a product or niche that you are passionate about, what you learn here probably won't translate well.
And as mentioned earlier another biggest problem is that by signing up to their Basic package you can't get commission for higher packages. So Misha forces you to upgrade to higher packages in order to be able to promote them. 
I am Vasiliy, 
Discover My Secrets to Making Money Online
So, how much does The Super Affiliate Network cost? That depends on what you're looking to get out of it. Most members are lured in by the $1 trial. However, that $1 only covers the first 30 days. After that, it will cost you a whopping $47 per month for access to the Super Affiliate Network member's hub. For those who skip the trial period, you can gain access for $37 per month via the Discount Membership. 
So here are all the levels of SAN memberships:
SAN Basic Membership $37/$47 a Month
This is a basic 3 weeks bootcamp course that gives an overview of the program and covers very basic elements such as: 
Profit Boosting Bootcamp
Done-For-You Offers to Promote
Done-For-You Capture Pages
Done-For-You Multi Channel Folow-up
Access to the Weekly Inner Circle Coaching Call
SAN Annual Membership $297 Per Year
All of SAN Basic Monthly Membership plus 

Access to the Solo Ad Success Formula




SAN Pro Level $2,497 per Year
Monthly Immersion Coaching with Misha Wilson

​Access to Systematic Profits

​Access to Magnetic Selling Machine Product

​Access to All Future Courses launched by Misha Wilson

​Done for you Sales Team
​Maui Intensive $9,997 One Time Fee
Positioned as coaching and mentorship program designed by Misha himself. (What a nice way to make this sound hyper important)
​1 on 1 coaching with Misha Wilson in Maui, Hawaii to put together 

6 and 7 figure Branded Business Ecosystem
Here is avideo from one of SAN Affiliates who explains how much commission you would get by upgrading to each of these levels. By the time you finish watching the video you will say this is a Pyramid Scheme because basic membership tiers give you a little general information in the beginning and as you upgrade to higher packages it is all geared towards promoting The Super Affiliate Network itself. 
When I was reviewing this program I kept on deciding to classify it as Scam and then changing my mind to simply Not Approved because on one hand they do have legitimate course but on the other hand they packaged this all in to a Pyramid Scheme geared towards luring people in with smaller fees and forcing them to upgrade to higher ticket up-sells. 
Tired of Wasting Time on Low Quality Programs?
I'm so grateful that I was able to find THIS PROGRAM which helped me to finally start making money online!
PROS
It offers a 30 day trial for $1
Founder Misha Wilson is a real person with niche marketing experience
The training is easy to follow and well put together
There is a money back guarantee
CONS
Signs of Pyramid Scheme
There are costly up-sells that members are subjected to
Some videos require a password that can only be accessed by hiring a coach who has the password
There are so many different training options that it can be confusing to keep track of everything
The sales page is littered with fake testimonials
The training is all geared towards selling the Super Affiliate Network and isn't easily applied to other niches or products
Wondering who the Super Affiliate Network is geared towards? There are various levels of training, but it is best utilized by those looking to be active in niche marketing. The training is mostly geared towards beginners who are just starting out, but there is some more advanced information that more experienced niche marketers can benefit from.
The major drawback is that the Super Affiliate Network mostly covers promoting the Super Affiliate Network. That means people looking to learn niche marketing techniques to apply to a specific niche may be disappointed. However, if you are looking to promote the Super Affiliate Network and looking for a product where you can earn high commission this might be a program for you while it's still there. 
What is the Future of SAN?
Let me know if you ever heard of any of these programs: 
I have provided links to each one of these programs to either ftc.com website or my internal post discussing why these businesses were shutdown. 
The Super Affiliate Network smells exactly just like any of the programs listed above with hard up-sell tactics and MLM scheme putting pressure on people to upgrade promising they would easily make their money back. I will not be surprised that after numerous complaints FTC will start investigation in to them as well. 
But then you may say Vasiliy - they offer really good: "Money Back Guarantee" and this is what they say: 
Based on the level of membership you buy they promise to give you $100 back or $1000 back for higher membership for wasting your time. Is that really true? Well let's see what happened to some of their members who tried to get a refund. Comments from BBB:
Not only you will not get $100 for time wasted you will not even get your refund for the upgrades that you buy.  Moreover you will be balled around, put on the phone with a coach and even asked to buy higher tier membership. 
While I did badly want to classify this program as a scam or pyramid scheme I decided not to do this only because they do have a course to back up their product which does teach many aspects of affiliate marketing. 
I definitely cannot recommend this program because it's clearly geared towards upselling people by getting you in with a basic membership and trying to upsell further. 
There is a reason Legitimate programs like THIS ONE exist because they don't have any up-sells and really offer valuable education on how to start business in any niche, because the whole reason you want to build online business is to enjoy long term benefits that will last for years to come. 
I hope you enjoyed my review. Let me know if you have any comments below: 
4 Simple Steps
to Owning a Highly Profitable Online Business
WITHOUT

Any Experience...