Name: The Super Affiliate Network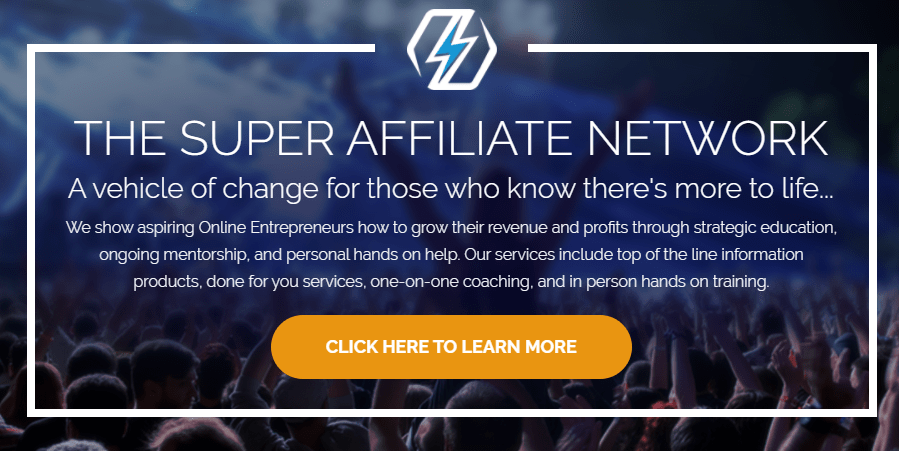 Website: https://thesuperaffiliatenetwork.com
Price: $47 / month + up-sells
Founders: Misha Wilson
Overall Ranking: 5 / 10
Who's it For: Niche Marketers
Super Affiliate Network Review
If you are looking into ways to make money online you've probably stumbled across the Super Affiliate Network. If so, you're probably wondering what it's all about. Well, the Super Affiliate Network was created by Misha Wilson—who is actually a real person with real internet marketing experience—and is essentially a boot camp that teaches you how to promote the program.
The Super Affiliate Network compiles all the tools necessary to learn and implement a successful affiliate marketing strategy. But this might leave you wondering whether or not the Super Affiliate Network is a program that you should actually invest in.
When trying to figure out if the Super Affiliate Network is legitimate, reading online Super Affiliate Network reviews can complicate things because there are so many people promoting this program. That's why I am here to give you a completed unbiased review of the Super Affiliate Network.
 Is The Super Affiliate Network a Scam?
So, is the Super Affiliate Network a scam? No, it's not! However, there are some Red Flags that you should take note of before jumping head first into the program and invest all of your time and money.
One of the biggest red flags is that there are so many up-sells. We're talking up to $9,000 in up-sells. Yes, NINE THOUSAND DOLLARS! Even without the costly up-sells—which doesn't let you make commissions on the higher price tag items—you will still be shelling out almost $50 a month just for training. Surely there are far better options out there that will cost you less and offer a real value.
In retrospect, $9,000 wouldn't seem so steep if the Super Affiliate Network actually taught you affiliate/niche marketing techniques and provided tools that could be applied to other niches. The problem is that the Super Affiliate Network primarily focuses on promoting the Super Affiliate Network. If you are trying to learn affiliate/niche marketing to promote a product or niche that you are passionate about, what you learn here probably won't translate well.
The Super Affiliate Network is not a scam. In fact, there is actually some good information and tools provided. The issue is that it is centered on promoting the Super Affiliate Network, which isn't for everyone.
Price
So, how much does The Super Affiliate Network cost? That depends on what you're looking to get out of it. Most members are lured in by the $1 trial. However, that $1 only covers the first 30 days. After that, it will cost you a whopping $47 per month for access to the Super Affiliate Network member's hub.
For those who skip the trial period, you can gain access for $37 per month via the Discount Membership. That might not seem too steep, but keep in mind that's over $400 a year. For those looking to get the premium experience, the VIP Membership will cost you $2,000 per year.
There is also another option, the Diamond Membership, that will give you access to everything. This will cost you $9,000. Overall, there are just too many up-sells with this program and the costs quickly add up.

 Pros / Cons
Pros:
It offers a 30 day trial for $1
If you are willing to skip the trial you can get a discount on your monthly membership
Founder Misha Wilson is a real person with niche marketing experience
The training is easy to follow and well put together
There is a money back guarantee
Cons:
There are costly up-sells that members are subjected to
Some videos require a password that can only be accessed by hiring a coach who has the password
There are so many different training options that it can be confusing to keep track of everything
The sales page is littered with fake testimonials
The training is all geared towards selling the Super Affiliate Network and isn't easily applied to other niches or products
 Who is it For?
Wondering who the Super Affiliate Network is geared towards? There are various levels of training, but it is best utilized by those looking to be active in niche marketing. The training is mostly geared towards beginners who are just starting out, but there is some more advanced information that more experienced niche marketers can benefit from.
The one drawback is that the Super Affiliate Network mostly covers promoting the Super Affiliate Network. That means people looking to learn niche marketing techniques to apply to a specific niche may be disappointed. However, if you are looking to promote the Super Affiliate Network, this might be a good program for you.
Training Tools / Support
The training varies greatly by the membership level that you purchase. Overall, you will be put through a series of training that teach you how to make profits as an affiliate marketer. You will learn about traffic generation, email marketing, branding, list building and more.
If you buy into the Basic Membership, you will also get access to The Profit Boosting Bootcamp, Done for You Offers to help promote your niche offerings, capture pages, monthly immersion coaching and learning how to follow up across multiple channels.
The Plus Membership will provide the tools listed above, in addition to many more items. With the Plus Membership you will learn about solo ads, get extra coaching sessions, systematic profits, learn about the magnetic selling machine, 1,000 person seed list to get started, a custom capture page, weekly coaching, custom branding for your specialized sales funnel and a done for you phone sales team.
Final Opinion / Verdict
Overall, the Super Affiliate Network is a not a bad program for those looking to promote the Super Affiliate Network. There are some great tools at your disposal and the done for you options are good. The extremely expensive up-sells are annoying, but you can always decline them although you won't be able to get the maximum benefit without purchasing all the up-sells, this is the whole tactic used within the program.
My biggest problem with Super Affiliate Network is that imagine you invest your time and money ($$$$) to only learn one simple thing is how to promote this product itself. What if these guys go out of business or you simply want to diversify and promote other products? This is a big problem because you are limiting your focus and putting all eggs in one basket.
I hope this review helped, let me know if you have any comments below: