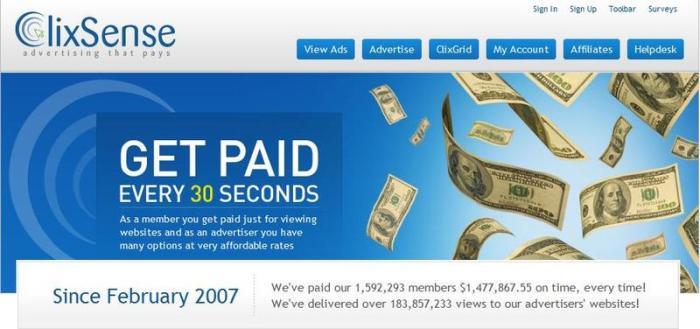 Name: ClixSense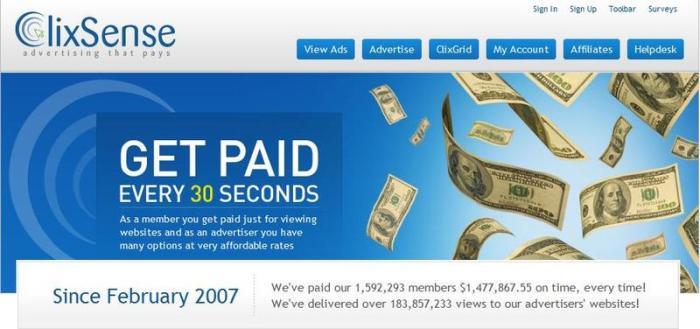 Website: https://www.clixsense.com/
Price: Free to join
Overall Ranking: 5 / 10
Who's it For: Survey takers
What is ClixSense.com About?
Have you been lured in by the ClixSense hype? Are you wondering what ClixSense is actually all about? Well, keep reading for an unbiased review of ClixSense and all it has to offer.
ClixSense is a website that pays members for completing a variety of tasks. You can earn money for completing surveys, signing up for offers, and even simply for clicking ads. This seems like a legit way to make money, which is why it has become so popular in South America, Europe, and Asia.
The site launched in 2007 and started as a paid to click (PTC) site. However, in 2017, ClixSense changed their core business model to shift to a GPT or get paid to site. Users can now earn money many different ways. This seems appealing, but is ClixSense legit? And is it a viable option to make decent money online?
 Is ClixSense a Scam?
So, is ClixSense a legit website? There are some ClixSense complaints—more on that later—but yes, this website is legitimate. Since 2007 they have been paying their members for the "work" completed. They pay members via PayPal and Payoneer.
The issue with ClixSense is that you cannot make a lot of money using the website if you are just taking surveys and clicking on offers. The only way to make actual money is by signing up for their affiliate program, which of course will cost you. Why you have to pay to promote their product for them, but that's how the model works. Especially since you can use and learn the site for free.
Regardless, another issue with ClixSense that garners some complaints is the low prices/rewards. That's something you are going to run into with any GPT site and solidifies the fact that you cannot earn significant income using ClixSense.
Finally, some users complain about the minimum payout amount being too high. For non-paid members, you will need to have at least $8 in your account to redeem it. Paid members need only $6, but that can still take a while to earn. Plus, PayPal or Payoneer will also take their cut, which eats into your earnings even more.
I mean seriously is this how much your personal time worth? $1-3 per hour? Sitting for hours in front of the computer and doing complete nonsense work and earn pennies. The reason I say that is because I have tried it and got burned out because you literally can't make any decent income out of this.

Price
Joining ClixSense initially is entirely free. That's great because you can start earning extra income right away without it costing you a dime. However, if you are interested in the ClixSense referral program, it will cost you $17 per year or $30 for a 2-year membership. This isn't too expensive, but you will have to be committed and stick with ClixSense to earn a return on that investment.
Something else to keep an eye on is when you sign up for offers. Make sure they are not going to automatically charge your credit card if a trial period expires. Not all of the Offers cost money, but it's something to keep in mind when you are signing up.
 Pros / Cons
Pros:
You can earn some extra money
It's free to join
There is a wide variety of tasks
Offers affiliate program
Cons:
You have to pay to become an affiliate of the program
The payouts are low
You cannot earn a significant amount of income
You have to have a minimum balance in your account to withdraw money
Both PayPal and Payoneer take a cut of your earnings
Who is it For?
ClixSense is for anyone that has a lot of spare time on their hands to waste. Simply put, this is an earning opportunity that will take a lot of time and effort to earn a little bit of income. If you don't have several hours a day to put into ClixSense, chances are that you will never reach your $8 minimum to cash out. That's the main drawback with ClixSense, the fact that users get too frustrated to even reach their $8 minimum and give up before cashing out on what they have earned.
What are the Clixsense Complaints?
One of the more credible websites called Survey Police has lots of reviews by real members and this is what they say:

You will also find positive ones as this site is legit, but as I mentioned earlier it isn't the site to rely on consistent monthly income.
Training Tools / Support
When it comes to ClixSense there isn't much training and support given, but that is because it isn't necessary. The site is very self-explanatory and if you do have any questions you can contact their support team.
The only training that might be useful is learning the best ways to earn money via ClixSense, but you don't need any official training on that when you have this helpful guide. Earning more through ClixSense will be slow, but you can do it the following ways:
View Advertisements: This is the main way to earn money through ClixSense, but the earning potential is very low. That being said, choosing the Mini and Standard ads will have higher pay rates and if possible, avoid the Sticky ads because they take much longer.
Take Surveys: Surveys are higher paying opportunities than clicking ads, but they do last up to thirty minutes and usually need to be completed in one sitting. Still, you can earn up to $5 for one survey, so it's usually the biggest bang for your buck—or in this case, time.
Completing Tasks: Another way to earn money is completing tasks. This can take more time than clicking ads, but it will earn you more money. Keep in mind that tasks vary by difficulty and you will start out with a 0 difficulty level until you complete more tasks and move up.
ClixOffers: ClixSense has offers that pay you to download applications, etc. and to complete surveys. Payment is not immediate and these are often low paying.
ClixSense Referral Program: As mentioned before, you can also earn money by referring people to ClixSense. This is generally the best way to earn income through ClixSense, but you'll have to pay to join.
Final Opinion / Verdict
So, what's the final verdict on ClixSense? Well, it's definitely not going to help you quit your day job, but if you do join ClixSense you can earn some extra cash on the side. This is a legitimate GPT site that regularly pays members, but there are some detractors that just doesn't make it worth your time.
We Constantly Review Programs in "Make Money Online" Niche,
So That You Don't Have to Waste Countless Hours
Want To See Our
TOP RECOMMENDATION?