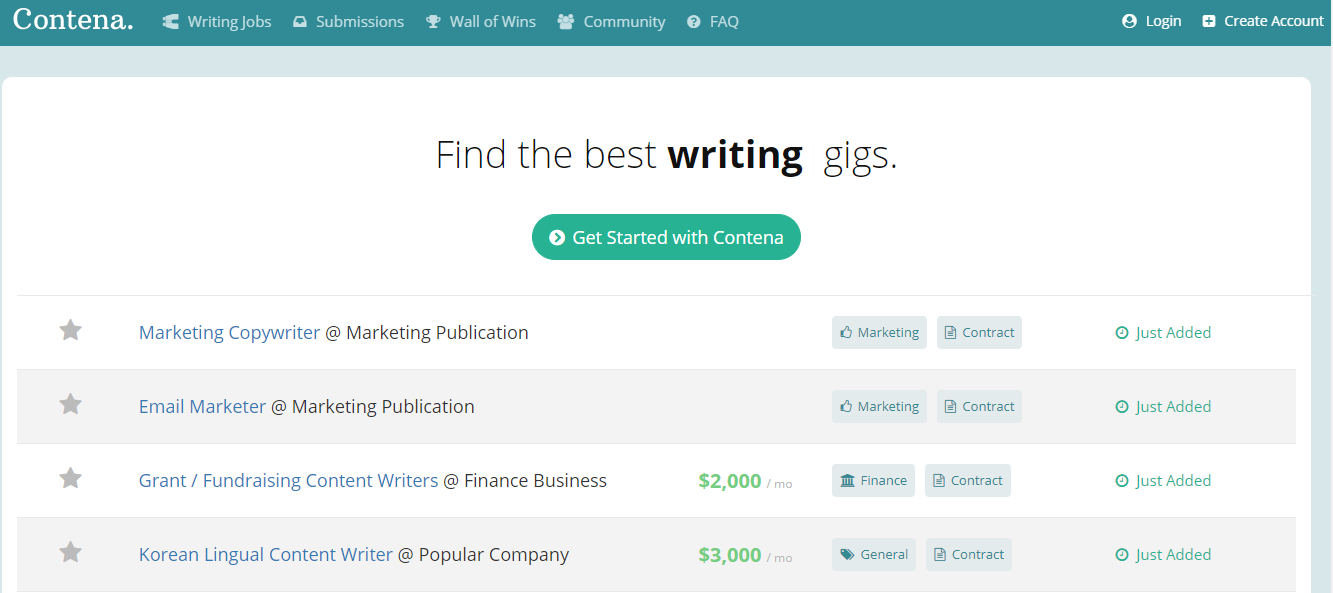 Welcome to My Contena Review!
One of the easiest ways to make money online is to offer your service. For example, if you're good at writing, you can create your own website, showcase your portfolio, and look for clients over the internet.
However, if you're new to this, finding a client on your own can be tricky and that's where job listing sites, such as Contena come in. This website makes it easier for freelance writers to have a writing gig because they don't need to look for it individually. They can just browse projects in one place, submit an application, and wait for the next step.
Contena Review Summary
---
Name: Contena
Website: contena.co
Founders: Kevin Fleming
Product Type: Work-At-Home Jobs For Freelance Writers
Price: $500 to $800 Per Year
Quick Summary: Contena is a legitimate platform that helps freelance writers find clients. They also offer training and other tools that can help you make money online through writing. However, unlike similar websites, they provide paid membership that can go as high as $800 per year.
Overall Rating: 6/10
Recommended: Yes
While Contena sounds like a promising place for writers who want to grow their business online, there are a few considerations that you should know before you sign up -- and that's what I'll be discussing in this honest Contena review.
P.S.
Are you passionate about writing and you want to grow your business without any boss? Then I have the best opportunity for you! Simply click this link to get my free step-by-step guide on how to make money online.
Contena is a website that offers remote writing jobs to freelance writers. However, unlike typical job listing sites, it comes with a cost. Apparently, before you find a client, you have to become a member and pay the monthly fee required.
At first, I was skeptical about this website. For one, you will offer your writing service online but before you can earn from it, you need to pay a certain amount every single month. I mean, you're doing Contena a favor and yet, you have to spend for membership first. I've been writing online for more than a couple of years and the platforms I've signed up with rarely ask for a fee.
Next, it says that you can join even when you're just a beginner. Based on my experience, you need to have an experience or at least, the skills and expertise in writing before you apply for a job online. Otherwise, your application will be rejected. The client will pay for your service so more or less, they want someone who will give their money's worth. So, if you're a newbie, you are less likely to get a job.
However, I found out that there's a reason behind the monthly membership fee, such as:
Contena Academy
I mentioned how important experience and skills are when applying for a writing job. Clients use this to know whether you are fit to do the job or not.
If you're new to writing and you signed up with Contena, you have access to Contena Academy -- a platform that helps new freelance writers learn more about writing, finding a client or writing job, creating a portfolio, etc.
Even seasoned writers can benefit from this program because aside from learning the ins and outs of freelance writing, the course also talks about promoting yourself as a writer. For me, this is helpful because not all writers are good at marketing their service or looking for a client.
Sooner, when you have all the experience you need, you can skip this platform and start your own writing services that will help you save money on fees.
Mediation
One thing I learned about freelancing is that nothing is stable. Your client can leave you anytime they want. After all, you're working for them remotely so you have no control in case they don't want to pay or work with you anymore.
This is one thing I like about Contena. Before providing your service, the client will put money into escrow so you can have it once the job is done. In case there's a problem, Contena acts as the mediator and helps both parties resolve the issue.
Therefore, there's no need to worry about not getting paid.
Customer Support
No matter how simple or extravagant your service is, if your company has poor customer service, it's useless. Fortunately, Contena provides 24/7 customer support to their writers so you don't have to wait for a day or two before you get answers to your questions.
Contena is not a scam. It's a legit site that offers writing gigs to both new and seasoned writers. However, it's challenging to find a legit comment about this platform because of their affiliate program. It's not that I don't trust the feedback at all; it's just that they are promoting a platform and for them to earn commissions, they have to convince people to sign up. So more or less, most reviews are biased.
I managed to see feedback about this from a former member and he/she said that Kevin Fleming, the founder of Contena, asked him to take down his negative review. There's no way to read his post about this now since he/she has removed it because he/she doesn't want to take the chance to get sued.
You can read more of this by clicking this link.
Again, I'm not saying that I don't trust this program. It's just fair to know the opinion of other people, whether it's negative or positive, to give them an idea of what to expect from the program.
As mentioned, you have to pay first to become a member of Contena. The membership gives you access not only to the jobs available but also to the other tools and training that would help you as a writer.
However, I think the pricing of their membership is too expensive, especially when you know that you can get legit, free training somewhere else, such as the one offered by my top recommended program.
Anyway, Contena offers two memberships:
Gold Membership ($500/year) or $129/month if you want to pay it in 5 monthly installments
Platinum Membership ($800/year) or $199/month if you want to pay it in 5 monthly installments
You can also pay $100 per month if you only want their monthly membership. For me, this still expensive considering that most platforms that offer freelance jobs are free.
To know more about Contena, you can watch the video below:
Here Is My Top Recommendation to Start Highly Profitable Online Business from Comfort Of Your Home
PROS
Good Training For Promoting Yourself As A Writer
If you want to offer your service without the help of another platform, the learning you can get from Contena's training can help. The modules focus on creating a platform, designing your portfolio, and marketing yourself as a writer and you can take advantage of this if you want to make more money writing for other people.
Mediation
Working online is both a blessing and a curse. Blessing because of the many convenience and comfort you get out of it. Imagine, you can make money anywhere you are. However, it's risky since you don't see your client and anytime, they can walk away without paying you. With Contena, you don't have to worry about unpaid articles because they will be the mediator or the middle person between you and the client.
CONS
The Waiting List
Once you signed up with Contena, you cannot automatically apply or explore their platform. Instead, you will be put to a waiting list. Seriously? What is this all about? Did you pay for it only to be asked to wait?
Some members think that the company only uses the details provided by their users for their own interest, such as for sending promotions via text or email.
Expensive Fee
I've been working for more than 2 years as a freelance writer and never have I paid for a platform to help me find a job. For me, I think this is either a scam or a low-quality program. But then again, Contena has justified its fees but then, I know programs that offer value and legit training for free, such as Wealthy Affiliate.
Aside from the learning you can get from Wealthy Affiliate, you'll also learn how to make writing profitable even without a boss. For me, this is more ideal if you want to be free from fees and deadlines. Of course, you have to work hard to gain results but at least, you can make and save more money by starting your own affiliate website.
Tired of Wasting Time on Low Quality Programs?
I'm so grateful that I was able to find THIS PROGRAM which helped me to finally start making money online!
While Contena is suitable for both newbies and seasoned marketers, I recommend this to writers who are serious about making a career in writing online. If you're a beginner or even a seasoned marketer and you want to take writing only as a side hustle, I don't think it's worth it to pay a hundred dollar a month.
Besides, you can always look for free training online.
However, you can consider Contena as an option if you want to offer your service without worrying about unpaid jobs. You can also sign up for this platform if you want to take advantage of their training program, which, despite not focusing on becoming a good writer, can help you promote yourself and services.
Contena Academy is one of its main features. It has 9 modules that talks more about promoting your service and finding a client. However, it doesn't really explain how you will develop your writing skills.
Overall, Contena is a good program and if you have spare cash you want to use on your own improvement, you can consider this platform. Learning how to write is a challenge, promoting yourself as a writer is another issue and you can learn these things when you sign up with this program.
Writing online is a good skill that will help you make money over the Internet but it's not always easy because of the competitors. What you can do is take advantage of their training and look for other sources online.
Otherwise, you can check out our highly-recommended option below.
Want to make more time on things that really matter but also, looking for a way to make money at home?
If that's the case, I suggest that you sign up woth our #1 recommended program. It's one of the most popular platforms online for people who want to earn extra cash at home. If you're interested to attain financial freedom, join now and get access to the following:
Training resources
Webinars to help you start your business online
One-on-one coaching
Comprehensive guide
And many more!
I hope that you've been enlightened with this Contena review and if you have questions or comments, please feel free to share it below.
Thank you!
We Constantly Review Programs in "Make Money Online" Niche,
So That You Don't Have to Waste Countless Hours
Want To See Our
TOP RECOMMENDATION?