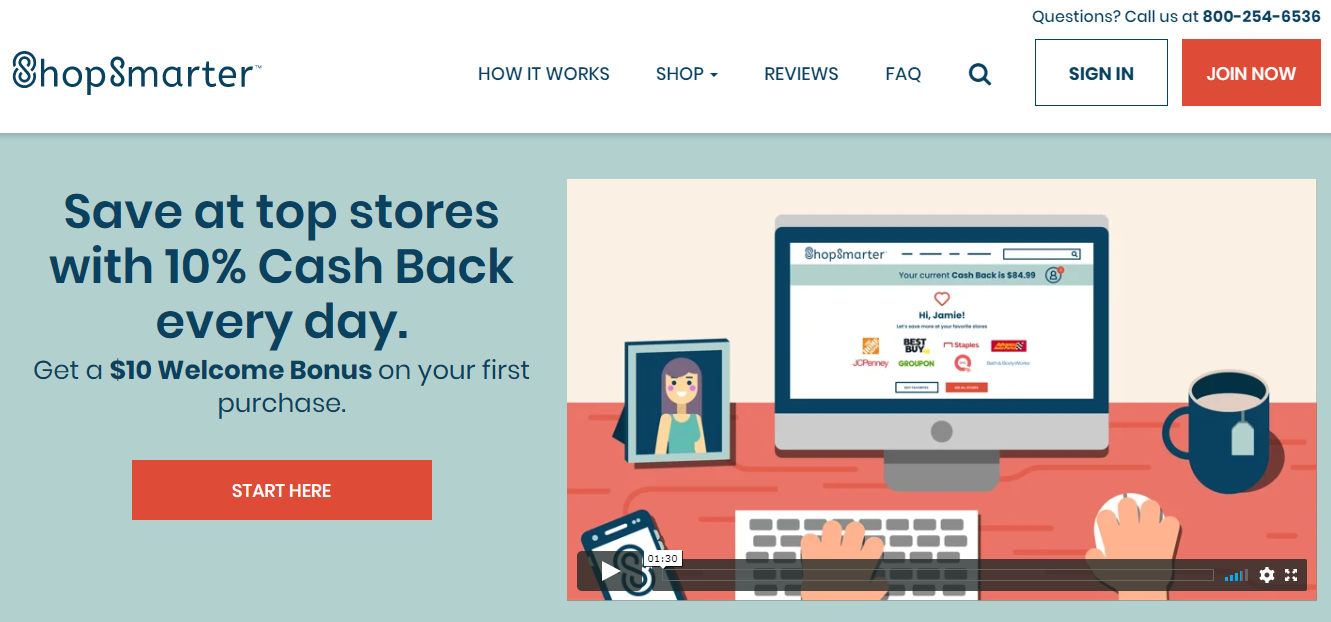 Welcome to My ShopSmarter Review!
Cashback websites are beneficial for anyone who loves shopping online. Imagine, all you have to do is purchase your item through a platform and earn a certain amount for doing so. However, is it a good idea to do this with a site called ShopSmarter?
ShopSmarter Review Summary
---
Name: ShopSmarter
Website: shopsmarter.com
Founders: Undisclosed
Product Type: Cashback Site
Price: $1.97 For A 7-day Trial | $9.97/ Month
Quick Summary: ShopSmarter is a cashback site that pays its members 10% cashback whenever they shop inside the platform. It's a legit website that is ideal for those who shop most of the time. However, unlike other cashback sites, it will ask you to pay a membership fee before you can earn from their platform.
Overall Rating: 2/10
Recommended: No
In this review, you will learn what it is about. Is ShopSmarter a scam? What makes this program different from other cashback sites?
What Is ShopSmarter About?
If you haven't heard of cashback sites, such as ShopSmarter, it's a website that allows you to buy items from different merchandisers and pay you for doing so. According to its sales page, this program will give 10% cash back every day.
For the benefit of the doubt, here's a quick explanation of how cashback sites work:
If you shop online, you know the drill: you "add to cart" the items, checkout, and pay. When using a cashback site, you will do the same thing: click the item you want to purchase and you will be directed to the retailer site. Check out and pay as usual.
The difference is that you will receive a percentage of the total amount you settled.
Wondering why you get paid for shopping with cashback sites? It's because they work with affiliate networks. Cashback websites, like ShopSmarter, earn a commission for referring new people and they are giving you a cut for it.
Going back to ShopSmarter, this platform has partnered with more than a thousand stores, such as BestBuy, Walmart, Groupon, Target, Macy's, etc.
Basically, cashback sites are a good idea if you want to save tons of money shopping online. I mean, if you buy things over the Internet most of the time, it's better if you can get a discount or get a percentage back of the money you've spent. Sadly, you cannot use it to make a good amount of cash online. Also, not all similar platforms are legit so it pays to know if ShopSmarter is a scam or a legit program before you sign up.
How ShopSmarter Works?
Unlike other cashback sites, you can't just sign up and get your money back. Apparently, you have to pay a certain amount, which you can cancel anytime. Then, you can start shopping. Be sure to click the link found inside the platform so you can earn a cash bacl\k.
For example, you want to buy something from Macy's. If you want to get a percentage back, you have to shop directly from ShopSmarter and let the link take you to the retailer's site. Do not shop from Macy's directly or else, ShopSmarter won't be able to track the items you've purchased.
After you pay for the item, you have to wait for about a week before your earnings are credited to your ShopSmarter account.
As for your earnings, you will get paid via paycheck every 15th of the month.
Other Features Of ShopSmarter
Coupons
Inside the platform, you'll coupons that will allow you to save more cash on shipping.
Comparison Tool
As the name suggests, you can use this tool to compare items according to their price.
ShopSmarter is a legit website that pays its members for shopping using their platform. I found a few reviews that would support this claim, such as the one below:
However, I also found several complaints against ShopSmarter, like this one:
As you can see, there are members complaining about their account suspended without notification from the management or anyone inside the platform. It also shows how poor their customer service is since one user did not receive any call or follow-up from their team. Also, if you will check their Facebook and Twitter account, it's not updated and the comments from their members are not getting any response at all.
Nonetheless, even if they did receive their pay, you cannot really earn a lot from cashback sites. If you want to make money online, what you can do is use the same concept that ShopSmarter uses -- affiliate marketing.
What Is Affiliate Marketing?
Just to give you an idea about affiliate marketing, this legit method of making money online is used by many marketers. If you don't know how it works, you can check out my free Step-By-Step Guide now.
Basically, you need to join an affiliate marketing program like Wealthy Affiliate, which is the top-recommended platform of many internet marketers. Next is to place affiliate links to your website or social media. Every time a visitor clicks on that special link, you will earn a commission.
It's simple and you don't need to spend a huge amount to start an online business.
If you want to learn about affiliate marketing, you can watch the video below:
As mentioned, you need to pay for your membership first before you can earn with ShopSmarter. On their platform, it says that the monthly membership costs $9.97 or $1.97 for a 7-day trial.
To be honest, this is my first time to encounter a cashback site that asks for a membership fee. Similar platforms that I have reviewed in the past offers free membership. It might sound suspicious but I've learned that this is also where they get the payments for their members.
Here Is My Top Recommendation to Start Highly Profitable Online Business from Comfort Of Your Home
PROS
Over 1,000 Retailers To Choose From
ShopSmarter did not only partner with popular online retailers; they also work with more than 1,000 retailers which mean that you have many options to choose from. Some stores offer 10% while others can pay you as high as 20%.
Price Comparison Tool
I believe this tool helps a lot when looking for a cheaper alternative. Let's say you want a swimming diaper; you can just type in the keyword and ShopSmarter will show you products, prices, and coupon related to the item you want to buy.
You can also filter the product according to the price you are comfortable with.
CONS
Membership Fee
I said this once and I'll say it again: this is the first time that I've encountered a cashback site that will ask you to pay to become a member. Although their cashback is bigger than the others (most cashback sites only offer 2% to 5%), not all products inside ShopSmarter platform will pay you back.
You've read it right! If the product you want to purchase is not based in the United States, there's a chance that it will not offer a cashback.
Only One Payment Option Available
When you want to withdraw your earnings, the only option you have is to get it via check, and that means waiting for a month to receive it. Personally, I like to use PayPal because it's easy and you can create a free account in minutes. Also, there's an option in my country to receive cash in real-time.
Too Many Negative Complaints
While receiving a backlash from members is normal for all businesses, the negative complaints received by ShopSmarter is just too much. Some of the complaints involved being called a scam, misleading details, banned accounts without notification, and poor customer service.
FREE TRAINING
Learn How I Started Highly Profitable Online Business From Comfort of My Home Following This Blueprint
ShopSmarter and other cashback sites like, Mr. Rebates, is ideal for anyone who ALWAYS shops online. It might not give you a stable source of income but at least, it can help you save money. Now, I capitalize the word ALWAYS because remember, you will pay $10 every month so if you're not shopping most of the time, the membership fee is useless.
If you want to try cashback sites, you can just opt for similar programs that offer free membership.
ShopSmarter is a legit site that pays online shoppers a small percentage when they shop. However, I cannot recommend it not only because it won't help you make money online, but also because you have to pay to get paid.
I don't like the idea of a paid membership for this kind of platform because one, they don't offer a huge amount of cash and two, because you won't get anything from it. No training. No learning. No useful tools that will help you make money or improve yourself so I don't see it's worth.
Looking for the best way to make money at home? Then look no further!
Just sign up with our top-recommended program and have access to these perks:
Training resources
Webinars to help you start your business online
One-on-one coaching
Comprehensive guide
And many more!
I hope I have enlightened you with this ShopSmarter review and if you have any questions or comments, please feel free to drop it down below.
Thank you!
We Constantly Review Programs in "Make Money Online" Niche,
So That You Don't Have to Waste Countless Hours
Want To See Our
TOP RECOMMENDATION?