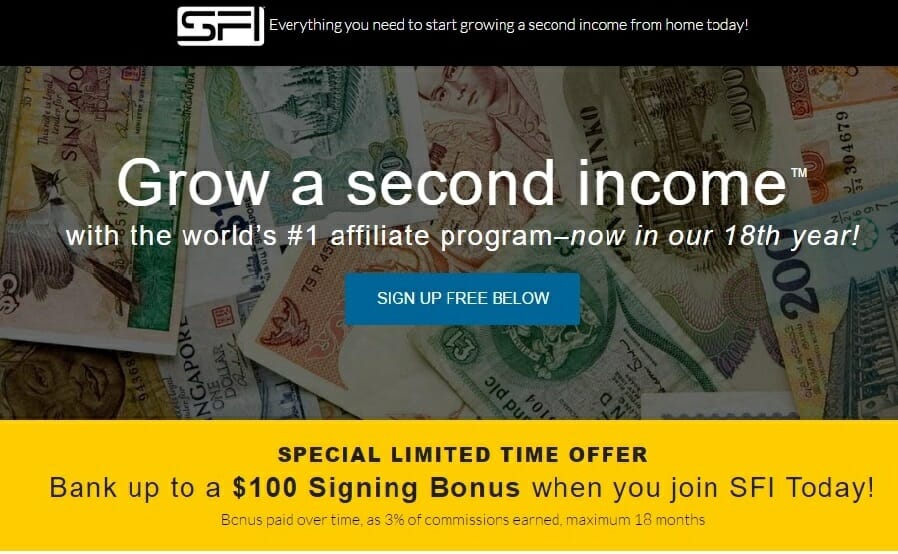 Welcome to My SFI Review!
When I first reviewed SFI back in 2016 they had a website sfi.com, but it was no longer active in 2020 - instead you should go to https://sfi4.com to ensure you are in the right place, but nevertheless they still exist and running strong, so let's get started:
SFI Review Summary
---
Name: SFI Marketing Group
Website: https://sfi4.com
Founders: Gery Carson, Carson Services, Inc
Product Type: Ecommerce with Multi-level Marketing
Price: Free to start with lots of up-sells
Quick Summary: In this SFI review we will uncover he good and the bad about this Ecommerce platform with MLM business structure. Is it worth investing your time and money with this MLM opportunity. Is SFI legit after all? Keep on reading for unbiased review.
Overall Rating: 4/10
Recommended: No
SFI also known as SFI Marketing Group or sfi4.com is one of the oldest online marketing organizations that markets different products through it's own Ecommerce platform called Tripleclicks. Members of SFI can re-sell products offered on Tripleclicks.com and receive up to 45% commission.
SFI was created by Gery Carson and has been around for over 30 years now and it is owned by a company called Carson Services Inc. SFI is very proud to stay this long on the market unlike many other similar companies and moreover SFI is a Bronze Member of the Better Business Bureau (BBB).
This SFI review specifically focuses on pointing out all the pros and cons of this program, everything you want to know whether SFI is worth investing your time in.
3 Ways to Make Money with SFI
SFI promotes 3 methods to make money with this program. Here they are:
1. Internet Sales
You can sell products from tripleclicks.com and receive 45% commission from sales. You can also invite vendors to sell their products on tripleclicks.com and receive royalties every time they have a sale. Lastly sell your own products on tripleclicks.com and have other affiliates re-sell them.
2. Team Sales
This is typical MLM approach. You refer people in to the program and receive "override commission" up to 12 referred members in the downline. You will make money whenever anyone in your downline buys something from tripleclicks.com.
3. Profit Sharing
When you accumulate 1500 VersaPoints (points assigned for different activities within SFI) you will be entered in to Revenue Share Pool where every month SFI sets aside certain percentage of their revenue from Tripleclicks sales and splits these funds among the members who maintain 1500 VersaPoints monthly.
SFI offers a free account right? But do you want to be successful? These are some of the nicely crafted up-sells you will need to buy in order to promote this program:
Triplecards – $4.13 for 50 cards
S-builder co-op – $22 per month
Domain – $129
Magnetic sign for the car – $32.99
SFI T-shirt – $16.99
These are only a few, there are many more. As an affiliate you will be recommended to get all these products to promote SFI effectively. SFI has many affiliate partnerships with other companies where they directing you to buy different products to promote SFI.
Tired of Wasting Time on Low Quality Programs?
I'm so grateful that I was able to find THIS PROGRAM which helped me to finally start making money online!
Quite honestly these are all very old techniques to use these days. You will be advised to hand out postcards to your local Pizza shops, ordering a magnetic sign for your car, wearing a T-shirt and of course bothering your family and friends about this amazing opportunity. Here is a glimpse of their marketing methods:
The only thing I kind of liked was S-builder co-op where you can buy for about 72 cents a day an entry to participate in SFI global marketing campaign that will help you get sign-ups. This might be a nice option, although members of SFI in the forum share mixed results and many state it would not be enough to build a sustainable income.
Have You Heard of Tripleclicks.com?
SFI claims they have a huge Ecommerce website with more than 90,000 products and they operate in over 160 countries worldwide, but have you heard about Tripleclicks.com before? I don't think so however we all know what Amazon.com is.
First of all this website designed very poorly, it looks like it was built about 10 years ago and has not been updated much since then, but let's say we don't care about this. Now imagine if SFI members get 45% commission from sale then what are the prices on tripleclicks.com? Here is a quick simple comparison:
You can Google any product from Tripleclicks.com and see a huge difference. Ecommerce websites these days are fighting to offer lower prices but definitely not tripleclicks.com because it is designed specifically for its members to sell products at super high prices.
Why would someone buy anything there when it's almost double the price. And moreover tripleclicks.com filled with lots of products you will have to find a real use for.
You can't just go there like on Amazon.com and buy anything YOU WANT TO BUY. Companies like Amazon, New Egg offer 4-5% commission but they guarantee the lowest price possible and this is how it works TODAY.
SFI doesn't offer any unique products like other MLM companies such as: Vemma, Amway, Herbalife therefore there is no reason you should overpay for the same products you can buy elsewhere online.
Here Is My Top Recommendation to Start Highly Profitable Online Business from Comfort Of Your Home
Training Tools/Support Offered by SFI
SFI has everything you need to promote their opportunity in both old-fashioned MLM style and also Online. If you like MLM type of businesses and like personal interaction then this is what you will do:
You will be asked to hustle your friends and family and anyone you meet outside with this type of approaches that include: handing out postcards, social media, personal interaction, email marketing, regular mail and much more.
To me this is the most annoying thing you can do to your family and friends – having them to buy overpriced products from tripleclicks.com or join the program and become a hustler just like yourself
There is also separate online marketing aspect but it is not even close to what top recommended program called: Wealthy Affiliate offers. You will learn all the elements that include blogging, PPC, Social Media, SEO, YouTube
So SFI offers some techniques to promote their products, but they are far from where the industry currently is with latest marketing trends.
What I liked in SFI was support. You will get support from your sponsor. I also found member's forum to be very well organized and it has lots of good quality information not just how to promote SFI but how to build business in general that includes marketing techniques as well as psychological aspects of how to keep on going forward and not giving up.
This is one of the largest forums I have seen, but the biggest problem is that you are bound to re-sell products offered on Tripleclicks.com, you can't choose which affiliate program to use and which products to re-sell and that is why SFI is MLM where it will be very tough to start seeing real results. The owners of SFI are the ones who make most of the money and their affiliates help them every step of the way.
Is SFI a Scam? Not really it is legit online opportunity which trains people how to promote SFI to others and re-sell products from Tripleclicks.com. Is SFI worth it? I personally didn't find this product to be a great business opportunity that will work for most people in today's market.
You should not be bound to any Ecommerce website or any particular approach and have a freedom to re-sell what you want and how you want it And this is why Wealthy Affiliate uses more simple but far better and effective approach to build online business.
Time is most important and this is why you want to invest it wisely with opportunity that will give you multiple tools and multiple options to build your business in any desired niche whether you want to sell clothes online or maybe promote some fitness program or like cooking or any other interest you may have. You can build your business around hundreds of niches and become successful very quickly.
I hope my review helps. I welcome anyone to share their thoughts on SFI below:
We Constantly Review Programs in "Make Money Online" Niche,
So That You Don't Have to Waste Countless Hours
Want To See Our
TOP RECOMMENDATION?