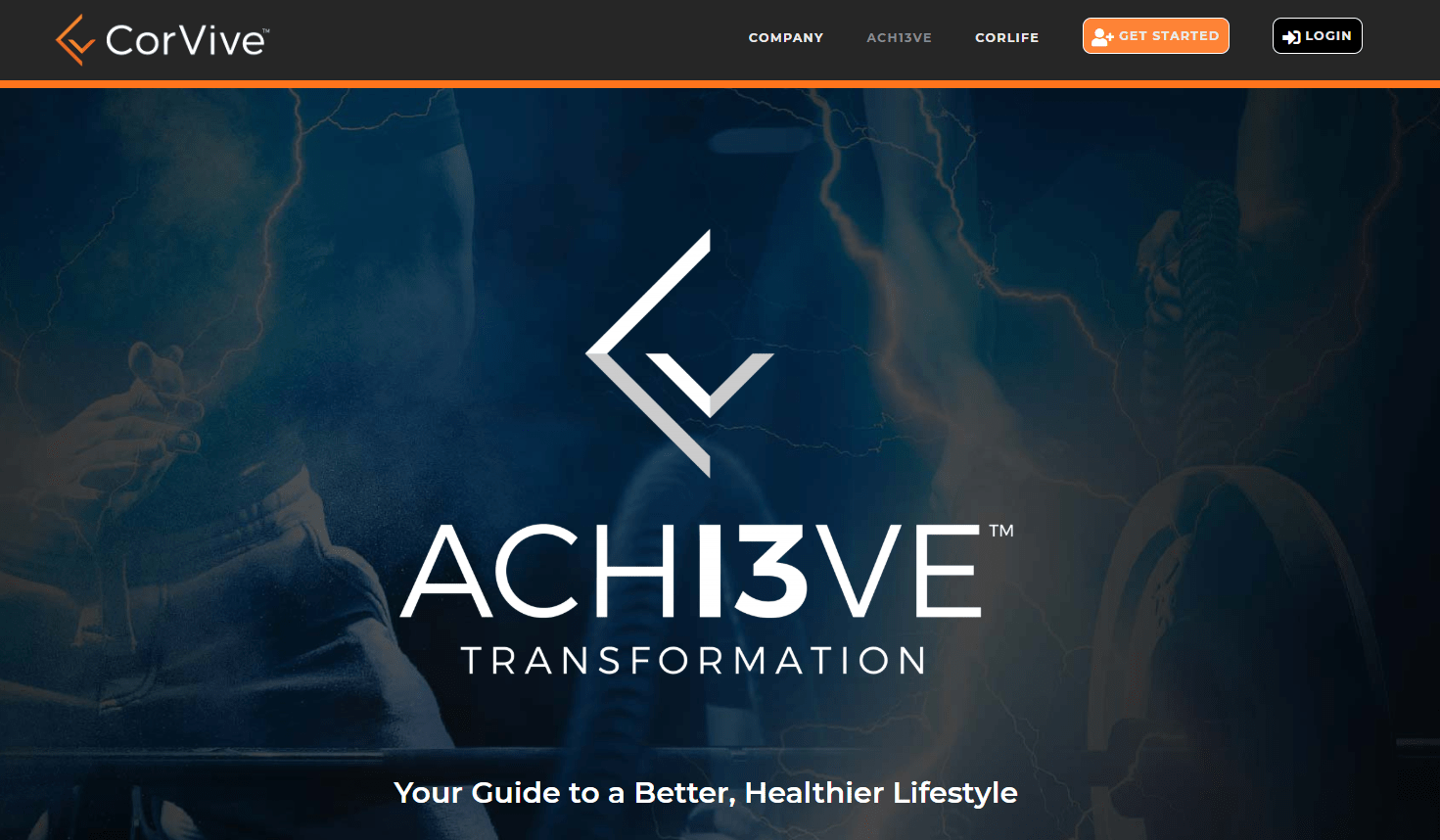 Welcome to My CorVive Review!
Sometimes, the website is more than enough to tell you what kind of company you're looking at. If it's professionally designed, it might mean that the owners would like to make a good impression of their brand and that their promises are sincere.
However, this is not always the case. Some may be covered with good aesthetics but the intention is not genuine.
CorVive Review Summary
---
Name: CorVive
Website: www.corvive.me
Founders: Jeremy Fouts and Candice Fouts
Product Type: Multi-Level Marketing
Price: $14.95 For The Annual Fee + $175 To $575 Worth Of Endorser Kits
Quick Summary: CorVive is a health and wellness brand that promotes supplements and CBD oil. The products claim to alleviate joint and muscle pain, increase energy and enhance metabolism. It also provides an opportunity to make money by selling the products and recruit new members.

The question is: is this the right program for you or not?
Overall Rating: 3/10
Recommended: No
With CorVive, what would it be?
Is it only good looks with no real opportunity or is this one of the few multi-level marketing (MLM) companies that you can trust?
P.S.
I'm not affiliated with CorVive so rest assured that I'm not here to pitch you their program or products. Rather, I'm here to provide an honest review and to give you legit alternative options in case you don't think this company is not for you.
CorVive is a network marketing or MLM company that promotes health and wellness products. At first glance, it looks like a platform focusing on body transformation. They even have a competition that involves sending transformation photos every 30 days.
Founded by Jeremy and Candice Fouts in May 2018, the newly-organized MLM has gained great social media attention in just a short time. Probably it's because their executive team has a solid background when it comes to network marketing and nutrition.
Jeremy, for instance, has founded other businesses aside from CorVive. He has also joined a few MLM companies, such as Live Pure (formerly known as Genesis Pure). On the other hand, Candice has expertise in science and design that she uses for marketing.
CorVive Product Line
As mentioned, CorVive is focused on promoting health products and of course, the business opportunity. It claims to help the user transform by providing the necessary nutrients from their products.
Here's a quick outline of their products:
Nutritional supplements that claim to improve metabolism and energy.
Nutritional supplements that claim to promote proper bowel movement and healthy digestion.
Grass-fed whey protein that claims to be a post-workout drink for recovery.
Nutritional drink that claims to enhance metabolism and increase in energy.
An energy drink mix that improves mental clarity and increases in energy.
Another nutritional drink that claims to replenish the nutrients necessary for muscle, brain, and nerve function.
A CBD-infused cream that relieves muscle and joint pain.
I don't see anything unique with their products; I mean, most fitness programs have the same essentials but it's good to know that it's not full of bold claims.
Also, they encourage their consumers to do a transformation challenge using their products so I think they are really confident with it. However, there's an FDA disclaimer at the bottom of their page saying that the products "have not been evaluated by the Food and Drug Administration."
While it doesn't leave a good impression; it's good to know that they are transparent with it. I appreciate such honesty since most MLM programs I've reviewed in the past have a lot of empty promises about their products.
CorVive Product Reviews
I haven't taken any of their products personally so I will just rely on the reviews I found online. On their website, there are a few testimonials you can look at, such as the ones shown below:
There are also other reviews found on their Facebook Page, such as the ones below:
It's not that I don't trust their products, it's just that I think most of the reviews are from their distributors so it's still best to take it with a grain of salt.
Also, even if their essentials are effective, you cannot just rely on it alone. You still need discipline when it comes to eating the right kind and amount of food, having regular exercise, and living a healthy lifestyle. Otherwise, no matter how efficient the supplements are, it would be useless if you won't change your unhealthy habits.
How To Make Money With CorVive?
CorVive, as an MLM company, offers two ways to make money -- retail sales and recruitment.
When you become a member, you'll purchase the products at a discounted rate so you can sell it based on the company's suggested retail price. That's when you earn retail commissions.
The next option is to invite people to join your team. Through this, you can earn from bonuses, incentives, and commissions by achieving sales quota and milestones set by the brand.
CorVive Compensation Plan
When it comes to the compensation plan of CorVive, it's the usual ones we see in other MLM companies. The only difference is the rate itself.
For instance, for every product you sell, you earn a 20% commission, 12% from the sales of your direct downline, and another 4% from your 2nd and 3rd level downlines.
You can also earn commissions from the people you've invited based on the packages they choose
I will not bore you with the details of their compensation plan but if you want to learn more about the company, you can watch the video below:
CorVive is not a scam. It's a legit MLM company but since it's still new, it's too early to assume things.
However, I cannot recommend it unless you tried their product and attest to its efficiency. At least that's one way to market their essentials. But if not, it would be hard for you to market it since there's nothing special or unique about the brand.
Also, it's missing a lot of things, such as the compensation plan on their site, the price of their products, and one of the most important things that aspiring distributors should know, the Income Disclosure Statement.
Also, the price for their packages or Endorser Kit is expensive, which is pretty normal in MLM companies. But still, if you're a newbie or you don't have the right marketing skills, it may be hard for you to get your investment back.
To become a member of CorVive, you have to purchase from any of these Endorser Kits:
Launch Product Pack $175
Transformation Pack $295
Elite Product Pack $575
On top of this, you'll pay for the annual membership fee amounting to $14.95. So all in all, you need at least almost $200 to get started.
Here Is My Top Recommendation to Start Highly Profitable Online Business from Comfort Of Your Home
PROS
Transparent With Their Products
Unlike the usual MLM brands, CorVive managed to be honest with their products. They mentioned that their essentials have not been evaluated by the FDA.
Also, I also like how they managed to promote their products without using bold claims, such as "miracle pills" or "breakthrough product."
CONS
No Income Disclosure Statement
I know the company is still new but still, I think one year is enough to show the income of their distributor/endorsers unless they are hiding something.
Income Disclosure Statement is important since it tells aspiring distributors if the current members are really earning and how much money they make on average per month or year.
Prices Not Shown On Website
While their products are beautifully shown on their website, CorVive failed to share their prices as well.
You have to become a member or create a customer account first before you can see the rates of their essentials and for me, this is a drawback.
Poor Training
MLM companies are known for providing excellent training resources. After all, they want to make as much sales as they can recruit more members, thus they need to teach their members the skills.
Unfortunately with CorVive, they have limited training resources, including 5 videos. The worst part is that it's not focused on making sales rather, it's about utilizing their tools.
Saturated Market
In the online market alone, you can find various brands with the same products the CorVive is selling and being a new company, it might be hard for you to promote it. Also, even if the prices of their products are not shown on their website, there's a chance that it's costly, too, making it harder to market their essentials.
Tired of Wasting Time on Low Quality Programs?
I'm so grateful that I was able to find THIS PROGRAM which helped me to finally start making money online!
I can't recommend CorVive because first, there are too many competitors already and being a new brand, it would be hard for you to stand out. Next, the price of the packages is expensive and it's not advisable, especially for newbies.
CorVive is a new MLM company that I can't recommend yet. There's no Income Disclosure Statement so I can't tell if it's profitable or not. However, since there's nothing unique about it and you can find cheaper alternatives online easily, there's a huge chance that your investment will only go to waste.
If I were you, I'd rather choose a program that would help me start and grow my business online.
Want to start a business FOR FREE? Then you're in the right place!
Sign up for my top-recommended program and get the tools and support you need, such as:
FREE Access To A Live Community
FREE Training Resources
FREE Coaching And Webinar
24/7 Customer Support
And Many More!
Thank you for reading my CorVive review and if you have any questions or comments, please feel free to share it below.
We Constantly Review Programs in "Make Money Online" Niche,
So That You Don't Have to Waste Countless Hours
Want To See Our
TOP RECOMMENDATION?