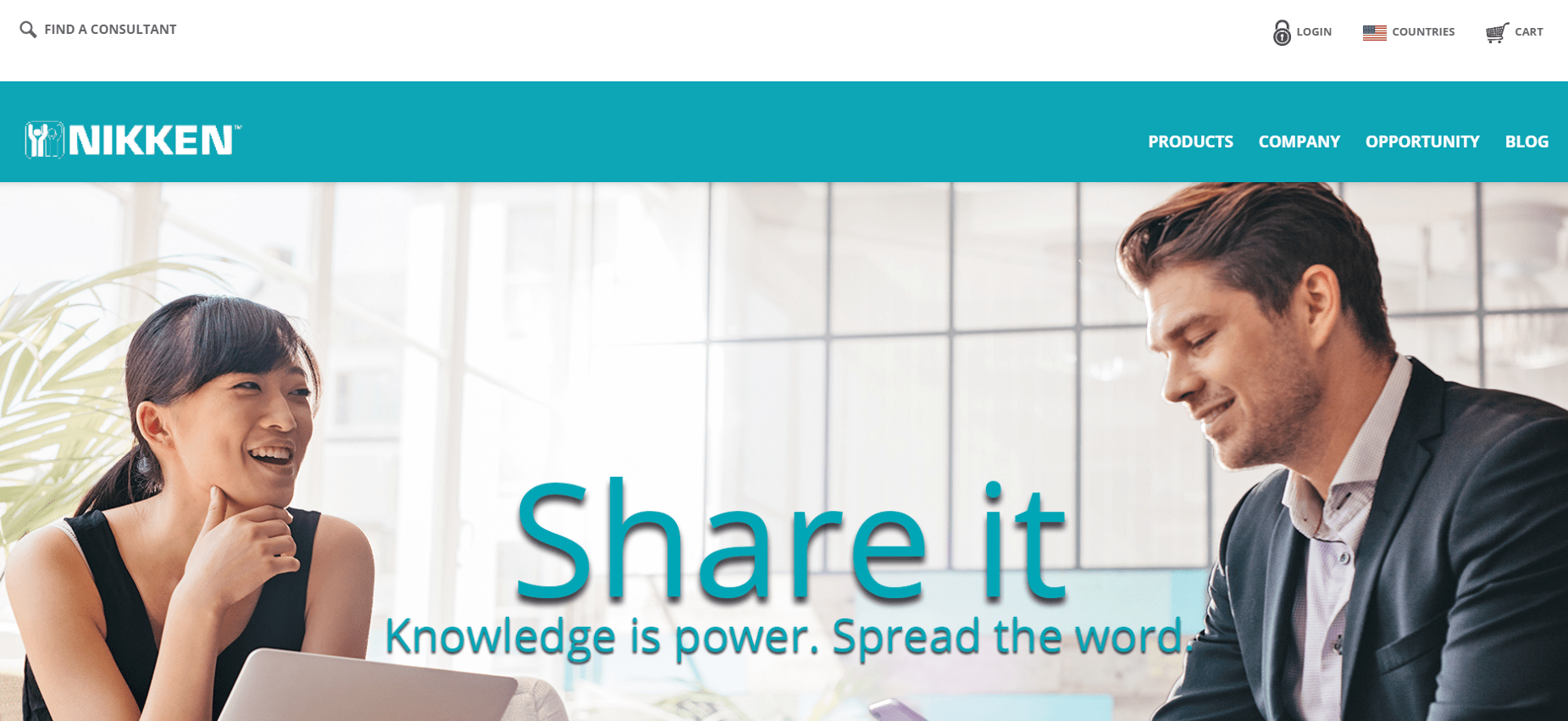 Welcome to My Nikken Review!
There are many ways to start a business and one of which is by becoming a distributor of a multi-level marketing company. It sounds easy and interesting, especially when you hear about the exciting bonuses and incentives.
For instance, a company called Nikken claims to "help improve your health and finances" by promoting their products. But will it really help you make an income?
Nikken Review Summary
---
Name: Nikken Global Inc
Website: www.nikken.com
Founders: Isamu Masuda
Product Type: Multi-Level Marketing
Price: $99 One-Time Fee + $100 To $150 Monthly Autoships
Quick Summary: Nikken is a legit MLM company that's been operating for more than 40 years. It uses magnetic technologies on their products, such as water filters, supplements, and skincare. It also offers an opportunity to make money by selling the products and recruiting people to join the platform.
Overall Rating: 4/10
Recommended: No
If you're interested, this honest Nikkel review will give you all the details you need to know, including what it's about, if it's a scam or not, its pros and cons, and many more.
P.S.
Want an alternative that would help you make money online? If yes, then check my FREE Step-By-Step Guide now!
Nikken is a multi-level marketing company under the health and wellness niche. It was founded in 1975 by Isamu Masuda. Originally, it was founded in Japan but later on, its physical office was moved to California. Because of its massive success, the brand was able to expand its business in 40 countries, including Sweden, Ecuador, United Kingdom, Switzerland, and Ecuador.
Isamu Masuda was a former desk clerk of a Japanese company and although not related to health, he was inspired to build a brand because of his handicapped son. His empire started by placing magnets in people's shoes. Apparently, these magnets were used by some individuals, such as astronauts, for health reasons.
Isamu was also famous for promoting his company using the "five pillars of health" including a healthy family, body, finances, mind, and society.
Nikken Product Line
As mentioned above, Nikken's brand was inspired by the five pillars, therefore, their products revolved around it.
That being said, they use a component called "magnetic technology." Its main goal is to repair unhealthy issues within each individual. Below is a quick video that explains what a magnetic technology is about and how it works:
If you check their website, you can see that their products are divided into five categories, namely:
This includes supplements that are made of organic ingredients. It claims to help improve human health.
This includes organic skincare that leaves the skin smoother, moisturized, and boost cellular metabolism
This includes creams, comforters, jewelry, a back-pad, pillowcase, powerchips, and other accessories that claim to help provide quality rest.
This includes water filters, sports bottles, shower systems, and purifier that claims to improve air and water quality.
Accessories And Replacement Parts
As the name suggests, these are spare parts, including grounding cords, filter cartridges, diverter valves, etc.
Nikken Product Review
I have not used any of their products personally so I cannot provide my own feedback. However, I researched online and from what I could, many people are not satisfied with how it works.
Their filter shower head, for instance, does not get rid of chlorine, contrary to what it promises. You can see more reviews by clicking this link.
However, there are positive reviews, too, such as the ones below:
Considering the number of years that they are operating, there must be something good about their products. Otherwise, it won't last this long. But then again, you cannot please everyone and even the largest companies have received major backlash from their consumers so I guess, it's normal.
How To Make Money With Nikken?
There are two main ways to make money with Nikken -- one is by selling the products and earning retail commissions and two is to recruit new people to join the platform.
Take note that since this is a legit MLM company, you will not be compensated directly for just inviting people; rather, you will earn commissions from your downline's sales.
The more people you have on your team, the higher the chance to have residual income, bonuses, and incentives from meeting sales quota and achieving milestones.
Nikken Compensation Plan
The compensation plan of Nikken is like the usual ones that most MLM brands have. The amount of commission you can get depends on your rank or level.
As a beginner, a.k.a. direct consultant, you will earn a 20% commission for retail sales. To increase your rank, you need to purchase more than 100 Personal Volume (PV) and recruit more people.
The more recruitment, the higher the chance to level up and acquire bonuses and incentives. Considering this, Nikken is putting heavy attention on inviting people, which could be a problem for the distributor in the long run.
To learn more about Nikken's compensation plan, you can watch the video below:
Considering the number of years they have as a business, I can't say that they are a scam. Nikken's a legit MLM company that provides tangible products unlike a pyramid scheme.
Just in case you're confused between a network marketing or MLM and a pyramid scheme, the main difference is the product offered.
Pyramid or Ponzi schemes only rely on recruitment alone. They compensate their members just by inviting a new individual. That being said, it's not stable since other than the payment from their members, there are no other ways for the company to make money.
Multi-Level marketing, on the other hand, has products to sell, which are normally overpriced but still, they can use their profit from it to compensate their distributors.
That's the main difference.
However, while Nikken is not a scam, they still focus heavily on recruitment, which is a deal-breaker. If you're not good at convincing people to join the platform, that means getting a higher rank can be more challenging. That also means a lower commission rate so if I were you, I would think twice before joining the program.
To become a member of Nikken and be qualified for their commissions, you have to pay a one-time fee that costs $99. It's cheaper, compared to other MLM programs and it includes the business website and customer support.
But to keep your account active, you need to have at least 100 Personal Volume and that means applying for a monthly autoship that costs around $100 to $150. In a year, you roughly need $1,300 to $1,900 and for me, that's a huge investment, especially for beginners.
Unless you're confident with the product and you know how to market it, I suggest that you look for another legit opportunity instead that won't require you to invest huge capital.
Here Is My Top Recommendation to Start Highly Profitable Online Business from Comfort Of Your Home
PROS
Legit MLM Company
Nikken is a legit network marketing company that has been operating for more than 40 years. As a business, this is long enough to survive. That only means that the brand must really know how to handle and grow the business otherwise, it would have failed a long time ago.
CONS
Too Much Attention On Recruitment
Although they don't say it directly, the compensation plan clearly tells that you need to recruit more people to get more commissions.
The sad thing is, it's hard to invite people, especially with the bad impression that MLM companies have. Also, if it's too focused on recruitment, there's a chance that it might be shut down by the FTC and take note, this has happened to many network marketing companies before, such as MOBE.
Overpriced Products
As an MLM company, this is not surprising at all but it doesn't mean that it's a good thing. You'll be selling expensive supplements and accessories and unless you're very good at marketing, making a sale can be challenging, too.
Income Potential Is Low
Based on the Income Disclosure Statement that they released last 2016, the average annual income that the Bronze level has is only $169. That means less than $15 a month. That's smaller than the PV you need to have to stay active, which only means one thing: it's not profitable.
Are you really going to waste your time over this opportunity?
Tired of Wasting Time on Low Quality Programs?
I'm so grateful that I was able to find THIS PROGRAM which helped me to finally start making money online!
Nikken has a unique product using magnetic technology but for me, it's only good for those who have personally used it so they can attest if the product really works. It's hard to invest in something you're not confident with unless you're willing to lose your money.
I admire Nikken for having an inspiring story. Isamu started with nothing but because he is dedicated and he has passion, he was able to grow his business and not only that, let it survive for a long time.
He created a unique product that may or may not be good since it's hard to prove that a magnetic technology really works. I'll leave that to the people who have tried it personally.
With recruitment, I really have nothing against that since that's how MLM companies work. But if you're not skilled with inviting people and marketing the products, I believe it's good if you'll consider other options instead since you are going to spend a huge amount on the annual fee and monthly autoships.
Joining an MLM program is challenging, and so as starting a business. However, it would be great if you can somehow reduce the risk involved, right?
If that's what you want, that's what I'll give!
Join my #1 recommended program and enjoy the following perks:
Training Resources And Webinars
24/7 Chat Support
Live Active Community
And A Lot More!
As always, thank you for reading my Nikken review and if you have any questions or comments, please feel free to share it below.
Also, if you want to know more money-making opportunities online, you can follow our official Facebook and Twitter accounts.
We Constantly Review Programs in "Make Money Online" Niche,
So That You Don't Have to Waste Countless Hours
Want To See Our
TOP RECOMMENDATION?