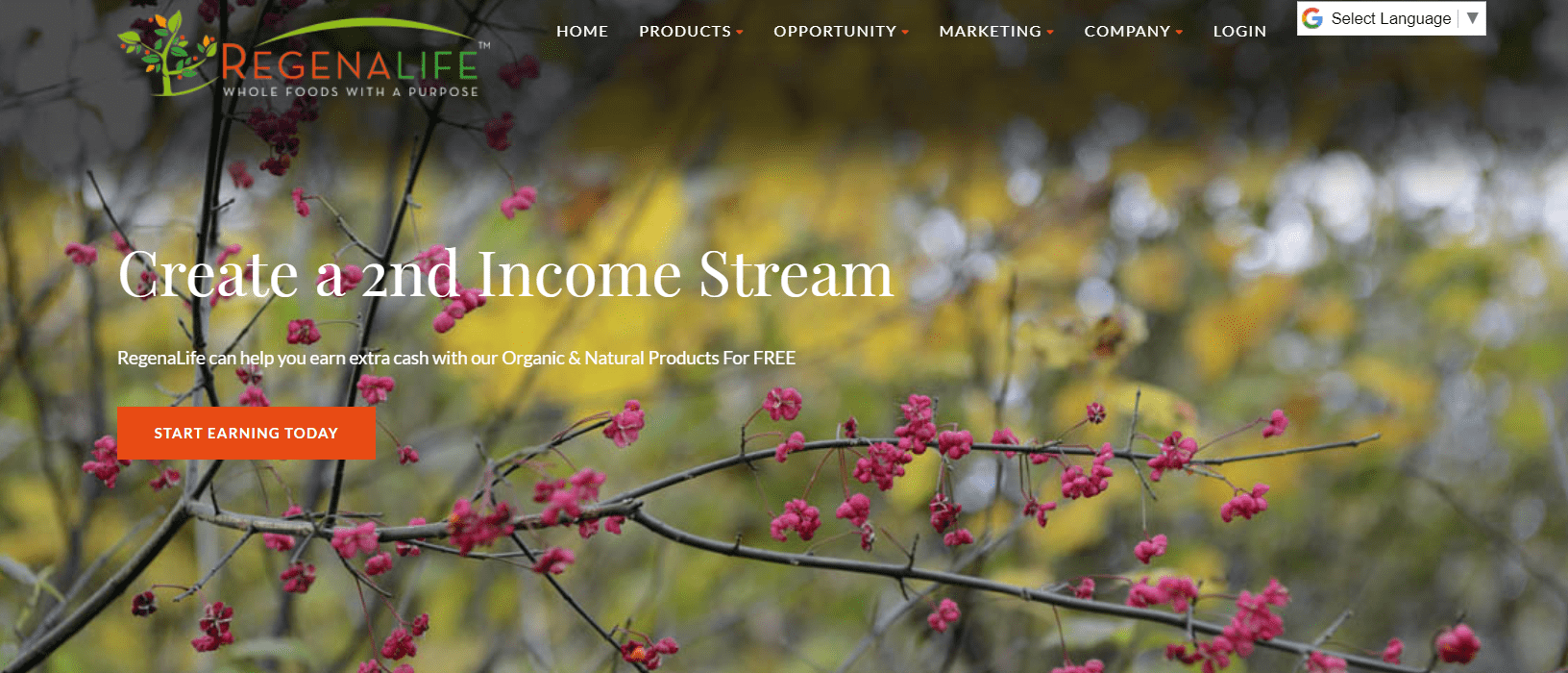 Welcome to My RegenaLife Review!
Multi-level marketing (MLM) is one of the most popular opportunities nowadays. Despite the bad impression it has on some people, no one can deny the fact that it is profitable. There's still a chance for the distributor to make money from it, especially if they're skilled when it comes to making a sale and recruitment.
RegenaLife Review Summary
---
Name: RegenaLife
Website: www.regenalife.net
Founders: Justin Chernalis
Product Type: Multi-Level Marketing
Price: Free Membership +$99 To $949 Worth Of Packages
Quick Summary: Formerly known as Regeneration USA, RegenaLife is an MLM brand that promotes CBD oil, health supplements, and skincare products. It also offers a legit way to make money online but despite being NOT a scam, there are a few drawbacks that you should be aware of.
Overall Rating: 3/10
Recommended: No
But still, even if you have experience with MLM, there's still a chance for you to NOT earn from the program or worse, get your investment back. So before you sign up and pay for the expensive fees, be sure to know as many details as you can about the company.
So if you're here to learn more about RegenaLife, then I would like to congratulate you on doing so. This is one way to avoid getting scammed!
Rest assured that I'm not affiliated with this platform so you'll be getting nothing but honest RegenaLife review.
P.S.
If you know how network marketing works, you probably have an idea of how challenging it is. So if you want to secure another source of income in case, you know, the program failed, check out my FREE Step-By-Step Guide now.
What Is RegenaLife About?
Before becoming RegenaLife, the health and wellness MLM brand were called Regeneration USA.
It was founded by Justin Chernalis in 2008 by selling Anti-Aging Whole Food Bar. In 2016, the company decided to rebrand itself, thus becoming RegenaLife, and add new products, such as Regena-Slim Skinny Body Shake.
I did a quick background check about its founder and CEO, Ernie Cadiz, and it's good to know that these two are real people, unlike other brands who never disclose the names of their owners.
Anyway, Justin has a solid background when it comes to the health and wellness industry although, in his LinkedIn account, there's only one professional experience listed, which is being the founder of RegenaLife.
I also found out that Chernalis is battling cancer according to this Facebook Page.
As for Ernie, he, too, has a strong foundation in terms of handling a business. According to my research, he has experience managing various kinds of business, including real estate, telecom, and energy.
RegenaLife Product Line
As mentioned, the brand is under the health and wellness niche so if you've seen more than a dozen MLM platforms, you won't find their products unique. I mean, it's almost the same essentials with the same claims but with different packaging.
RegenaLife products are divided into several categories, namely:
This includes capsules and teas intended to improve heart and prostate health.
This includes CBD oil, soft gels, pain rub, shampoo, anti-aging cream, and dog treats.
It includes supplements and oil that claims to detoxify the body.
It includes supplements that improve the body's energy.
It includes supplements and liquid drink that enhances the body's immune system.
It includes supplements and oils that relieve joint pain.
It includes cream, serum, oil, and supplements that claim to slow down anti-aging, improve hair health and growth, and enhance collagen production.
It includes cocoa and chocolate bars, mixed nuts, and treats for pets.
It includes the newly-added weight loss products, such as Regena-Slim Skinny Body Shake, supplements that curb the appetite, and Keto-based coffee.
It includes an antimicrobial gel that claims to remove bacteria from the air.
It includes CBD-infused treats for dogs.
Special Offers
Bulk Offers
RegenaLife Product Review
Personally, I haven't tried any of their products so what I'll be sharing with you are the reviews I found online coming from their Facebook Page.
They got 5 out of 5 stars meaning, all of their consumers are satisfied with their products. However, most of the feedback came from their distributors so it's still best to take it with a grain of salt.
How To Make Money With RegenaLife?
There are two ways to make money with RegenaLife, which are the usual ways when you join an MLM platform.
One is through profit sales. Once you become a member, you can get the products at a wholesale price and sell it based on their suggested retail price. The difference between the two rates -- wholesale and retail -- is your profit.
Another way is by inviting people to join the platform. But just to be clear, since this is a network marketing company, you don't get paid directly for every new member. Rather, you have to build a strong team that would help you achieve sales quota and milestones so you can get commissions, bonuses, and incentives.
Sounds great, right? But in reality, inviting new people to join an MLM is not that easy. The business model is often confused with a pyramid or Ponzi schemes; however, multi-level marketing and pyramid schemes are two different things.
But still, because of the wrong impression, many people avoid invitations from MLM participants. Also, it's because of the expensive rates associated with this kind of business model.
RegenaLife Compensation Plan
The compensation plan of RegenaLife is almost the same as the other MLM program's compensation plan. Technically, you will earn commissions and bonuses if you reach a sales quota, invite more people, and if you purchase more products.
I will not bore you with the details but I will share a video of RegenaLife's Compensation Plan below:
RegenaLife, so far, is not a scam. It's been established since 2008 and after more than 10 years, it's still operating with no scandalous issue, unlike other MLM companies.
However, it's kind of disappointing that even after a decade, it failed to share many things, such as the details of their owners and executive team and income disclosure on their website. Also, when compared to other network marketing companies, the site's not as professional-looking. The product has no information about it and it's not accredited or even recorded with the Better Business Bureau (BBB).
While BBB is not an official affiliate of the government, it would still be good to know if the company has a record with it.
Also, there are too many cons than pros when joining this platform, and I'll share more that in a bit. For now, let's discuss how you can become a member.
It is free to join RegenaLife. That means you don't have to pay anything to become a member. However, when you want to be qualified for their compensation plan, that's another issue.
To make money from the program, you have to purchase their Fast Start Package that costs around $99 to $549. It's expensive but not surprising since this is pretty normal with MLM companies.
Depending on your package, it might include the following:
Business Website
Products
Exclusive Back-Office Area For Members
Affiliate Contests And Bonuses
10% Off Loyalty Rewards Program
10% Off Enrollment Gift Card Program
Coded Bonuses
And More!
Here Is My Top Recommendation to Start Highly Profitable Online Business from Comfort Of Your Home
PROS
Free Membership
The only thing I like about RegenaLife is free membership. While you can't make money yet after signing up (unless you purchase their expensive packages), it's still good to be able to explore the company even a bit and find out more details about the platform.
If you're interested in this business, you can take advantage of their free membership.
CONS
Too Little Details About Their Founder And CEO
Justin Chernalis and Ernie Cadiz are real people; however, you can only find a few details about them. For instance, other than the LinkedIn and Facebook Page of Justin, you can barely see anything about him on the net.
This is weird since most business people take advantage of social media and the internet per se to promote themselves. That way, they can get to reach more markets and leads to their companies. However, this is not the case with RegenaLife. I'm starting to think if they're hiding anything that's obviously unpleasant.
No Income Disclosure Statement
After 10 years of providing an MLM opportunity, the company still has no income disclosure statement. I'm sure it's not because they forget about it but maybe it's because their members do not earn from their business.
Too Many Similar Products In The Market
Weight loss coffee, CBD oils, and health supplements can be found almost everywhere -- offline and online. That being said, the products that RegenaLife offers are nothing unique. In fact, the market is saturated with it.
Also, since the price of their products is too expensive, it will be harder for the distributors to sell the essentials, so if you're planning to join this brand… good luck!
Tired of Wasting Time on Low Quality Programs?
I'm so grateful that I was able to find THIS PROGRAM which helped me to finally start making money online!
No one.
I don't recommend RegenaLife at all because of several reasons. One, it has no Income Disclosure Statement so you don't have any idea if this business is really profitable.
Second, the company owners have shared little to no information about themselves. As much as possible, it's good to belong to a company that's honest and transparent.
Also, selling products can be challenging. It's overpriced and there's nothing unique about it so more or less, you're not going to get your investment back or if you, it might take a long time.
RegenaLife has managed to keep a good reputation for quite a long time but other than that, there's nothing impressive about the company.
Until now, it has failed to share necessary details that would help their potential distributors or customers, such as the Income Disclosure Statement, background of the company, or even anything about their executive team.
Considering this, it would be hard for me to recommend this program so even if it's legitimate, I cannot recommend it at all.
Want to make money without spending a lot of cash on products and membership fees? Then today's your lucky day!
Sign up now for my top-recommended program and get all the tools you need for FREE:
One-on-one coaching
Comprehensive guide
The best business tools and support you need
Webinars and training resources
And many more!
I hope I've enlightened you with my RegenaLife review and if you have any questions or comments, please feel free to share it in the comment box below.
Thank you!
We Constantly Review Programs in "Make Money Online" Niche,
So That You Don't Have to Waste Countless Hours
Want To See Our
TOP RECOMMENDATION?