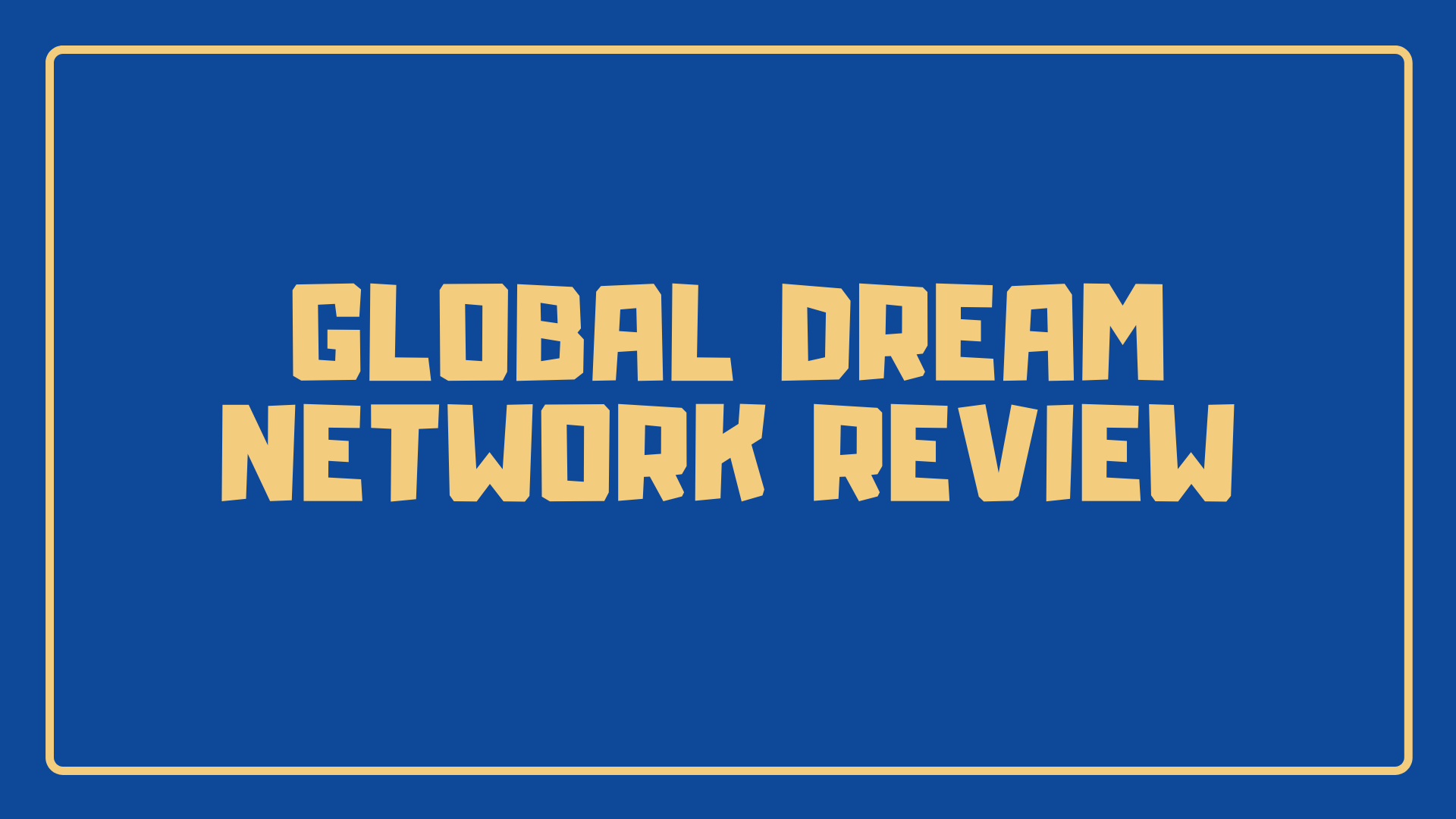 Welcome to My Global Dream Review!
A few days ago, we reviewed a site called Credit Star Funding. This program marketed itself as a network marketing company that provides funds for individuals and businesses. Turned out, it's more likely a scam than a legit business opportunity.
Global Dream Network Review Summary
---
Name: Global Dream Network
Website: www.globaldreamnetwork.com
Founders: Undisclosed
Product Type: Multi-Level Marketing (But Pyramid Scheme In Disguise)

Price: Free Registration + $24 Donation + Fee For Level Upgrade
Quick Summary: Global Dream Network is a "peer-to-peer cash gifting system" that claims to help you make thousands of cash. However, there are a lot of red flags starting from the website up to how it really works.
Don't get fooled! Read this Global Dream Network review before joining!
Overall Rating: 1/10
Recommended: No
Now, there's Global Dream Network (GDN), another multi-level marketing (MLM) company that has to do with giving money and an opportunity to earn from it. Will this turn out as a scam as well or a legit platform that can help you?
Let's find out in this honest Global Dream Network review.
P.S.
I know GDN already sounds fishy so if you want a backup in case this program turned out as a scam, I suggest that you check my FREE Step-By-Step Guide on how to make money online now.
What Is Global Dream Network About?
Based in Johannesburg, South Africa, Global Dream Network is a "Person to Person, Direct Funding and Crowd Sharing Platform." That was based on their website, which, by the way, is not existing anymore.
The only platform left connected to this site is their Facebook Page, which has not been updated since September 4, 2019.
Anyway, based on my research, GDN is a "peer-to-peer" cash gifting system, which is literally about giving cash to other people.
It has been founded in January 2019 but I don't think it was able to survive for a year. It's no wonder though because the company doesn't seem stable. First of all, even before the website's live, there are little to no details about the company or the owners. That's right, you can't expect anything from their site other than the sales pitch.
Skeptical, right?
But if you look at the Facebook account, you'll see a lot of people commending the program and the product. So, what products are you going to promote?
Global Dream Network Product Line
Since Global Dream Network marketing themselves as an MLM, it should have two ways to make money: one is by selling tangible products or services and two, through recruitment.
Unfortunately, GDN has no product at all.
The only thing that you will do to this company is to give or donate cash to a complete stranger and expect that someone will do the same for you when recruiting a new individual.
It can't be just any amount though. You have to donate at least $24 or R350 in South African currency. And if you want to earn more and increase your rank, you have to donate a bigger amount.
For example, you need to donate $48 or R700 to become level 1; R700 to become level 2. This goes on until you reach level 4.
This "system" obviously looks unstable because you don't know where the money is going in the first place. Next, how many people do you think are going to fall for this? I mean, yes, maybe some individuals have been lured into joining this platform but seriously, do you think this is a good place to make money in the long run?
I know multi-level marketing companies have a bad impression for many people but it's legit, and it doesn't work like how GDN works.
MLM has real products to make money from or services that provide value, such as coaching or mentorship but this one? It has none. For me, it's not a network marketing but a pyramid scheme in disguise.
How To Make Money With Global Dream Network?
As mentioned above, there are no other ways to make money except by donating a specific amount to an unknown individual.
Also, you have to spend money and expect that you will be able to earn profits, or at least get the investment back.
It's not worth it, I tell you. No matter how astonished the people on their Facebook page are, I don't see this as a good opportunity to sign up with.
Is Global Dream Network A Scam?
The website's not existing anymore? Facebook Page hasn't been updated? Aren't those enough to tell you that the program is gone for good (I hope so) and why? Because it's a scam.
If you're still not convinced, let me remind you that even before the site's active, it failed to share important information, such as the owner's name and background, the company details, and many more.
If you check legit MLM sites, you'll see how different it is with pyramid schemes. They share as much photos of their executive teams as possible so people can see who is running the system.
But with GDN, this is not the case. I think they've tried hard enough to hide the real people behind the program probably because of the obvious reason. They know that their program is a scam and they don't want to accept the negative feedback and possible lawsuits against them.
In case you're looking for solid proof, here's one press statement from Bank Of Zambia warning people about a "money circulation scheme," which is GDN. According to the letter, this is prohibited and "it is illegal to conduct, participate, and issue a notice or other documents inviting members of the public to subscribe to a money circulation scheme."
So instead of wasting your time and money, make sure that you start this year with a program that's been trusted for a long time, such as Wealthy Affiliate.
It's an affiliate marketing system that provides free membership -- no donations required -- where you can get all the tools you need.
How Affiliate Marketing Works
If you're new to affiliate marketing, it is a legit business model that allows you to make money by promoting products and services. You don't have to purchase anything but you have to create content or post where you can insert unique links.
Every time a person purchases a product using your link, you will be compensated. The best part is -- you don't need to invite other people just to earn a commission.
It doesn't guarantee quick money though because you need to exert time and effort before you can results. Don't worry, with Wealthy Affiliate, you'll have the training resources you need so you can get started.
To learn more about affiliate marketing, you can watch the video below:
The registration is free but you have to donate a specific amount -- $R350 South African Rand or $24 and you need to do this within 12 hours or else, your registration is useless. You cannot go into their dashboard and make money from their program.
Now that's a real deal-breaker!
Here Is My Top Recommendation to Start Highly Profitable Online Business from Comfort Of Your Home
CONS
Free To Register But…
When you check their website, it says that you can create an account for free. However, if you're not able to donate a certain amount within 12 hours, your registration is gone to waste.
If at the beginning they're already NOT transparent, I think this would go on as you join the system.
No Owner, No Website Details
Clearly, the program has no intention of telling who owns it. It hasn't mentioned anything about the owner nor any details related to the company, and yet, they expect people to just trust the program.
Sadly, many individuals have fallen for their trap and you're lucky for reading this Global Dream Network review.
No Tangible Products
The only way to make money with GDN is to donate a specific amount to an unknown person, pay to have a higher rank, and expect another person to do the same for you. It's obvious. You're not getting anything from this pyramid scheme. Maybe for the first time but I doubt that it will be profitable in the long run.
Tired of Trading Your Precious Time for Money?
Here is a Blueprint to Owing Highly Profitable Online Business Without Any Experience REVEALED!
Honestly, programs like this are just one of the reasons why many people have trust issues when it comes to making money online. Sometimes, the red flags are too obvious but we cannot blame those who have registered. After all, who doesn't want to make money?
Anyway, Global Dream Network is not an MLM; not even a legit system. It's a pyramid scheme that hopes to lure people into giving them money. They are only full of false claims but I don't think they have any intention of helping people earn cash. If yes, they could at least have shared their owner's information.
Sadly, they chose not to.
But don't worry, this is not the only option you have. You can still make money online even without capital. How? Read the next section.
If you don't want to start the year working with low-quality programs or scam, I suggest that you sign up with our top-recommended program.
I could tell you all the good things all day but the only way to find out if this is the right platform for you or not is to try it yourself.
Create an account now and enjoy the following:
One-on-one coaching
Comprehensive guide
The best business tools and support you need
Webinars and training resources
And many more!
Thank you for reading my Global Dream Network review and if you have questions or comments, you can share it below.
Also, feel free to follow our official Facebook Page and Twitter account to get tips on how to make money online.
We Constantly Review Programs in "Make Money Online" Niche,
So That You Don't Have to Waste Countless Hours
Want To See Our
TOP RECOMMENDATION?