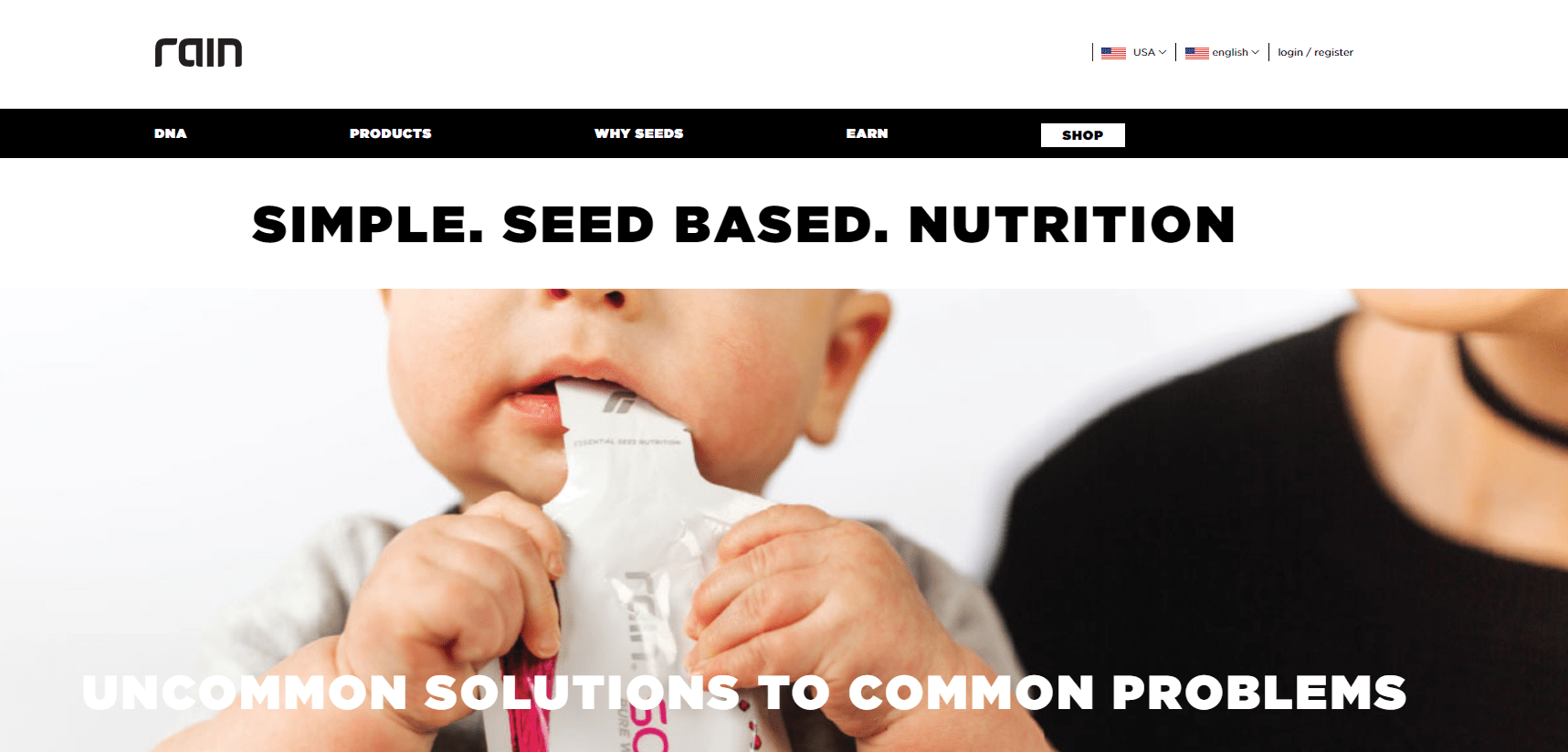 Welcome to My Rain International Review!
One of the most common multi-level marketing niches is health and wellness. It's too common that it's so hard to stand out, especially if you're a new company promoting the same products. It's no wonder why some brands going the extra mile just to be popular.
Rain International Review Summary
---
Name: Rain International
Website: www.rainintl.com
Founders: Byron Belk
Product Type: Multi-Level Marketing
Price: $39.95 For The Virtual Business Kit + Starter Packs Ranging From $104.95 To $1,320 + Monthly Autoships
Quick Summary: Health and wellness MLM company known for their "Soul" product. It might have been a good MLM program if not for the several issues they're facing. Want to know what those are? Then just keep on reading.
Overall Rating: 1/10
Recommended: No
It's the same case with Rain International -- a health and wellness program that promotes food supplements and skincare. Apparently , they did something to make noise but instead of making them sound like a good brand, it went otherwise.
In this honest Rain International review, you'll find out what kind of business is really about; whether it's a scam or not; or if it's the right program for you.
P.S.
Making money with a multi-level marketing (MLM) company can be extra challenging. You don't just sell the products to earn commissions, you also need to recruit people to join the platform. So, if this doesn't sound like a good deal, I suggest that you check my FREE Step-By-Step Guide instead!
What Is Rain International About?
Rain International is an MLM brand under the health and wellness niche. As mentioned, this is one of the most common niches. In fact, I've reviewed more than a dozen similar programs, such as :
It was founded in 2011 Byron Belka, who was known for being involved in other MLM companies, such as eXfuze and Nu Skin. That being said, he probably has enough experience to run a company under a similar niche.
Rain International Product Line
If there's one thing that makes their brand unique, it's the main product they use -- seeds. Quoting Rain International, they say that "each ingredient is handpicked for its proven benefits and ability to work synergistically with your body."
When you go to their website, you'll see that their products are divided into seven categories, namely:
This includes their flagship product is called "Soul" and it's a product rich in antioxidants. It claims to have anti-aging properties, relieve muscle aches, and promote optimal performance.
This product claims to improve immunity, support blood flow, and provide the necessary servings of fruits and vegetables that our body needs.
This joint supplement claims to have powerful antioxidant properties while providing your joints the support it needs.
Their skincare line claims to clean and moisturize the skin while addressing aging concerns. It includes a cleanser, serum, and moisturizer that are all oil-based and cruelty-free.
The drink mix claims to help your body "recover, perform, and build."
Available in two flavors -- fruit punch and lemon-lime -- this product claims to promote healthy digestion.
This product claims to enhance metabolism, improve heart health, and has anti-aging properties.
Does Rain International Products Work?
I've never used any of their products but I researched online and here's what I found out. Of course, there is good and bad feedback but surprisingly, the positive reviews of Rain Soul Supplement outweigh the negative ones.
Here are a few screenshots:
How To Make Money WIth Rain International?
There are two ways to make money with Rain International -- through retail sales and recruitment. These are the same options that you have in other MLM platforms. The good thing is that you will earn commissions out of selling tangible products.
You see, there are a lot of programs claiming that they use an MLM structure but when you look at their compensation plan, the only way to make money is by inviting people to join the platform. They may present a "system" that you can sell but clearly, it nothing but a scam, such as the previous program I've reviewed called Credit Star Funding.
In Rain International's case, there are real products to make money from, such as their flagship product -- Soul.
Anyway, here's a quick explanation of Rain International's compensation plan:
As a member, you can get the products at a wholesale price and in order to earn commissions, you can sell the supplements and skincare essentials based on the suggested retail price (SRP).
Since Rain International is a legit MLM opportunity, you do not earn directly by recruiting people in the platform; rather, you get bonuses and incentives when your downline/team meets a specific sales quota or milestone.
To learn more about Rain International's compensation plan, you can watch the video below:
Is Rain International A Scam?
As mentioned, Rain International is a legit network marketing program that you can check out but NOT consider. Why? Because despite being legal, there are too many red flags involved.
If you rely on the Better Business Bureau (BBB), by the way, it's not accredited and it has an A- rating.
Anyway, here are the red flags that I'm talking about:
Too Many Scandals Involved
The first of many scandals is about the flagship product itself. Apparently, a lab test confirmed that Soul is nothing but "sugar water with food coloring."
The other issue is about distributing expired products to Nigeria. According to a source, Rain International wanted to push their expired product out in the market so they asked a person named Dino Nedelko to sell the products in the said country.
Other concerns involved downline manipulation, Bryon's unethical distributor spot, and the existence of artificial ranks. Learn more by clicking this link.
Unreasonable Monthly Autoships
If you're the owner of Rain International, applying monthly autoships to your distributors is an advantage because you're guaranteed that you will make a sale every month.
But if you're the distributor, this is a massive drawback. It's like you have no choice but to receive the products every month and force yourself to sell it otherwise, your investment is gone to waste.
Overpriced Products
The common problem with MLM business -- expensive products that are nothing but bold claims. Considering that their Soul essential is made of sugar water and food coloring, are you really willing to pay $88?
But that's just the tip of the iceberg. Wait until you see the price of their membership below. Maybe that's more than enough to drive you away!
To start making money with Rain International, you have to choose one of these four options:
Soul Basic $104.95
Soul Builder $299
Launch Basic $315
Soul Pro $689
Launch Pro $1,249
Soul Elite $1,320
On top of this, you'll be paying $39.95 for their Virtual Business Kit plus the autoship fee every month.
Expensive, right?
Even the cheapest membership fee is expensive so if I were you, I'd really think twice before I sign up for this program. Yes, the opportunity sounds promising, especially when you consider the reviews for their products.
But knowing the lawsuits they've been involved with plus the challenge that you have to deal with when you join an MLM program, I'd rather skip this platform and go for a legit money-making opportunity instead.
Here Is My Top Recommendation to Start Highly Profitable Online Business from Comfort Of Your Home
Being legit is a good thing; however, if you're company is facing more than a couple of issues and take note, these issues slam their main products, then it's nothing good. So instead of talking about the pros, I'll discuss the cons.
CONS
Hidden Distributor Spot Of Byron Belka
How would you feel knowing that your CEO is also your competitor?
Bad, right?
Apparently, Byron has a hidden spot in their compensation plan, which obviously is unethical. It only shows how greedy he is with money.
Product Fraud
When you look at their website, you'll be amazed by the claims of their products but after the assay test, I bet you're more than disappointed.
On top of this, there are issues of expired products brought to Nigeria so, I don't really know how you can trust such a program anymore.
Tired of Wasting Time on Low Quality Programs?
I'm so grateful that I was able to find THIS PROGRAM which helped me to finally start making money online!
No one!
Rain International is only good at first glance but after getting to know the company, it's more of a threat than an opportunity.
If you want to join an MLM platform, let's say you've done network marketing before and you have an idea how it works, you can consider other legit brands with a good reputation.
If not, you can find other legit platforms that can help you make money online, such as affiliate marketing and home-based jobs.
Overall, I was disappointed with Rain International. I mean, I've seen worse but the fact that they try to liquidate expired products by still selling it is beyond sickening. Imagine what would happen to anyone who has consumed it.
Also, the issue with their flagship product is serious. Many people believed in it; wasting time and money using it only to find out that it's nothing but sugar water.
And last but not least, the concern with their CEO. As the owner of Rain International, you intend to help people make money using your platform, not compete with them so for me, I don't recommend this program at all.
Tired of expensive programs with false promises?
Don't worry, I got a better solution.
Sign up with my #1 recommended program now FOR FREE and enjoy the following perks:
Comprehensive guide
Training resources
One-on-one coaching
Webinars to help you start your business online
And many more!
I hope I've enlightened you with my Rain International review and if you have any questions or concerns, please feel free to share it below.
Thank you!
We Constantly Review Programs in "Make Money Online" Niche,
So That You Don't Have to Waste Countless Hours
Want To See Our
TOP RECOMMENDATION?