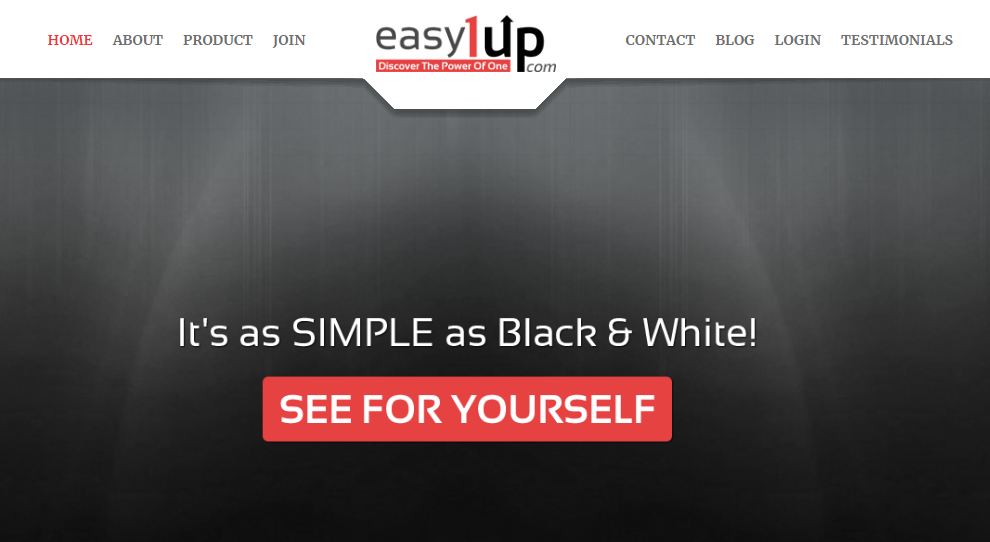 Welcome to My Easy1Up Review!
They say that you need to invest in yourself to earn more money, and one of the best investments you can give yourself is education. That being said, many programs are providing training to help individuals increase and unleash their potentials so they can create a bigger source of income -- just like Easy1Up.
Easy1Up Review Summary
---
Name: Easy1Up
Website: easy1up.com
Founders: Peter Wolfing
Product Type: Online Training Platform
Price: $25 (Starting Cost)
Quick Summary: Easy1Up is an online training platform, according to their website. Their goal is to help entrepreneurs have an edge over their competitors with the help of their courses; however, it's not just an education program but an MLM company (or a pyramid scheme) in disguise.

Find out what Easy1Up is really about in this honest review.
Overall Rating: 3/10
Recommended: No
Easy1Up is a training platform that makes it sound like it's easy to earn $1,000 a month. But how true are these claims? What training do they provide? Is Easy1Up a scam or a legit program you can trust?
Find out all the answers you need in this Easy1Up review.
** If you're tired of scams and low-quality programs, you can skip this review and go directly to my top recommended money-making platform.
Easy1Up is an online platform that aims to help business people improve their skills and expertise through their training. They have provided five different courses, which, according to their homepage, has already created an "impact for people around the world."
These courses include social media lead generation, affiliate marketing, video marketing, and a lot more. I will go into details about this one in a bit but for now, let's find out how Easy1Up really works.
How Easy1Up Works?
Before anything else, the person behind this program is Peter Wolfing, who, according to their page, is a former Sergeant in the U.S. Marine Corps and has over 26 years of network marketing experience. Considering this, it's not surprising to know that Easy1Up follows this business model.
At first glance, you'll think of Easy1Up as a legit training platform but what they really are is far from the truth. Basically, these 5 training programs will teach you how to invite more people to join Easy1Up so you can earn money, and this is why I've compared this to a business model called network marketing or multi-level marketing (MLM).
MLM is a legit business, to begin with, and there's nothing wrong if Easy1Up works like this; however, they should have been honest about it in the first place. It's no wonder though if they have intentionally kept it a secret at first since most people think that network marketing is the same as a pyramid scheme.
Multi-Level Marketing VS Pyramid Scheme
A few months ago, before I started writing here at Best Lifetime Income, I thought multi-level marketing is just another term for pyramid scheme; however, I found out that these two are different.
For one, multi-level marketing is legal while a pyramid is considered as a scam. Second, there are tangible products involved with MLM while in a pyramid scheme, there's only a "system". Third, you need to recruit more people to join the MLM company but you will only earn after your referrals make a sale; a pyramid scheme, on the other hand, will promise you money after you invited a new person to join the program.
Now that you know the difference between MLM and a pyramid scheme, it would be easier for you to distinguish if the product is a scam or not.
So basically, you will recruit more people to join Easy1Up so you can earn commissions. There are no existing products to sell and you will only promote the program. For every successful referral, you will earn a commission and your referrals will do the same, too, so they can make money.
Considering that you're only selling the system to other people, is Easy1Up a scam? I'll leave this for you to decide.
Anyway, aside from the sketchy business model, I found out that the training is not really an informative platform because instead of sharing values to those who have enrolled in their courses, you will only learn how to recruit more people. Aside from this, the modules will only persuade you to purchase the tools they use, packages, or levels.
Tired of Trading Your Precious Time for Money?
Here is a Blueprint to Owing Highly Profitable Online Business Without Any Experience REVEALED!
You need to pay at least $25 to Easy1Up so you'll have access to their cheapest training, "Elevation"; however, if you decided to get their highest package, Vertex Pro, that costs $1,000, there's no need to buy each package at all as this will give you access on all modules.
On the other hand, if you decided to pay for the lowest module, you'll have to pay for each course, and here's the price per package.
Elevation $25
Elevation Elite $100
Vertex $250
Vertex Elite $500
Vertex Pro Connect $1,000


By the way, your earnings depend on the package you choose. Let's say you bought the highest module, which is Vertex Pro, that means you'll be earning no matter what your referral chooses to buy. However, if you've only purchased Elevation, you won't get anything if your referral buys Vertex.
When it comes to the amount you can earn, you will get 100% commission except for the second sale you make. This is because your second sale will go to the person who has invited you to join the program. So for example, your referral purchase Vertex Elite, you'll get $500 on your first sale. However, if your referral bought Vertex and it's your second sale, you won't get anything and you'll start earning again on your third and upcoming sales. Meanwhile, the same thing will happen to your referral. On their second sale, you will get 100% commission out of it.
If you're asking how Easy1Up will earn money if they are giving you 100%, here's the answer: in every purchase, there's a 10% admin fee charged on it.
If you want to learn more about their compensation plans, you can watch the video below:
PROS
Income Opportunity
It's possible to make money with Easy1Up and with its 100% commission, we're talking about huge amount here. The problem is that you need to spend $1,000 first to guarantee that you'll earn commissions from your referrals. Also, since the business model is kind of unethical, and by that I mean the need to recruit people, there's no guarantee that this platform will last for a long time.
CONS
No Money-Back Guarantee
This is a digital product, so it's not surprising to know that it doesn't offer a money-back guarantee. After all, anyone can just buy and copy the program and ask for a refund. However, it would have been better if there's a free trial instead so you'll know what to expect on each program before you pay a huge amount.
Outdated Training
The techniques they use on their training is outdated and rather than teaching you the skills you need, they will only focus on persuading you to buy the next module. So basically, it won't help you. If you want to learn about social media or affiliate marketing, you can browse the free materials online or check my top recommended program instead.
Misleading Details
Easy1Up introduced itself as a training platform but in reality, it's an MLM in disguise and since it doesn't offer any tangible products to sell -- and you'll just be recruiting people to join the program -- it almost works like a pyramid. Not really a good business model to try.
If you're tired of the false claims, I suggest you take this step-by-step guide to learn how you can make money online -- on a legit way.
Here Is My Top Recommendation to Start Highly Profitable Online Business from Comfort Of Your Home
Since you have to spend a massive amount to secure commissions, this program is good for those who have experience with affiliate marketing and network marketing. You will be recruiting people and if you don't know how to do it properly or you have little knowledge with generating traffic to your site, it won't be easy to get your investment back.
If you're a beginner and you want to earn money online -- even without experience or capital -- I suggest you take this step-by-step guide first. It's newbie-friendly and it got everything you need to get started.
There are five training available with Easy1Up, namely:
Elevation
This course is about network marketing and affiliate marketing. It's very basic and you can get the most updated training about these subjects online.
Elevation Elite
This module is about video marketing and how to take advantage of social media to get more leads.
Vertex
This course is about affiliate marketing, which is a legit and profitable business model. It's a good opportunity to earn money; however, this program fails to discuss the most important details about it since their main goal is to teach you how to promote their very own platform -- Easy1Up.

If you want to learn more about affiliate marketing, you should use sign up for a free account with Wealthy Affiliate instead.
Vertex Elite
This module talks about generating organic traffic and dropshipping.
Vertex Pro "Connect"
This course is all about setting up Facebook Ads. If you're not familiar with this, Facebook ads are paid ads you can use to get more traffic.
Easy1Up is a legit online platform in the sense that you will get a product (program) after paying. However, the way they introduced their platform is misleading since it's not really an educational platform. The good news is that you have the chance to earn money; the bad news, however, is that works almost the same as a pyramid scheme.
If you want a legit platform that will not only train you but also help you make money online, just keep on reading.
Tired of misleading, low-quality programs? Don't worry, you're not alone! I've experienced such kind of programs a dozen times before and I've learned from it. In fact, I found a legit program that helped thousands of individuals online.
You can sign up now and enjoy the following perks:
Training resources
Comprehensive guide
Webinars to help you start your business online
One-on-one coaching
And many more!


As always, I hope that I've enlightened you with my Easy1Up review and if you have any questions, please feel free to drop it down below.
Thank you!
We Constantly Review Programs in "Make Money Online" Niche,
So That You Don't Have to Waste Countless Hours
Want To See Our
TOP RECOMMENDATION?