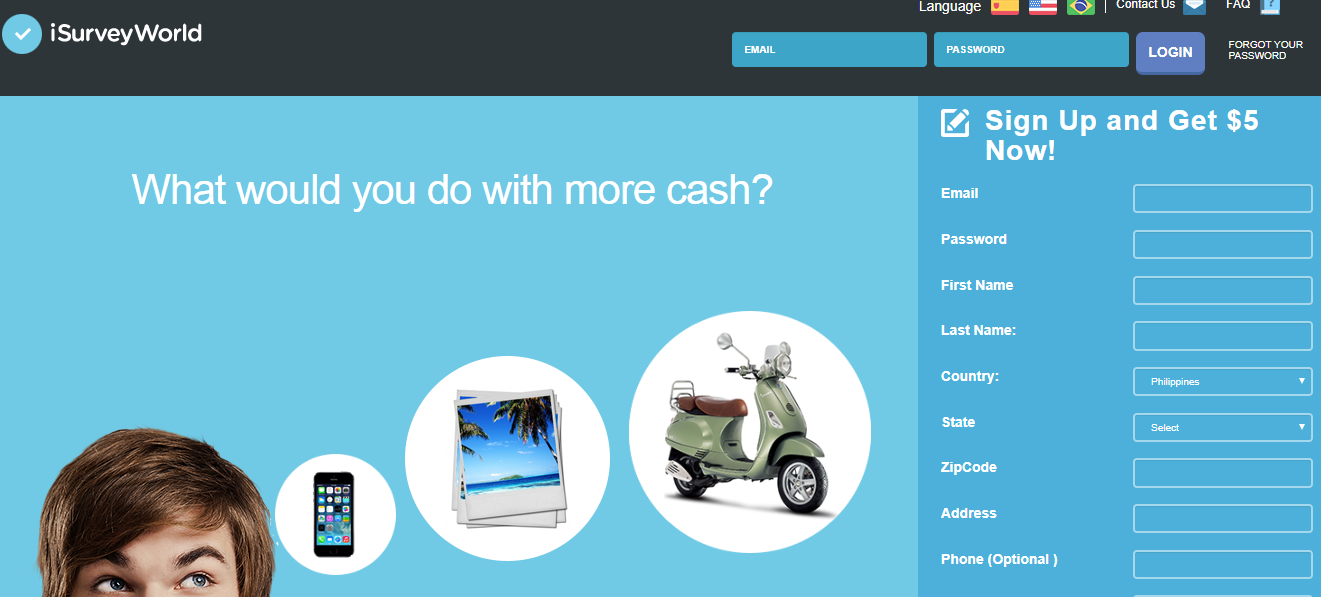 Welcome to My iSurveyWorld Review!
Paid surveys are one of the easiest ways to make money online. All you have to do is sign up, answer questionnaires, and get paid. What makes it even more exciting is the fact that you can do it anytime, anywhere. As long as you have access over the Internet, you can earn cash through this platform.
iSurveyWorld Review Summary
---
Name: iSurveyWorld
Website: isurveyworld.com
Founders: Undisclosed
Product Type: Paid Survey Website
Price: Free
Quick Summary: iSurveyWorld is a legit paid survey website that claims to pay you for answering questionnaires. However, it's not like the usual survey sites since some surveys from their website are offered by third-party companies. Also, I found out a terrible truth that would make you think twice about joining this program.
Overall Rating: 2/10
Recommended: No
The downside, however, is that most paid survey websites only pay a small amount. So small that it's barely enough to support your daily expenses. This is just one of the many cons that this platform has. However, not all survey sites are created equal and there are platforms that can offer you a good amount.
The questions are: is iSurveyWorld one of them? Can you make real cash from this program? How are you going to get paid? Is iSurveyWorld a scam?
All your questions answered in this honest iSurveyWorld review.
What Is iSurveyWorld About?
iSurvey is a paid survey website that pays you for answering questionnaires. It works almost the same as typical paid survey sites, such as Toluna, Panda Research, and Pinecone Research; however, there's something sketchy about this website, which I'll discuss in a bit.
For now, I'll tell you what the site claims to offer:
Paid Surveys
Answering questionnaires is basically the task you will do to earn money from iSurveyWorld. If you're not certain why such websites would pay you for doing this, it's because paid survey sites act as the middle person between businesses and you (the consumer).
Through their platform, these companies have an idea about the behavior of their target market, the factors that affect their buying decisions, and a lot more. So basically, paid survey sites supply valuable information to these businesses and as a reward for answering surveys, you are getting points which you can turn to cash or gift cards.
The problem with iSurveyWorld is that the questionnaires are very limited -- and this is quite normal. If you don't fit any demographics that businesses are looking for, then there'll be no surveys available to you.
$5 Bonus For Signing Up
Once you sign up, iSurveyWorld claims that you'll receive a $5 bonus in an instant, which I think is really good. I tried a bunch of paid survey sites and all I received are points.
Freebies
Apparently, you have the chance to get "freebies" for joining iSurveyWorld but what I found out is far from what it offers. When you click "Freebies", you will only be directed to different survey sites where you'll be asked to share your information again.
If you want to learn more about iSurveyWorld, you can watch the video below:
iSurveyWorld is not a scam but to be honest, it's not a website that I'd like to use nor recommend to anyone. The opportunity to earn is very limited mainly because there's little to no surveys left for anyone to answer. Also, unlike typical paid survey and rewards sites, there's no referral program. Therefore, even if you've invited friends to sign up to their program, you're not going to make money out of it.
However, they do have CPA (cost per action) offers wherein you can earn $1. All you need to do is promote their platform using a special link on a blog or social media. When someone signed up using your link, you will get a commission.
CPA, unlike paid surveys, offer a good opportunity to make money. It works almost the same as affiliate marketing but instead of encouraging someone to purchase using your link, they should complete an action, such as signing up for a newsletter.
If you're interested to earn money online using affiliate marketing or CPA, you can use this free step-by-step guide to help you get started.
Joining iSurveyWorld is free, as with most paid survey websites. It's a good thing since you don't have to pay for anything before you start earning. The problem, however, is that you're less likely to get paid.
As mentioned above, the amount of surveys available on their website is very limited. The good news, however, is that it has a low threshold. In case you acquired $25 already, you can cash it out via PayPal, which is another good thing. PayPal is one of the most trusted and easiest ways to get paid and you can create an account now for free. But then again, I don't think you can reach this threshold since the questionnaires available are limited.
I know it sounds disappointing but even if there are many surveys available, paid survey sites are only good as extra income. If you want to receive a decent amount every month and you're willing to work it out, I suggest you take other online opportunities, such as a home-based job or affiliate marketing -- or both because why not?
For online jobs, you can sign up with Upwork to become a freelancer. This website allows you to see various job listing on different categories. It works almost the same as regular jobs and the only difference is that you're working at home. That being said, most home-based jobs will require you to work on specific schedules.
If you want more freedom in terms of what you'll be doing and your working hours, I suggest you take affiliate marketing instead. Basically, all you have to do is create quality content, insert links into it, and hope for someone to make a purchase using your link. The challenge on this kind of business model, however, is that you need a good amount of traffic and if you're just starting, you can't expect to earn asap. It will take time but with patience and hard work, you'll eventually reap what you sow.
If you want to learn more about affiliate marketing, I recommend Wealthy Affiliate -- one of the most reputable affiliate marketing programs of today. You can sign up now for free and get started!
Here Is My Top Recommendation to Start Highly Profitable Online Business from Comfort Of Your Home
PROS
In my own humble opinion, there's nothing to like about iSurveyWorld so I'll gladly discuss the cons instead.
CONS
No Referral Program
Most paid survey sites offer a referral program for additional income. This means that you can invite a friend or anyone you know so you can earn a commission. However, there's no such thing with iSurveyWorld.
Very Low-Income Opportunity
iSurveyWorld barely offers any survey and it's kind of questionable since they said that they are available outside the US. nonetheless, this affects the income opportunity you have negatively. If you want a side hustle, you can just start your own business online instead of relying on paid survey sites.
Spam Offers
Remember the "freebies" that they are promoting? It's not really freebies but another paid survey sites and spam offers that will ask for your personal information.
Provide Phone Number Before Joining
Giving your name and email address is usual when joining a paid survey site but what's not normal is providing your mobile number. If it's for verification sake, then I don't see any problem in that but if not, that becomes questionable. Who knows? They might use it to bombard you with phone calls, offering similar low-quality programs.
No Proofs Of Earning
While I can't directly say that iSurveyWorld is a scam, it's a kind of program that's hard to trust because even until now, there are no proofs of earnings from their members. If I were you, I would consider this as a massive red flag.
Tired of Wasting Time on Low Quality Programs?
I'm so grateful that I was able to find THIS PROGRAM which helped me to finally start making money online!
iSurveyWorld presented itself as a legit survey website but as they say, looks can be deceiving. Although it's not a scam, it's almost impossible to make money here, so if I were you, I'd rather spend my time on something more valuable, such as my top recommendation below.
Paid surveys are one of the easiest ways to make money online but as they say, "what lasts, won't come easy". So if you want to make money online (or possibly score a passive income), I invite you to my number 1 recommended platform.
It's easy to get started and when you sign up, you can enjoy the following perks:
One-on-one coaching
Comprehensive guide
The best business tools and support you need
Webinars and training resources
And many more!
As always, I hope I have enlightened you with my honest iSurveyWorld review and if you have any questions, please feel free to drop it down below.
Thank you!
We Constantly Review Programs in "Make Money Online" Niche,
So That You Don't Have to Waste Countless Hours
Want To See Our
TOP RECOMMENDATION?